Meet the Maker of Mouthwatering Marshmallows, The Marshmallowist
After training as a chocolatier in Paris, Oonagh Simms wanted to bring something a little special back to the UK and found a gap in the market for deliciously different, fruity marshmallows
After growing The Marshmallowist from a market stall on Portobello Road to a fantastic bakery in Leeds, we catch up with Oonagh to see what her plans are next.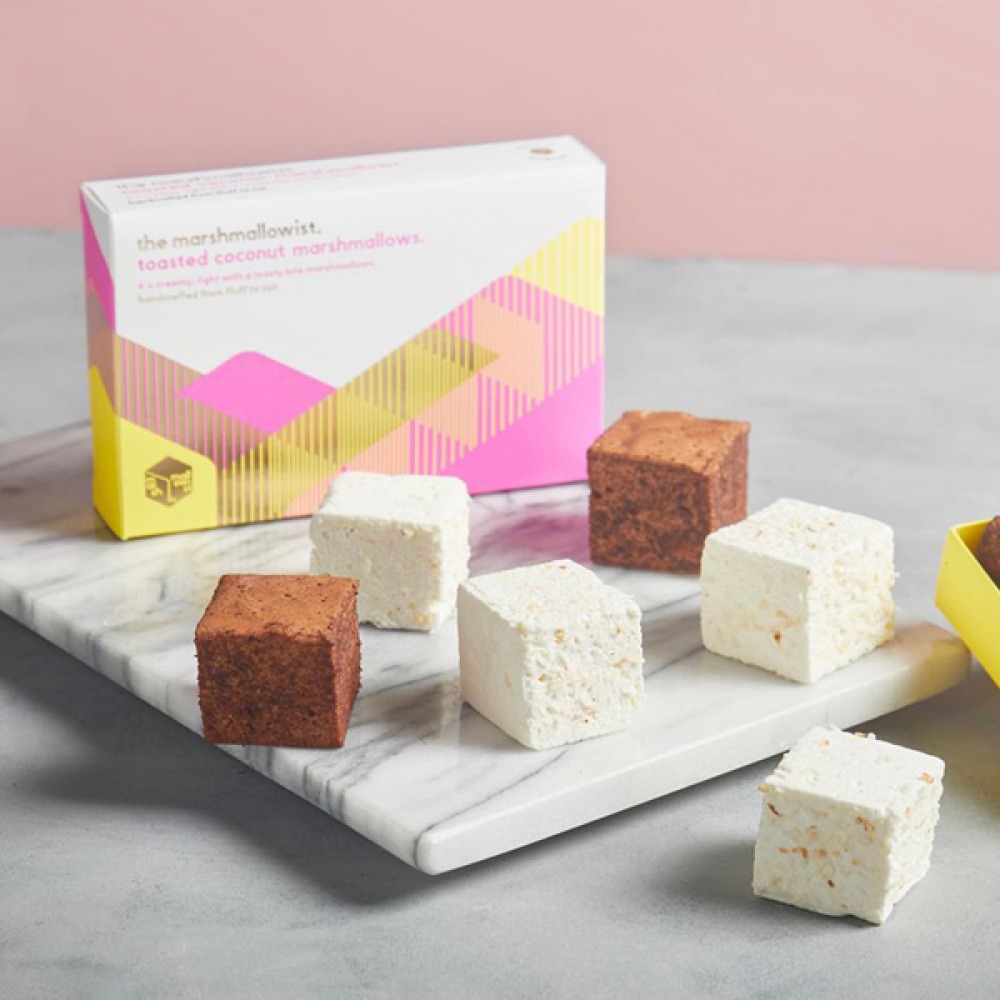 Tell us why you started The Marshmallowist. Before working for a luxury chocolate company here in the UK, I trained as a chocolatier and a pâtissiere in Paris. I loved every part of my training and experimenting with confectionary. In Paris, fruit marshmallows were a common sweet treat in patisseries and luxury food stores, but I didn't find that when I came back home. I had a real love for them, so I started spending my evenings playing with different flavours and managed to get myself a market pitch on Portobello Road at weekends. Within six months I was approached by Harvey Nichols to stock my marshmallows and within a year I had a recipe book contract. The business has since grown year-on-year, and now I have an amazing team and my own bakery in my home town of Leeds.
Where do you get your inspiration from? Mostly from creative people and brands. In Paris, the chocolatier aesthetic that I loved was the low lighting, neon flashes and marble floors – the shops looked like night clubs or designer clothes stores. They take it very seriously and they don't really look like 'chocolate shops'. I love confidently designed brands across lots of industries and that all feeds into the type of business I want to have. My marshmallow flavours are therefore very bold and not often found in confectionary. I use basil, gin and yuzu for example, and I wanted that boldness to be reflected in my branding and design too.
Talk us through a typical day of marshmallow making. Running a small business means there's never really a typical day. We do all our flavour development, making and sending from our bakery and we stock luxury stores throughout the UK. We also create bespoke products for clients such as Burberry and Rolex. All this means that on some days I can just be in the office all day, and others I'm head to toe in sugar! We've just got through our busiest Christmas ever and at times I didn't think I would ever be able to leave the bakery – the whisks were working overtime!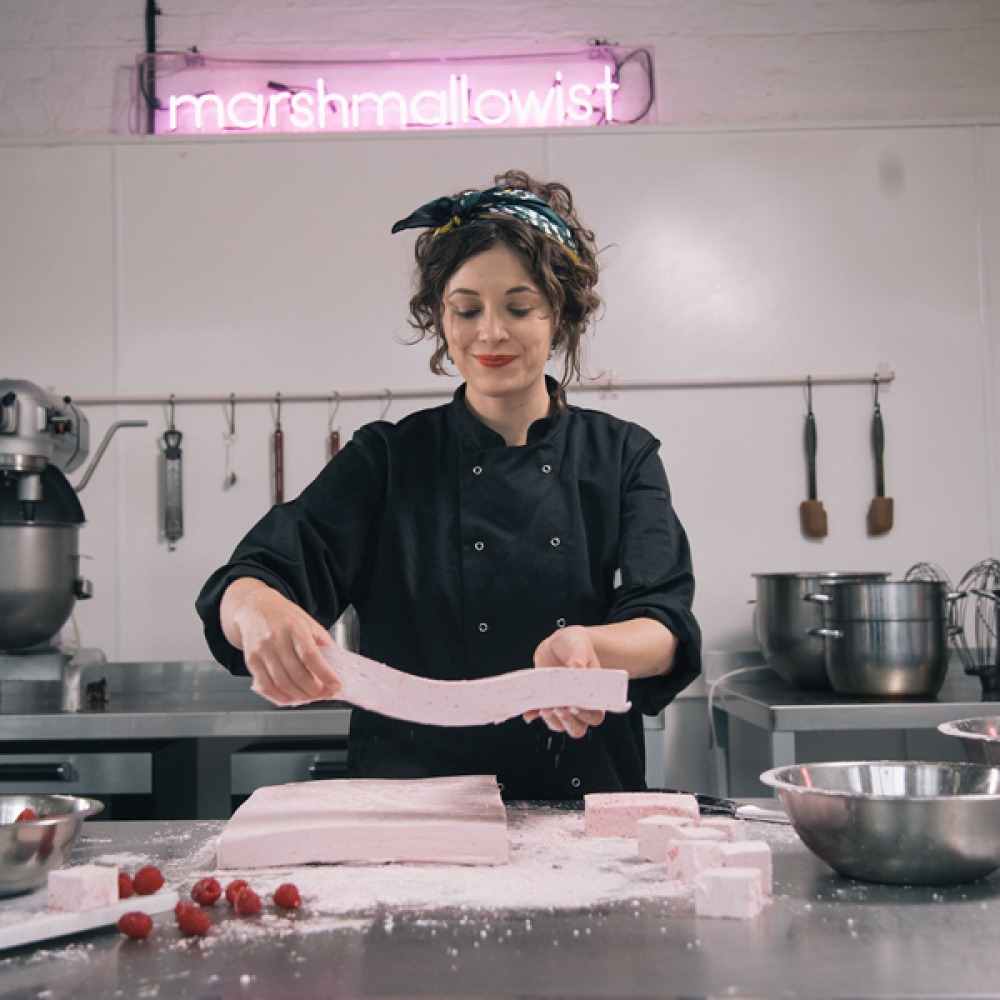 Where do you find ideas for your flavour combinations? I've always been drawn in by flavour, and for me it's super important that my flavours are genuine and not synthetic. The marshmallow recipe I have created is perfect for carrying flavours because it doesn't use egg whites and it has a soufflé-like texture which means you can really taste the different layers and notes of flavour which develop as you eat them. I love being inspired by cocktails or unusual dessert pairings, as well as herbs, spices and seasonal fruits.
And your favourite flavour? Definitely passionfruit and ginger. It's not too sweet and it has a moreish kick of fiery ginger at the end – I love it!
What are you working on right now? Lots of exciting things are coming in 2022! I'm just about to fly out to the Maldives to host a week long Marshmallowist takeover at a luxury hotel. It's going to be a bespoke guest experience in celebration of the 75th anniversary of InterContinental Hotels & Resorts. I'll be hosting masterclasses and cocktail nights, alongside some late night s'mores on the beach. This type of experiential offer is something new to us and I can't wait to collaborate with the amazing team – and also get on the beach!
'I've always been drawn in by flavour and for me it's super important that my flavours are genuine and not synthetic'
When you're not making delicious treats, where in Yorkshire do you like to go for good food? I love The Moorcock Inn at Sowerby Bridge for salvation at the end of a muddy dog walk, and my favourite restaurant in both Leeds and Harrogate is Stuzzi for Italian small plates and amazing wine.
Other than marshmallows, what is your favourite food? Cheese!
If you weren't creating tasty marshmallows what do you think you'd be doing? Good question! I've been working for myself for 10 years so it's very hard to imagine working for someone else, but I bought my first house last year and have taught myself to plaster, paint and tile and I really enjoy the practicality of getting stuck into something tangible and seeing the finished results. So, something that involves that practical element.
Describe your business in three words. Creative, innovative and sticky!