Cherry Bakewell Flapjacks From TikTok and Food Blogger Eloise Head
Super soft, gooey, chewy flapjacks with a layer of cherry jam through the middle and white chocolate on top, plus a cherry swirl
These flapjacks are sweet, fruity and sticky, and oh so delicious. One of my favourite recipes in the book!
Cooking Time
35 minutes + cooling and setting
Ingredients
For the flapjack base
150g unsalted butter
120g light brown sugar
80ml golden syrup or honey
1/4 tsp almond extract
200g rolled oats
80g ground almonds
For the filling
200g cherry jam or cherry compote
For the topping
200g white chocolate, broken into pieces, melted and cooled slightly
100g cherry jam or cherry compote
Method
To make the flapjack base and filling, preheat the oven to 180C/160C fan/350F/gas mark 4 and line a 20cm square baking tin with nonstick baking paper. In a large saucepan, melt the butter, sugar, golden syrup or honey and almond extract over a low–medium heat until the sugar has dissolved and the mixture is smooth. Do not boil or overcook the mix.
Turn off the heat, then stir in the oats and ground almonds until they're fully coated. Pour half the mix into your prepared tin and smooth it out with a metal spoon or rubber spatula. Spread over the cherry jam or compote for the filling, then top with the remaining flapjack mix and smooth it out gently, making sure the jam is fully covered.
Bake for 15–20 minutes. It should still be very wobbly when it comes out with golden brown edges. This is the key to soft, gooey flapjacks, so make sure you don't overbake. Leave the flapjack to cool to room temperature in the tin. This usually takes about two hours, but it may take longer.
For the topping, pour the melted white chocolate onto the cooled flapjack and spread it out to the edges. Give the tin a light shake to smooth out the chocolate, then dollop the jam or compote over the chocolate and gently swirl it through with a knife or skewer to create a pretty pattern.
Leave to cool to room temperature or refrigerate for about one hour until the chocolate has fully set. If you put it in the refrigerator, take it out about 15 minutes before slicing and use a hot knife to cut through the flapjack so the chocolate is less likely to crack. Cut into 16 squares and enjoy!
Store in an airtight container at room temperature for up to five days.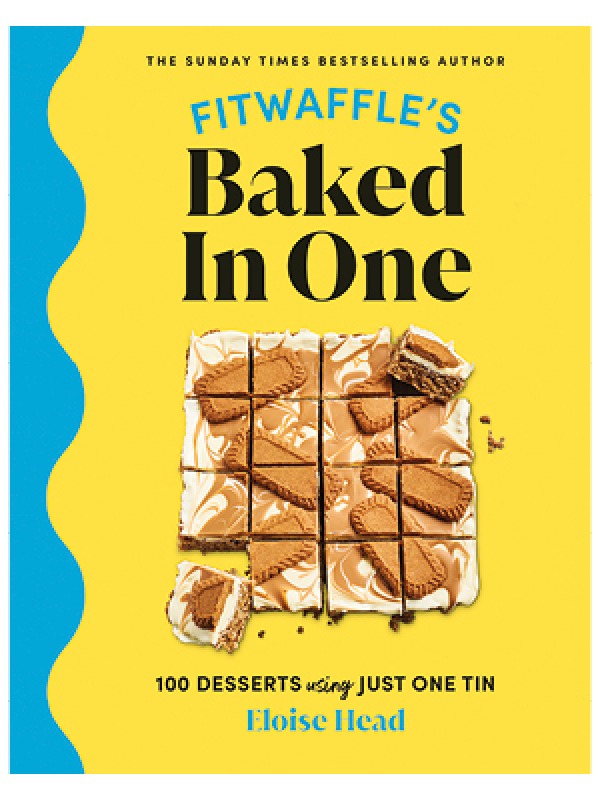 Extracted from Fitwaffle's Baked In One by Eloise Head (Ebury Press, £22) Photography by Faith Mason
This article contains affiliate links. We may receive a commission on any sales we generate from this piece.