Is Facial Fitness an Effective No-Needles Anti-Ageing Alternative Treatment?
Are you face fit?
In a world where injectables have become the go-to in an attempt to help turn back the clock, we ask whether facial fitness is really an effective no-needles alternative.
As a nation we are taught that if it sounds too good to be true, it usually is, and as an (ageing) beauty journalist you do come to realise there is no such thing as a quick fix when it comes to anti-ageing, and if you are sucked in by the many miracle promises you will only be disappointed. But perhaps it was the joy of going makeupless during lockdown, or the horror of seeing ourselves up-close on too many Zoom calls, that sent the searches for how to get naturally glowing skin through the roof. We did all have lots more time too, and it's clear a lot of us spent it watching bite-sized reels of influencers gurning their way through facial yoga routines, rolling and kneading their faces in the name of facial fitness.
According to one facial expert and author of The Glow Plan, Abigail James, facial massage is essential, not just for releasing tension but to help improve drainage and circulation, and it's something she's been practising on her clients for more than 15 years. 'When you have tight muscles you naturally have fluid building up because of the tension. With massage you can work on stretching out those muscles.' She shares her techniques with her followers on Instagram and YouTube and insists that the physical and emotional benefits of touch are preferable to using one of the many tools now on the market. Want to know more? You can sign up to her Glow Plan Online for a step-by-step, day-to-day plan to help you be your beautiful best at abigailjames.com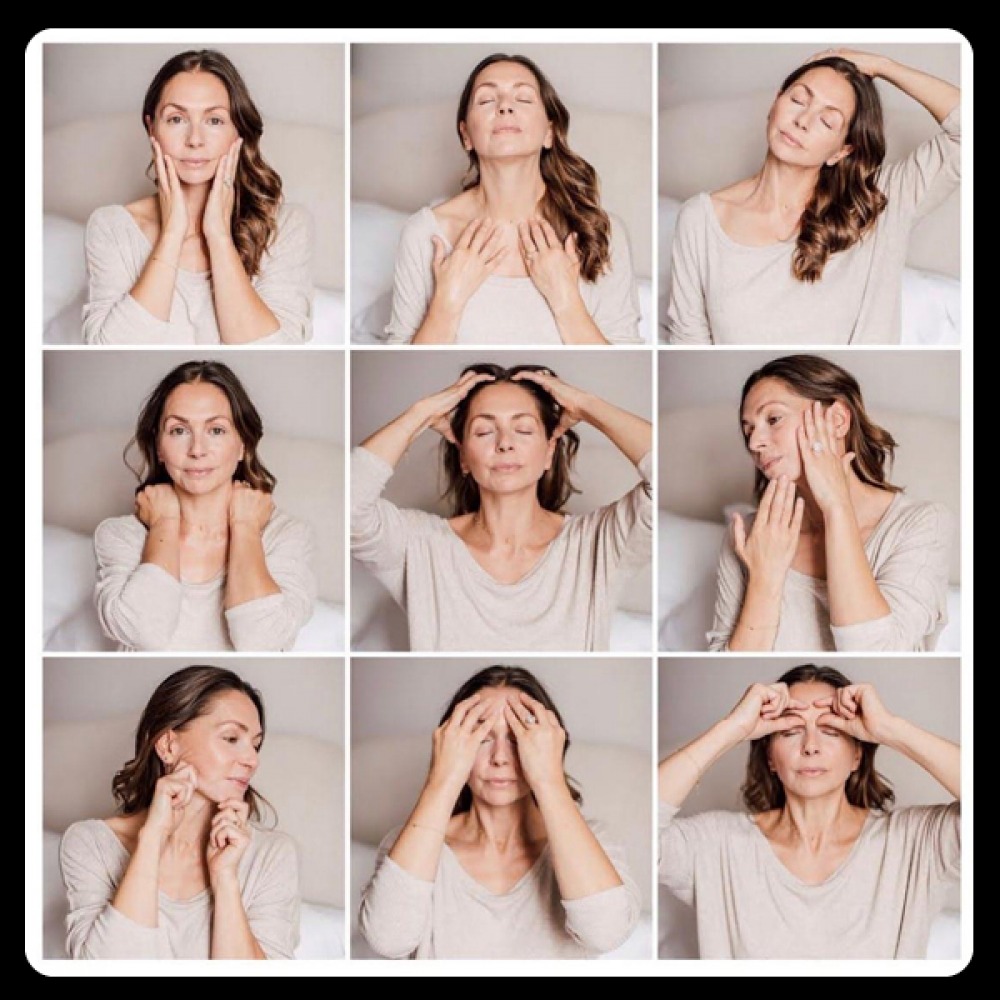 The benefits of facial massage are many. Improved circulation; better lymphatic drainage, which helps reduce puffiness; a reduction in wrinkles thanks to the release of facial tension (think furrowed brow); and an increase in oxygen flow, which helps the skin respond better to skincare products and helps skin to glow. Repeat massage also helps to retrain muscles to help them relearn the movements and behaviour that you do want, not the ones you don't. The muscles are the scaffold for your face so by working them they become more toned and tighter – just like your body when you workout regularly in the gym.
Whilst Abigail prefers using hands for her Glow Plan, there are facial tools available which some may find easier, or quicker in terms of getting results. Gua sha and facial rollers are usually made from jade (said to promote calm, balance and positivity), rose quartz (considered a healing crystal), or stainless steel (non-porous so needs less cleaning, and naturally cooling), but it is essential to learn how to use them to maximum effect by watching the many online tutorials. Their shapes also differ. Using precision gua sha tools helps target acupressure points and improve circulation so look for those with more angled edges, or a concave edge designed to hug the facial contours. Smoother, more rounded ones will help massage a wider area and will help relieve tension in the jaw and other facial muscles.
'The muscles are the scaffold for your face so by working them they become more toned and tighter'
Face Gym is the only dedicated gym studio for the face. Sadly we don't have one here, (Manchester is the nearest), but founder Inge Theron is on a mission to educate a generation on skin metabolism and fitness and has based her signature workout on the 40 plus forgotten muscles in the face, which, she says, delivers instant and long-term sculpting, lifting and toning. Having worked more than 200,000 faces around the world, and developed innovative skincare tools and a skincare range, there are now 11 studios globally and a dedicated Digital Studio so you can still benefit from her workouts wherever you are.
So, what is a FaceGym workout? It boils down to a set of signature moves including knuckling, pinching, and whipping strokes to work out your facial muscles. These techniques help to stimulate blood circulation, boost the lymphatic system, encourage collagen production, and increase cell renewal to deliver instantly visible results.
Theron and her Face Gym team have drilled down through the many possible exercises to identify which are the most effective and could be taught online. Thanks to the pandemic shutting the physical Face Gyms down, Inge quickly adapted to create a digital version so we are now able to access these at home. The 30-minute classes are run daily, several times a day, and range from Power Lift and Multi-Sculpt to Brow & Eye Lift classes. Sign up at facegym.com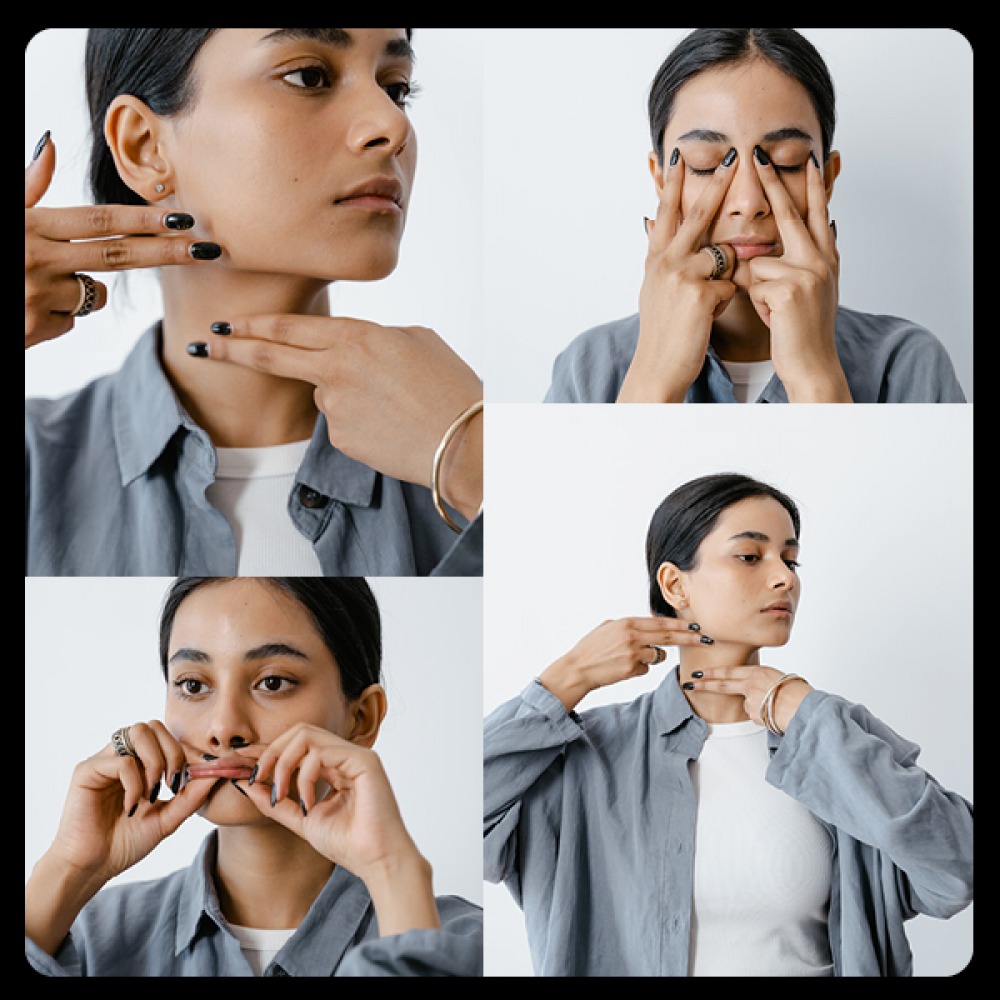 Face yoga is also increasingly popular, and the many apps available encourage you to exercise your facial muscles daily with precise, and often personalised plans. A holistic approach to beauty, face yoga, often combined with acupressure, helps skin glow, but can also prevent headaches, release sinuses and help improve sleep. Facetory is one such app which will ask you a whole host of questions about what you wish to achieve from the exercises, how much time ideally you have to dedicate to your facial workout, and when you prefer to do it, and then they mix it up with feelgood tips and even recipes. So how easy are they to follow? Pretty easy, and the app does have glowing reviews. But like with everything, you do need to persevere. Consistency is key. Converts will say that it has weaned them off Botox, which can only be a good thing.
When it comes to effective facial massage, the vital thing is to try and always work upwards, and from the centre of the face, following the natural contours of the muscle, outwards towards the hairline. And whilst you can't be too firm along the jaw line and cheekbones (your skin won't stretch) when working on your under eye area you do need to be more gentle. Big circular movements can be done fast, or slow to suit your mood – flicking, pinching, rolling and tapping and even slapping are all approved movements and for anyone with drier skin – make sure you have enough 'slip' before you start in the form of your favourite serum or facial oil to prevent pulling.
So can facial massage really replace more invasive treatments such as injectables? Given their popularity – probably not. Facial massage will never be seen as a total replacement, but it is certainly an alternative for anyone who wants to delay the signs of ageing, and the increased interest in a more holistic approach to beauty generally hopefully indicates a growing change in attitudes, helping us make the most of what we already have – naturally.