Four Fabulous UK Hiking Holidays
Stretch out your lockdown legs and celebrate pandemic freedom by taking a hiking holiday this summer
The past year has seen us constrained to our home-towns and cities. With the on-going uncertainty surrounding international travel, we're always looking to explore new corners of our region and the rest of Great Britain. So forget the stress of airports, passports, Covid tests and quarantine. Walking holidays make for a great sustainable getaway, as well as offering a mental and physical boost, giving you the chance to take your holiday with a restored spring in your step.
Top Tips to Help you Hike Safely
Pack the correct footwear
Make sure you pack your walking shoes and boots. We also recommend breaking in any new shoes to avoid blisters and injury.
Check the weather
Take a look at the forecast for your trip, but still be sure to pack for all weather possibilities – we all know how unpredictable our weather can be!
Having said that – pack light!
Don't overload your bag with things you do not need, as you'll be carrying your necessities on your hike – you'll thank yourself later.
Plan lunch
Make a packed lunch or plan your route around a good stop-off place for lunch. Be sure to look up any little lunch spots, cafés or restaurants along your route.
Pick-me-up kit
Cuts and bruises are inevitable on long hikes, so pack up a little pick-me-up kit to solve every issue en route.
Go with the flow
Enjoy the spontaneity of walking in the wilderness – you have the luxury of designing your day, route and hiking getaway as a whole, so bask in the freedom and go with the flow!
Keswick to Windermere, The Lake District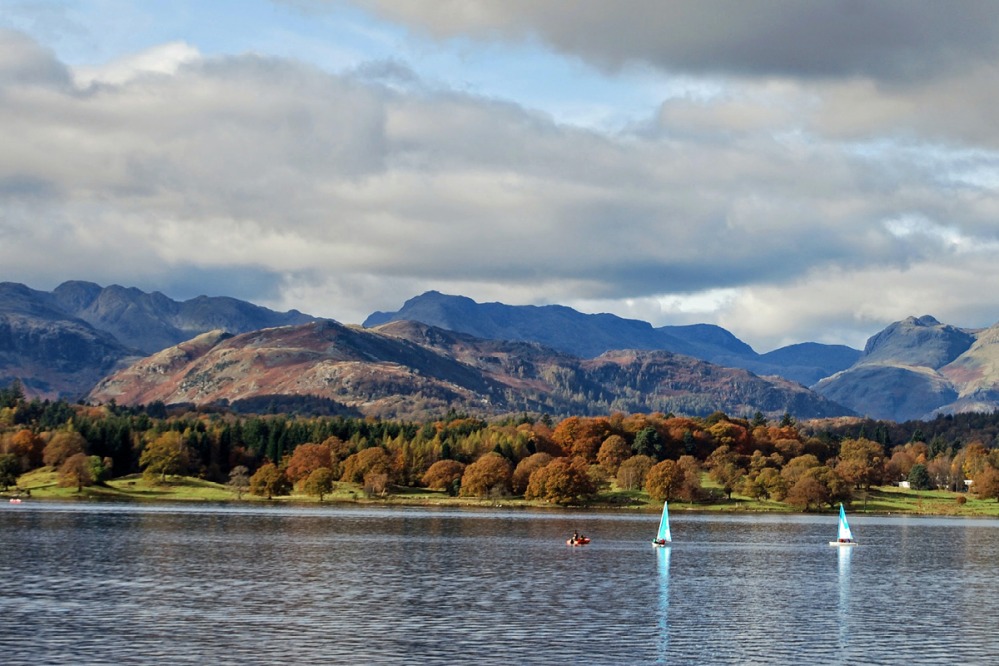 Level: Moderate–Challenging
This shorter hike gives you the opportunity to take in The Lakes like never before. Stretching around 30 miles between Keswick and Windermere, with pit-stops in Grasmere and Patterdale, the route makes for an idyllic retreat to reflect, or even eulogise, in the steps of the great lake poets.
Where to Walk
Starting in the market town of Keswick, you'll find yourself following the path along Derwentwater through to the picturesque Borrowdale Valley. The path then takes a rockier turn, but the route remains clear, with optional intermediate or tougher variants of the walk to choose from. You'll then arrive in the bucolic village of Grasmere – the home of William Wordsworth. The poet once named Grasmere 'the loveliest spot that man hath ever found' – so be sure to spend a night here to appreciate this lakeland gem.
Eight miles from Grasmere lies Patterdale – another modest village beneath the Helvellyn mountain range. For a more challenging walk, you may wish to venture to Patterdale via the summit of Helvellyn, and drop down to the shores of Ullswater. We recommend resting your head for the night in Patterdale before undertaking the 13-mile trek to Windermere on day three of your hike. Here, you will leave the shores of Ullswater and head upstream under Raven Crag, passing through Threshthwaite Mouth with its stunning views over the Troutbeck Valley. The hike will draw to a close on the renowned shores of Lake Windermere. For hikers that left a car in Keswick, there are many transport links available in Windermere, with fast routes back to Keswick.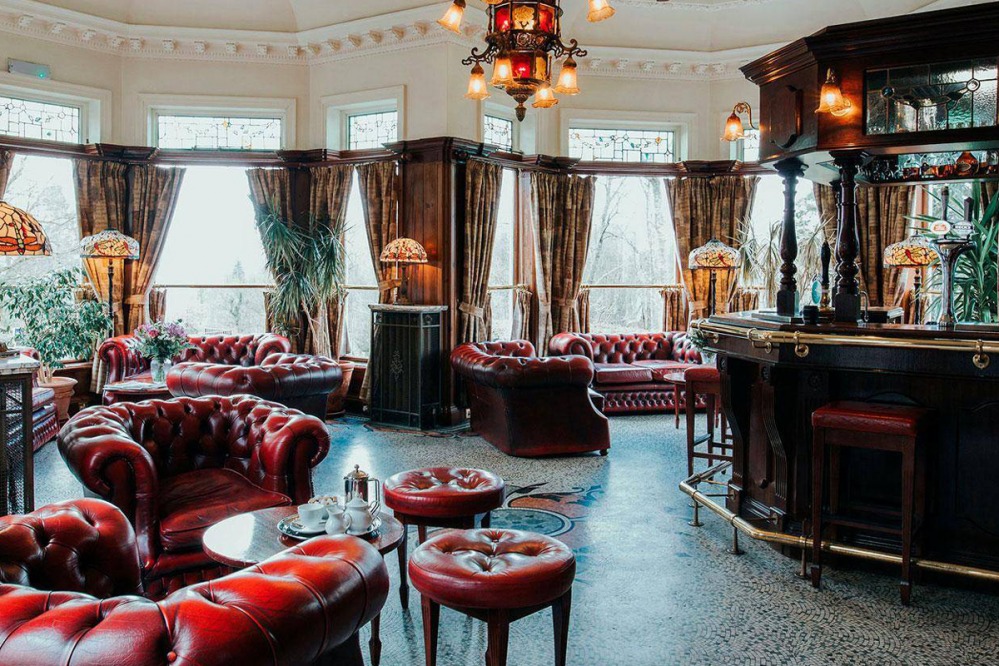 Where to Stay
The Inn at Grasmere, Grasmere
Experience the charm of Grasmere in this historic Lake District Inn, right in the centre of the village. Settle into the beating heart of village life, before indulging in the 1769 Bar and Restaurant, offering fine dining and local ales. The Inn also boasts leisure facilities, with a powerful spa bath, sauna and indoor swimming pool, so you can truly reset after a long day's hike.
theinnatgrasmere.co.uk
Crookabeck Farm B&B, Patterdale
Located on a working farm, this homely B&B offers a more personal experience to bridge your walking getaway. With ensuite rooms, country-style furnishing and home-cooked Cumbrian breakfast to fuel your hike, Crookabeck provides everything you need for your rural retreat.
crookabeck.com
Merewood Country House, Windermere (Pictured)
Located on the edge of Lake Windermere, Merewood Country House will certainly draw your hiking holiday to a luxurious close. Immerse yourself in one of the opulent guest rooms, before trying out the extensive restaurant menu, showcasing regional produce. We recommend trying out the locally caught trout and Cumbrian cheeses with chutney to fully indulge in this Lakeside experience.
lakedistrictcountryhotels.co.uk/merewood-hotel
The Great Glen Way, Scotland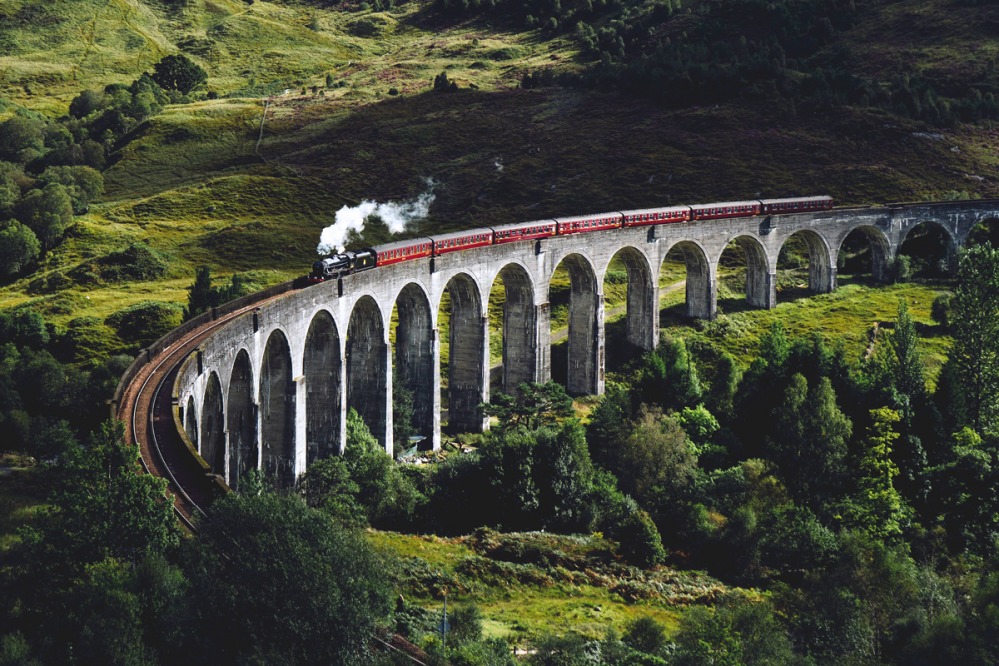 Level: Intermediate–Moderate
The Great Glen Way is a 77-mile long distance path, starting out in the well-connected base at Fort William, before winding along the shores of some of Scotland's most renowned lochs towards Inverness.
Where to Walk
To get to Fort William, take the West Highland Line from Glasgow, often described as the most scenic rail journey in the world, passing through the spectacular surroundings of Fort William at the foot of Ben Nevis. The railway line takes you across the 21-arch Glenfinnan Viaduct, made famous by the Harry Potter films, so you'll be sure to arrive at your hiking destination feeling spellbound by the sights. If you're not looking to kickstart your getaway by rail, the Glenfinnan Viaduct is a mere 25-minute drive west of Fort William.
Once in Fort William, you can begin your hike along The Great Glen Way, the 77-mile trail that leads you out of the the popular village and on to Inverness. You'll begin journeying along the shores of Loch Linnhe, right in the shadow of Ben Nevis. Take in the breathtaking views of the UK's highest mountain, standing tall at 1,345 metres, or for more advanced hikers, why not dare to brave the summit itself?
For a more intermediate–moderate hike, head inland towards Neptune's Staircase, showcasing fascinating Victorian engineering through a series of locks in the Caledonian Canal. Follow the route along the riverside path towards Gairlochy, a 13-mile trek along the picturesque banks of Loch Lochy, before arriving at the infamous Loch Ness at Fort Augustus. The hike then leads you through Invermoriston and Drumnadrochit and reaches its final destination in south-west Inverness. The Great Glen Way can take four or five days to complete, depending on experience and optional detours you may wish to take. However, the route serves as the perfect introduction to walking in the Highlands, with low-route variants making it a perfect starting point for beginners.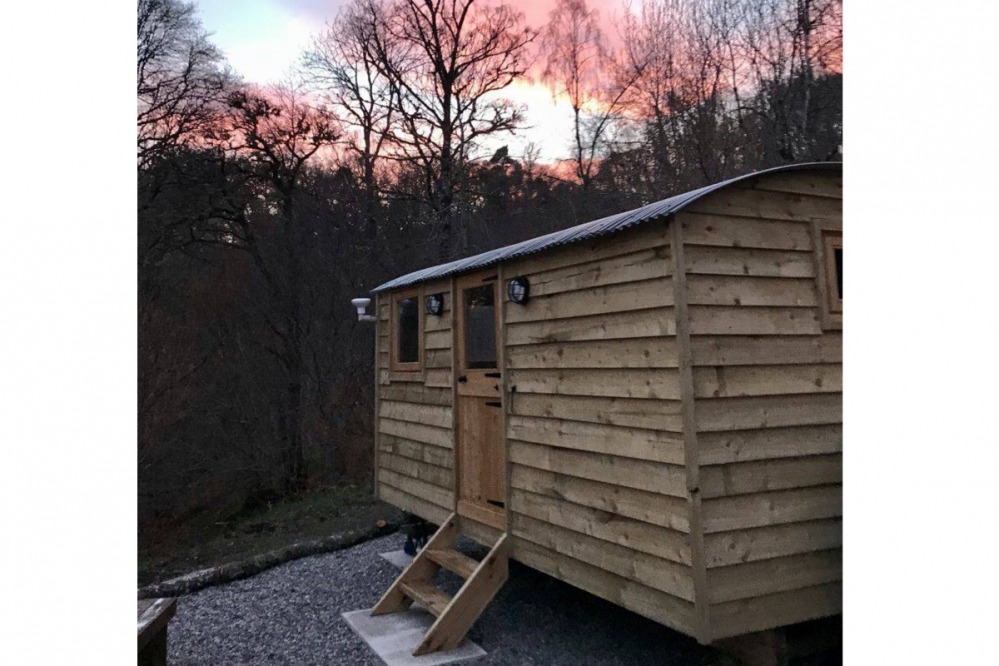 Where to Stay
Torlinnhe Guesthouse, Fort William
Enhance your West Highland stay at this charming guesthouse. Indulge and fuel your hike in Torlinnhe's intimate dining room, complete with stunning views of the Ardgour Hills. Unwind in one of the eight Highland-inspired bedrooms, with complimentary Scottish shortbread, organic Highland toiletries and Harris tweed upholstery, leaving you feeling restored and raring to go.
torlinnhe.com
Morag's Lodge, Fort Augustus
This cosy four-star lodge sits on the bank of Loch Ness – the perfect pit stop for tired legs and weary hikers. Morag's offers a variety of room types to suit your style of stay, with home-cooked meal options and a rustic bothy bar where you can sip on a well-earned beverage at the end of a long day's hike.
moragslodge.com
Highland Bear Lodge & Luxury Bear Huts, Drumnadrochit (Pictured)
Opt for luxury and indulge in Drumnadrochit's Highland Bear Lodge and Luxury Huts. The accommodation offers premium rooms or secluded huts – perfect to unravel and unwind after an energetic ramble through the Highlands.
highlandbearlodge.co.uk
Coastal Path, Northumberland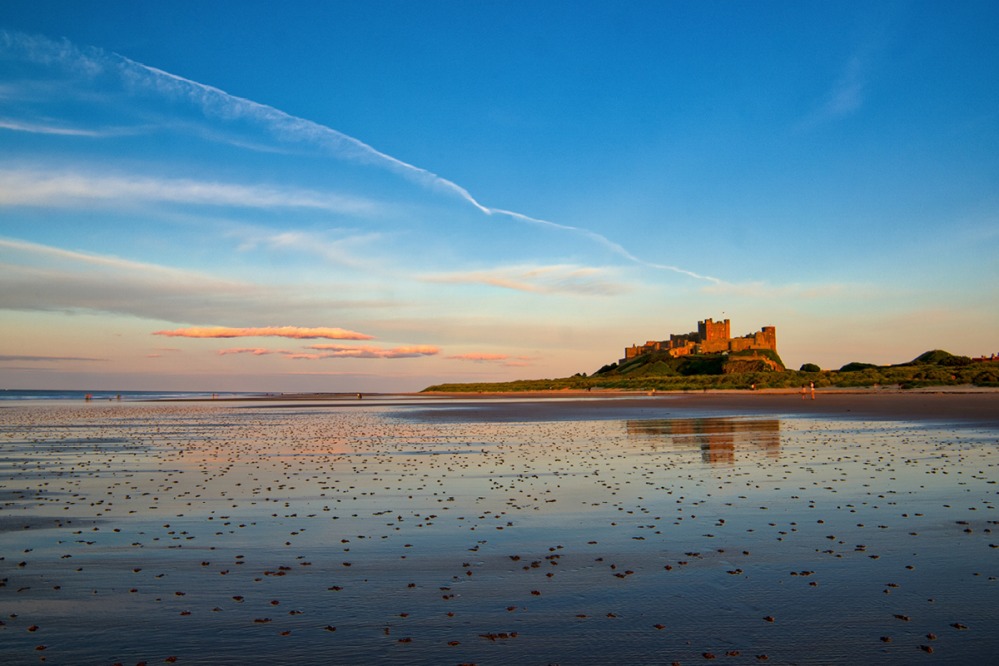 Level: Intermediate–Moderate
Enjoy our region's most impressive castles and unrivalled coast on this 28-mile hike from Warkworth to Bamburgh. As well as exploring Northumberland's wondrous castle-scapes, you'll also dip into the seaside villages of Alnmouth, Craster and Seahouses along the way. With our top pick of dog-friendly stays, your canine comrade can come along on the journey too!
Where to Walk
Start at Warkworth, where you will be greeted by the medieval Warkworth Castle, before heading north towards Alnmouth. This short five-and-a-half-mile walk will ease you into the hike nicely, (although you might need to detour inland to cross the estuary at Alnmouth, before you continue north to Craster, past Boulmer, Sugar Sands and Cullernose Point.
Once into Craster, a small fishing village with bags of charm, and home to the famous kippers, you'll see Dunstanburgh Castle ahead, and the path takes you to its turreted keep entrance. It's worth a detour to explore the castle on its whin sill headland with expansive panoramic views. Past the castle, you'll follow the edge of the golf course towards Low Newton. A pint at The Ship will refuel you before you set off across the point and down into the vast stretch of Beadnell Bay.
For the final 12 miles, the hike takes you from Beadnell through to Bamburgh. A pit-stop in the buzzing village of Seahouses is a must, with plenty of fish and chips and ice cream to fuel the rest of your journey. Breathe in the refreshing sea air as you admire the spectacular views across to the Farne Islands on your right before you approach your final destination of beautiful Bamburgh.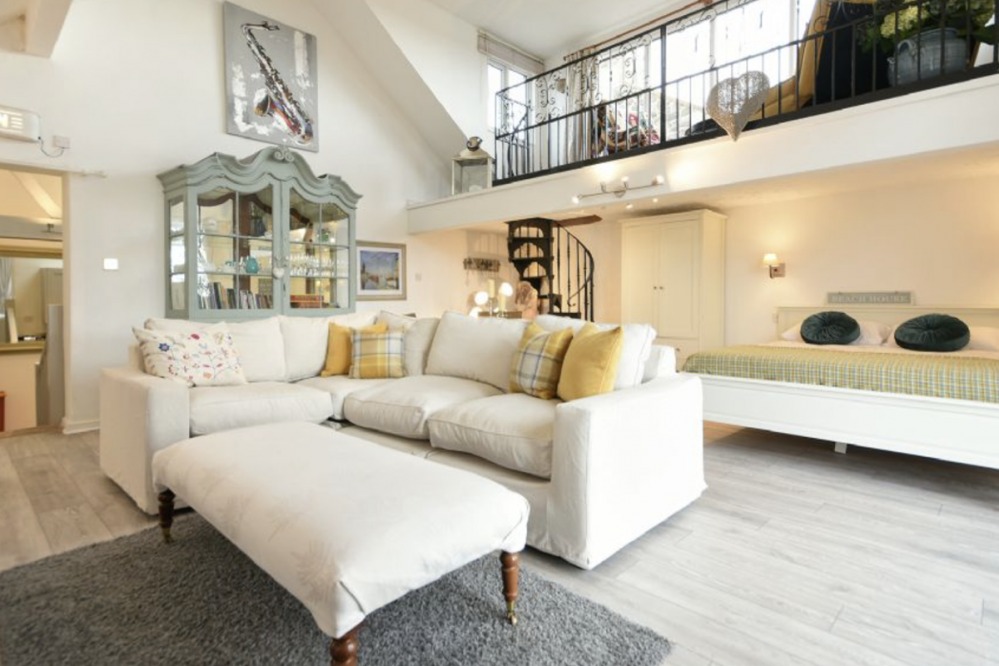 Where to Stay
The Pelican Loft
This beautifully-restored apartment in Warkworth sleeps four and is dog friendly too. The ideal base from which to explore, not just the village, but much of the surrounding area too, before you lace up your boots and head north on your coastal hike.
coquetcottages.co.uk
The Whittling House, Alnmouth
This new coastal guesthouse offers stylish interiors and exceptionally comfy beds. Enjoy locally-sourced produce from the restaurant, and wake up to a delicious home-cooked breakfast to start your day off on the right foot.
thewhittlinghouse.co.uk
The Red Herring, Craster
Just up from the village pub, in a row of quaint ghinstone cottages, this former school house now sleeps four. Light and bright, with a log burner should the weather be less than friendly, (and parking for two cars) it's a great hideaway in this popular coastal village and the perfect base for exploring north and south along the coastal path.
coastalretreats.co.uk
The Snug, Embleton (Pictured)
This cosy, dog-friendly cottage offers stunning, studio-style accommodation in the village with views of Dunstanburgh Castle and the sea from the mezzanine seating area. Unwind in front of a cosy wood burner after a tiring day of hiking in this cottage full of character. The cottage is also within walking distance of local pubs and shops – so why not pop into the village local, The Grey's Inn, for a refreshing taste of locally-brewed ale?
northumbria-cottages.co.uk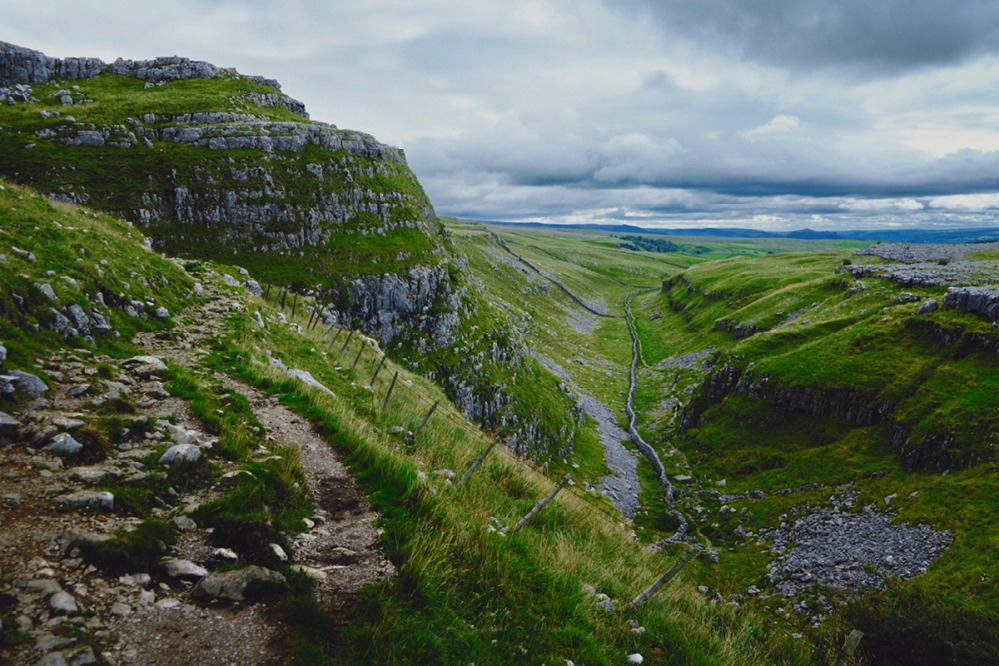 Level: Moderate
Explore the rolling hills of the Dales and take in the historical glacial landscape of Malham Cove, with its limestone landscape dating back millions of years.
Where to Walk
Base yourself in Malham in the Yorkshire Dales National Park and leave the door open for a number of nearby walks in the surrounding countryside. Kickstart your getaway with a wander around Malham's Circuit – a fascinating circular walk that leads you into the path of the limestone giants that have become synonymous with Malham. Climb up Malham Cove, a 70-metre-high curving cliff (there are steps) boasting white limestone and panoramic views of the grassy valley below. The vast arc was covered at least three times with glacial sheets of ice, over one and a half million years ago. From the cove, head north to the glacial lake, Malham Tarn. The route will also lead to Janet's Foss, a striking waterfall and pool (Janet was said to be the Queen of the fairies who lived in a cave behind the waterfall), and Gordale Scar, where the beck tumbles down over the overhanging limestone, 330 feet high. The circuit should take around five hours to complete, but be sure to go at your own pace to fully absorb the stunning surroundings.
The beauty of basing yourself in Malham means you can design your hikes to your liking. We recommend dedicating a day to try out the circular route that leads you into Wharfedale, or head to Airton for an easier trek apart from a short climb to Haw Crag above Bell Busk.
You may also wish to spend the night in the rocky surroundings of Burnsall. From here you can pay a visit to the miniature gorge of Troller's Gill. The hike offers an idyllic stroll through stone-wall lined fields, with the delightful village of Appletreewick the perfect stop-off on your way back to Burnsall.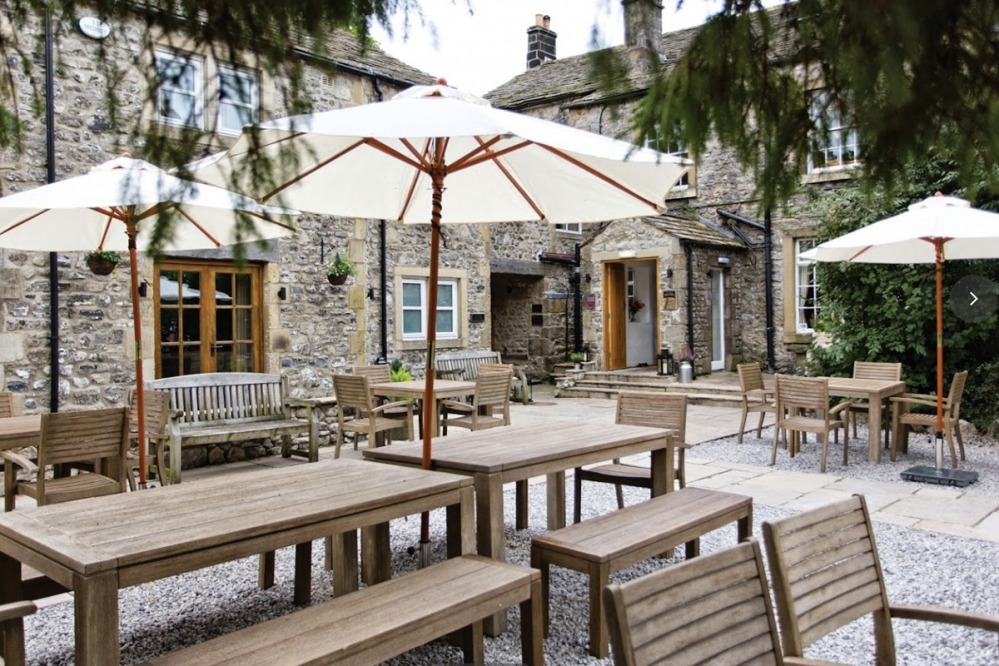 Where to Stay
Beck Hall, Malham
Situated next to the ancient clapper bridge over Malham Beck, this immaculate hotel offers a great escape to counteract your busy days of exploring the rolling hills of Yorkshire. Featuring a bistro and deli, you will be treated to some delicious food. Be sure to complete your evenings in The Secret Garden, or for chillier evenings, try out The Snug for a cosy night by the fire.
beckhallmalham.com
The Devonshire Fell Hotel, Burnsall
Expect a warm welcome from pet-friendly Devonshire Fell Hotel, with its 16 ensuite bedrooms and vibrant, cosy bar and restaurant. Nestled on a hillside in the tiny village of Burnsall, overlooking the Dales, and with all the romance and drama of a Brontë novel, you'll find yourself quickly unwinding after a long day's hike in this peaceful hotel.
devonshirehotels.co.uk
The Lister Arms, Malham (Pictured)
In the heart of the village, this country inn is great place to relax and unwind after days spent exploring the surrounding Dales. All the rooms – whether in the inn itself or the nearby barn – are individually designed with lots of quirks and plenty of character. There's a homely, dog-friendly bar (they even bake their own special dog biscuits) with an open fire, the food is fabulous and there's a great outdoor terrace too.
listerarms.co.uk