A Grand Yorkshire Night Out
Look North's Harry Gration MBE is organising a show for God's own country with ITV's Christine Talbot
A Grand Yorkshire Night Out promises a celebration of Yorkshire excellence in York on 11th April
Harry Gration needs no introduction. He's been a staple of British broadcasting since 1978, is a shining ambassador for Yorkshire, and is currently throwing himself back into the public eye to co-host two Yorkshire variety act nights
alongside ITV Calendar's Christine Talbot.

A Grand Yorkshire Night out has positioned itself as the ultimate Yorkshire love letter, welcoming us into the warm company of Harry and Christine as they talk to guests, relive their iconic moments broadcasting in the county, and talk to punters that share a love for the North. Living North speaks to Harry to get a sneak peek at what's in store.

'Yorkshire is a passion for me. I want to sing about the best parts of Yorkshire. I feel assaulted when people want to have a whack at the county. I try to promote it as much as I can,' says Harry. 'Because of this, we were determined to put on a Yorkshire show. It's a celebration of the county, we will look back and celebrate the great things Yorkshire has done for the whole country over the years.'

A Grand Yorkshire Night Out will present a wide variety of acts throughout the show, but the focal point will be a retrospective of All Creatures Great And Small, the 1978–1990 comedy centred around a Yorkshire community vet in the 1930 and 40s.

'The focus of this first Grand Night Out is All Creatures Great And Small, which used to have a good 20 million viewers back in the day!' Harry exclaims. 'We have some of the old producers coming on, and some behind the scenes staff who used to work on the show. We also have the vet Julian Norton, who was inspired to become a vet by All Creatures Great and Small, as our main guest and he'll be taking questions from the audience,' Harry continues.

'Christine and I will be talking about our careers with clips playing, daft things and serious things we've done; we've got some great musical performances throughout the night too,' Harry elaborates. 'My son Harrison will be singing, Leeds' The Dunwells, and Bradford's Scars on 45.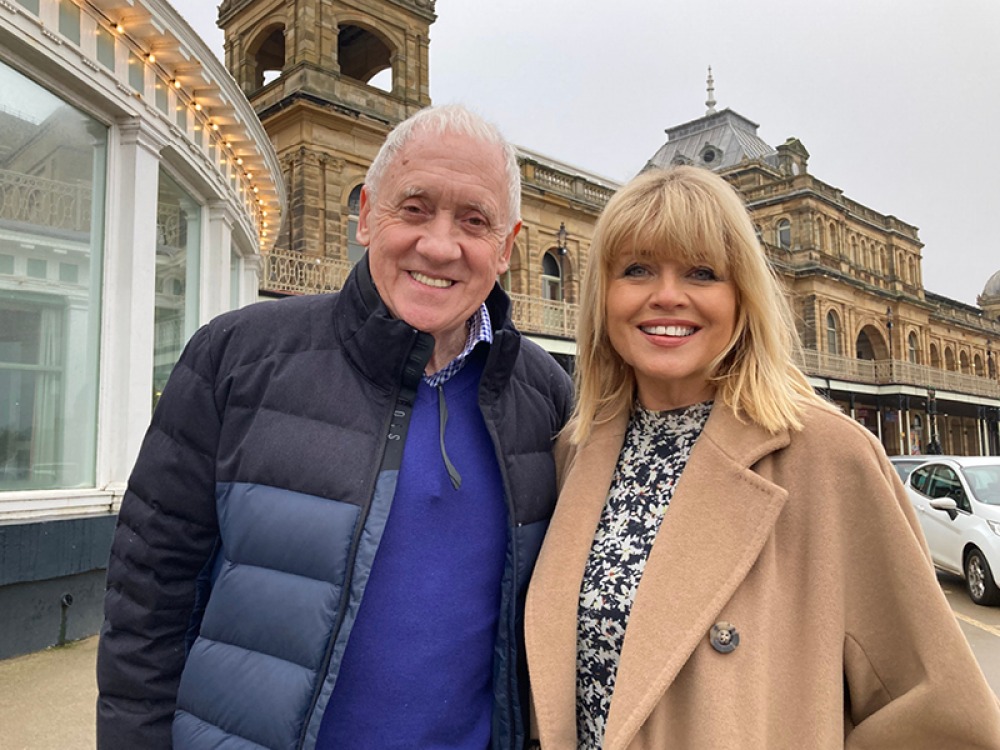 'Yorkshire has a special hold on community kindness, often it shows itself when you least expect it'


'It'll be the first time working with my son, which is exciting,' says Harry. 'He's a beautiful singer, singing classical pieces mainly, but he'll be singing popular songs on the night. He's very moving and quite stunning in the way he performs.'

Selecting talent from across Yorkshire, with representatives from areas including Leeds, Bradford and Boroughbridge, was important to Harry. As the largest county in the country, he wanted to show the breadth of what Yorkshire has to offer the nation.

'We called it A Grand Yorkshire Night Out because we wanted it to encompass a huge range of Yorkshire talent. We wanted to put on something that was a real two-hour show, with chances for questions to be asked and engaged with,' he explains.
Harry is also seizing the opportunity to finally work more closely with broadcaster and friend, Christine Talbot. Coming from a rival broadcasting network, Harry is cherishing the chance to work with his now colleague on a shared passion.

'I'm very lucky, I worked with Chris Ackroyd, one of the best in the business. But when people would ask who else I'd like to work with, the answer was always Christine Talbot,' Harry reflects. 'We've been friends for a long time, and it's been great fun planning all this together.'

Sharing clips and exchanging tales of his highlights from broadcasting to the nation, Harry gave us a sneak peek of what was in store, as well as sharing a favourite moment in his broadcasting history. 'We have footage of me tied to weather presenter Paul Hudson when we went on a three-legged, 24-hour walk for Comic and Sport Relief, raising nearly £250,000 pounds. It was a massive thing,' recalls Harry. 'That wasn't from big businesses, either; it was raised by people on the street putting a pound in here or 50 pence there. We were so happy with it. It was a very good test of our friendship, but we're still great friends to this day – sometimes,' Harry laughs.

'I've done an awful lot of big stories, but what sticks in my mind is the pride I felt in the community reaction to the murder of Labour MP, Jo Cox. It showed such a real condemnation of hatred. The community came together for her and her family,' Harry reflects. 'I did a joint broadcast with Chris Ackroyd when it happened to celebrate Jo's life, and it will live long in my memory as an event that brought such good out of something so unspeakably awful.

'Yorkshire has a special hold on community kindness, often it shows itself when you least expect it.'

Before he goes back to enjoying his current retirement, Harry is looking forward to greeting his fellow Yorkshire brothers and sisters – with a genuine desire to talk to the people that made his career so wonderful.

'I want to meet everyone who comes to A Grand Yorkshire Night Out, I want to shake them by the hand, and they can shake me by the throat if they want!' he laughs. 'But I look forward to being at the doors letting people in. It's a chance to say thank you to everyone who has supported us over the years.'

If you want to see A Grand Yorkshire Night Out for yourself, find tickets for the York Theatre Royal show on 11th April at yorktheatreroyal.co.uk