Living North's Publisher Julian West Heads Back to Swinton Park
The Spirit of Swinton
There are so many memorable places Living North has visited these last dozen or so years, from the many cities to the Yorkshire coast, the vast moorlands to the dales, and during this time Living North's publisher Julian West has met a huge number of incredible people.
My very first interview in Yorkshire was at Swinton Park (with then head chef Simon Crannage), and I've been lucky enough to have returned there many times since. I caught up with Felicity Cunliffe-Lister, Countess Swinton, about how this special place has altered, and reflect on just a few of the other extraordinary people that Living North has met in Yorkshire along the way.
Swinton Park Hotel is a grand castellated building which sits centre-stage of the eponymous 20,000 acre Swinton Estate. The views here are exceptional and it's a place of great beauty and peace. It also has a fascinating history, and although sadly there's little time to discuss the finer details here, as often happens with these great family homes, for one reason or another, they pass out of the family. Rarely do they return to the fold as happened here, as Felicity explains. 'It was always likely that my husband Mark would one day return to Yorkshire to his family Estate at Swinton, but at the time he was a geophysicist, something he wasn't able to do from Yorkshire. He wanted the challenge of the Estate, but as it was back then, that alone wasn't enough. But then Swinton Park came onto the market and the prospect of a business opportunity arose, which would also allow Swinton Park to be back at the very heart of the Estate.'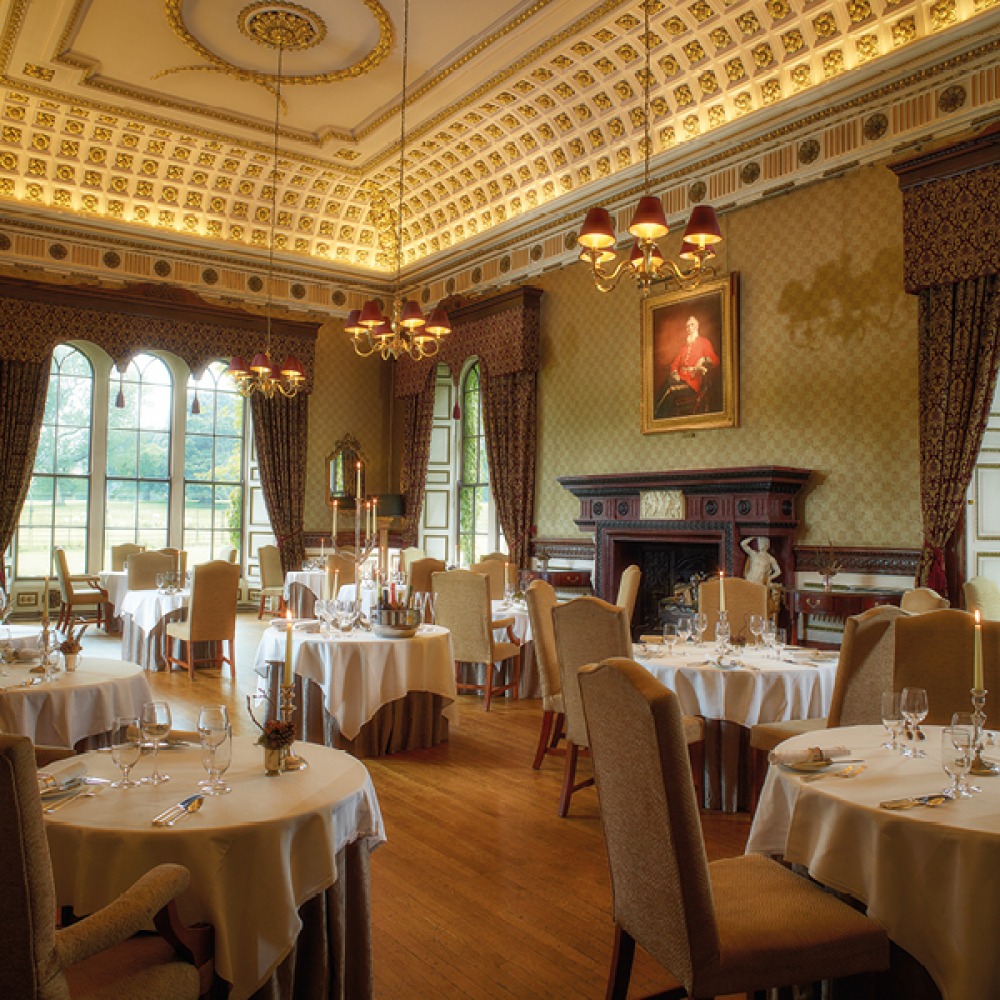 In the late 1990s Mark and Felicity managed in short time to get married and complete on the purchase. However, it was not an easy choice, with solid careers ahead for both in London. 'I was working in the city as a lawyer,' explains Felicity. 'I had a good job with a lot of potential but I wasn't sure I wanted to stay in London and eventually decided to leave the law. A lot of my skills were transferable but it was hard leaving a very secure job for the unknown.'
So began the journey that continues to this day. Of Swinton Park she says: 'The roof was sound and the basic structure in good order also – and for this we were grateful as the conversion works involved a huge amount of work.'
All sorts of ideas were considered and rejected; timeshare flats, a care home or even a hotel. 'When it came to the hotel idea, the numbers seemed to work, and we both loved the idea of keeping the house open to the public,' Felicity explains. In an impressively short time the restaurant (Samuel's) opened in February 2001, followed a month later by 20 bedrooms. By 2003, 10 more bedrooms were made available. But the plan was never just to settle there and the years following have seen a complete re-awakening of the Swinton Estate – but always with a nod to the traditions of the main house, and it's that which, for me, makes the current offer so appealing.
As Felicity and I go our separate ways for an hour or two, I take the opportunity to explore and at the same time reflect on what Living North has achieved in Yorkshire. Walking through the woods, which are speckled with wild flowers, I think it's the sheer beauty of the county that wins gold: its ragged coast with bays and expansive sands and steep cliffs, the isolation of the moors, and the variety of the different dales which combine to make the most beautiful landscape, often speckled with old farm buildings and dissected by stone walls.
Throughout are some epic hotels, inns, pubs and cafés. Many, like Swinton Park, have come on in leaps and bounds since we began here 12 years ago.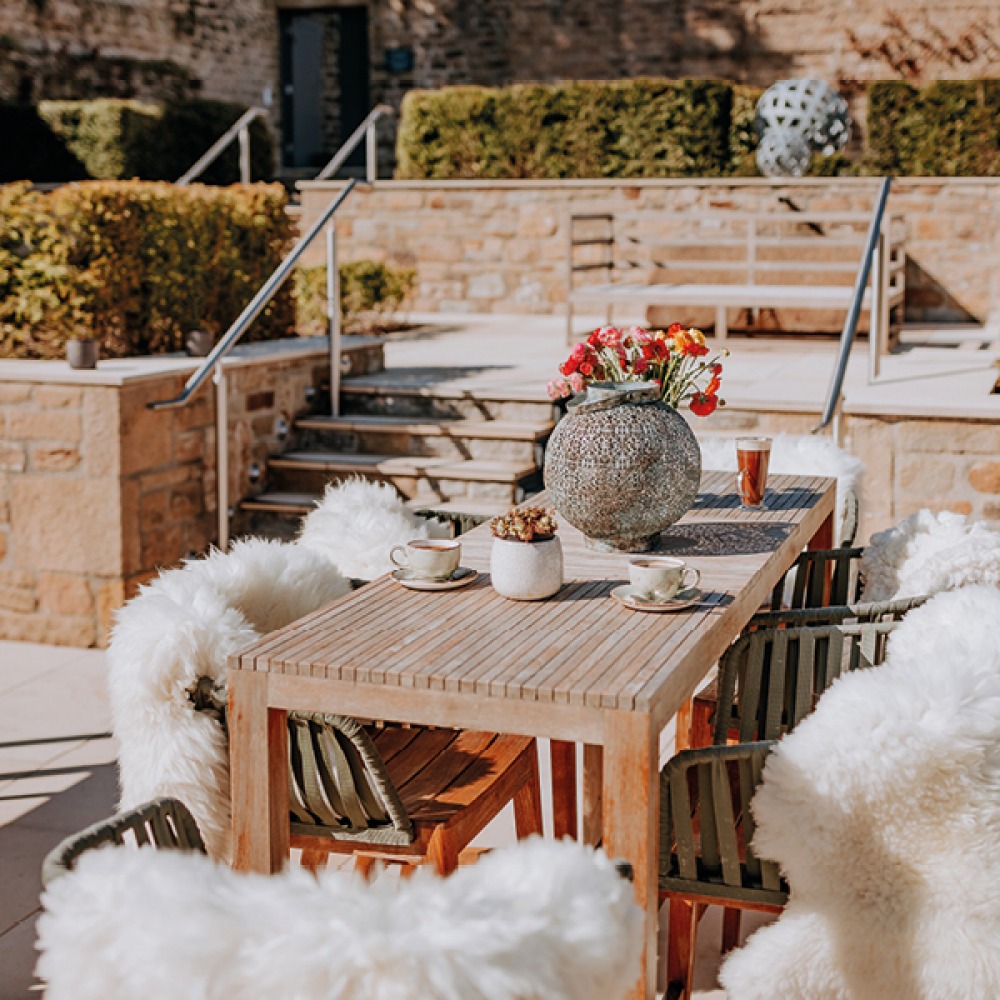 In those years, one other interview which stands out was with chef Tommy Banks (who we also speak to in this issue). Since that early edition he has since gone on to build a truly stellar reputation. Yorkshire has always had some outstanding restaurants, and this continues even more strongly today. In terms of hotels, nearby Grantley Hall sets an extraordinary standard, and is another jewel in Yorkshire's crown. Since Living North's early days we have delighted in Yorkshire's food and drink sector and I recall many a good meeting at Fodder, which is another space out of the very top drawer.
One of the joys of Swinton Park is the variety of accommodation. There are the grand suites in the hotel, of course, but the Swinton Bivouac is also a delight. This extraordinary space ticks all the environmental boxes but also boasts the most fabulous views and scenery, and the rustic accommodation is in tree lodges, meadow yurts and The Loft, which is on the first floor of a converted farmhouse. It's something I'm keen to discuss with Felicity when we meet up again in the Terrace Restaurant. As we sit here today a huge amount has been achieved, so what's Felicity's take on it? 'It's now vibrant, thriving, outward looking and we're now more innovative. In the last 20 years we haven't stopped, and there's always something new on the horizon,' she says. After such a time it's easy to just be proud of what's been achieved, but it's taken a lot of sheer hard work. Taking projects such as the Spa and Terrace from planning to completion has taken a ton of determination to deliver.
It's also fair to say that the Estate and the hotel itself and the various accommodation differs with each day. I certainly can remember staying here amidst biblical storms and also on the most beautiful days imaginable in England and I'm keen to know what it is about each season that Felicity especially enjoys. 'That's so difficult,' she smiles. 'In spring, when the birds are nesting the Curlews and Lapwings are fascinating to witness. In summer we've had some lovely times by the river, swimming and enjoying a picnic. In autumn walking around the lake when the trees are turning is beautiful, and if we get three heavy frosts in winter we can actually skate on the lake.' It all sounds pretty dreamy, and it is, but packaged within these highlights have been a decent number of headaches too, which perhaps makes the results of these challenges so special today.
'No two days are ever the same,' Felicity continues. 'Sometimes I am planning the next phase of development and future strategy, and the next I'll be digging out fabric from the attic to replace some cushions or working out how to replace a valve in the spa plant room. I've no formal training in hospitality, but I enjoy a challenge and keeping my eye on what's on the horizon – I'm a bit of a magpie when it comes to borrowing ideas and concepts and working them into the Swinton ethos.'
As we break up once more I head to one of my favourite places on the Estate, the Druid's Temple. The parkland and gardens are all brimful with seasonal colour and in contrast this mystical folly sits in the midst of woodland within a surrounding blanket of moorland. If you need to collect your thoughts this is as good a place as any.
Reflecting on Living North's first 100 issues, there is so much we can be proud of. Our conversation and 'last tango' with Sally Wainwright sticks firmly in the memory. As does the opening of The Hepworth in Wakefield, not least because my mother interviewed the artist herself many years before. Picking five of the seven gold medal-winning Yorkshire Olympians pre the 2012 London Olympics also stands out, and that didn't include the most obvious winner: Jessica Ennis-Hill! Waking up in a rain sodden tent before the Grand Départ of the Tour de France was another extremely 'happy' memory. But it's the less celebrated that really make our pages sing, people who run their own businesses, the makers and creators, or just look after others. That's the rich tapestry of Living North in Yorkshire that we so savour.
'The years following have seen a complete re-awakening of the Swinton Estate – but always with a nod to the traditions of the main house'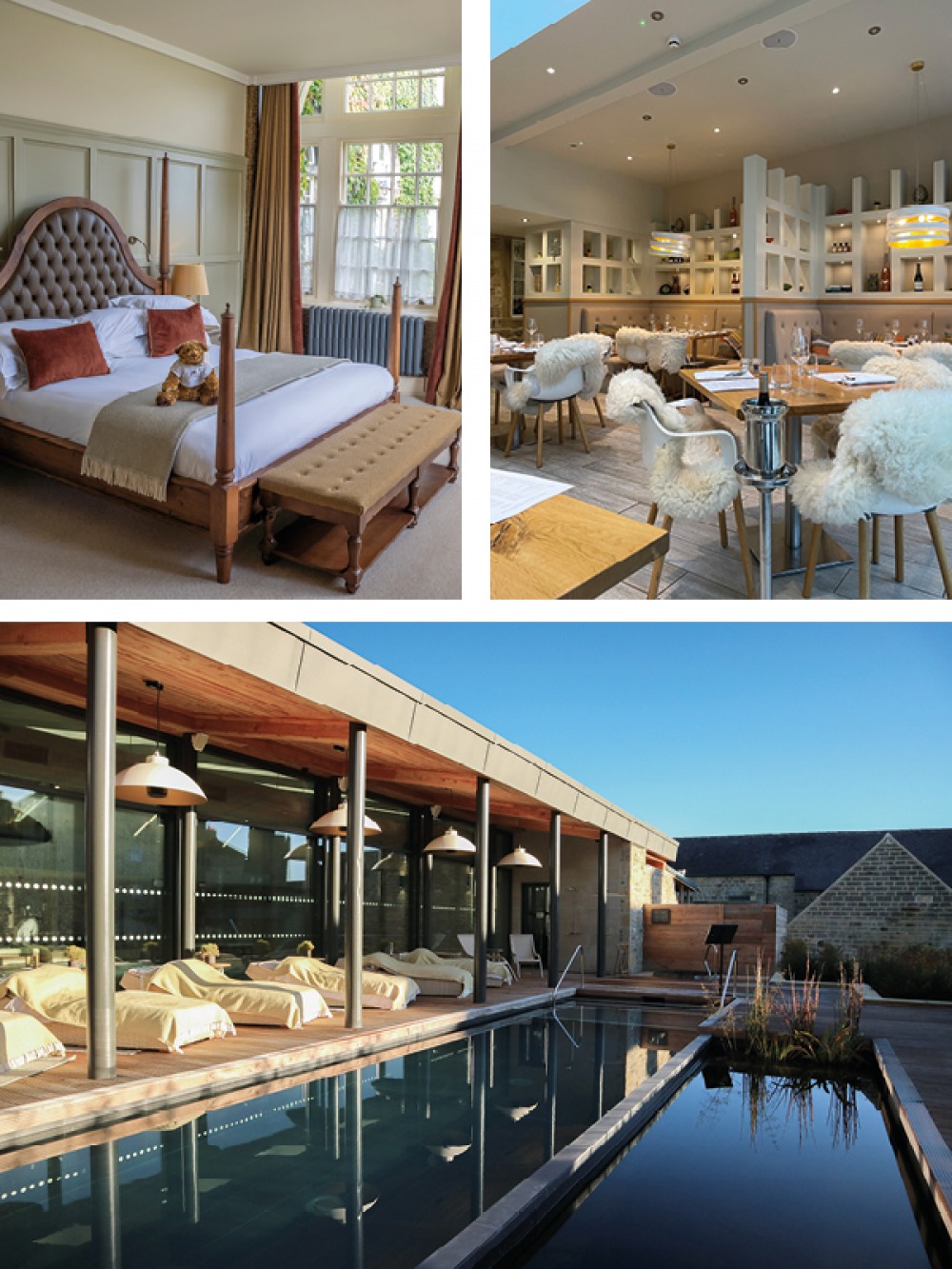 Wandering back via the Bivouac Café, I'm also reminded of the impact that so many new developments can have on the environment. It's something I'm keen to chat about further with Felicity. 'It's something we have always had on the agenda, the impact of what we were doing even in the early days. It actually made a lot of sense and has never been a box-ticking exercise. The environment is all around us, it effects everything we do, after all it's what people come here for,' she explains.
While it's fashionable and pragmatic to go this route, the environmental wish is genuine and Mark is currently working on two research schemes. One the NEIRF scheme which is investigating different options for private investment into woodland creation and the varying benefits different types of woodland can bring, another with DEFRA is considering landscape management and what farms are going to look like in the future, especially with the challenge brought about by the need to recover landscapes, as well as growing produce. With a significant tree planting scheme, a careful eye on conservation to protect endangered species like hen harriers, as well as fostering flower meadows and peatlands, environmental care alongside land management is at the heart of the project.
'Last year's big project was the creation of 10 additional rooms in the Coach House at the hotel. This year we have a few ideas for future developments across the wider Estate that we are researching and working up into a business plan, and for the summer months we will launch our Spa Garden which has a permanent outdoor exercise space (for Pilates, Tai Chi and meditation) and a barefoot path for guests and members to enjoy the sensory experience of "earthing" as they walk over sand, bark, pebbles and grass,' Felicity explains. From the environment to the latest in wellness the Estate is always ahead of the curve. Some may say that's brilliant, Felicity and Mark would more likely say it's just sensible.
As I take my leave, I'm keen to finally ask about how Felicity feels Yorkshire has done since she has been at Swinton Park, and what her perceived values that the county brings are. 'Its scale and breadth are hard to beat. Backed up against this the brand of Yorkshire has come on in leaps and bounds,' she says. 'This is apparent in our guests, many of whom come from Yorkshire which we really like.'
If publishing a magazine means we are able to shine a light on hard work, creativity, determination and great experiences, it is a huge privilege. Swinton Park is as good an example as any we have experienced, and all the while they are enjoying and celebrating the very best of Yorkshire.