Lucy Beaumont on her new book and her family's fascinating past
There's no one more passionate about Hull than actress, writer and stand-up comedian Lucy Beaumont
We call her to chat about her new book, but end up finding out about her family's fascinating past
Drinking Custard: The Diary of a Confused Mum is Lucy's new 'mumoir' – it's filled with plenty of hilarious parenting moments (including being hospitalised with indigestion in her third trimester thanks to a burrito, a Disney's Frozen party that really didn't go to plan. and her addiction to custard) which we're sure every first-time mum will relate to, but it's also a very honest look into Lucy's life. She really waves the flag for Hull whenever she can and, after living down South for a while, Lucy, her husband (8 Out of 10 Cats Does Countdown Team Captain Jon Richardson) and first-born Elsie (who took an early liking to Yorkshire pudding) moved to Mytholmroyd near Hebden Bridge.
Lucy says it feels 'very weird' to be holding the published book, which is complete with an intro and witty footnotes from Jon (not corrections – more added information or justifications). She'd forgotten, while writing, that people would read the end product. 'It's quite an intimate thing, and I found it really cathartic,' she adds. 'I was able to be really honest. When writing stand-up, you've just got to make it as funny as you can. If someone doesn't laugh, you just don't do it again. But when it came to writing this book, it was different. I thought as long as I put some funny parts in, I could be honest with the retelling of all these events.'
That's exactly what this book is – open and honest. But, as she's recorded her time from pregnancy to birth and beyond, we ask Lucy to reflect on this period of her life – and whether she'd change anything. 'Not really,' she ponders. 'I would end up just doing the same again. Mistakes are made just because of our personalities. I would love to have relaxed a bit more but I don't think you do that until you have a second or a third. You're bound to worry with your first.'
'A tearful chapter of the book sees Lucy open up about her grandparents. They were born on Hessle Road, a fishing community in Hull'
A tearful chapter of the book sees Lucy open up about her grandparents. They were born on Hessle Road, a fishing community in Hull, and their dads were trawler men. 'My grandad managed to research his family tree as far back as whaling in Hull,' she says. 'It's fascinating because I don't even like going out on a pedalo.' We mention the documentary Hull's Headscarf Heroes (marking the 50th anniversary of the triple trawler tragedy of 1968), which Lucy narrated, and she continues: 'It's in my blood really. My family have always shared stories with me and kept the stories [of what the fishing industry in Hull used to be like] alive. It's been important for them to pass that down because it was an industry that people were really proud of. A lot of people forget that when an industry collapses, it takes people's identity as well. It's like an inherited trauma. We talk about feeling the effects for the last 10 years but actually a lot of places have felt the effects since the 60s, and are still feeling it now.
'I like to get involved in anything that involves storytelling and maybe trying to heal. That's why that narration was so important to me because it was like our collective trauma in Hull was being shown to everyone, so others can learn from it. I got a lot of messages when it went out from people who really felt strongly about it. It wasn't just like an office job, it was a lifestyle. I might not have any memories of it personally, but it's still important for me to keep my grandad's story's alive.'
While Lucy doesn't think a North/South divide still exists, she admits you can be shaped by where you grow up. 'In Hull it feels like there's a great sense of humour that comes from being in a working class town and an exciting place to be,' she explains. 'We're a very small country but I am fascinated by how different areas have different attitudes. You sort of adopt that if you're not from there. I think the more we keep saying there's a North/South divide, the more it creates an issue. All there needs to be is better links.'
While potentially biased, as most of her best memories were formed here, Lucy says she loves Hull because of its character. 'It must be a bit like if you're from Dublin, or Liverpool or Glasgow, but I shout about it because we all know about those places and many don't see Hull as having that same badge of honour,' she admits. 'Actually, people really are defined by their area, and when I started doing comedy, nobody knew where Hull was. I've made it my life's career to shout about it and let people know that it has a really important history as part of Britain. You're brought up to feel like an underdog and when I was growing up I never saw anyone from Hull on the TV. Just the fact that I'm on TV with a Hull accent is important.'
As Lucy continues on her march to shout about Hull, Drinking Custard: The Diary of a Confused Mum, published by Octopus Publishing Group, is available to buy in all good bookshops now.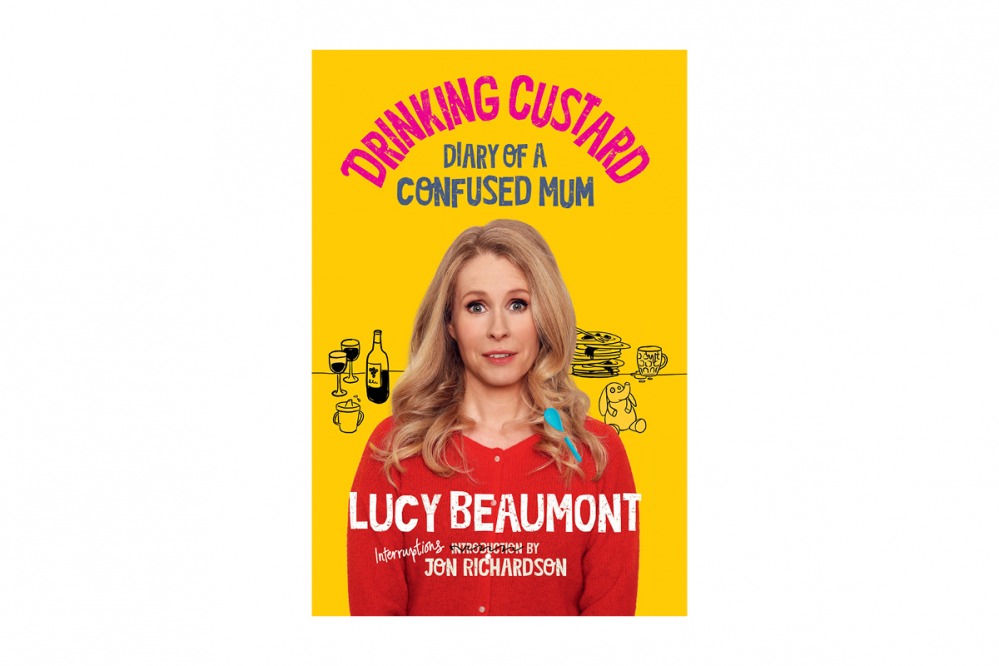 Quick Fire Questions
Do you think your book will help mums to be?
'No, I think it won't help at all! I think it'll put people off.'
There's a Q&A you did with your mum, playwright Gill Adams, in the book. Would you consider publishing a book with your mum?
'Yes, I have thought about it. But we would kill each other. It would never get finished. One of us wouldn't be alive.'
If you do write another book, would you get Jon to write the interruptions again?
'No! As soon as I asked him, I regretted it. I'm only joking, of course! This book lends itself scope in another five years to talk about the school run and the WhatsApp groups. I did try to make this book quite a lot about me rather than my child because I was conscious of her looking back in the future and hating this.'
Does Elsie use northern slang?
'She's got a Netflix accent now! She did have a northern twang but she's half Northern and half Netflix really.'
Favourite place to take Elsie in Yorkshire?
'There's so many! We love Stockeld Park. There's an interactive fairytale walk there that we love. But I love Yorkshire as a county really. I love the countryside, the Dales, the Wolds – there's so much to see. Sheffield is equally a culturally important place too.'
Favourite place to eat out in Yorkshire? And what do you order?
'I'll eat anything really! If there's a good vegan option, I'll normally have that, but there very rarely is. You can tell when someone's cooking it if they're vegan because they understand that you don't just want butternut squash and that you still want something "meaty". But fish and chips is still my favourite – Cave Street Fisheries in Hull is where I go!'
Plans for your future? Your comedy series Meet the Richardsons? Your new sitcom Hullraisers?
'The new series of Meet the Richardsons comes out in spring and Hullraisers comes out next year as well. I'm now pitching other things which is great – and there's plenty of new ideas.'