Meet the Handcrafted Furniture Maker coming to Living North LIVE at Newcastle Racecourse
Specialising in handcrafted industrial-style furniture made with local steel and wood, Rustic Revive offer a bespoke service, designing and making a broad range of custom-built pieces
We caught up with founder Jonathan to find out more.
Tell us a bit about your background.
Since a young age I have always enjoyed working with my hands and designing things. When I left school, I got an apprenticeship as an HGV Technician and as well as fixing vehicles, we also used to do a lot of welding fabrication work. This came in very handy when I decided to turn my hand to furniture making. I can't say I didn't enjoy my job as a technician, but I knew I could do something a lot more creative and really invest in myself. When I'm not working I really enjoy spending time with my family and following football.

When did you start Rustic Revive and why?
Rustic Revive all came about in 2016 and it started in an outhouse at our old address. Making small things such as wine racks and cloak hooks out of horseshoes and reclaimed wood, soon turned into dining tables and large shelving units. Although it was a very small space (only 1.2 metres deep) the size of some of the things I made in there were massive and I used to have to take things into the back yard to turn them around! We then moved to a house around the corner that had a larger garage which became the new HQ for Rustic Revive and having more space was amazing, but after about two years I got the idea that I wanted to get a commercial unit. This was a huge commitment for me, especially with all that was going on at the time with Covid, but I went ahead and did it.

The orders began coming in thick and fast which made it almost impossible to juggle this and my full-time job in the garage, so after being there 18 years I decided to leave to concentrate 100 percent on Rustic Revive. Since then we've moved again to where we are now which allowed us to make a showroom to showcase our work within our workshop. I was really struggling with the volume of work, so I took on a very good friend Ben who is a really talented craftsman. We used to work together at our previous employment and both have a passion for what we do.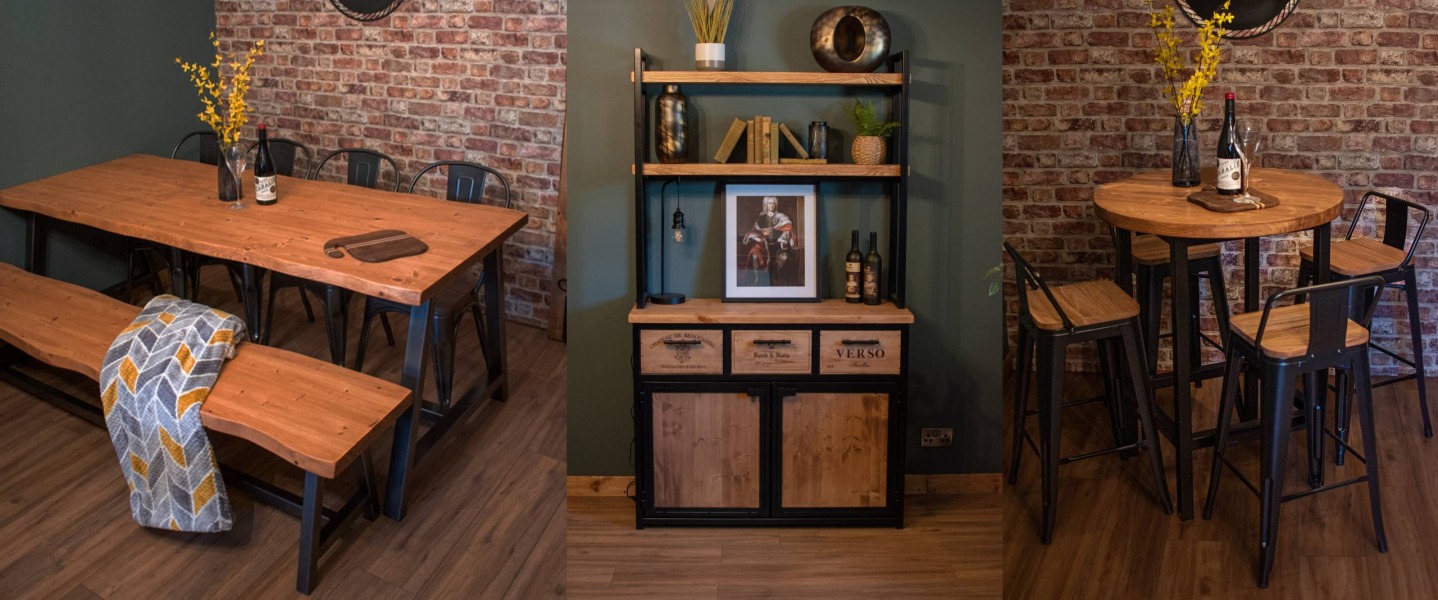 What is the concept of the brand?
Rustic Revive provides a unique mixture of traditional farmhouse styles and modern industrial looks. The furniture is extremely high quality and built to last, so it's nothing like what you would find in a high street chain store.

Where do you find inspiration?
Wherever I am I'm always thinking about new designs and builds. I like to always have a sketch pad or a scrap of paper with me to jot things down. When we deliver furniture to homes and businesses, we come up with ideas for new designs to match the surroundings, it might be something as simple as an empty alcove and ideas come flooding in.

Where do you source your materials?
All our materials are sourced from local steel merchants and timber yards. We are also always on the lookout for unique pieces that we can incorporate into our work.

Tell us about your typical day.
Most days start with a trip to the powder coaters to pick up frames we have dropped off the day before. We then head to the unit and crack on with fabricating and crafting our furniture. Every dinner time we go over the road for a coffee at Fika coffee roasters, the coffee is unreal! During our dinner I'm usually drawing out plans and responding to messages, whilst discussing plans with Ben. We usually work until 5.30pm and then deliver local orders on the way home – for deliveries that are miles away we usually do it on a Sunday. Once home, I'm back on the computer answering enquiries.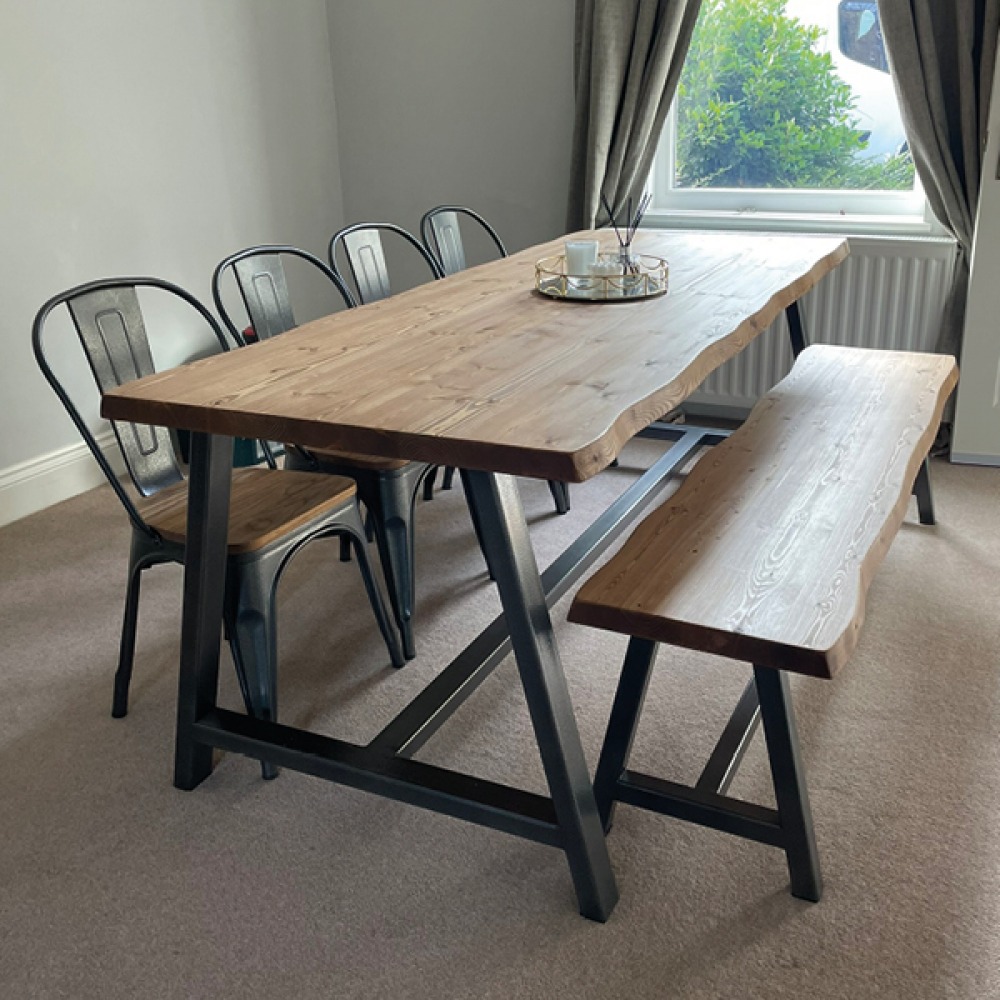 What's your favourite thing about what you do?
I have to say I love all aspects of the work we do, from speaking to customers, to making the furniture and then delivering it to their home or business. It's very easy to take pride in doing something you love. The most enjoyable thing has to be having a satisfied customer. We pride ourselves on making every item to perfection and we really do appreciate every single order, it helps us keep doing what we love.

What's the most challenging part?
For me I don't tend to find things hard whilst doing this. Some of the builds we do are very complex and challenging but together we always get it right. Sometimes you just have to step back and take a minute when things are against you.

Favourite piece of your own work?
I don't have a specific favourite as we have done some really nice work between us. The Mood Food restaurant in Birtley is one that does stand out for us, as we made all the furnishings for the whole place and were given free rein on a lot of the pieces. Also having our swing seats on Newcastle quayside along with our outdoor picnic benches is something we are proud of.

Where can we find your work?
Our workshop-cum-showroom is based in Durham and everyone is welcome. We will sit with you to help bring your ideas to life, and you can see the quality of our work in the flesh – photos never do our work justice. You can view and buy online on our website, or we are also on Facebook and Instagram so please give us a follow. We will also be at this year's Living North Live at Newcastle Racecourse on Stand S1 so call in, say hi and check out some of our latest work.

Plans for the future?
We plan to just keep doing what we always have, which is provide quality bespoke furniture. Also continue to try and get people to buy from local manufacturers like us rather than large chains where it's mass produced abroad and nowhere near the same quality.
Meet the team at Living North LIVE at Newcastle Racecourse from 19th–21st May. For more information head to or visit their workshop at Unit 4A, Riverside Industrial Estate, Langley Park DH7 9TT.