Meet the Ouseburn Potter Who Makes Popular 'Boob' Pots
Becky Helliar from Rawpots tells us about her work and inspiration - and her popular 'boob' pots
The Ouseburn-based potter makes fabulous and functional stoneware pieces.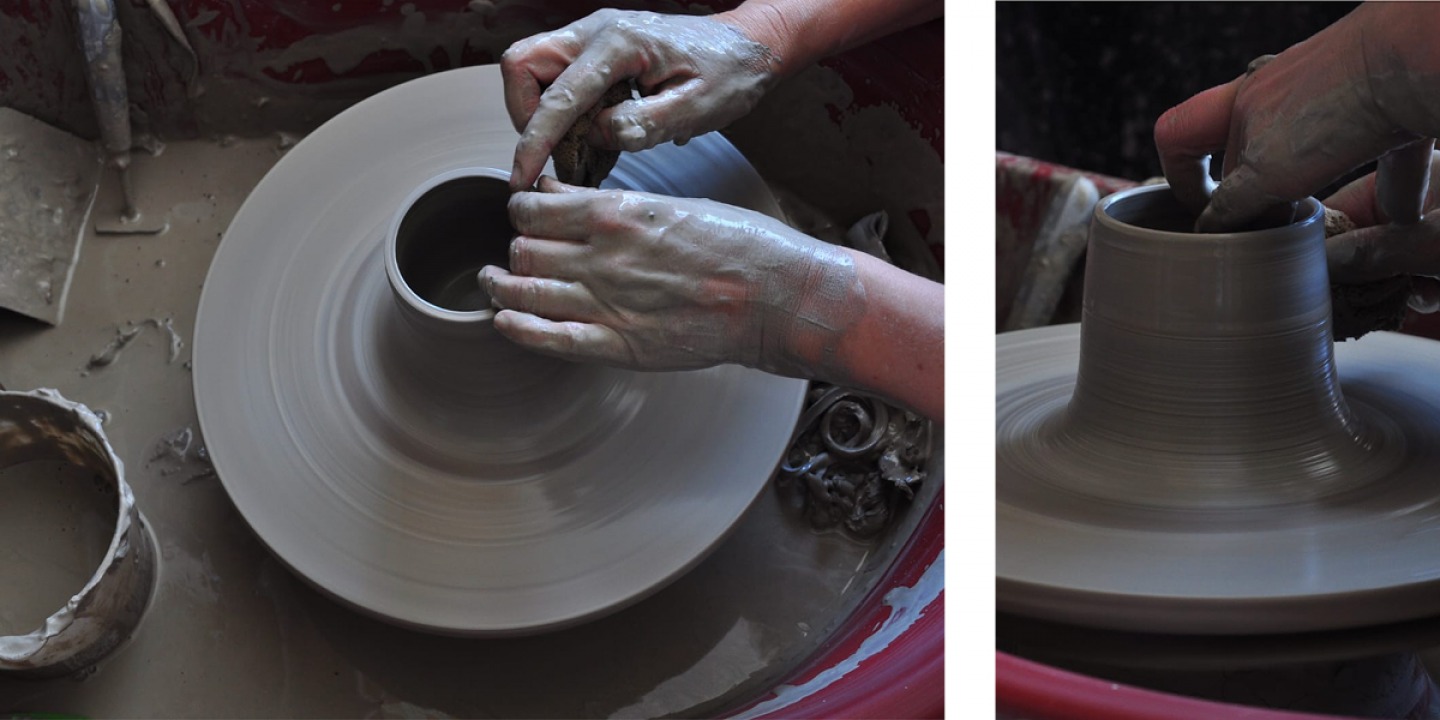 Tell us what you do.
I'm a potter working in the Ouseburn area of Newcastle, where I have a studio which I share with other potters. My work is mostly functional stoneware pieces and sets which I throw and decorate using my signature rawpot glaze effects. I enjoy commissions and working collaboratively with other artists as this challenges my practice and encourages me to explore new techniques and step out of my comfort zone.

What's your background?
I am originally from Liverpool, and came to Newcastle in the mid 90s when I became involved with an arts collective in Newcastle city centre. I started to develop community arts projects and made stage sets for local dance and performance companies. My training was originally in architecture but I chose not to pursue this further after completing my degree. Before discovering my love for ceramics I dabbled in designing and making jewellery, I co-founded and ran a CIC called Hive Arts and made clothes using my own printed textiles. It wasn't until 2017 when I rediscovered pottery making and started to make and develop my work seriously.

I love working with people and have done so from a very young age. I work part time as a wellbeing worker with autistic people and people with learning disabilities in a local charity. I also deliver wellbeing forest school sessions to local groups, as I thrive on being outdoors and often do pottery workshop sessions which are a great way for people to relax and share.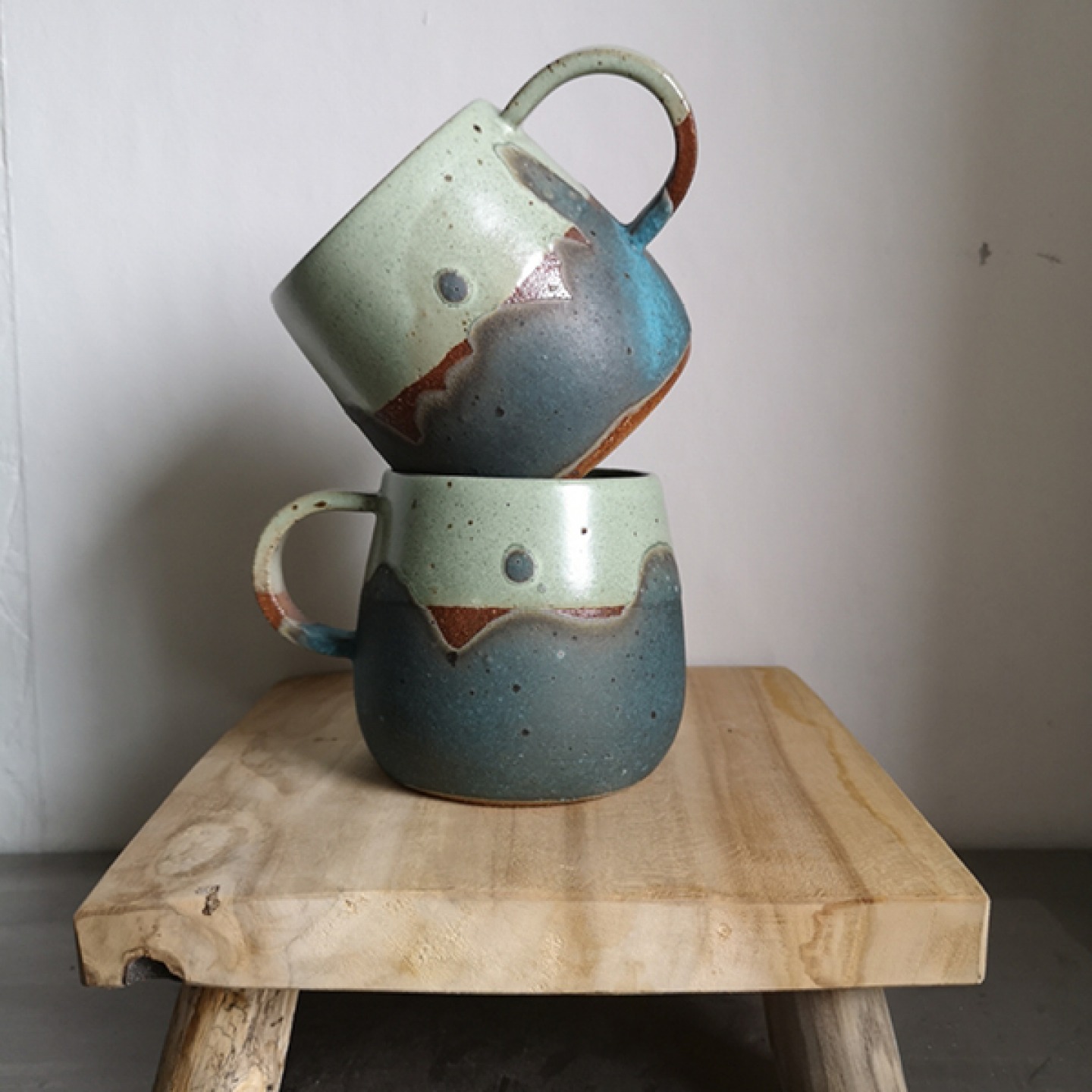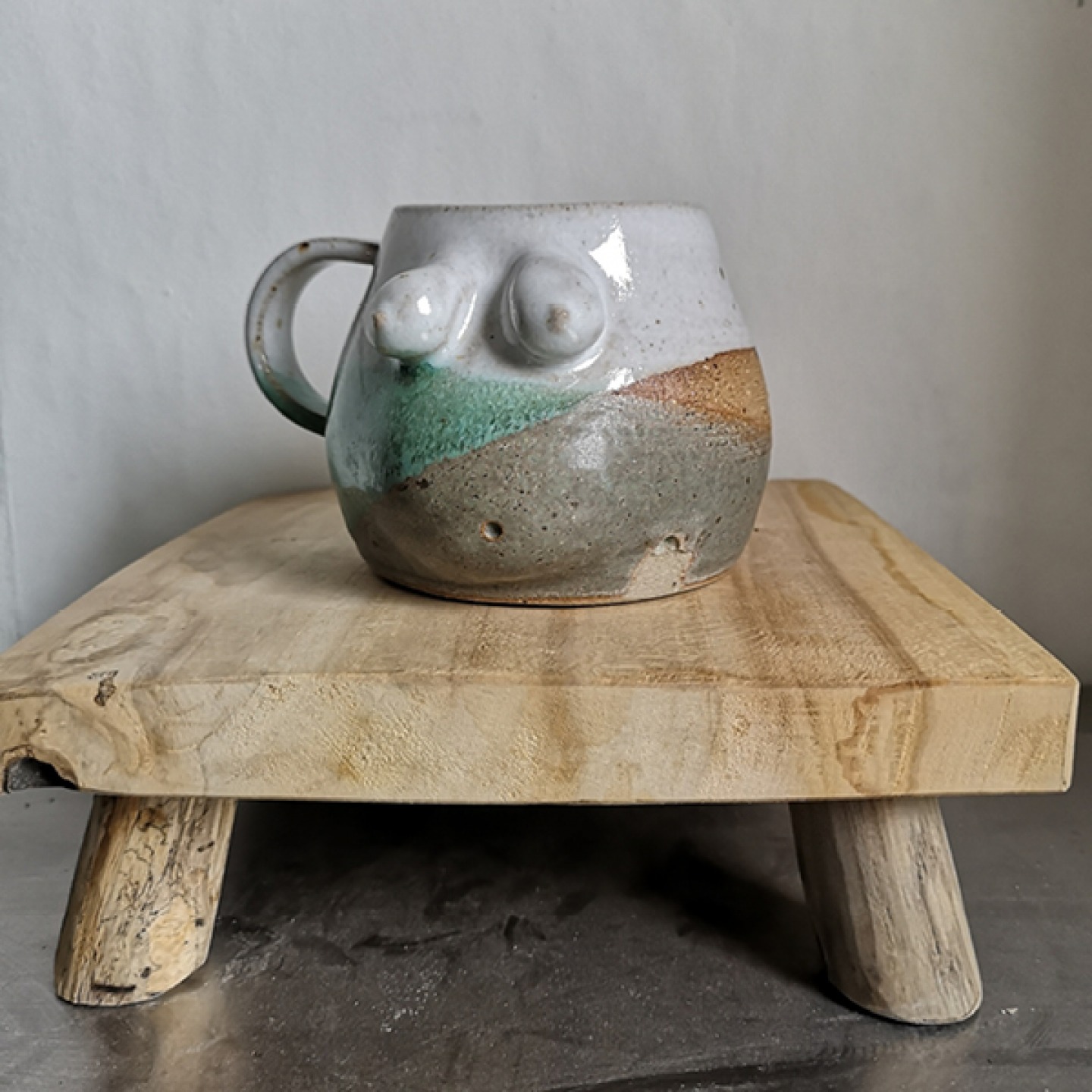 'I thrive on being outdoors and often do pottery workshop sessions which are a great way for people to relax and share'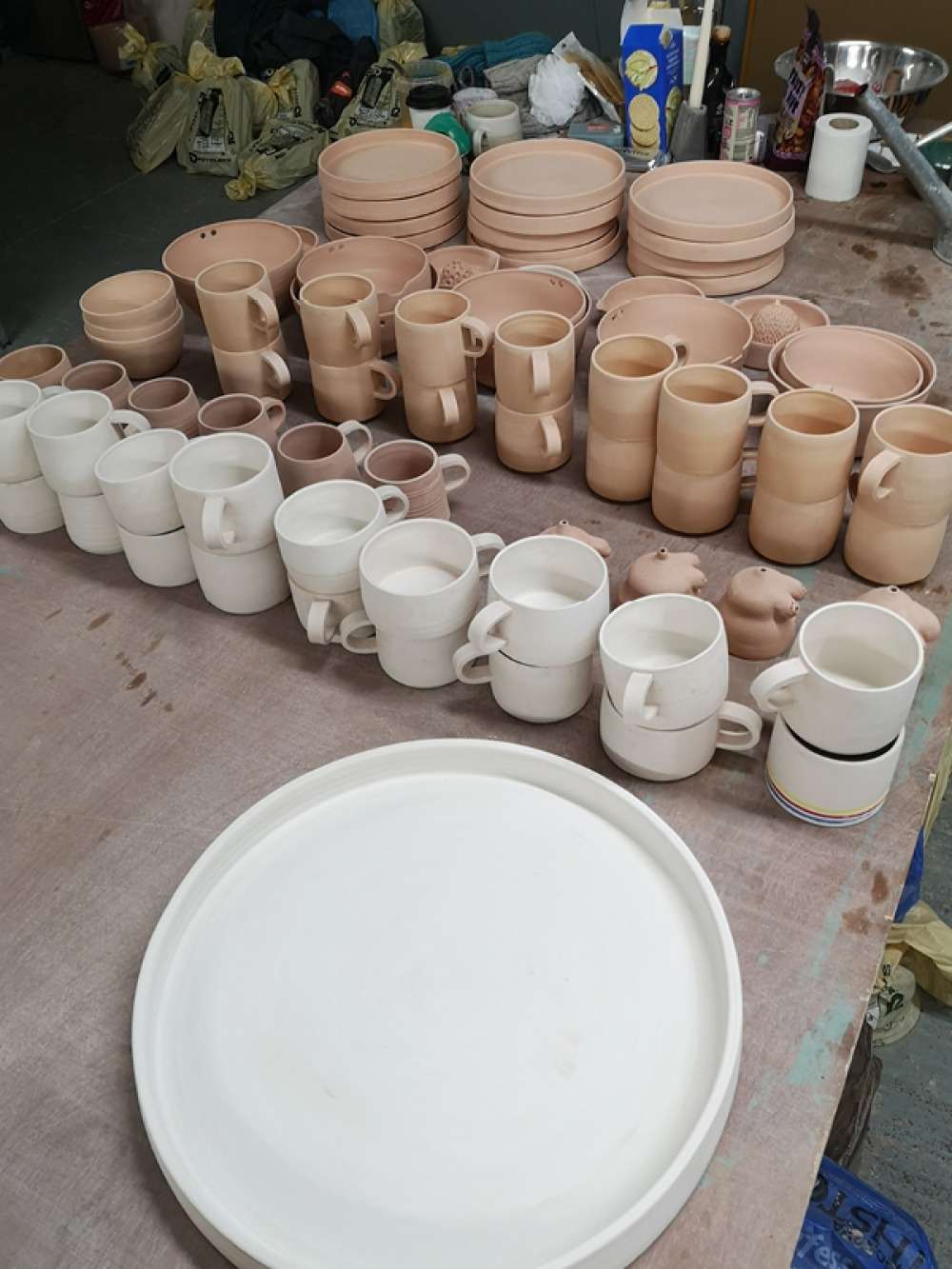 Where do you find inspiration?
Over the years I have taught lots of different creative arts and craft techniques and drawn inspiration from the environment around me. I have always had an interest in the built environment and nature, but probably draw most of my inspiration from the coast where I currently live. The glaze effects I have developed suggest seascapes and landscapes and using my rawpot detail, creating a textural and visual contrast, I hope that everyone sees something different in each piece I make.

Then there's the elephant in the room – my boob pots. These have proven a big hit and I continue to develop them in various functional forms. Mugs, vases, jugs, bowls, egg cups, plant pots – you name it, I will create a unique boob pot in any form. All shapes and sizes, every one unique, and I love it when customers try to find their personal body match.

What's your favourite thing about what you do?
I think my favourite thing is opening up the kiln after a glaze firing to see how everything's turned out. Every firing can be completely different and you can't always guarantee the alchemy and magic which has taken place during the previous 24 hours.
Favourite piece of your own work?
I did a commission for someone during lockdown which included a dinner service, teapot etc and it turned out great. I think this piece of work is still my favourite, and the customer was so lovely to work with. The piece of work I'm probably most proud of was also a commission piece; I worked with the wonderful artist Bethan Maddocks to create enormous ceramic spinning plates for one of her exhibitions. It really pushed my practice and was a massive learning curve, I'd never made anything that big before and used decorative techniques which were new to me too. We were really chuffed with the final results.

Tell us about your typical day.
I don't really have a typical day as the pottery process involves so many stages. I tend to get to the studio as early as I can after school drop off and make a plan whilst driving in. The school day isn't particularly long so I try to make the most of my time in the studio and sometimes take work home (I can stick handles and boobs on mugs at home). The kettle will go on for a quick cuppa, which usually goes cold, and hot water for throwing if the studio is cold. The conditions in the studio during the cold winter months aren't the best, especially if the kilns haven't been on, so I layer up with all the clothes I can find in the studio and get to work; preparing clay, throwing, turning, loading/unloading kilns, glazing, preparing and packing orders and stock for the market. There's always something to be getting on with and my new year's resolution is to take a break, as I often get my head down and work straight through.
Where can we find your work?
I sell my work on the Quayside Market, which I share with another trader so we do alternate weeks. I have my pottery stocked at the Northern Rye shop and Ernies in the Ouseburn, Bellwoods in Whitley Bay, and will have stock at Newcastle Arts Centre soon. I add the dates when I do the Quayside Market to my Instagram bio and take orders and commissions through both Instagram and Facebook. I also have an Etsy shop, which will be restocked in 2023.

How do you relax?
I really enjoy camping, having a fire and being outdoors. Living by the sea is relaxing in itself and I love to walk along the beach and go sea swimming. Occasionally I manage to relax with a book but as I've just bought a house, which needs plenty of attention, relaxing isn't always a priority.

Any plans for the future?
This year I hope to experiment more with glazes and develop some new colours. Let's see what 2023 has in store for me.
Keep up with Becky's work on Instagram @rawpots_northeast, Rawpots on Facebook or RawPotsGallery on Etsy.