Meet the Mother-Daughter Duo from York Who Own an Award-Winning Opticians
Mother-daughter duo Tracey and Georgia Rae opened Rae & Rae Opticians in York at the end of 2020 and have already won awards. We caught up with Tracey to find out more about the business and their choice of sustainable glasses
With four generations working in the industry, optometry is a career that most definitely runs in the Rae family. 'Georgia's grandfather, my father, ran a successful opticians for over 30 years and his father before him was also an optometrist with a successful practice during the 1930s, so it's in our blood,' says Tracey. 'I'm not qualified, I just used to work for my dad in his practice, but Georgia is a qualified optometrist. She used to work for the opticians that had the building before us so, when they decided to sell, they offered her the chance to buy it and we thought it would be such a good thing to do together.'
That was in December 2020 and, less than two years later, the business is going from strength to strength. Earlier this year Rae & Rae was crowned Fashion Practice of the Year at the prestigious Optician Awards. 'We'd only been going about a year when we found out we were shortlisted, so all our staff went to the awards ceremony down in London. We didn't think we stood a chance being a new practice and still finding our way, but we thought we'd just have a lovely evening. Then we actually won it! It was great.'
The family-run opticians has an impressive collection of hand-picked frames. 'I would say we've got easily over 500 frames now and what's important to us is that a lot of them are independent and exclusive to us, so you're not going to get them from anywhere else,' says Tracey.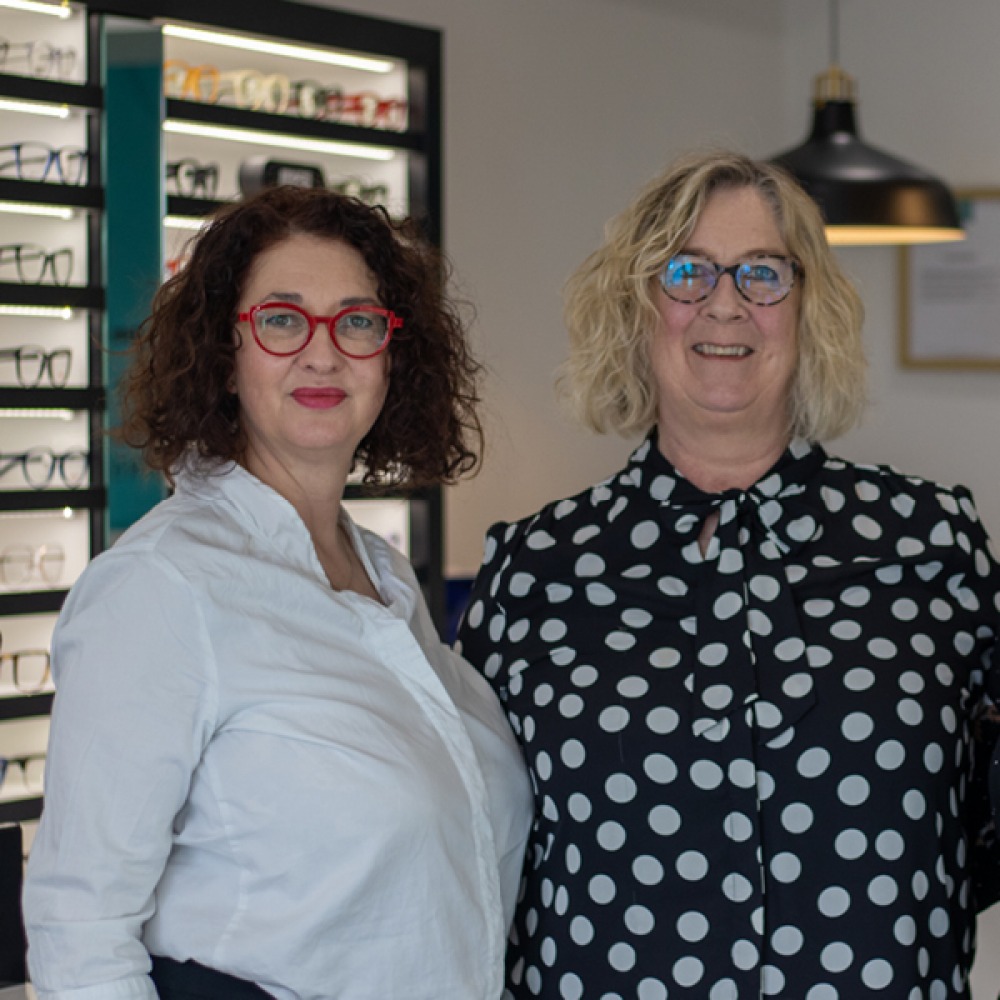 'We've also started to include sustainable brands too. For example, the first one we introduced is called Eco and, as well as being sustainable, they all come with a sunglasses clip included in the price so you've got two pairs in one. Then we have Feb31st which are totally made from wood. They only make to order so they don't have loads of stock lying around, and any of the wood offcuts from making the frames are used to heat the factory, so that's great.
'We also have a British range called Bird – the very first UK eyewear brand that are certified B Corp – and they're all made out of bio-acetate or recycled aerospace aluminium so it's all quite high-tech, plus their cases are made of cork.'
This focus on sustainability goes beyond the frames. Rae & Rae also recycle contact lenses and their blister packs, as well as working with a company that recycle spectacles locally.
Alongside their selection of frames, Rae & Rae offer both private and NHS eye tests. 'We were very keen to do the NHS tests because a lot of opticians and dental places are going down the private route, but it's a very varied socio-economic group round here. We wanted to make sure that we weren't alienating anyone so we felt it was really important to offer the free test for those that need it,' explains Tracey. 'We like to think that we cater for the whole community, not just parts of it.
Rae & Rae eye tests differ from highstreet opticians as they offer longer test times and use a technology called an Optmomap. 'This scans 270 degrees of the back of the eye and allows us to see a lot more than a traditional handheld device,' explains Tracey. 'Results are immediate and it comes out it like a photo so patients can look at it with the optician, who can explain what they're seeing. It's then also stored, so the next time the customer comes in we can see if there's been any change. It's a very useful thing to have and allows us to do a thorough diagnostic health check of the eye while we test them.'
Tracey loves being based on Bishopthorpe Road. 'It's known for being a very independent street and there's always a buzz here,' she says. 'Everybody is so friendly and we get a lot of loyalty from locals that want to support small businesses.
'Being an independent opticians gives a flexibility that you don't get in a chain and we get to treat patients how we want to treat them. We're all about offering a personalised, good old-fashioned service where we get to know patients and make them feel special.'
33 Bishopthorpe Road, York YO23 1NA
01904 611553
raeandraeopticians.co.uk