Men of the Moment: Alex Wollerton and Matthew Downing
Leeds' Alex Wollerton and Matthew Downing are semi-pro footballers who are making waves with their 2Touch Football Academy
Helping younger children and seasoned players sharpen their skills with bespoke training courses.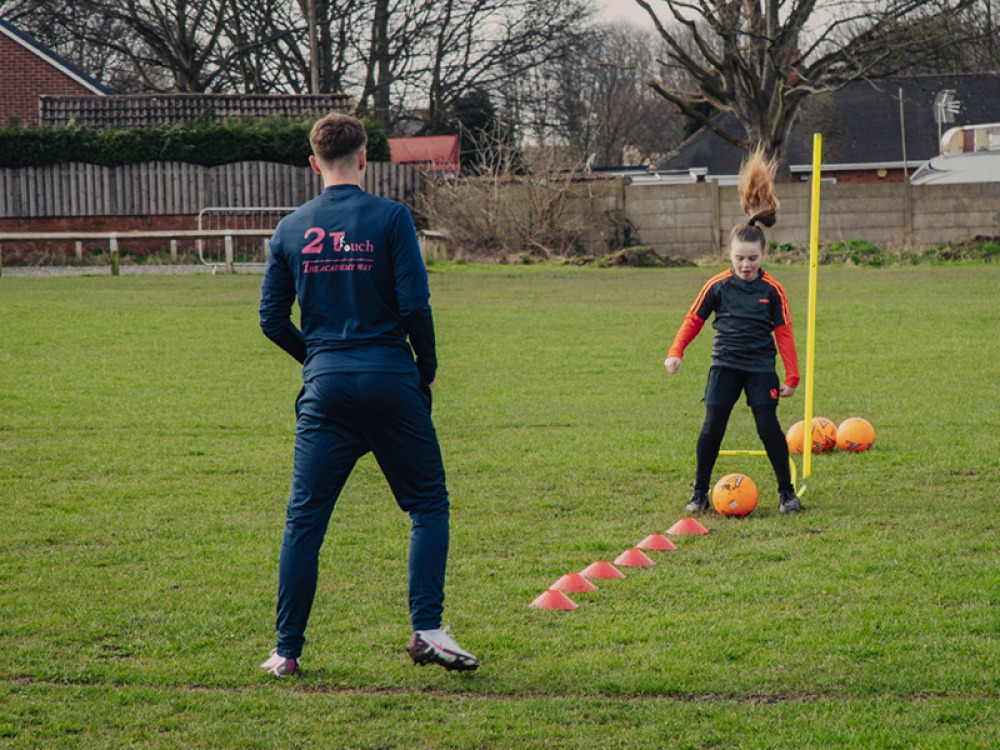 At the top of their game both professionally and in businesses, Alex and Matty are showing young players everywhere the importance of balancing the relentless life of being a professional sportsperson with chasing other aspirations. Determined to be footballers that don't spend 24/7 obsessing over the game, they've found themselves with the unique skillset and opportunity to nurture other players with a bespoke training academy.
2Touch Football Academy is already getting positive feedback, especially from parents who have noticed more smiles and improved skills in their children. After an appearance on The One Show, and a visit from Deborah Meaden to give them some useful advice, Living North met Yorkshire's rising stars.
'Matty and I know each other from being at Leeds United together. That's where our friendship came from,' says Alex. 'We both got scholarships, and then went on to get professional contracts at the club. Towards the back end of our scholarships we became very close. Last year with Covid and everything, we spoke more about our ideals and general outlook on football – and life,' Alex continues. 'We had seen and worked for similar set ups, and we wanted to offer a bespoke coaching service together. We set the business up in April 2021, and since then it's been going great.'
'I ended up going to Leeds United when I was about five and a half years old,' Matty adds. 'I stayed there throughout the whole scholarship, then spent three years as a pro there. I was lucky enough to win apprentice of the year for two years in a row at Leeds United, which is a great achievement, but I didn't spend that whole time playing, mainly due to some pretty serious injuries. It all gave me a lot of time to think about the next step, what else I could be doing while I healed,' he explains. 'I developed another injury which I have since had an operation for but I should be back to semi-pro work next year.
'It's a blessing and a curse. I lost consistently playing, but I regained time at the weekends – now I can run sessions for kids' birthday parties and work more closely with students at 2Touch Academy.'
Alex and Matty wanted to deliver a service which did the sport and their students justice – combining their professional skills with their affable outlook on life and approachable nature.
'Al was full time and I was obviously part time due to my injury, so I was doing mainly one-to-one coaching at the time. We thought – why not put our skills together and give it a whirl with both of us coaching?' says Matty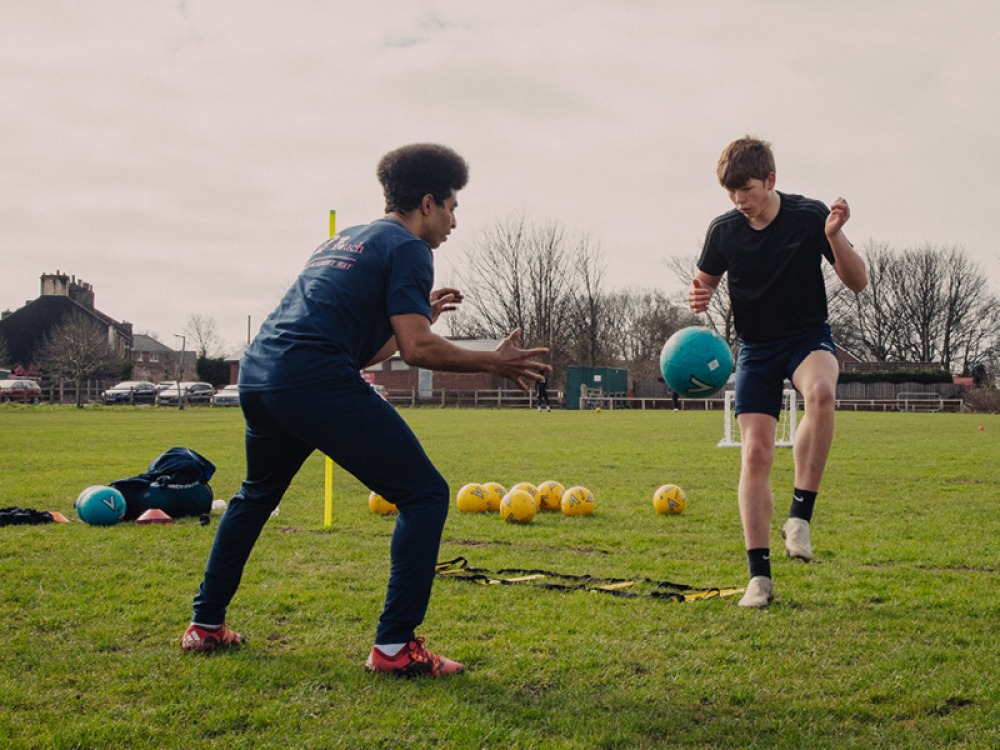 'Matty and I have both played football to a very high level,' says Alex. 'And as things normalise again we will continue to play football at that professional level – we've made sure to keep Matty, myself, and the staff we bring in, all at a semi-professional level to give parents that peace of mind that their children are being coached by competent, young athletes playing at a very high standard. It's important that kids can relate to their tutors. Many times footballers set up similar academies and they look great, but it's not always a consistent person who coaches the students. Our small and skilled team allows the younger kids to bond with their tutors.'
Alex and Matty are passionate about making a career out of football, but what sets them apart is their understanding of how inconsistent work can be detrimental to your self-esteem. Matty knows this personally from the unpredictable nature of injury in sport, and Alex wants budding sports stars to understand that an obsession with chasing professional aspirations can be unhealthy.
'Ultimately, we want to know that, as well as making a living, we're also giving back to communities that might not have had the opportunities we now have'
'A big thing for young footballers is reaching the crossroad – all you know is full time football, and you come to the realisation that next season that could all go away,' Alex continues. 'We know a lot of players at this crossroad that become so obsessed with chasing professional football that they feel outside interests would harm them. Matty and I feel that secondary pursuits have actually helped us in our game.'
'I had a groin injury, it went on for about 20 months,' explains Matty. 'I came back from that and played about five games out on loan at Sheffield FC – then I broke my leg. That took me out for another 13 months. It was really hard, because up until that point my game was going as well as it could be, it was a year where I got my pro-deal, my second apprentice of the year, but my injuries just weren't getting any better.
'We're going into Leeds United and Barnsley FC to talk to scholars about our experiences and let them know that there is more to life than strict professional training – that for me is massive. I was lucky that I had a great support network around when I was out of my game. We want to make sure that in the future we can offer a place for them to talk, to come and maybe do some work experience a couple hours a week, and show them there is another direction.'
Alex and Matty are constantly offering new courses as they brainstorm inventive ways to teach the beautiful game to others – including children's birthday parties, working with schools to help disadvantaged children learn with the pros, and leading training camps alongside their bespoke one-to-one sessions.
'Ultimately, we want to know that, as well as making a living, we're also giving back to communities that might not have had the opportunities we now have. Looking towards the future we want to look at doing more helping hand sessions, going into schools and offering very cheap day sessions to make sure kids from all backgrounds are getting good coaching,' Matty says. 'I work in a high school away from this, we've got a training camp next week with a few spare slots, so we're bringing back some of the kids who love the game who might not be able to afford it. It's going to be great.'
If you want to learn more about 2Touch Football, follow them on Instagram at @2touchfootballacademy