Raspberry and White Chocolate Cake Recipe by Jane Lovett
Raspberries and white chocolate are right up there as far as flavours matched in heaven go! Although rustic, this is quite an indulgent, versatile cake, good as a pudding or for any time of the day. Light and fluffy the day it's cooked, the longer it keeps, the more damp it gets, in a nice syrupy way. So, if you're after a little more moisture, especially if serving as a pudding, make it a day or two in advance.
Ingredients
110g butter, softened, plus extra for greasing
110g self-raising flour
110g caster sugar
½ teaspoon baking powder
2 eggs
100g best-quality white chocolate, roughly chopped into varying sizes of 'gravel'
150g fresh raspberries
icing sugar, for dusting
freeze-dried raspberry powder or freeze-dried raspberry pieces, to decorate
crème fraîche, double cream, thick Greek-style yoghurt or vanilla ice cream, to serve (optional)
Method
Preheat the oven to 160C/140C fan/gas 3. Lightly butter a loose- bottomed, 20cm round cake tin and line the base with a disc of baking parchment.
Put the butter, flour, caster sugar, baking powder and eggs into a food-processor and whizz together for 20–25 seconds until well mixed (or, put them into a bowl and beat together by hand or with an electric hand-held mixer to make a soft cake mixture). If using a processor, spoon the cake mixture into the prepared tin and roughly spread out to the sides of the tin. Pile the chopped chocolate and the raspberries into the middle and gently stir to incorporate them into the mixture, avoid disturbing the mixture around the very edges of the tin as best you can, then level out with the back of the spoon. If making in a bowl, very gently fold the chocolate and raspberries into the mixture, then spoon into the tin and spread level.
Bake for 55 minutes to an hour and 10 minutes or until a skewer inserted in the middle comes out clean, the cake is shrinking away from the sides of the tin and the top is springy to touch. If it's not quite ready, bake it for a little longer. The length of time varies and will depend on the juiciness of the raspberries. Remove from the oven and leave to cool in the tin for five to 10 minutes, then remove from the tin and transfer to a wire rack. Serve warm or cold.
Just before serving, dust the top with icing sugar, then decorate with a dusting of freeze-dried raspberry powder or raspberry pieces, and serve with any of the above suggestions, if you like.
Get Ahead
The cake keeps very well in an airtight container or in the fridge for up to three days (or a few more), and can also be frozen (defrost before eating/reheating). Serve the cake at room temperature or warm through in the oven (temp as above) for around 10 minutes until just warm throughout.
Hints & Tips
• Should the cake be slightly soggy in the very middle when cut into, this is a joy rather than a mistake!
• I also enjoy this cake cold straight from the fridge, as flecks of white chocolate which have permeated throughout, are set hard.
• Blackberries are a lovely substitute for raspberries. Generally being less juicy than raspberries, the cake will only take around 55 minutes to cook.
• Choose best-quality white chocolate that contains cocoa butter rather than vegetable oil.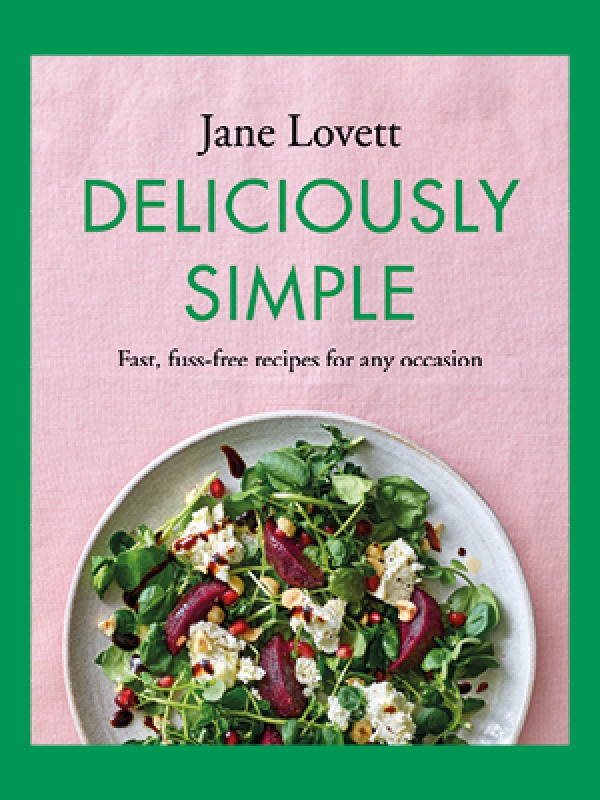 Deliciously Simple by Jane Lovett (Headline Home, £26)