Review: We Tried the 10-Course Tasting Menu at Forge at Middleton Lodge Estate (and it's Full of Surprises)
Fine dining is finally back at one of Living North's favourite destinations, the rustically hip Middleton Lodge Estate
Let the roaring fire pit outside the honey-coloured stone building be your guide as you head to Forge, the all-new dining destination on this popular estate near Richmond where head chef Jake Jones, alongside head pastry chef Anthony Johnson, promise to take you on a foodie journey to remember.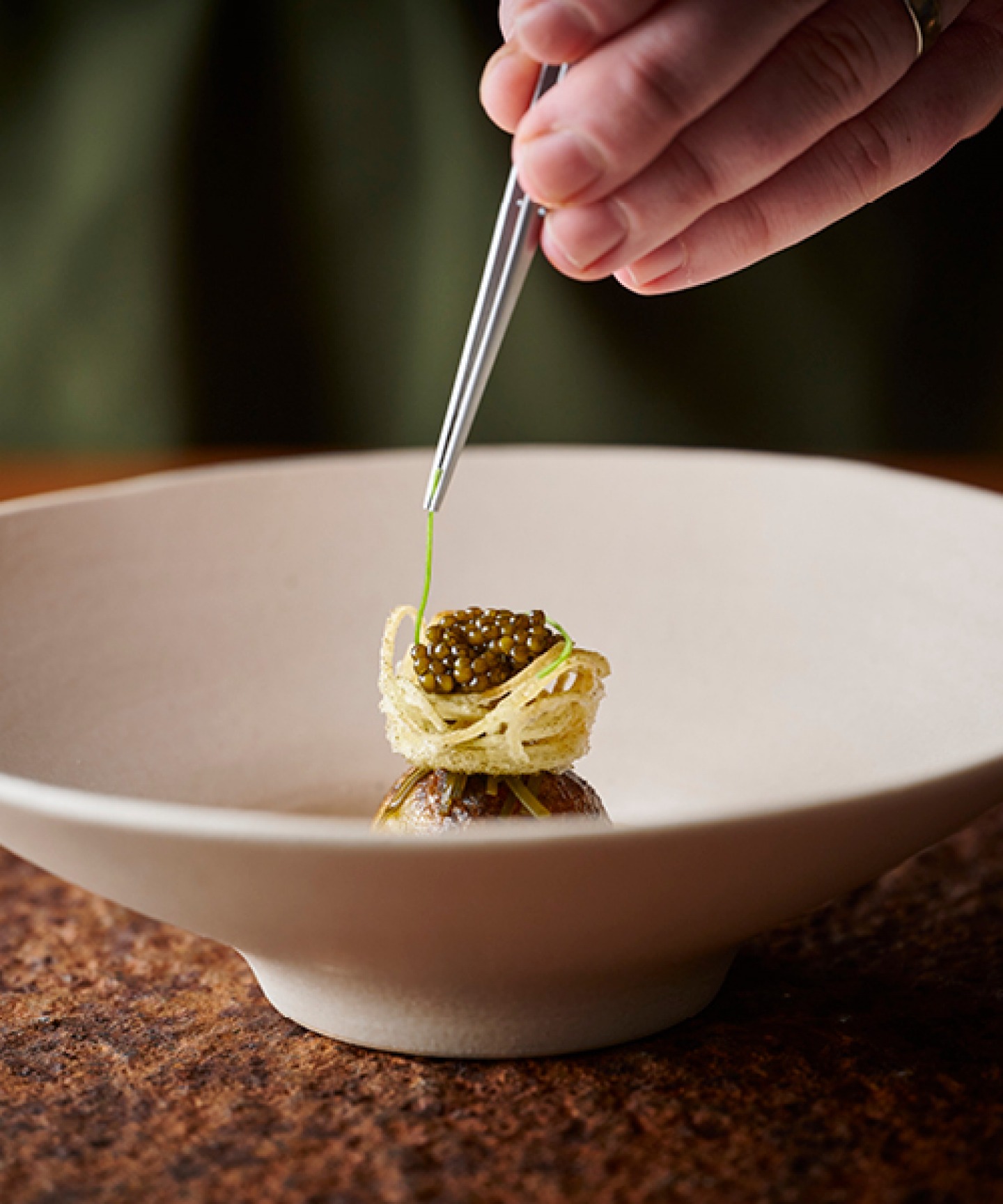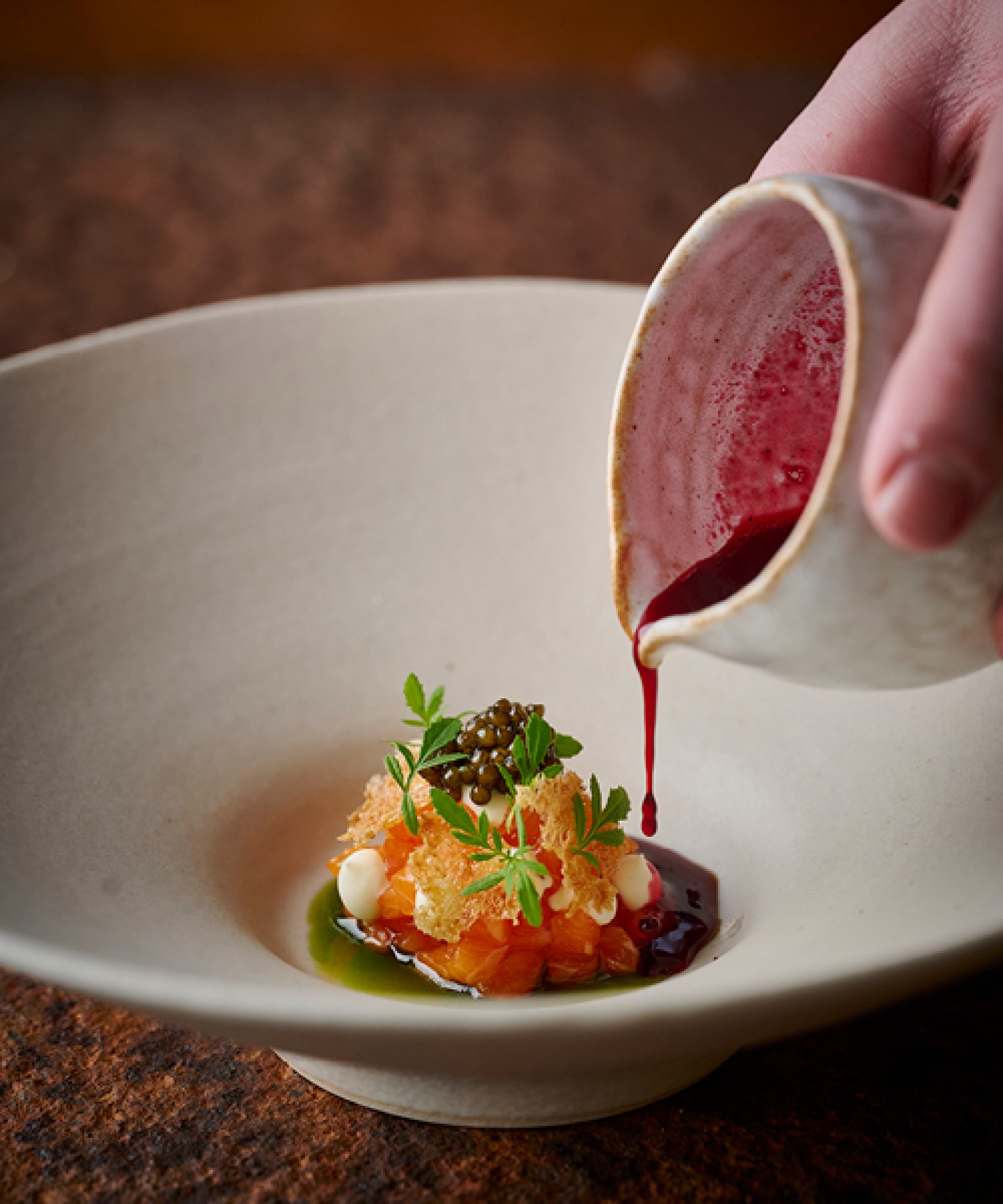 For anyone who has yet not had the opportunity to visit the 200-acre estate, it's a collection of lovingly-restored old stone buildings, a manor house, walled gardens and now shepherd's huts all dotted around to accommodate overnight guests, whilst the Coach House provides laid-back dining and there are treatment rooms here too. A stylish new spa is soon to be unveiled which will no doubt prove hugely popular.

Evening on the estate sees a trail of lights pick out the path which leads you to the far corner and courtyard with its crackling fire, where Forge is tucked away behind honey stone and industrial-style floor-to-ceiling windows. Inside the atmosphere is cosy and inviting, the lamps casting welcoming pools of light as we are shown to our table.
Head chef Jake, whose impeccable pedigree has seen him work at Michelin-starred restaurants across the UK, has worked his magic on a 10-course tasting menu full of surprises, a whole host of unusual ingredients and with field-to-fork (and in many cases estate-to-fork) very much in evidence. Jake uses as many ingredients as possible from the estate's walled garden, and forages for many more, and sustainability and creativity shine through each plate.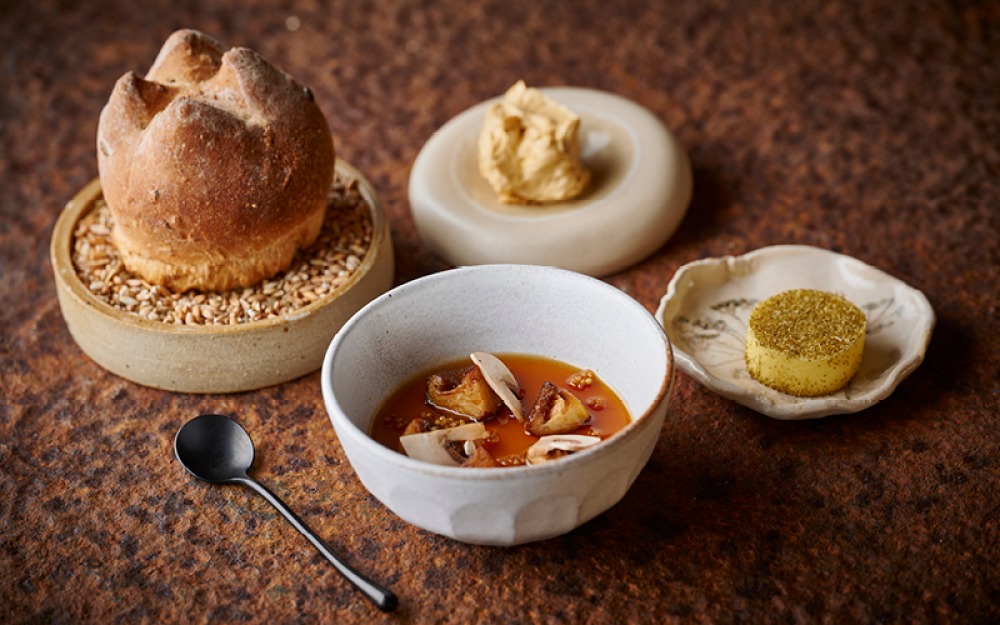 There's a wine pairing to accompany the tasting menu which is well worth trying, Forge's knowledgeable sommelier talking you through each wine designed to accompany the work of art on each plate as it's delivered from the kitchen.

First up, a delicate Thumbelina carrot tartlet carefully crafted to resemble a flower nestling on a bed of ingot cheese and sea buckthorn. This was followed by a delicate English mushroom biscuit accompanied by creamy mascarpone and back winter truffle. A clever dish which should have been rich but was just simply delicious – the Bollinger Special Cuvee Brut proving the perfect accompaniment.

A flavourful chalk stream trout followed, decadently topped with caviar, preserved blackcurrant jus and toasted quinoa adding extra to an extremely elegant dish, which proved the perfect prelude to what is perhaps the stand-out course purely in terms of its unusual flavours and contrasting textures. Jorvik blond bread, made with Jorvik ale, is served with not one but two delicious butters, chicken and fennel pollen, alongside a bowl of Old Winchester custard topped with shiitake mushrooms to dunk that delicious bread in, Viking-style. The smooth custard is something you dream about long after your bowl is empty, and don't even try denying yourself the bread worrying there are more courses on the way. All washed down with a small glass of Jorvik Blonde, it would take a stronger will than most possess to leave anything of this course to go back to the kitchen.
Back to fish, and next up came a soft, almost translucent chunk of cod in a frothy foam of English sparkling wine on a bed of leek and bone marrow. Delicate and delicious the cod was of course cooked to perfection.

With the focus on seasonality it was no surprise that dry-aged roe deer made an appearance on the menu. Rich and decadent, the dish resembled winter on a plate with deep red berry jus cutting through the meat, topped with pine fronds adding an extra twist of flavour to an already winning combination.
Next up a rather unusual cheese course of the tiniest chunks of cold creamy Baron Bigot cheese served with pickled walnuts and barley, dotted with honey from the estate, swiftly followed by the most delicate apple and thyme tart. So pretty on the plate it seemed a shame to devour it, but devour it we did before tacking the finalé of forced rhubarb and apple marigold, a perfect balance of flavour and textures with which to finish.

With so much flavour and creativity, this menu is one to be taken very seriously. The timing on such a tasting course is key and the staff here had it down to a tee. We weren't rushed at all, but were never left waiting. Each dish is delivered with aplomb by staff only too keen to talk you through the ingredients and highlight the intricate detail of each carefully-curated plate.

This is one foodie journey into the unknown that everyone should take.
Forge is open Thursday to Sunday evenings. The 10-course tasting menu is priced at £125pp with an optional wine pairing (in collaboration with Barrique Fine Wines) an additional £95pp.
Reservations are required.
middletonlodge.co.uk