Review: We Tried One of York's Newest Restaurants, Forage
It was Living North's Christmas Fair and a team of hungry workers descended on York's latest gastronomical delight, Forage
As most of you will know, Living North's Christmas Fair is a large-scale event, with stands spread over two huge buildings, plenty of goodies to be had and lots of stocking up for the festive season to do. We love it, but boy do you build up an appetite. So by the time a team of 12 Living North staff scuttled into Forage on Saturday evening, full of the joys of the fair we are ready for a feast.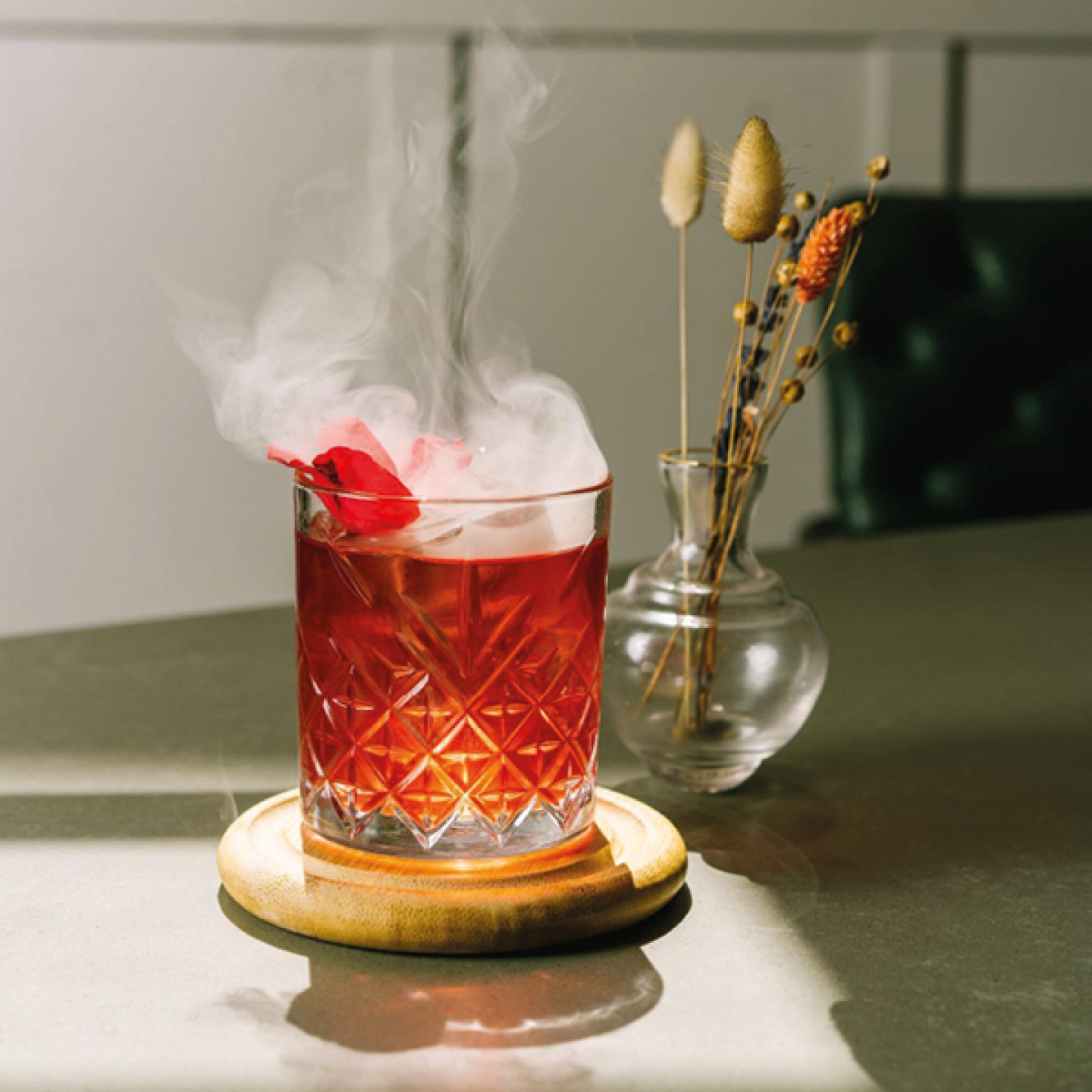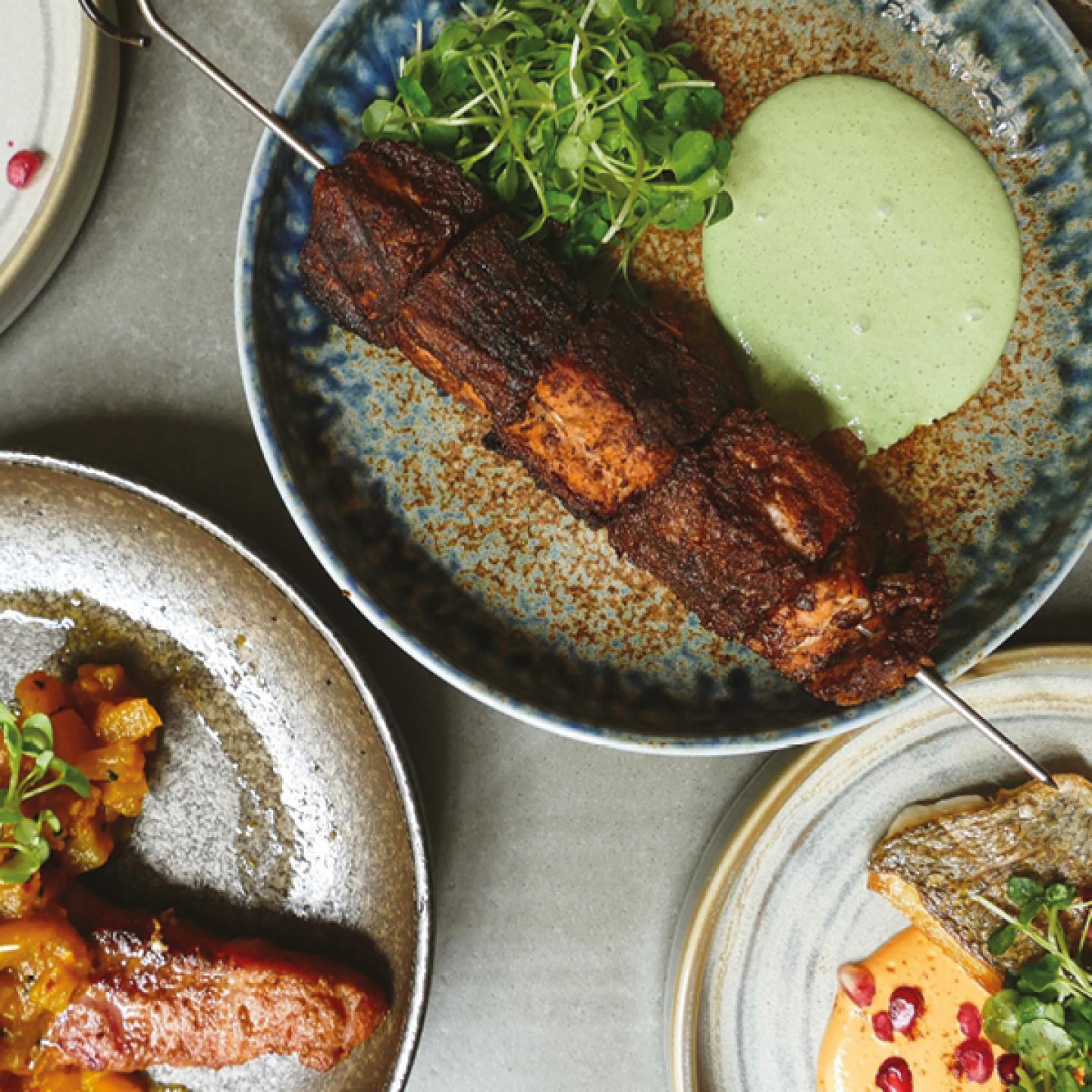 We head into the restaurant on Little Stonegate and are greeted by twinkling lights, moody interiors, foliage and flower-clad ceilings. There's a buzz throughout the already busy restaurant, and as we take our seats we are immediately offered a drink. We choose bottles of both red and white house wine, as well as some cocktails from the carefully-crafted menu. I decided on the Sparkling Sorbet which comes with a real punch of Herradura tequila mixed with grapefruit, elderflower, lime and lemon sorbet. A little jealous of my colleague's Wild Negroni served on a smoking bed of moss, I can't help sample a sip. It's a mix of gin, Campari, maple, chocolate bitters and Antica served over a giant ice cube and is a lovely drink to savour before our food arrives.

Our waitress explains that dishes come out as and when they are ready, and as we have already preordered our meals, we start with several small plates. My four large chunks of grilled halloumi come topped with crispy kadaifi pastry and drizzled with peppered honey and crushed pistachios. The crunchy pastry adds texture and the sweetness of the honey offsets a typically salty cheese – it's delicious. The lamb koftas served with pickles have a spicy kick (we're glad of the mint yoghurt) and the large plate of fresh beetroot hummus served with wood-fired flatbread doesn't disappoint.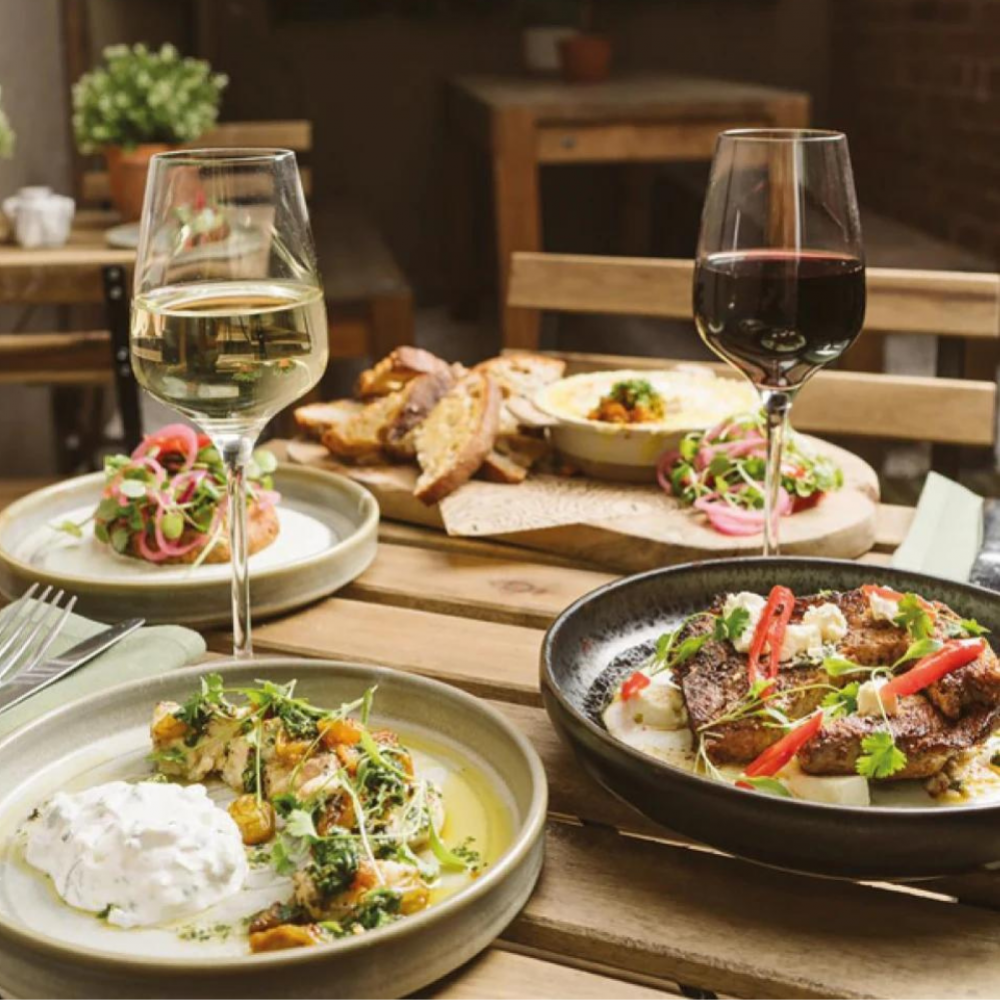 Next, we're served our dishes from the Cooked Over Fire section of the menu. We each choose a range of sides to accompany, including heritage tandoori carrots, triple-cooked chips stacked in the style of a Jenga game and confit fennel with saffron, harissa and yoghurt. The flamed sea bream is served in a large bowl of mussels and lobster bisque, whilst the zaatar spiced lamb chops are topped with marinated feta and smoky muhammara. The highlight for me is the coffee-rubbed pork belly skewer. As I was ordering I was slightly skeptical that the coffee would be too much in the spicy barbecue sauce, but it's subtle enough to be noticed but not so much that it overpowers the dish. The pork melts off the skewer and I half neglect my side of charred broccoli with lemon tahini sauce to ensure I finish every mouthful.

Despite Eton mess, chocolate marquise and a delightful looking cheeseboard featuring on the dessert menu, we have all indulged a little too much already. We do however manage to finish our wines and order a couple more cocktails before we turn in for our final evening in York – the Blackforest Fizz is our favourite pick, with a mix of blackberries, rosemary, cassis, gin, lime, apple and prosecco making a bramble-like cocktail.

Forage may have only been open a year, but with their cleverly-crafted and imaginative cocktails, fantastic flavour-forward small plates and a restaurant (and hidden speakeasy) to enjoy it all in, it's easy to see why it's built up such a good reputation.
What we expected:
Food cooked over fire and creative cocktails
What we got:
Small plates full of flavour inside an enchanting restaurant with unique cocktails with imaginative ingredients
What we wish we'd tried:
The speakeasy bar hidden behind the false wall of books, perfect for a post-dinner nightcap
2–4 Little Stonegate, York YO1 8AX
01904 437564
forageyork.com