Six Regency Reads Bridgerton Fans Will Love
Fall in love with historical fiction
Already binge-watched Netflix's Bridgerton? Try these Regency reads with a modern twist.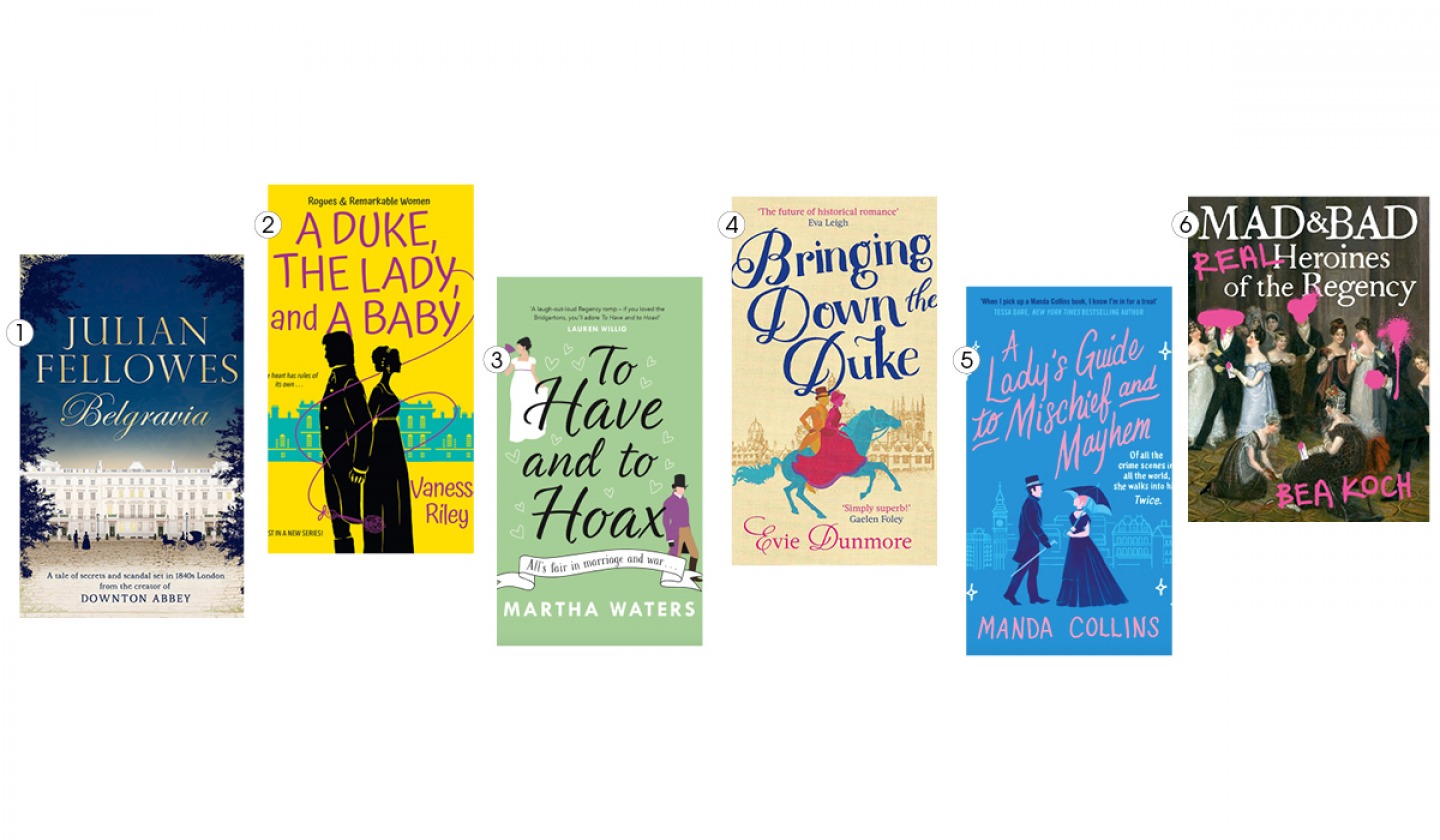 1 BELGRAVIA
Julian Fellowes
From the creator of Downton Abbey and The Gilded Edge, Belgravia is a place filled with secrets. The story takes you back to the eve of the Battle of Waterloo in 1815, when the Duchess of Richmond has thrown a ball in Brussels for the Duke of Wellington, and invited James and Anne Trenchard, and their daughter Sophia. The Trenchards move to Belgravia 25 years later, but something happened the night of the ball that threatens their new status.
2 A DUKE, THE LADY, AND A BABY
Vanessa Riley
Vanessa is an award-winning author of Regency and historical romances, and this novel is just one of her masterpieces. West Indian heiress Patience Jordan questioned her English husband's mysterious suicide and lost everything, including her newborn son. She's hired as her own son's nanny, and discovers his new guardian, Busick Strathmore, Duke of Repington, has an investigation of his own going on. They come together in the hope of saving their future.
3 TO HAVE AND TO HOAX
Martha Waters
Lady Violet Grey and Lord James Audley married five years ago – but following a huge fight they've barely spoken for the last four. That all changes when Violet receives a letter saying that James has been thrown from his horse, but she arrives to discover him alive and confused by her concern. Violet decides to teach James a lesson which sparks a continuous game of manipulation.
4 BRINGING DOWN THE DUKE
Evie Dunmore
Annabelle Archer is one of the first female students at Oxford University and must recruit influential men to champion the rising women's suffrage movement. She's got her eyes on the most powerful Duke in England, Sebastian Devereux, but she'll have to fight her own passion to bring down this duke. This is a passionate debut from Evie.
5 A LADY'S GUIDE TO MISCHIEF AND MAYHEM
Manda Collins
In 1865 England, newspaper columnist Lady Katherine Bascomb becomes a key witness to a murder. Detective Inspector Andrew Eversham investigates and he's determined to stop her causing trouble with his case, but a flame sparks between them that needs to be put on the back-burner until they catch the killer.
6 MAD AND BAD: REAL HEROINES OF THE REGENCY
Bea Koch
Jane Austen and Lord Byron epitomise Regency England, and the never-ending romance novels set in this period often follow the stories of the wealthy, white, upper classes. There are hundreds of women with fascinating stories that have been forgotten because of this stereotype – women like Anne Lister, who lived on her own terms with her common-law wife at Shibden Hall. Bea takes a look at the diverse truth behind this historic period.