Speculoos Cheesecake Bars
This is one of my most popular recipes on social media and it's definitely one of my favourites. It's absolutely bursting with caramelised biscuit flavours
It has a buttery speculoos biscuit base and a creamy speculoos cheesecake filling, and is topped with a smooth and glossy speculoos topping and decorated with crushed biscuits, with a biscuit in the middle to finish. Super delicious, quick and easy to make, and no baking involved.
Cooking time
20 minutes + 4 hours chilling
Ingredients
For the base
200g speculoos biscuits (I use Biscoff)
100g unsalted butter, melted
For the filling
500g full-fat cream cheese, at room temperature
100g icing sugar, sifted
150g speculoos spread/cookie butter
(I use Biscoff), melted
For the topping
200g speculoos spread/cookie butter
(I use Biscoff), melted
2 speculoos biscuits (I use Biscoff), finely crushed + 1 whole biscuit
Method
For the base, line a 20cm square baking tin with nonstick baking paper. Put the biscuits into a food processor and process until finely crushed. Alternatively, put them into a plastic bag and crush with a rolling pin. Tip into a medium mixing bowl, then pour in the melted butter and mix with a spoon until fully combined. Press the mixture firmly into the bottom of your prepared tin with the back of a spoon, then pop into the refrigerator while you make the filling.
In a large mixing bowl, beat together the cream cheese, icing sugar and speculoos spread (cookie butter) with an electric hand mixer until smooth. Remove the chilled base from the refrigerator, then spoon on the filling, smoothing it out to the edges.
For the topping, pour the melted speculoos spread over the cheesecake and smooth it out quickly but gently with the back of a metal spoon or spatula. Sprinkle the crushed speculoos biscuits around the edge of the cheesecake to form a border. Then place the whole biscuit in the middle.
Chill in the refrigerator for at least four hours, or overnight, until completely set. Cut into 16 squares and enjoy!
Store in the refrigerator for up to three days.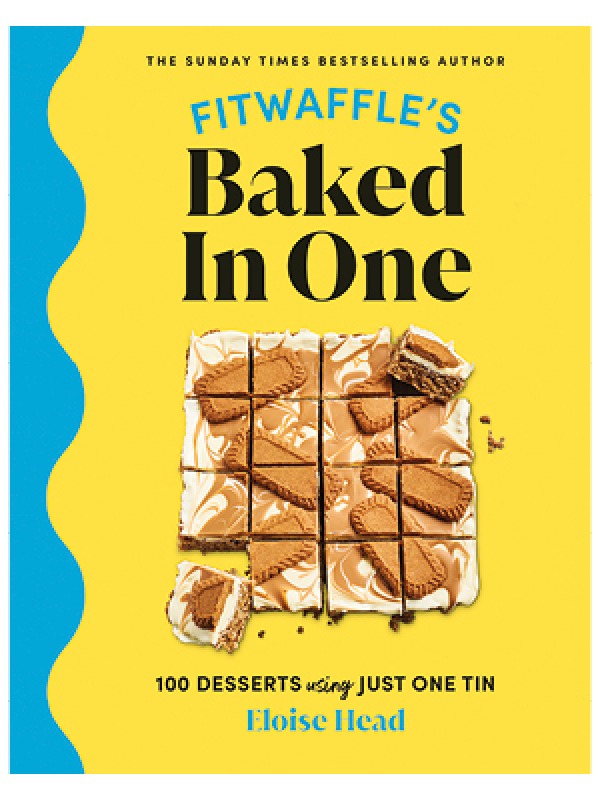 Extracted from Fitwaffle's Baked In One by Eloise Head (Ebury Press, £22) Photography by Faith Mason
This article contains affiliate links. We may receive a commission on any sales we generate from this piece.