Street Foodies Smoke & Sear Are Opening in Heaton
Following the success of their mobile street food truck and their unit at HWKR MRKT, Smoke & Sear are going bricks and mortar as they prepare to open their new kitchen restaurant in Heaton
We caught up with owner Rachael Taylor to find out more about the new venture.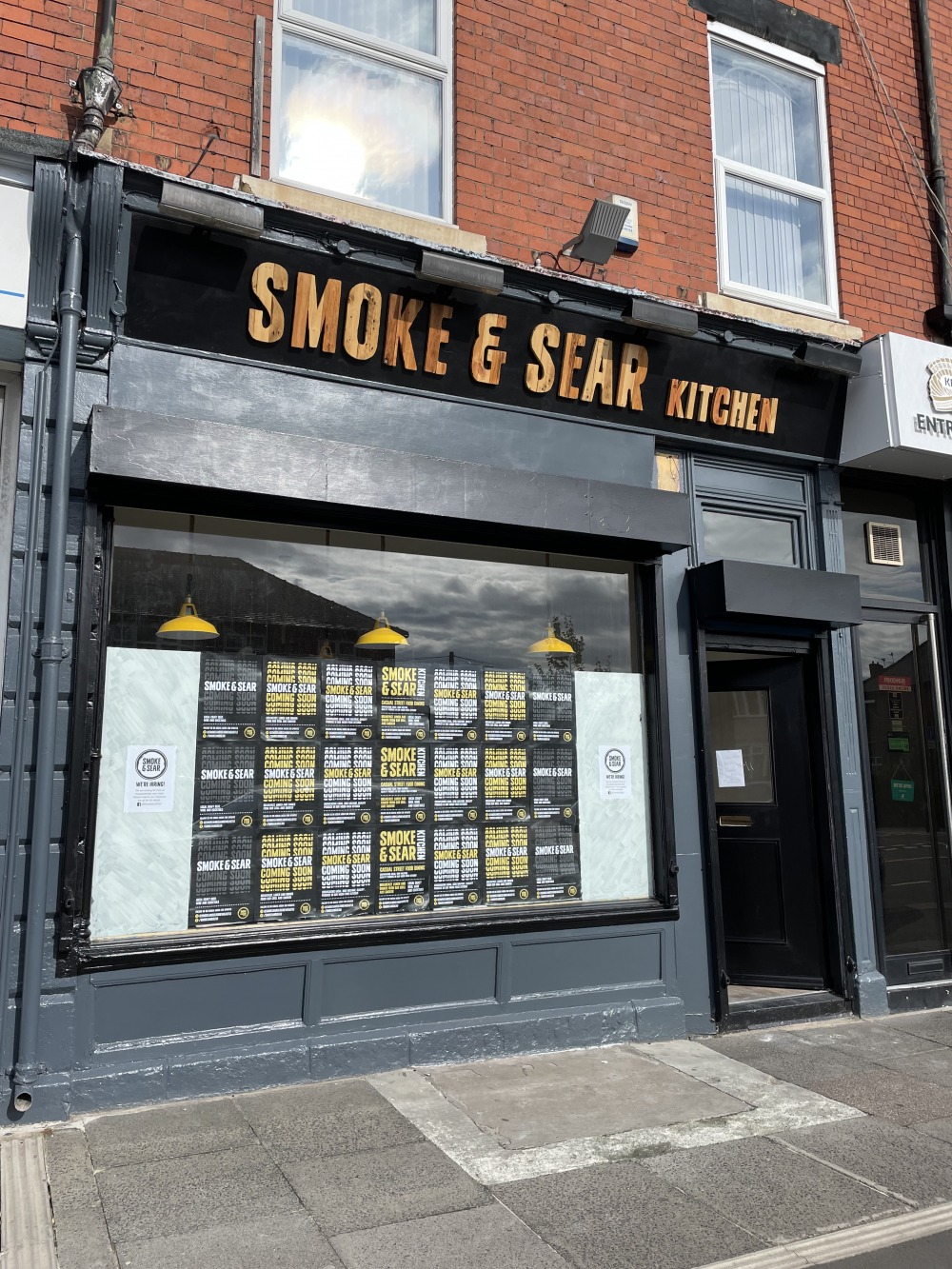 Can you tell us how Smoke & Sear began?
Smoke & Sear is run by myself and my partner Tom Batham, and it all began when Tom pulled up to our house with a flatbed trailer, back in 2017. Tom spent three months working late nights with a welding torch fixing up the trailer, designing and building everything single-handedly from steel and upcycled materials. The next four years were spent travelling around the North East and the rest of the UK trading at various venues and street food events until we took a unit in the HWKR MRKT at By the River Brew Co in 2019. Now we're working towards opening our first restaurant in Heaton.
How did the idea for the business come about?
We both wanted to work for ourselves and we knew it had to be in food – we love food! We initially looked at commercial properties with the idea of setting up a restaurant or café, but the fast-paced world of street food and the concept of being mobile really appealed to us. It was also a low cost way of starting up and testing out whether we could work together without killing each other. We loved cooking over fire and starting a barbecue street food business seemed like a no-brainer.
Does either of you have a background in cooking?
Tom worked as a chef prior to starting Smoke & Sear. He learned to grill at Riley's Fish Shack and he was a baker at Pink Lane Bakery for a few years too. I on the other hand had a complete change in direction, moving away from the charity work I was doing before we started the business. In the past I've been a duty manager of a café and run my own cake business, so we both have backgrounds in hospitality. We continued our jobs and worked on the trailer every weekend until the summer of 2018, when we took the plunge and went full time with the business.
What makes Smoke & Sear so unique?
We don't serve typical barbecue food – we like to take traditional dishes and give them a twist such as pairing local, high-welfare produce with big flavours, fire and smoke. We only use high welfare and free-range meat in our dishes, and the produce and suppliers we use are really important to us – we hope this quality is reflected in our food.
What does your average day look like?
At the moment an average day is anything but average! We've been refurbishing the new restaurant in Heaton for three months now and it's definitely the most complex project we've ever taken on. Alongside the endless practical, organisational and administrative tasks of opening a venue, Tom has been back at it with his welding torch and has made all our tables and front counter from pallet wood. We really want the restaurant to reflect the DIY approach we take as a business. We've also got a great team that is looking after our container at HWKR MRKT whilst we open the restaurant – they do the preparations in our unit every Thursday and Friday and serve at the market Friday to Sunday. The trailer is on a break whilst we open the restaurant, but we hope to be back on the road with it in a few months.
'Our dishes often contain several culinary influences and we believe it's ultimately about finding flavour combinations that work'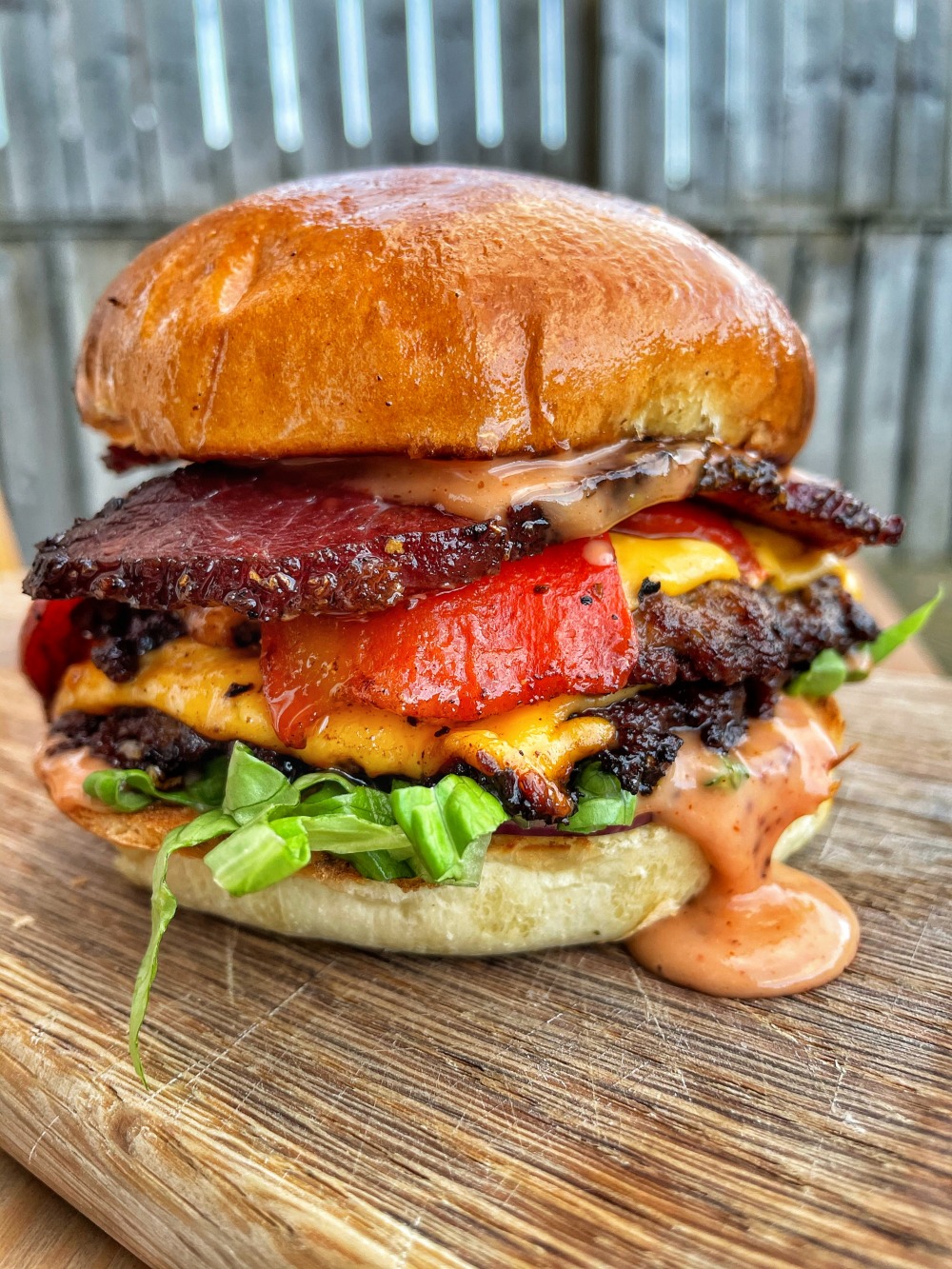 Where do you find ideas for your dishes?
The process of designing our dishes happens quite organically – one of us will have an idea that we discuss and then we test and tweak it until we get it right. We have our core street food menu that doesn't tend to change, but we love to try out different specials. Our dishes often contain several culinary influences and we believe it's ultimately about finding flavour combinations that work.
What is the most popular dish on the menu?
Undoubtedly our signature Surf 'n' Turf is the most popular dish – strips of bavette steak marinated in Newcastle Brown Ale and our secret blend of spices, cooked over fire with panko-coconut king prawns, both drizzled in garlic butter and served with lemon-oregano salted fries. We finish the dish off with apple slaw, leaf parsley, spring onion garnish and a wedge of lime.
Tell us more about the new location in Heaton.
The new venue, Smoke & Sear Kitchen, is on Heaton Road and will be centred around live fire cooking, both hot and fast grilling on our Josper charcoal oven, and low and slow on our wood-fired smoker. We'll be serving breakfast and lunch Tuesday to Sunday, as well as running an evening service Thursday to Saturday. We plan to keep the casual street food vibe in the day and will offer a more refined menu in the evening. We're excited about expanding our menu and finding new ways to incorporate elements of smoke and fire into our dishes too. Our aim is to showcase local produce in the restaurant – we currently use Charlotte's Butchery, Block & Bottle, Bryan Muers and Collingwood Seafood, but we hope to expand our use of the amazing suppliers we have locally.
When you're not cooking for others, where do you like to eat?
There are so many great places to eat in the North East and we love to dine out, but running the business and having our little boy at home means we rarely get the chance these days. There are too many places to mention, but a few independent eateries we love are Omni, Parmorama, Scream for Pizza, Cookhouse and Goodtimes Tacos – honestly we could go on because the list is endless.
And your favourite meal ever?
That's a hard one, but I would have to go with cevichè – I lived in Peru for a couple of years and ate it almost every day. I've had it here but the flavours just don't compare. Tom is a noodle fanatic so he would go for a really good ramen with chilli oil all over the top.
Looking to the future, where do you hope to take Smoke & Sear?
If you asked us separately we would probably have different answers – Tom is practically already planning another venue, whereas I'm not convinced I want to go through this stress again! Although who knows, ask me again in six months and I'll probably have a different answer.