Living North Supports Motor Neurone Disease (MND) Association
We're delighted to be supporting the Motor Neurone Disease (MND) Association at our LIVE Fair this year
We find out just how they improve care and support in Yorkshire, and how one local hero is inspiring others to fundraise.
The MND Association focuses on improving access to care, research and campaigning for people living with or affected by MND. They have more than 10,000 volunteers in the UK and around 180 paid staff, all dedicated to improving the lives of those affected.
Jenn Dodd is the association's regional fundraiser in Yorkshire and Humberside, a continuation of her previous career as an MND researcher. 'I'm continuing in the fight for a world free of MND,' she says. 'I work for fundraisers within Yorkshire and Humberside who are taking part in events such as the London Marathon, the Great North Run or their own challenge – for example completing 2,021 miles in 2021 [a challenge which proved popular last year]. I also work with our local volunteer branches and groups.'
These are groups of volunteers who give up their free time to support local people affected by MND. The Hull and East Yorkshire Group, South Yorkshire Branch, West Yorkshire Branch, York Group, Yorkshire Dales and Hambleton and Richmondshire Group all work together to make a difference. They host social meetings on a monthly basis where you can have a hot drink and a chat and meet other local people living with MND.
Such meetings weren't as regular during the pandemic but the association was kept going by the positive spirit of those who were fundraising and its loyal volunteers. 'What was really amazing was to see how we transformed as an association during this time, Jenn says. 'Our volunteers massively stepped up and helped us. As an organisation, we made sure we contacted everybody we were aware of who are living with MND to make sure they had everything they needed – whether it was shopping or support for carers. We're really proud of how we all pulled together to keep supporting.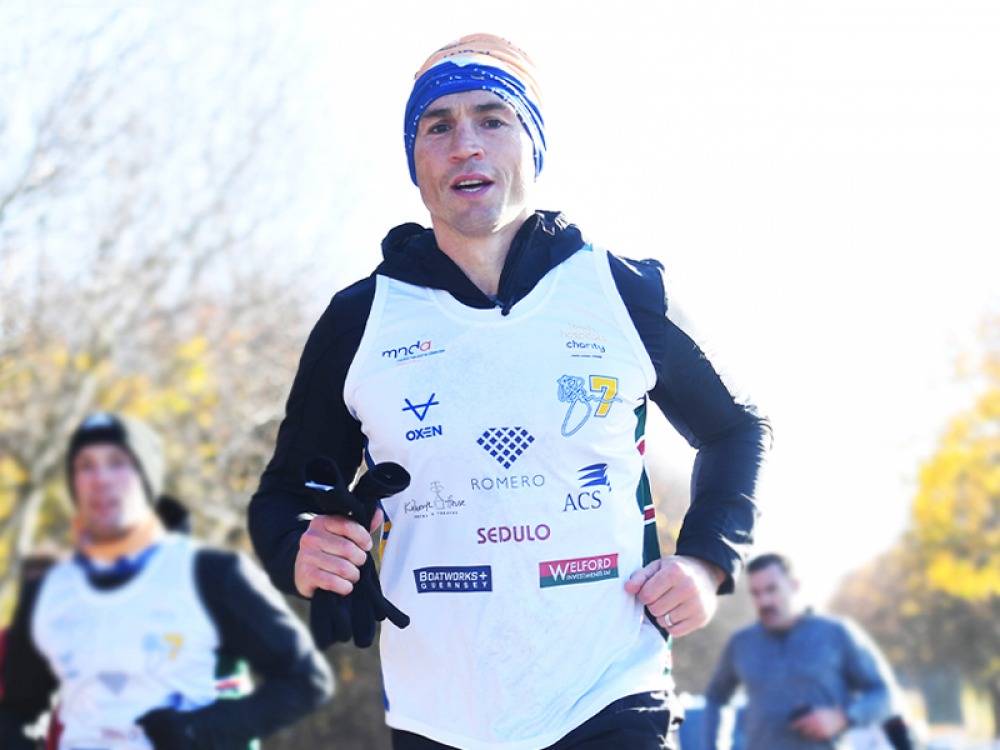 In terms of the fundraising, it was really amazing to see the creative alternatives people came up with. Some ran marathons in their garden, we had people climbing the equivalent of mountains at home using their stairs, and people looked at things in a different way by hosting quizzes via Zoom. All the support we were offering just headed online and in a way, it was a good thing because sometimes it's challenging for people with MND to leave their home. It took the pressure off arranging things like transport. There are so many positives we can take from that time and I think some of this online support will continue as we take a hybrid approach to fundraising. The main thing for us was that there weren't any big events such as the London Marathon. People who trained for years got creative too by completing virtual marathons around their local area. One lady started making face masks, others got baking cakes and scones, people ran yard sales – it was fantastic to see how inventive people became and what they were doing.'
Many of these fundraisers we're particularly inspired by the association's patron and rugby league legend, Rob Burrow MBE, who was diagnosed with MND in December 2019. Since his diagnosis, the former Leeds Rhinos scrum-half, who was born in Pontefract, has raised awareness about his condition publicly, while highlighting the challenges it brings. Rob won eight Super League titles, two Challenge Cups, three World Club Challenge trophies and three League Leaders Shields during his sporting career, and his fighting sprit has never wavered (read Rob's story in his own words at livingnorth.com).
Rob's close friend and Defence Coach at Leicester Tigers, Kevin Sinfield, raised £2.7million in his '7 in 7 Challenge' (seven marathons in seven days) inspired by his friend and in support of people impacted by MND. The former England captain also completed an impressive run from Leicester's home at Mattioli Woods Welford Road to Emerald Headingley Stadium in Leeds in just 24 hours. His target for this, The Extra Mile Challenge, was to raise £100,000, but he raised more than £2 million to support people affected by the disease. Now, Kevin isn't stopping there. The former Leeds Rhinos captain will be taking on a new challenge later this year. He was awarded an OBE for his tremendous efforts, and many Leeds Rhinos fans have called for Kevin to receive a knighthood too.
The association's vision is a world free of MND. 'It's really important that we're able to give people with MND the support and care that they deserve.' Jenn continues. 'With that vital aim in mind, we're determined to fund vital research to find out more about what causes MND to ultimately find a cure.' Sheffield MND Care & Research Centre works closely with community teams across the county to ensure patients and carers receive information, advice and support, and their team is at the forefront of research into neurodegenerative disorders. Late last year it was revealed that the government have pledged £50 million to help find a cure for the disease, and Jenn hopes that means we should start seeing changes and acceleration in research. 'It's a really exciting time to share what we're doing and hopefully that means we'll get to a cure that bit quicker,' she adds.
At our LIVE Fair this spring, The MND Association's staff and volunteers will be sharing information about local events and ways to get involved across Yorkshire – plus how they're making a difference locally. They'll also have a selection of greetings cards which have been created by Yorkshire's artists and photographers as well as someone with MND. 'I think Yorkshire has seen a huge increase in awareness locally in the past two years,' Jenn concludes. 'What I hope we can build from that is more people involved in fundraising and volunteering. I hope we can seize those opportunities.'
Find out more at mndassociation.org and visit Living North LIVE at York Racecourse from 25th–27th March.