Test Drive: The all-new MINI Cooper S
As the 21st century Mini celebrates its 20th year, motoring guru Graham Courtney takes the all-new Mini S for a spin – and finds it a whole lot of fun.
As a child, the first car I can remember was a Mini Cooper S. (Mini was written in lower case letters in those days.) It was my mother's car. She also rode a 500cc Matchless motorbike. She wasn't your average mother. The interior door handle was a piece of string. This was a standard fitment which you yanked to open the door. The heater was an optional extra. Seat belts hadn't been thought about. It drank engine oil as fast as petrol. Activation of the main beam headlights was by pressing a button on the floor with left your foot. To aid starting, you had to pull a spring loaded knob and then twist it to hold it in place. It was called a choke. Unfortunately the twisting mechanism used to wear out, so to prevent it from springing back she used a splinter of wood to jam it into position. Driving required a fair amount of juggling.
Within three years, the car was covered in rust. It was hopelessly unreliable. That's what a lot of British built cars were like. I wish we still had it because it'd be worth a fortune now. Sigh.
I'm glad to report that our family still has a MINI Cooper S (capital letters now) and, as it moves into its 10th year and beyond 78,000 miles with us, it uses no oil, never misses a beat, hasn't got a speck of rust and has its original exhaust and battery.
The MINI is still British built but the company's owners are now BMW which, if you want a reliable, well-built MINI, has been a terrific move.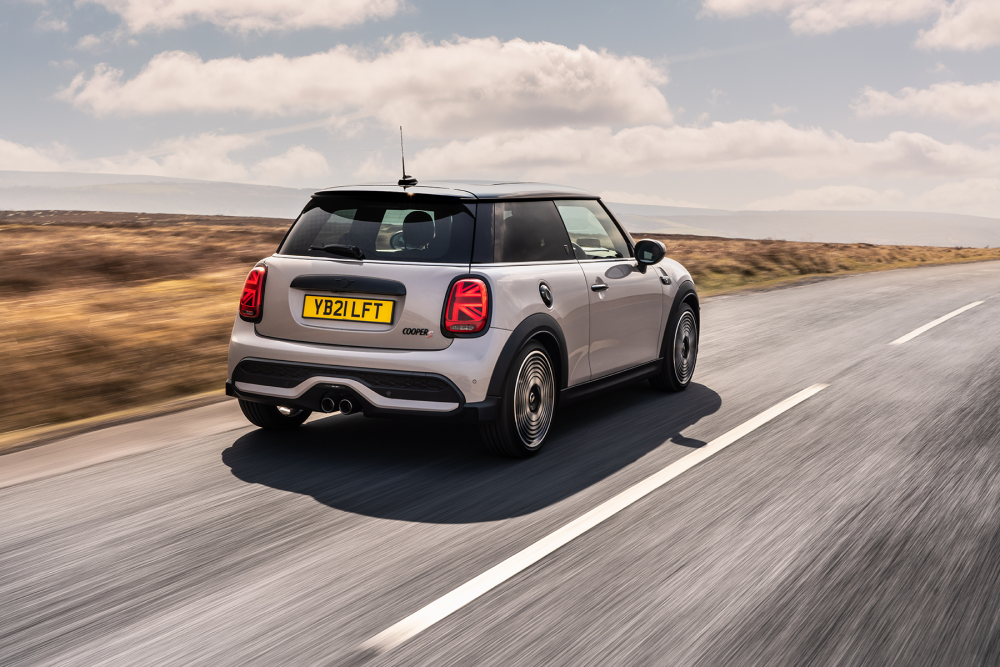 The 21st century MINI is celebrating its 20th year in production and the range has been given a mid-life update. At the moment, the new MINI models are the three- and five-door hatchbacks, the convertible and the MINI electric. The Cooper S is still the one to go for if you want grin-a minute motoring. It's a hoot to drive, largely thanks to the fact that it stayed true to the original Mini's tried and tested formula first penned by Sir Alec Issigonis. Stick the wheels as far as possible into each corner of the car, give it a low centre of gravity and make sure there's plenty of power. The Cooper S is available in three levels of trim… Classic, Sport and Exclusive. The latter pair are the same price but one is aimed at drivers who want a sporty style to their MINI while the Exclusive is for those who want something rather opulent.
The first thing you notice is the new-look grille and a wider and lower front bumper which certainly gives the car a purposeful stance. Side vents allow air to flow onto the brakes to keep them cool. The rear of the Cooper S gets a wider diffuser which surrounds the twin exhaust pipes. There are new alloy wheels and a new range of colours, including the option to have a roof which has three colours merging from light blue to dark blue to black. Due to the painting technique, every roof will be unique.
Inside, there's an updated infotainment system which now features an 8.8-inch display and new switchgear. You can use a rotary dial situated between the front seats to operate the system. It's simple and intuitive to use… something which can't be said for systems which other manufacturers prefer where you have to prod the screen. Try doing that when driving along our uneven roads! The infotainment graphics have been updated and look stunning.
The steering wheel is new and feels lovely… it's chunky… and there's an option to have it heated.
The smartphone app has been refreshed and allows up to 10 other people to be able to access and drive the car when you don't need it.
Out on the road in the Cooper S, the ride has been much improved thanks to new suspension dampers. Adaptive suspension is standard on the Cooper S Sport models allowing you to choose between Green, Mid and Sport driving modes. It's not a gimmick and really does allow you to swap your preferred driving characteristics.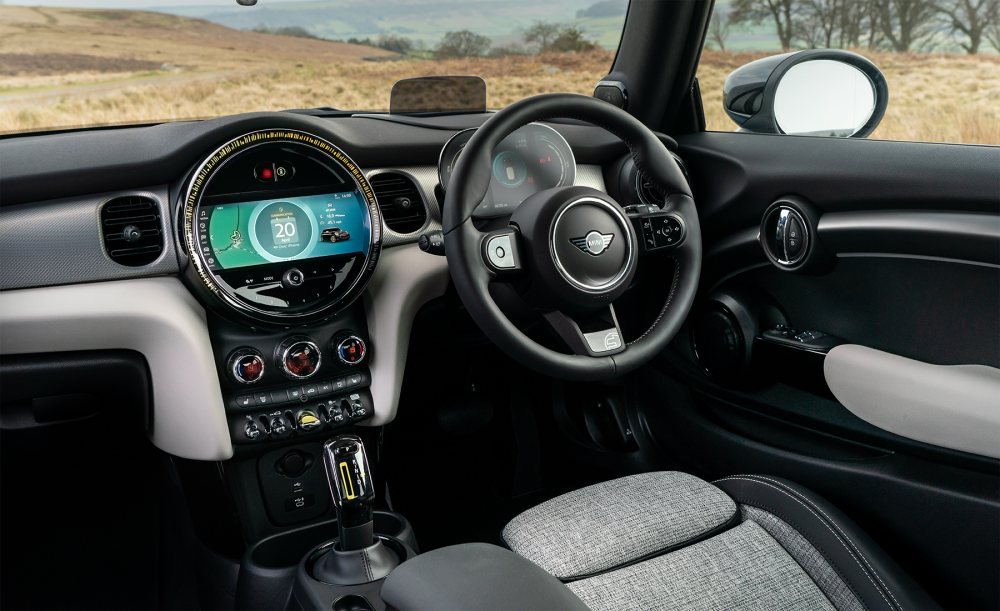 Under the bonnet there's a tried and tested 2.0 litre 176bhp petrol engine. In the right conditions you can complete the 0-60mph dash in 6.7 seconds and go on to 146mph. However, go easily and MINI reckon the Cooper S will give you an average of 46.3mpg.
You can choose from either a six-speed manual or an auto gearbox. Emissions are a low 139/km. We prefer the six-speed manual for no other reason than it suits the car's sporty nature.
Prices for the latest MINI three-door hatch start at £16,605. Move up to the Cooper S and prices start at £23,105. We'd recommend going for the Sport model because it looks and feels a tad more special. You'll need to find an extra £2,500. You get all of the essentials like air con, decent audio system, electric windows and a stack of safety kit, but it's very easy to bump-up the price considerably by dipping into the extensive options list. Want some stripes on the bonnet? That'll be £150, thank you. Sat nav package? £900. The aforementioned heated steering wheel is £250, and the multi-colour roof is £650.
Okay, the three-door hatchback is tight in the back and there's not a lot of baggage or cabin storage space, but if you need more room and carrying capacity there are other options in the range which don't really dilute the fun factor.
However, if you want to buy a car that provides serious driver thrills, then the MINI Cooper S has to be on your list. It's brilliant.