The Police Dogs of the Future
Go on the beat in the North East with some of our hero hounds
Plus, we discover the region's all-new 'digi dogs'.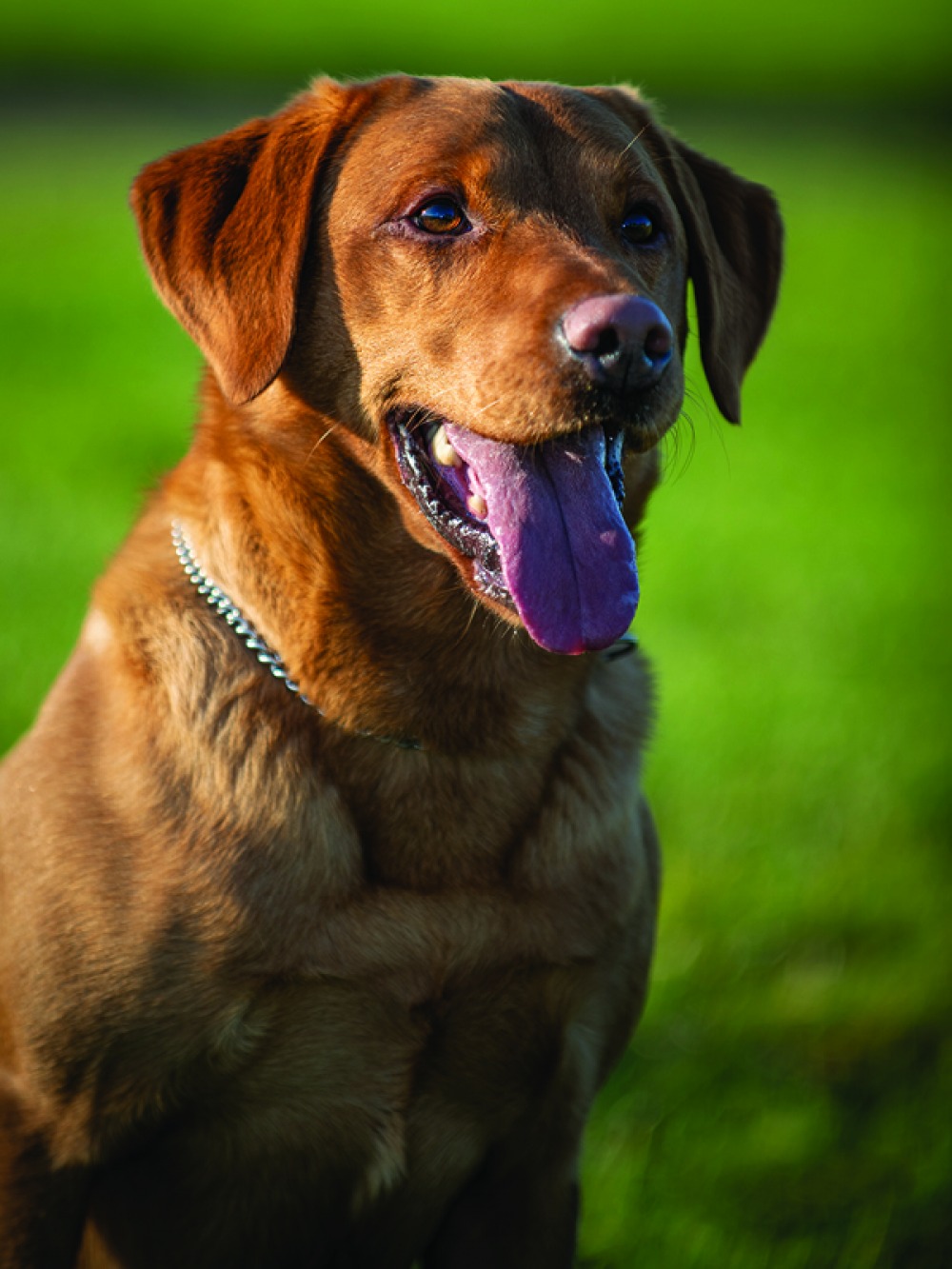 A police dog is specifically trained to assist police and other law enforcement. They might be searching for drugs or explosives, locating missing people or finding crime scene evidence – whatever their task, they're always protecting people. But how are they trained to do this? And what happens when they retire?

PC Alan Bates is a dog handler for Durham Constabulary who currently works alongside PD Demon, a Dutch Herder. 'In other cases you might have a German Shepherd or a Belgian Malinois,' Alan says, when asked which breeds make the perfect police dog. 'My specialist dog is a Labrador Spaniel Cross who is trained to detect narcotics, currency (notes), fire arms and ammunition.'

German Shepherds, Herders, Labradors and Spaniels have been used for hundreds of years for sniffing out all sorts of things. 'They're good natural hunters and all we do is imprint on them the scent of a narcotic or a £20 note or a firearm,' explains Alan. 'It's quite basic. A dog will come along, we'll put something in a fairly sterile area so the main scent in that area would be the target. We'll use a marker, which might be a clicker, then they'll achieve a reward (often a tennis ball or food) and we'll build the association that finding that scent means they'll receive a reward. It's all based around play. Even when they're chasing and detaining someone, it's just a game. Everything for them is based around fun. If the dog enjoys playing the game, it's going to work better for you for longer.'

Police dogs and their handlers need to make a good team to make sure they're doing their best work and that's why, although police dogs need plenty of training, handlers must pass assessments to be able to take on the role. 'You need to be assessed on whether you can strike up a rapport and affinity with the dog,' Alan explains.

A dog could become a part of the force anywhere between 12 months and two years old. 'You need the dog to be more or less fully grown and developed,' Alan explains. 'For the bigger dogs, if they're running around and jumping over things, you need them to be fully grown so they won't get a greenstick injury if they broke any bones. They also need to be at a certain level of mental maturity to complete the tasks we ask them to do. There's no reason why a four- or five-year-old dog couldn't be trained to do the job, but you like to be able to retire the dog when it's still fit and healthy otherwise it's not fair. Depending on their age and how fit they are, and the needs of the organisation, they can be anywhere from seven to eight years old when they retire. It might be a little earlier for the bigger dogs because the job is a bit more physical for them, whereas when the smaller ones are running around buildings and jumping in and out of cars, it's not as physically demanding on their joints. They might work a year or two beyond their bigger colleagues.'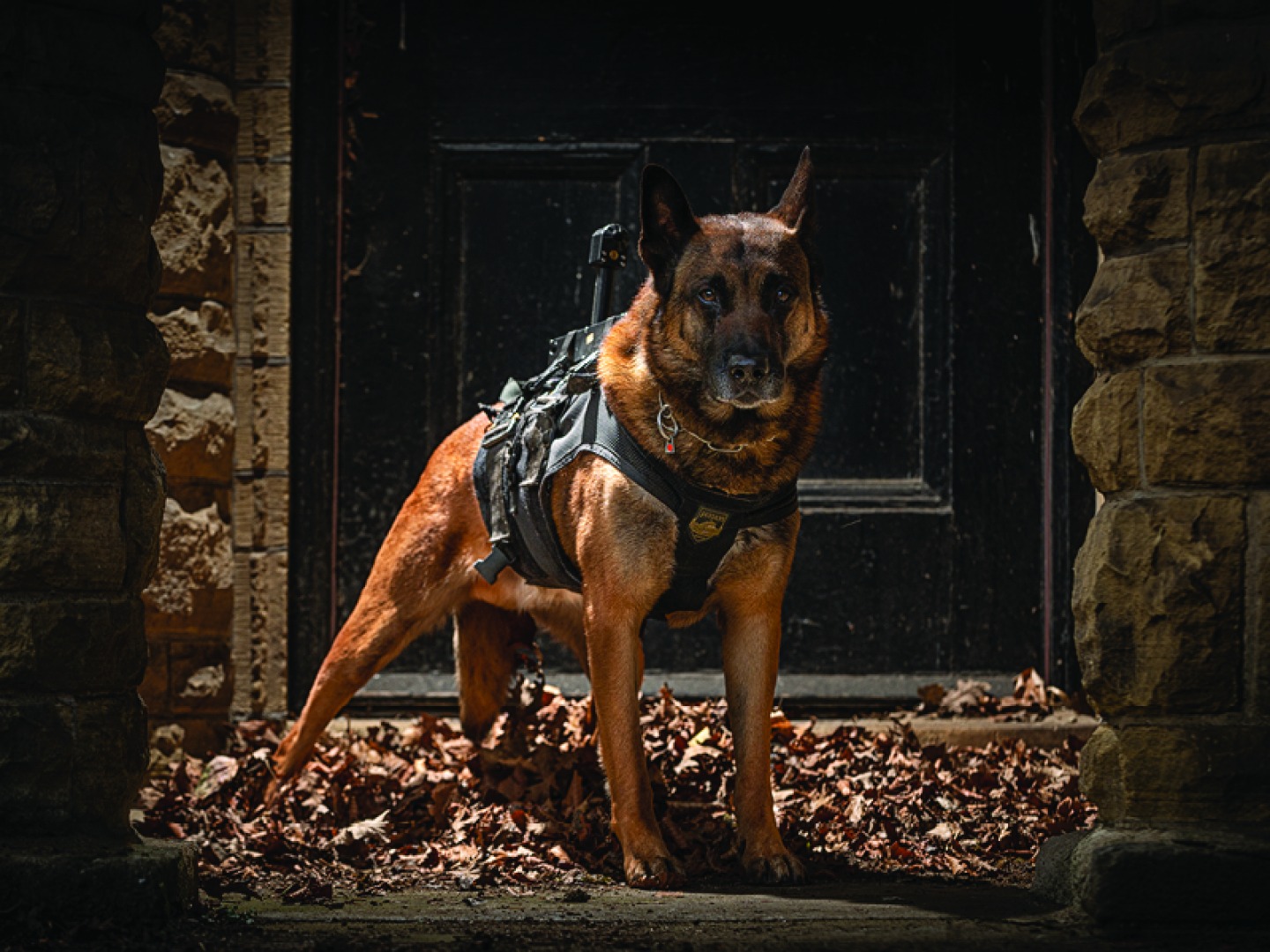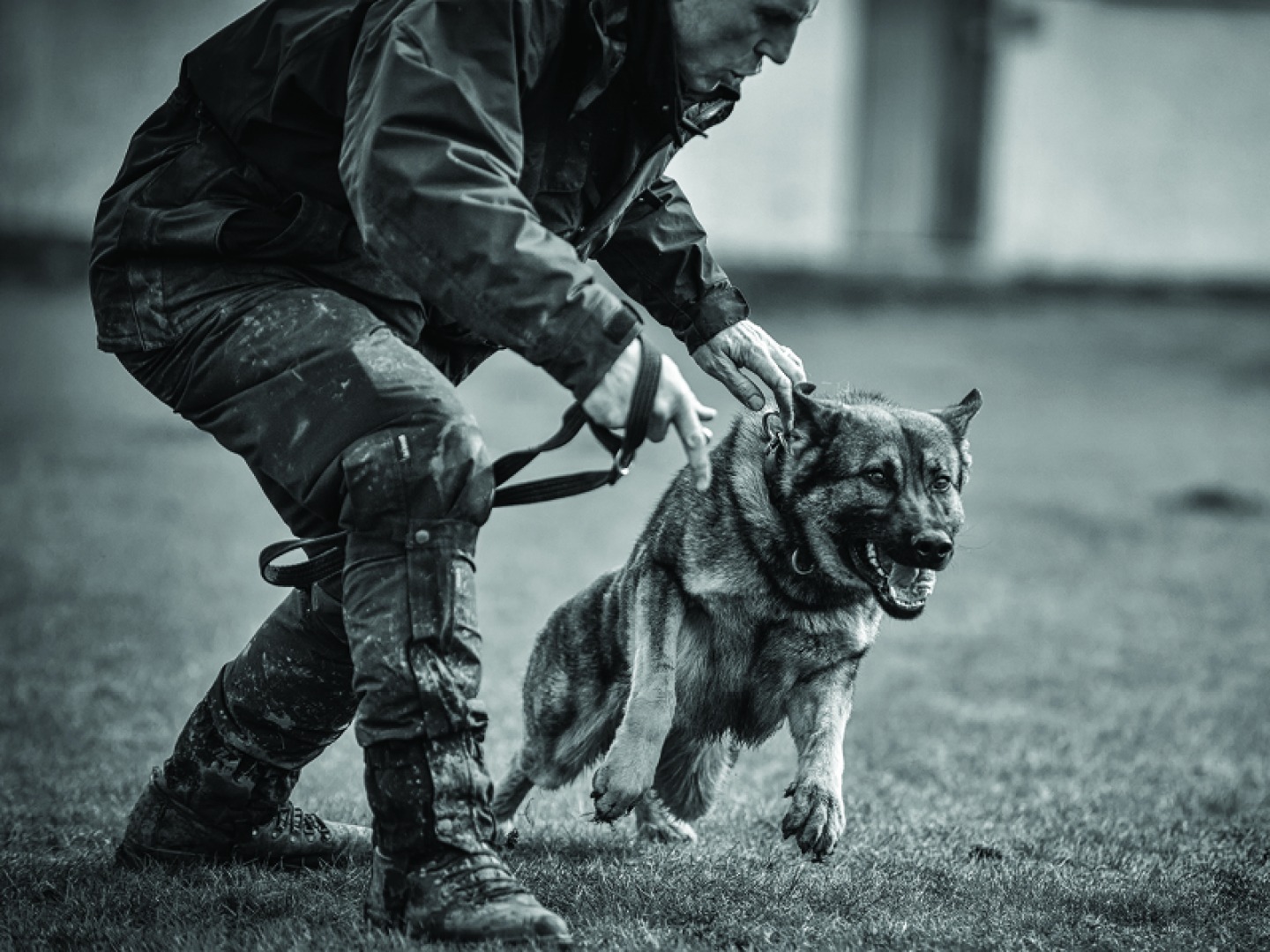 'German Shepherds, Herders, Labradors and Spaniels have been used for hundreds of years for sniffing out all sorts of things. They're good natural hunters'
So can your pet become a police dog? Alan says that's not uncommon. 'When some people, for various reasons (maybe they've had a change in domestic circumstances and need to give up a dog), they may contact the likes of the RSPCA and Dog's Trust but before they take them into their own care, they might see something in that dog and suggest it may make a good working dog,' explains Alan. 'The likes of us and Northumbria Police may receive a call and it's quite common for the specialist dogs (the smaller dogs) to become a police dog.'

Whether a dog makes a perfect pet or was born to work is in their nature. 'In some dogs, for example a Springer Spaniel, you have two lines: working lines and show lines. The show lines are the dogs that look pretty, behave and you might see them at shows like Crufts. The working dogs are the ones that are used on farms and in the forces. Sometimes owners may make a mistake and purchase a working lines dog which might not be suitable to be kept in a home environment. Quite often they'll come to join us, and burn their energy going all over the region searching for things.'

Due to the nature of the job, no two days are the same for these dogs – which means life in the force is never boring. 'If you call 999, we could be tasked to go and catch a person in a house, but if we're not reacting to the jobs list, we'd be out actively doing stuff,' Alan says. 'We have intelligence on certain individuals or areas, and that can be anything from working with the National Crime Agency down to antisocial behaviour, which might just involve a general patrol. We might also decide to do some training in an area; we do have pre-planned operations.'

Being out and about around the region, it's important that police dogs are sociable and friendly but, regardless of whether it's a police dog or not, you should never pet a dog without asking permission. 'In certain circumstances, yes it is possible, but if we're outside of a licensed premises or there's been a disturbance, that's not the best time to approach them,' Alan explains.

'We ask a lot of the big dogs: while they might be sent to detain someone in a public order incident, we still might need to go and find a lost child in Hamsterley Forest, so the dog has to be stable enough to understand and perceive what's a threat and what isn't.' Previously, Durham Constabulary have had members of the public meet the police dogs at events, so it is possible to meet and interact with the force's dogs, when appropriate and done with care.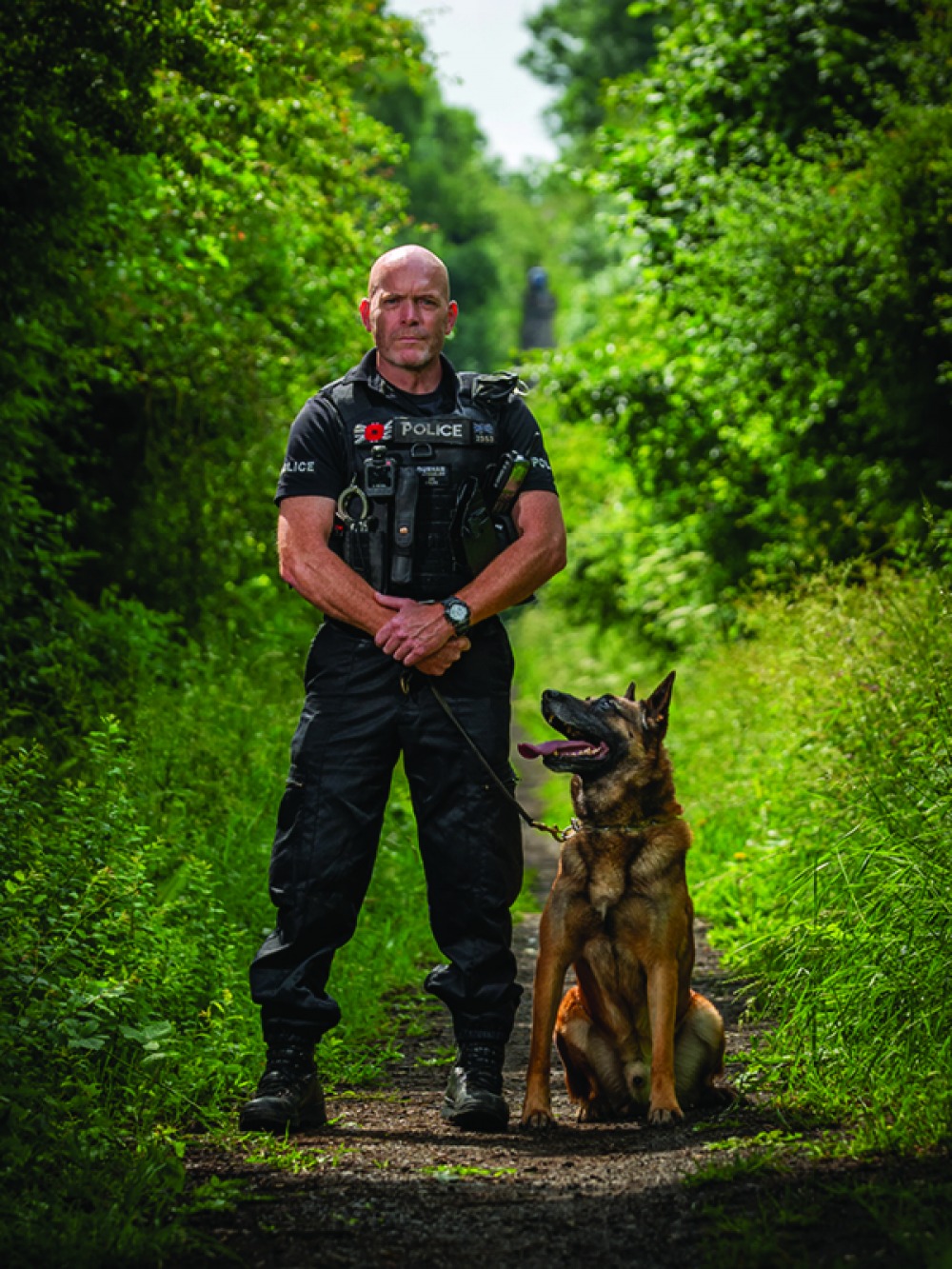 As well as knowing how to react around humans when working, police dogs must also keep their eye on the ball and avoid being distracted by other dogs. 'You'd want a police dog to be able to go out into the street, see another dog and not react, just acknowledge they're there,' explains Alan. 'Just as if you were walking down the street and someone runs up to you screaming, you might get a bit defensive – a police dog would too. If someone's dog comes off a lead and runs up to the police dog barking, then you might expect a police dog to bark back. At a licensed premises, there's going to be a lot of people milling around and whether you're at the Bigg Market in Newcastle, down on the Quayside or you're in Millennium Square in Durham City, you're going to have to pass groups of people on the way to the problem and you need your dog to be friendly and approachable. If you're going to look for a small child in the woods, you may have to pass other dogs on the way. If we have a larger search, sometimes we work with the search and rescue team and they might bring their dogs, so whilst we may not have ours off the lead, if they clock another dog working on a search area a quarter of a mile away in a field, you don't want them going crackers and charging over either to have a fight or have a roll around and a game of play and chase.'

Police dogs support the communities in our region everyday, but when it comes to their retirement and when they settle into a new (or sometimes the same) loving home, it's important that they're cared for. That's where Paws Up comes in. In the summer of 2013, Durham Police Dog Support Unit implemented a benevolent fund to support their retired working dogs. Until retirement, all costs are borne by the constabulary. Paws Up was set up by now retired Durham Constabulary dog handler and keen photographer Ian Squire, with the hope of being able to help with the associated expenses of re-homing an older police dog – insurance, food, toys, bedding or neutering – and any necessary veterinary treatment they might need in their retirement.

'We were the first force in the North East to do such a thing, and we've helped numerous other charities set their own up since,' says Ian. 'It all stems from the fact that I thought it was a shame that there was no provision for these dogs in their retirement considering they've spent their whole life protecting our communities. The Paws Up charity is a bit of a pension pot for them where we can assist with expensive vet fees. We struggled a bit during the pandemic. We have a few big charity events throughout the year, an annual ball towards the end of year and a calendar which contains photographs taken mostly by myself, and we've reached worldwide with merchandise sales. We rely on members of the public for both donations and getting the word out.' Thankfully it's this support that has kept the charity going.



What does the future hold for our region's police dogs who are still serving? In a first for the North East, two Northumbria Police dogs have been trained to sniff out digital devices as the force fight against cyber and organised crime. English Springer Spaniel sisters Milly and Mila, aged two, became the first in the region to complete specialist training to become newly sought-after 'digi dogs'. They've been trained to locate USB sticks, SIM cards, mobile phones and other digital devices. This means they can work on cases such as helping to uncover illegal images.

'Their superior noses will also be able to sniff out concealed SIM cards or devices linked to drug dealing and organised crime – their potential is limitless and I really can't enthuse enough about just how valuable they will be to our Force,' says sergeant Julie Neve of Northumbria Police's Dog Unit. When not working, Milly and Mila live with their handlers.

The use of digital detection dogs was pioneered in the US, and this technique, which was successfully trialled by police in Devon, Cornwall and Dorset in 2017, has continued to infiltrate the UK's forces to help them combat crime.

Keep up to date with success stories from our crime-fighting police dogs by visiting the individual forces' websites. Visit pawsup.org.uk to find out more about the charity, and how you can support them.

Images © Ian Squire Photography @squire_photos