Time to Talk Day: How the North East's Chin Up Coffee is Getting People Talking
Thursday 2nd February is Time to Talk Day, the nation's biggest mental health conversation. Happening every year, it's a day for friends, families, communities and workplaces to talk, listen and change lives
We know the more conversations we have, the better life is for everyone. Talking about mental health isn't always easy, but a conversation has the power to change lives.
Someone who sees the importance of talking every day is Jim from Chin Up Coffee, a catering trailer and mental health awareness space inviting locals for a coffee, a snack, and a chat to encourage them to get talking.
Chin Up Coffee launched during the pandemic in 2021, with Jim initially offering a natter opposite Jesmond Metro station. But nowadays, the Chin Up Coffee trailer pops up in locations all across the North East, including Wylam Brewery, Newcastle Quayside, Morpeth Markets and more.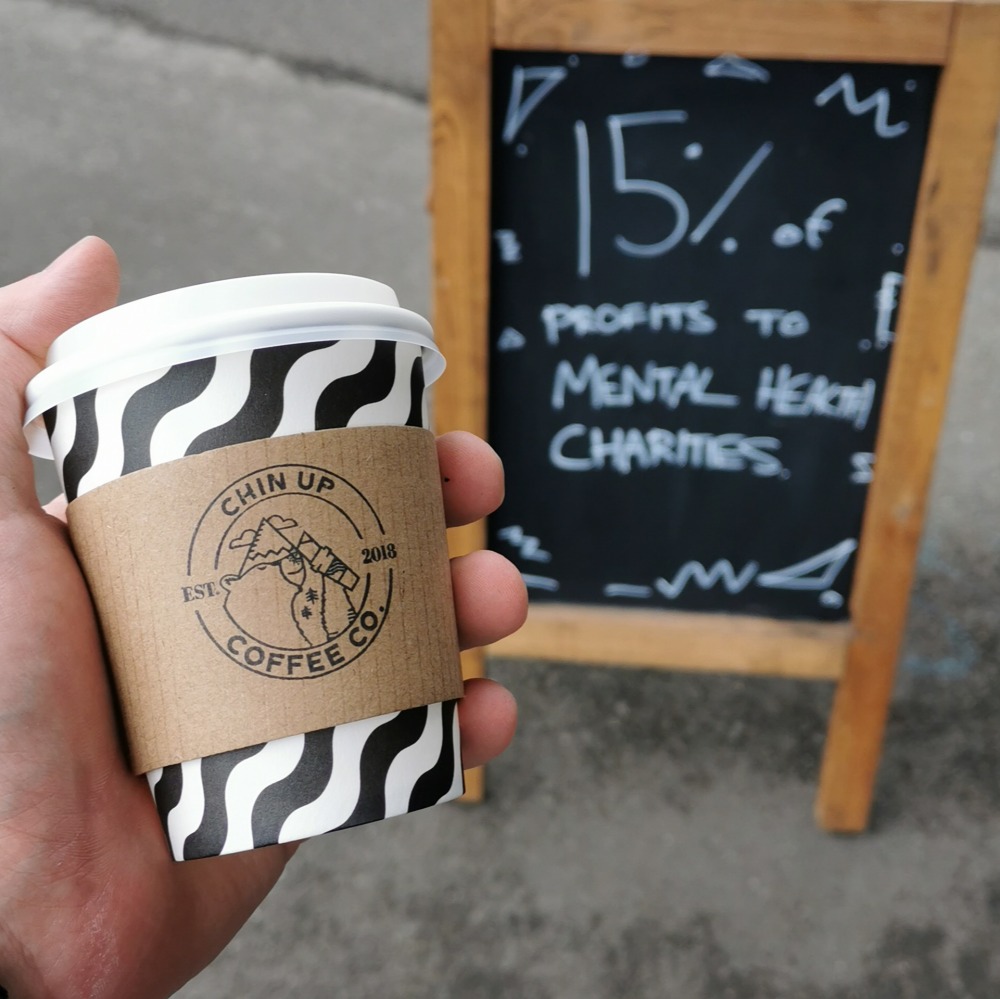 We caught up with Jim when he first started Chin Up Coffee and found out the inspiration came from his own experiences with mental health.
'As a man, I was struggling to face that I had issues with mental health,' he told us. 'When I finally did get round to speaking to somebody about this, there was a nine month-long waiting list.
'Some people just can't wait that long. That led me to look for other resources that were available in the meantime and I found help through charities like Mind.'
After taking a week-long entrepreneurship business course, Jim felt he could use his experience to encourage others to talk and seek the help they need.
'One of my favourite things to do when I was struggling with depression and anxiety was to get out of the house and sit in a coffee shop – it's a great comfort to chat with a friendly barista and then have a hot drink to escape the world for a while,' he explains. 'I wondered if I could help others in this way – but I wanted to offer more. I started working on this in 2018 and it's been a slow burn since.'
Jim purchased his trailer and all the equipment he needed, and after taking some personal time out, he officially launched Chin Up Coffee in December 2021. He's always happy to chat with you and there are always free handouts, leaflets and guidebooks with advice and numbers for mental health charities. Anyone is welcome to take one: from those who feel they (or someone they know) might need help, to those who just want to learn more about mental health.
'I thought that the odd person might take these handouts, but actually so many people have been reaching out for them,' Jim tells us. 'It's just a case of signposting, but it is really making a difference.'
While Chin Up Coffee is supporting Newcastle locals, Jim's also keen to support charities. That's why, in addition to a hot drink and a chat, Chin Up Coffee now also sells merchandise from the trailer with 15 percent of profits donated to mental health charities.
'The reason I want to give back is because the charities provide me with the information that I give to other people,' he tells us.
'I'm very clear about the fact that I'll never counsel somebody or give my own advice without research because I'm not qualified.
'It's so important that people get help from a professional when they need it. So, I'd be nowhere without these charities. If we didn't help these charities, they wouldn't be there to help others, so the more I can give them the better.'
Recently things have been difficult for many people, so it's never been more important to talk about how we're feeling.
'At some point, we will all go through a mental health struggle,' Jim says. 'It's now a case of being ready for it. It's a great feeling knowing that we're raising awareness and are able to share information in a casual way. This is so important. There's always someone to speak to. You just need to know where to look.'
TOP TALKING TIPS FROM MIND AND RETHINK MENTAL ILLNESS

There's no right or wrong way to talk about mental health, but these tips can help make sure you're approaching the conversation helpfully.



1. Ask questions and listen
Asking questions can give the personal space to express how they're feeling and what they're going through. And it can help you to understand their experience better. Try to ask questions that are open and not leading or judgmental. For example, "how does that affect you?" Or "what does it feel like?"

2. Think about the time and place
Sometimes it's easier to talk side by side rather than face to face. If you do talk in person, you might want to chat while doing something else. You could start a conversation when you're walking, cooking or stuck in traffic. But don't let the search for the perfect place put you off!
3. Don't try and fix it
It can be hard to see someone you care about having a difficult time. Try to resist the urge to offer quick fixes to what they're going through. Learning to manage or recover from a mental health problem can be a long journey, and they've likely already considered lots of different tools and strategies. Just talking can be really powerful, so unless they've asked for advice directly, it might be best just to listen.

4. Treat them the same
When someone has a mental health problem, they're still the same person as they were before. When a friend or loved one opens up about mental health, they don't want to be treated any differently. If you want to support them, keep it simple. Do the things you'd normally do.

5. Be patient
No matter how hard you try, some people might not be ready to talk about what they're going through. That's ok – the fact that you've tried to talk may make it easier for them to open up another time.