Meet Durham's Sustainable Fashion Brand NOVO
'Classic, timeless and premium'
This is how the team behind Durham-based sustainable fashion brand NOVO describe their womenswear collection.
Since 2014, NOVO have been designing stylish staples for shoppers worldwide, but 2019 saw the brand shift their strategic direction to focus on a more slow fashion approach, with wearability and longevity key to their made-to-last garments. The relaunch sees the brand as a go-to for premium essentials for modern women, enabling you to embrace a timeless style and therefore a more planet-friendly wardrobe. As seasons change, NOVO's customers are encouraged to wear their clothes interchangeably.
Durham-based childhood friends Amy Whitfield and Rebecca Ward founded the brand, and were later joined in their venture by Leanna King. Amy has always had a creative streak and graduated with a First Class Honours in BA Fashion Design (Industrial) from Leeds University, while Rebecca gained her experience working in luxury retail. 'Initially Amy managed the design side of things while I focused on the logistics,' Rebecca explains. Leanna started modelling when she was in her teens and later studied fashion design and textiles, then merchandising and buying.
Amy describes the progress of their brand as having a 'snowball effect' with the three of them learning a lot on the job. Since relaunching, NOVO has continued to grow. The brand already ships from its online store to more than 30 countries around the world, with the US being its second-biggest market, and NOVO pieces have featured in Vogue and Forbes. The business has already recorded sales of more than £250,000 since its relaunch and now aims to increase that figure at least three-fold before the end of 2022. Most recently, they've worked with regional fund management firm NEL Fund Managers to secure a £65,000 Small Loan Fund investment.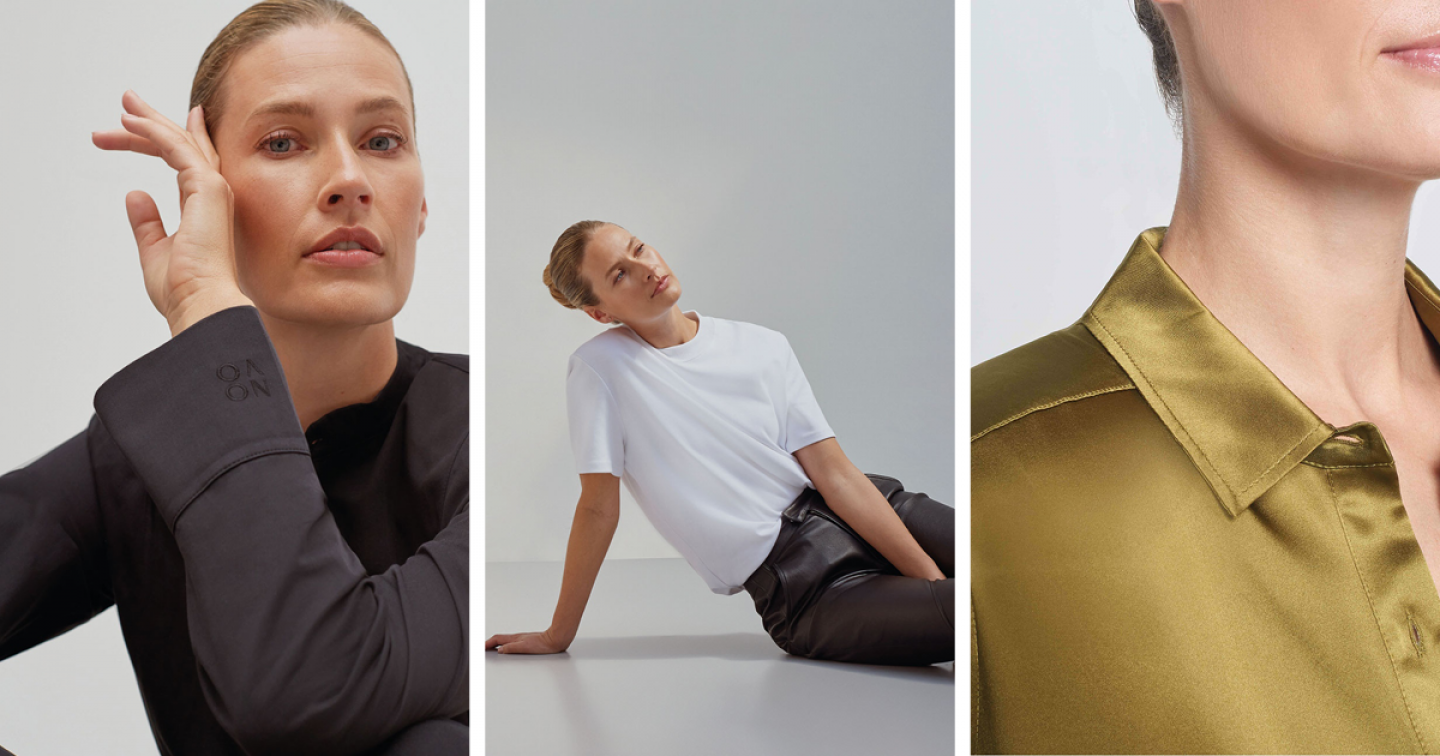 'They pride their pieces on being 'designed by women for women' – and being products that will last'
Staying away from trends, NOVO focus on silhouettes, precise tailoring, and simplistic shapes with minimal aesthetic and neutral colours; and they pride their pieces on being 'designed by women for women' – and being products that will last. Their cashmere turtlenecks and silk shirts can be styled in a variety of ways with their midi skirts, tailored trousers and trench coats. 'I still surprise myself everyday with how much I can make the same item look completely different by pairing it with something else,' Leanna says. 'It's a far nicer way of utilising your wardrobe.' There's a section on their website that shows you how you can wear your silk shirt on the beach over a bikini, in the evening, with some tailored pants for work… 'It's all about versatility and interchangeability of items. It doesn't have to be so one-dimensional,' says Amy.
'It's not like there's new items all the time on our website,' continues Amy. 'We just restock and refine what we already have based on consumer demand,' she adds. 'We're adaptable and that's the great thing about being a small brand, we can really evaluate the core pieces we do have and make them the best they can be, develop them and home-in on getting one in every woman's wardrobe. That's how we make ourselves known in the industry.'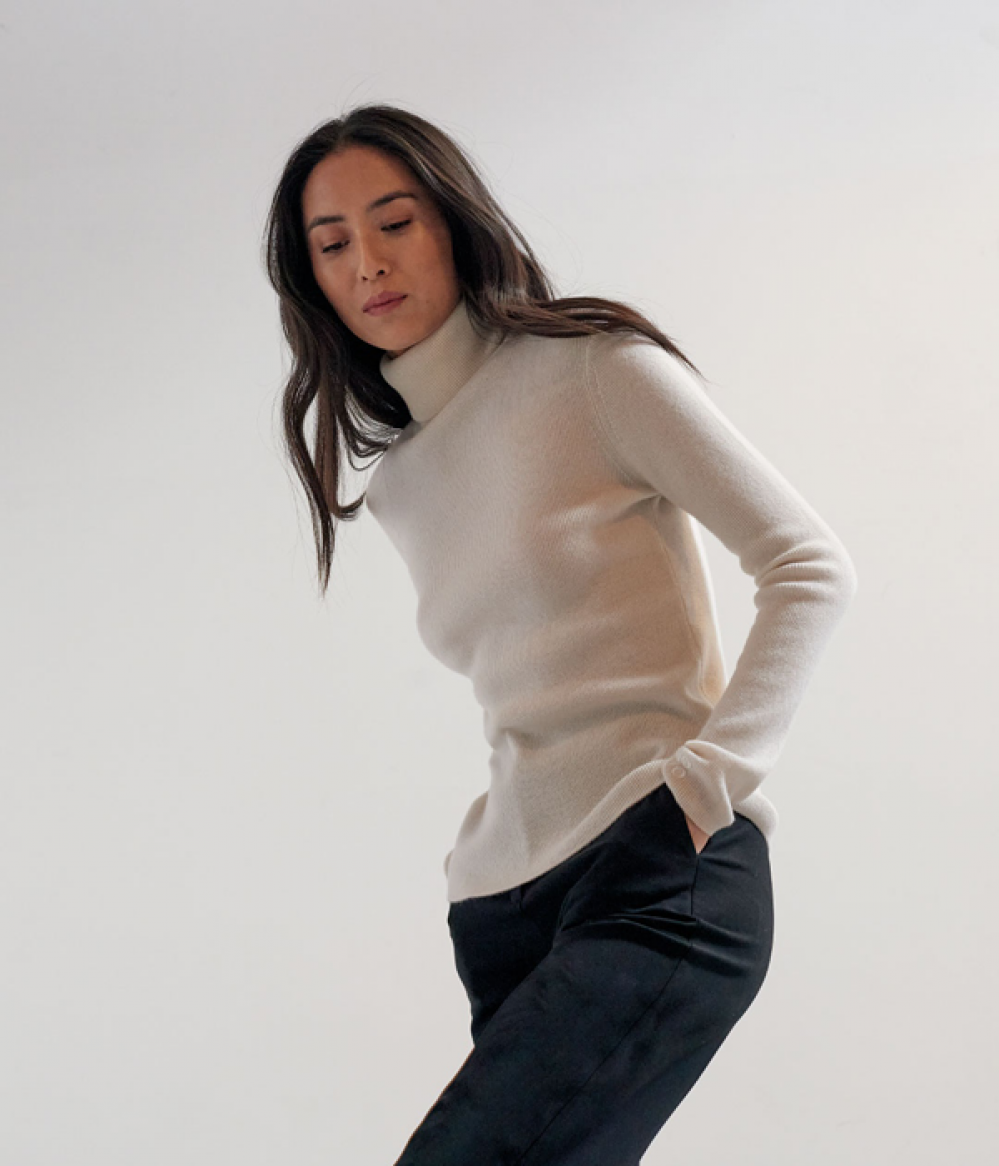 As well as supporting sustainability, it's also important to the team to remain an independent brand in the North East. Born and raised here, it's important for Amy and Rebecca to continue to run the business from their office in Durham. 'Sadly, we don't have as many small independent boutiques as we used to,' Rebecca says.
'Up here there isn't really a premium, luxury brand and when we reach out to customers in London, a lot of them are shocked that we are North East-based,' Amy continues. 'We have a soft spot for the North East and as the team grows and the business expands, NOVO hope to be able to offer creative job opportunities in the region too.'
Nationally, they're competing with the biggest names in the fashion industry. 'Being a small brand you have to adapt and make yourself known for what you do,' explains Amy. 'As a team we've really stripped it back and have our core essentials which work well for us. For example, making our t-shirts and tank tops in the summer the best quality they can be. We really work on the design and finding the perfect fit for the modern woman. As businesswomen ourselves, we understand the constraints of having to piece outfits together and we want to be accessible to all women to give them a simplified way to wear all the pieces interchangeably over and over again. It's all about buy now, buy better – less products, but a better wardrobe. We're very much a slow fashion brand and focus on capsule pieces. Our age range is very diverse too, because you can wear it at 18 or you can wear it at 70. It goes on for generations, which is an amazing thing.'
By removing plastic packaging and using only fully recyclable boxes, continuing to use the best quality fabrics, and now looking into using more recycled knitted fabric, NOVO can assure their customers, no matter what age they are, that their clothes are causing as little damage to the planet as possible.
With showrooms in Notting Hill and stockists in London, Edinburgh, New Zealand and Dubai, nothing's stopping NOVO helping to change the future of fashion. 'The future is a slower approach,' Amy says. 'We've even noticed our own buying habits changing. A while ago everyone wanted newness, but I feel that now people really pride themselves on wearing the pieces that they love over and over again. It's not a bad thing when people say they've seen you in that jumper because it should be championed and worn again if it's something you love. It's just about homing in on quality and investment pieces rather than the turn-over of trends. Especially with the pandemic, people have stripped things back and cherish the things they love. We think fashion reflects our mood – and what's going on in the world.'
Discover NOVO online at novo-london.co.uk.
Make the most of our exclusive discount of 15 percent off the whole collection online with code LIVINGNORTH15