Access the Dales is Working to Make the Yorkshire Dales Accessible For All
Access the Dales is a wheelchair accessibility organisation that's determined to make the beautiful Yorkshire Dales accessible to those without the ability to walk
We speak to founder Debbie North about sharing her love for the outdoors.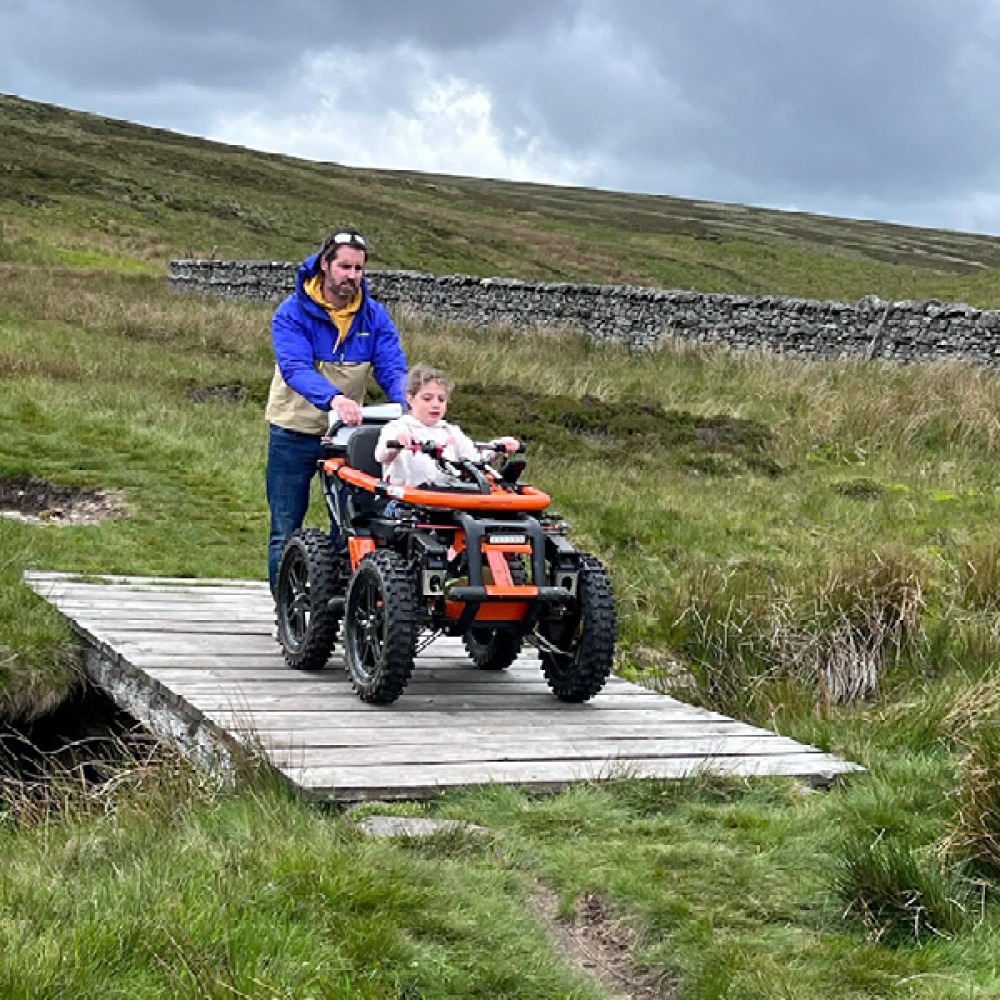 Debbie North and her husband Andy are emphatic lovers of the Yorkshire countryside. Veteran hikers and explorers of the Yorkshire Dales, from their home in Cumbria they've charted the most beautiful routes and footpaths. However, things changed dramatically in 2008 when Debbie was diagnosed with spinal degeneration, leaving her wheelchair bound. Things then changed further when Andy lost a sudden battle with an aggressive form of cancer last year. Fulfilling Andy's wish of making sure everyone can have access to the Dales regardless of mobility, Debbie has founded the life-changing Access the Dales.
'Life took a turn around 2008, when I was diagnosed with spinal degeneration. That meant I had to look at ways to access the countryside using a wheelchair,' Debbie explains. 'We found these all-terrain wheelchairs and so we raised money for the first one in the Yorkshire Dales National Park back in 2011. We've always had this love for the outdoors, I was the first person to do the coast to coast in an all-terrain wheelchair – life was good,' she continues. 'Then this time last year Andy was diagnosed with an aggressive from of cancer. He passed away eight weeks later. Those eight weeks were very precious and Andy was adamant that I carry on accessing the countryside, that I carry on going higher and further, that I carry on breaking down barriers.'
Access the Dales gifts TerrainHoppers, state-of-the-art accessible wheelchairs that use motor engineering to safely tackle bumpy trails. These come made for both children and adults, with Debbie striving to give the opportunity of experiencing the Yorkshire Dales to everyone.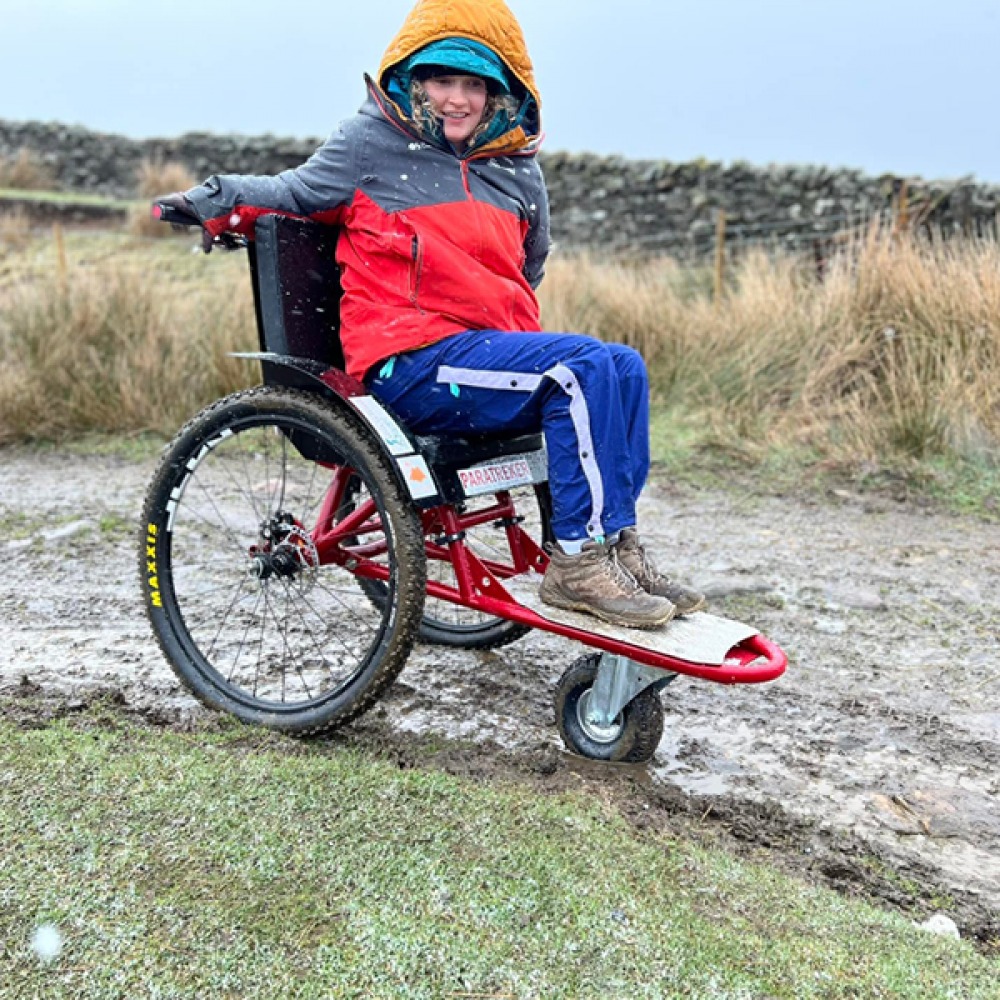 'The TerrainHopper is four-wheel drive, and it's a very safe machine. You are sat inside it with a really good centre of gravity,' Debbie explains. 'It has a motor on each wheel and it has suspension. It has the ability to go through the water, mud, sand and snow – I call it my four-seasons hiking boots,' Debbie laughs.
'Andy wanted me to help raise money for wheelchairs for children in the National Park. These wheelchairs are around £16,000 for one TerrainHopper Mini, so we set up a JustGiving page for Andy and we were blown away by the donations that came in,' Debbie continues. 'We got the money for the first chair, and from that support came from all over because of the hearts Andy touched. Companies like TerrainHopper and TGA Mobility all came forward and said "we want to help".'
It wasn't just companies that come forward either, inspirational wheelchair users from across the country now work with Access the Dales as ambassadors for the charity – including Paralympian Rachael Morris MBE.
'Rachael is a Paralympian with golds in rowing and cycling – she's also a big lover of the outdoors. She has such a fiery determination to break down barriers, and she's the perfect fit for us,' says Debbie. 'With glee she decided to become an ambassador and during our launch she brought two young girls with her to experience the Dales. It was lovely to see them spend that time together.'
Access the Dales are on track to have five accessible chair hubs across Yorkshire over the next couple months, giving the gift of the countryside to those that may otherwise never have seen it again.
'We have 14 different wheelchairs, so we've applied for charity status. Our first hub is at Ravenseat, the home of Amanda Owen. She has a TerrainHopper, a recumbent bicycle for children, and a power trekker – a manual all-terrain wheelchair,' Debbie explains. 'They're all available to borrow and we have a lovely route ready for them up on the fells. It's been amazing to see the awe and wonder on peoples faces who thought they would never see the fells again, or are just seeing them for the first time, especially as a family. In total we should have five hubs up and running within the next two months, all in different areas of the National Park with different routes.'
Access the Dales are still in their charitable infancy. If you'd like to help them with their mission of accessibility, Debbie is actively looking for helping hands ready to change lives.
'We're a small team who are looking for volunteers to help on the ground. We are also looking for sponsorship, and we'd like to find investors so we can get more wheelchairs. If there's anybody out there who knows how to apply for funding or how to help us with the finance side of things, we would really appreciate the help.'
Learn more about Access the Dales at access-the-dales.com