All About the New Spin to Win Discount App for Food, Drinks and Entertainment by Newcastle-Based Businessman
Jammy app users can win discounts on food, drink and entertainment
As money is tighter than ever and spare cash for luxuries seems like a thing of the past, two Newcastle-based businessmen have launched a brand new app called Get Jammy to offer individuals and businesses the benefits of collaboration. We caught up with one of the app's co-founders Steve Imray to find out more.
Tell us a bit about yourself and your background.
My background is mainly in print and design and I ran an agency for a long time offering print design and street promotions, by that I mean sort of hand-to-hand leafleting and experiential campaigns. A lot of my customers were bars, clubs and restaurants in Newcastle and I was a DJ in Newcastle for 18 years too, so my background has been heavily immersed in the hospitality industry.

Where did the inspiration for Get Jammy come from?
Get Jammy has kind of been an idea floating around in my brain for the last 18 years. I used to go out a lot in my younger days with all these push the button, happy hour games in the bar and I really liked the games but I saw them as a bit one dimensional. People were already in the bar and just benefitting from being there, but I thought if it could be turned into an app and you could take it outside the four walls, it would be a much more compelling mechanic.

Through lockdown print was a dead product as no one wanted to touch anything physical. In that moment you re-evaluate things and I just happened to have a conversation with a friend of mine who runs a digital agency. It was literally a throw-away comment when he said 'we can produce apps' where I was like, well let's have a chat. Out spilled 18 years of this sort of brain mush which basically culminated in us agreeing to make the app.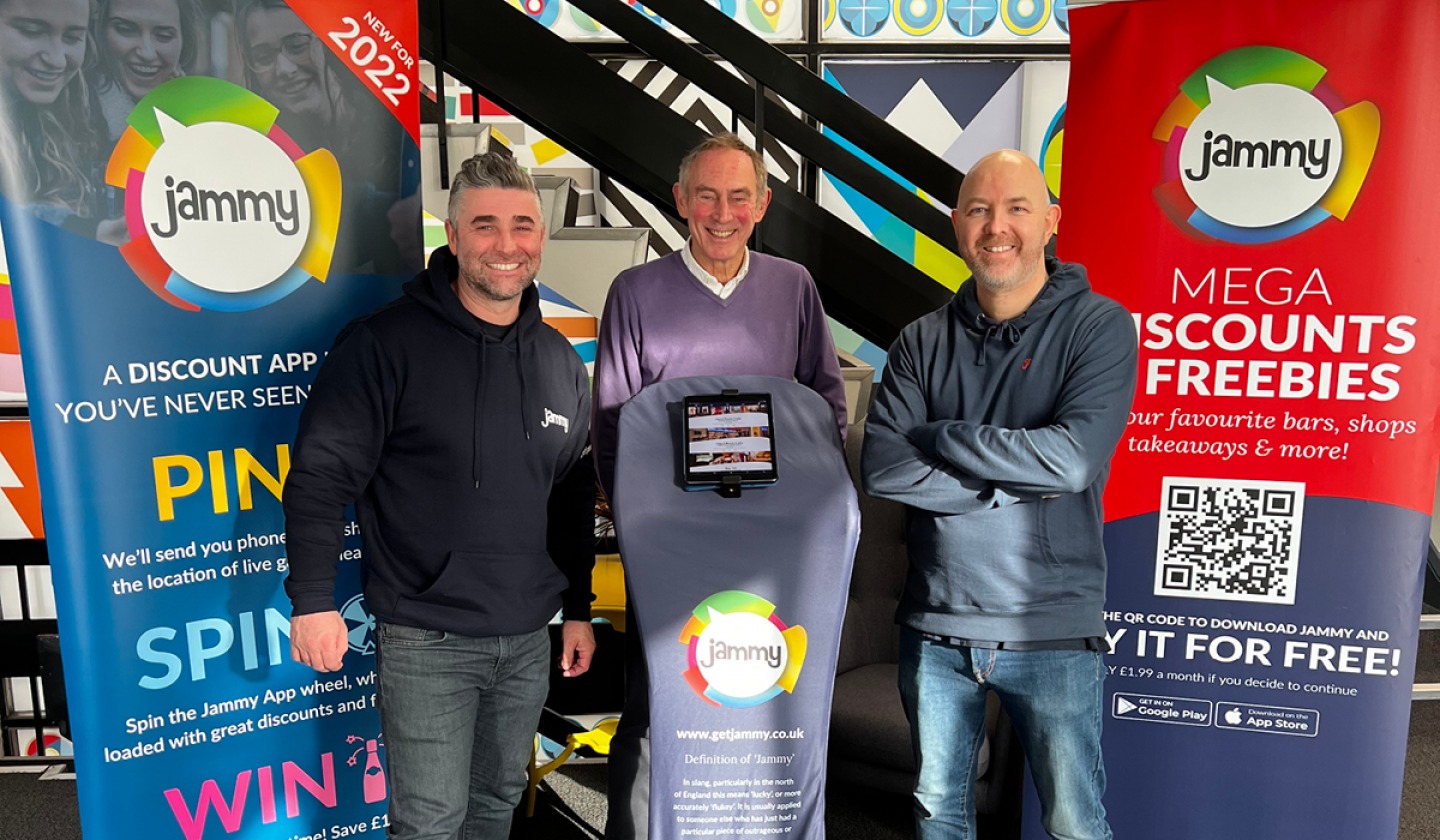 What does Get Jammy do?
It's got two strands to it really. First, for any B2C business it's a powerful marketing tool. If you come on board to Jammy it doesn't cost your business anything and you can create any marketing campaign you like, that can be happy hour campaigns or audience-, product- or time-specific campaigns. It's there as a tool to help market your business where you can be in complete control, and those campaigns are then getting driven to the user and audience directly.

On the flip side, all the partner offers go on to a spin wheel. Users will spin the wheel and then it's a game of chance what they might win. We send out notifications when games go live, but even if you just download and open up the app it'll pull in the nearest offers using geolocation. You can also segment the offers down, just selecting what you're interested in that day, for example food and drink or family entertainment.
The business is getting their marketing out immediately and introducing themselves to customers who may not be aware of them, and the user is receiving that information immediately, gaining benefits that wouldn't normally be available to them. It's a win-win situation.

Users do get a free period of time to use the app because what I want is people to come onboard, try the app and see the value, but then after that it's just £1.99 per month. There's some great deals and discounts on there that make the payment insignificant though. We've got some clothing brands on there doing 25 percent off so one guy got £47 off a North Face jacket for example, or somebody else got £15 off bowling with their family. So £1.99 is not a lot for the deals and offers that you can interact with.
'You come on Get Jammy, you play the game, and the idea is, how jammy are you going to be?'
Tell us about the name.
The term jammy, in the North East at least, refers to a slang definition of getting something for nothing and is used for someone who has a particular unexpected lucky streak. So it's somebody who's flukey, or gets an outrageous bit of luck – we've all got that friend who always wins on the scratch card or always wins a free drink at the bar, it's just based on that. You come on Get Jammy, you play the game, and the idea is, how jammy are you going to be? Ultimately it doesn't even matter because every time you play the Jammy App game you will win something, there's never a loser on there, but it's just based on that Northern expression.
Which businesses are involved so far?
There's definitely been a focus on hospitality as it's an easier push within the sector, so we've got places such as Revolution de Cuba, Hard Rock Café and Loft & Hustle. But we want any B2C business to be involved, so we've also got gyms, hair salons, beauty salons, and we're also talking to swimming pools about swimming lessons.

We're really keen to support SMEs. I mean it's great to have those headline brands on there like Hard Rock, but because it's a free marketing tool I'm keen to get out to the independents and give this free tool to help them. Especially at the minute with the cost of living crisis, it's good that users can get offers and deals quickly but importantly on the other side I think businesses are struggling, whether that's with rent rates, gas and electric, staffing costs or staffing issues.

We're able to go to them and say look, this doesn't cost anything, yes it culminates in you pulling some discounts together but we're not saying you need to put 50 percent off on all the time, we're just saying pick your quiet times and use the app to help boost those quiet times. Ultimately it's free ,so why would you not have a look at it, jump on board and see what it can do for your business?

Anything you want to add?
There's a lot going on with it and I know there's other things out there that are a little bit more simplistic, but the more that we get Jammy out there with the partners and the more that they start using it properly, the more that they'll get benefit and the more that the users will get benefit. We've got all our fingers crossed that 2023 will be our year and we can really push the app and the brand forward.
For more information head to getjammy.co.uk or download the app to your phone now.