How to Find Your Dream Wedding Dress
We ask the owner of The Bridal Box Boutique in Slaithwaite, Huddersfield, for her expert advice on the do's and don'ts of choosing a wedding dress.
Claire owns independent bridal shop, The Bridal Box Boutique, where each bride receives complete and undivided attention to ensure their appointment is relaxed, fun and informative.

She takes time to get to know each bride when they arrive in her boutique, in order to help her understand their likes and dislikes, and makes sure that with longer than usual appointments, brides don't feel rushed into choosing their dress.

The boutique may be small, but it has a great selection of designers and dresses, and Claire's experience, attention to detail and determination to ensure it is a totally enjoyable experience, makes it the perfect place to find the dress of your dreams.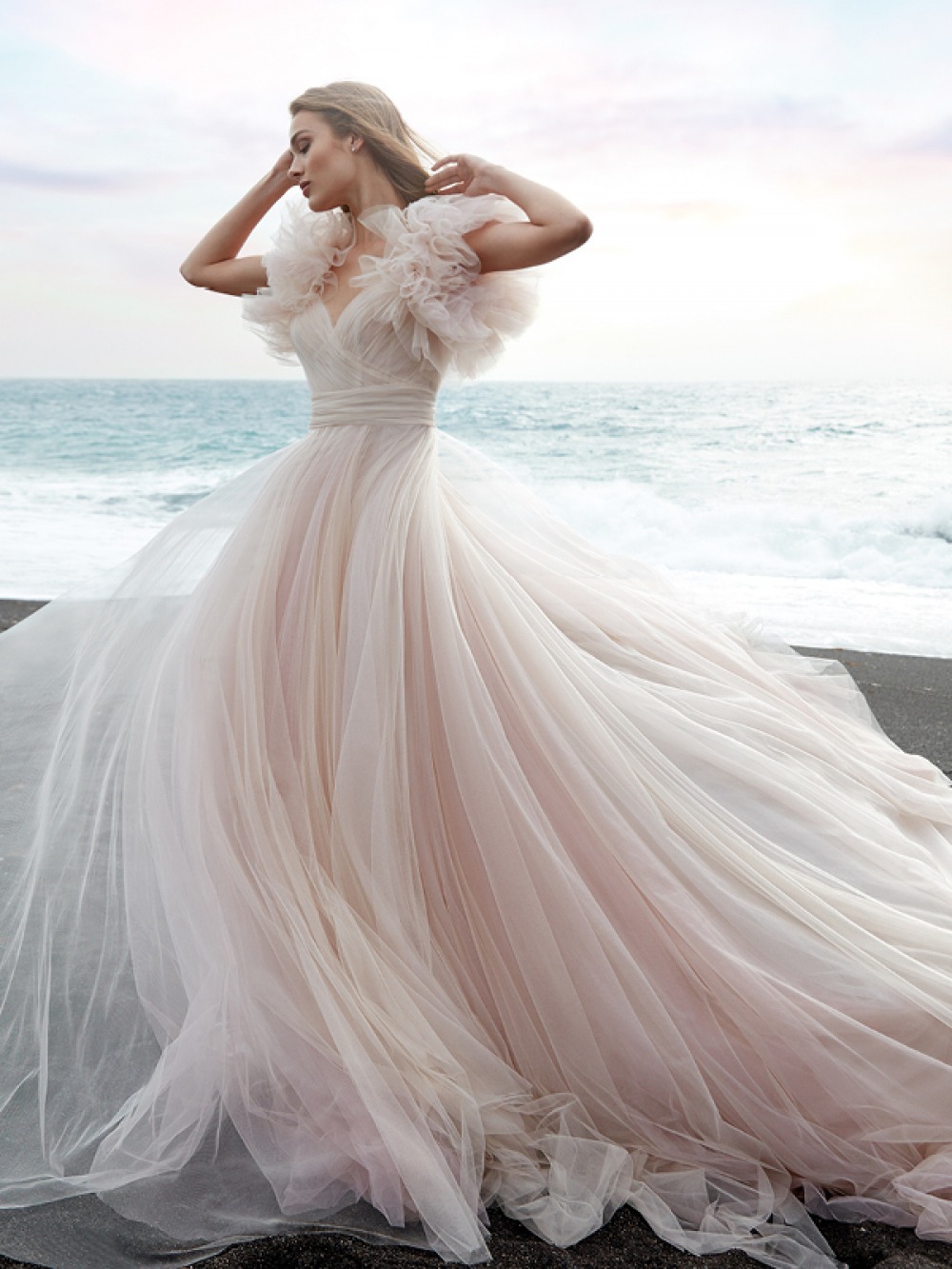 What should a bride-to-be consider before their appointment?
Come with an open mind and be prepared to let your stylist help you on your dress journey. You may have a pre-conceived idea of what you want based on what looks nice on a model with fantastic photos from a photoshoot.
But in reality, your personal style and what actually suits you could be completely different, and it may throw you off course if you try your 'picture perfect' dress on – and then not like it!
I always say to brides prior to the their appointment – just relax, look forward to it and I'll help you work through it all and narrow down the search.
Because I offer longer than average appointment times (up to three and half hours), there's lots of time to discuss style, try as many dresses on as needed, and really drill down on what's important to you as a bride.
How should a bride-to-be approach choosing a dress?
I cannot emphasise enough that choosing your dress should be based on your gut instinct! If your gut is telling you it's the right dress then grab it and relish in the celebration (and relief) of having found your dream dress.
If you're not sure, or you go away and think about it and you don't dream about it all night, then it's not the one. If the process has been done properly, following your appointment you should have a better idea of your own personal style and you can keep looking with that in mind.
A good question to always ask yourself is, 'do I generally make decisions based on logic or emotion?'.
If you generally make decisions based on logic then you may find that you don't get the tears and the overwhelming emotion of having found the one – but don't worry, it just means you approach your decision making in a different way to emotional thinkers.
Often logical thinkers get 'the moment' when their dress arrives in the boutique as it proves their logical choice was correct and that's when the emotion hits them.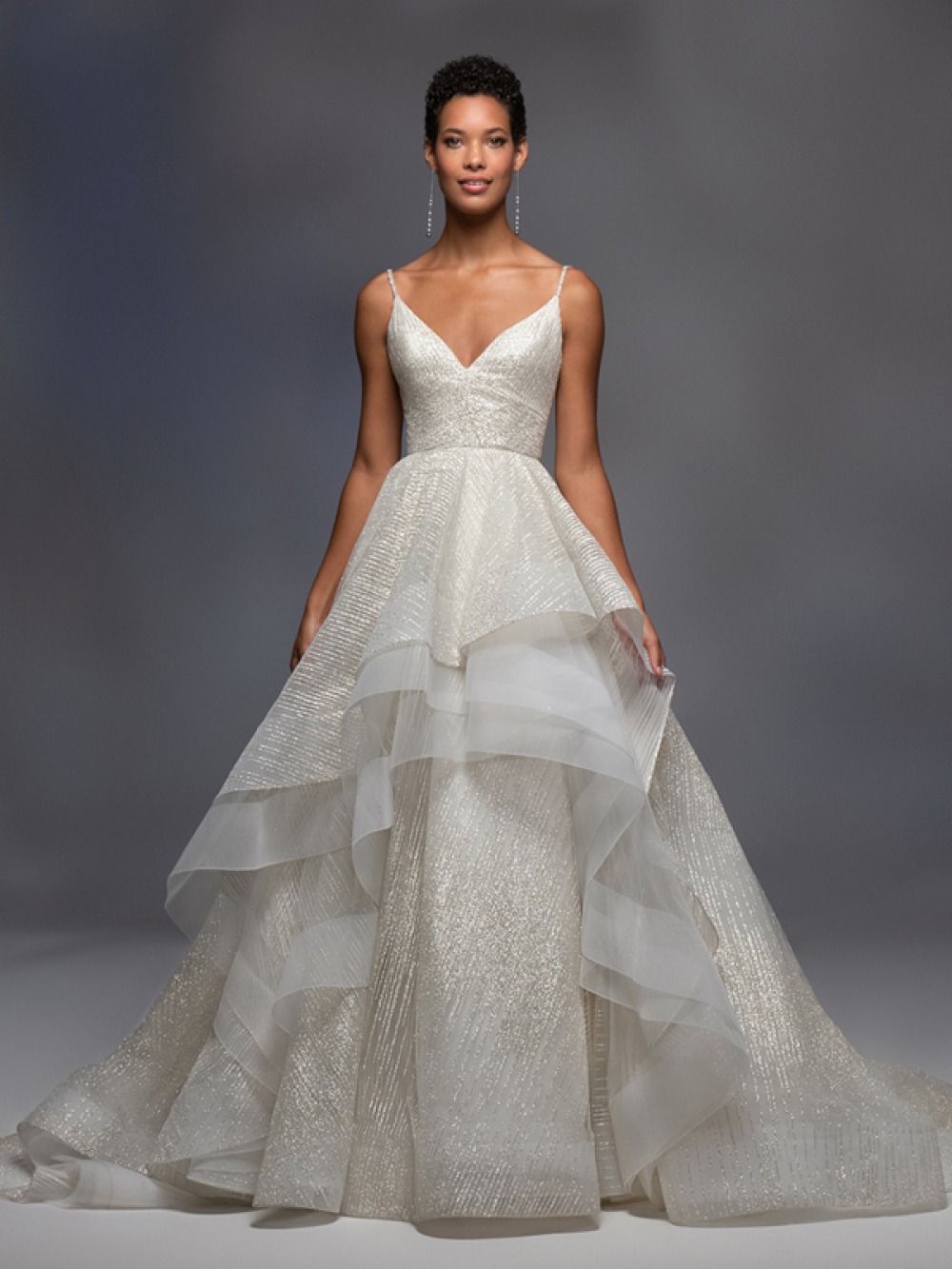 As an expert, what are the essentials to consider when choosing the dress?
Honestly? It's about the way it makes you feel more than the specifics of a particular dress.
That will pale into insignificance if the dress feels right. Wedding dresses are designed to look good on you so it's easy to love them all!
But when you're in a fitting room feeling like you don't want to take the dress off until after your wedding day, then it's definitely the one.
Think about essentials and details of a dress by all means – the train length, pockets, the weight of fabric, whether it will suit the venue – but the amount of brides that have been in my boutique and said they don't want a sparkly ballgown and walk out with exactly that is crazy!
I do smile now every time someone says that because trust me – whatever you choose it will just work on the day if it feels right!
What do you think is the biggest mistake brides make?
It's not really a mistake on the bride's part, but the biggest issue can be being afraid to say no in a sales environment.
Brides should stay strong and not be led by sales pressure or discounts if they decide today. Don't get me wrong, if it is the right dress then take advantage of it, but you might well regret buying a dress simply because you were pushed into it.
There's a lot of information around at the minute about pressure selling in retail environments, and unfortunately bridal shops are sometimes no different.
If it's not right, walk away and think about it. If you miss the dress and can't stop thinking about it, you can always go back.
It's so important that you choose the right dress in your own time. I get a lot of brides who end up in this situation and they feel embarrassed to be starting their search again, but if the shop you have chosen.
What do you see as the biggest trends for wedding dresses in 2022?
Big puffy sleeves are back. But with such a modern twist they'll make you excited.
We have some amazing ones in our new Spring Tara Keely by Lazaro collection and I'm so excited. We've just chosen our newest Rosa Clara collection and it has some wonderful surprises; feminine trouser suits and Grecian elegance are making an appearance so get ready for September when they arrive!
Big leg splits are also making an appearance, definitely fashion-forward but still elegant and classy – what more could we ask for!
Claire's three favourite dresses:
Tessa with Overskirt from Lucia by Allison Webb. 'So fun and flirty whilst remaining wholeheartedly bridal.'
Anghel by Nicole Milano. 'So ethereal and romantic, with detachable sleeves, you just cant help but love her.'
Cheyenne by Lazaro. 'The sparkle is unreal. It doesn't get much better than this in terms of a statement piece!'