Meet the Artist Whose Environmentally-Conscious Artwork is Inspired by the North East Coast
Artist and art educator Katherine Renton grew up in Amble, and sources both her inspiration and her materials from the North East coast
Living North finds out more about her artwork and latest exhibition Castle Coast which is on display now at Newbiggin Maritime Centre.
What was it like growing up on the North East coast?
My experience of growing up on the North East coast was very much shaped by my parents, who were both artists. My Dad was a very well-known local artist who specialised in watercolours of the coastline. He always painted outside on location, and throughout my childhood, and even into my teenage years, I would often go with him. I really got to know all areas of our coast by spending time with him, especially his favourite locations such as Holy Island. I watched him paint, and as I got older I began to paint alongside him.

My mother studied Fine Art at Newcastle University, graduating in 1957. She has more of an affinity with the countryside, and has a real knowledge of our natural environment, including the names of plants and their medicinal and culinary uses. Every walk with her was an exploration into things that most people would never notice on a walk: lichen growing on walls, unusual toadstools, cup and ring markings, fossils. If she didn't sketch them there, she would often bring unusual items home to paint. She also painted unusual scenes that revealed the ancient history of Northumberland, such as views of the salter's tracks through the Cheviots.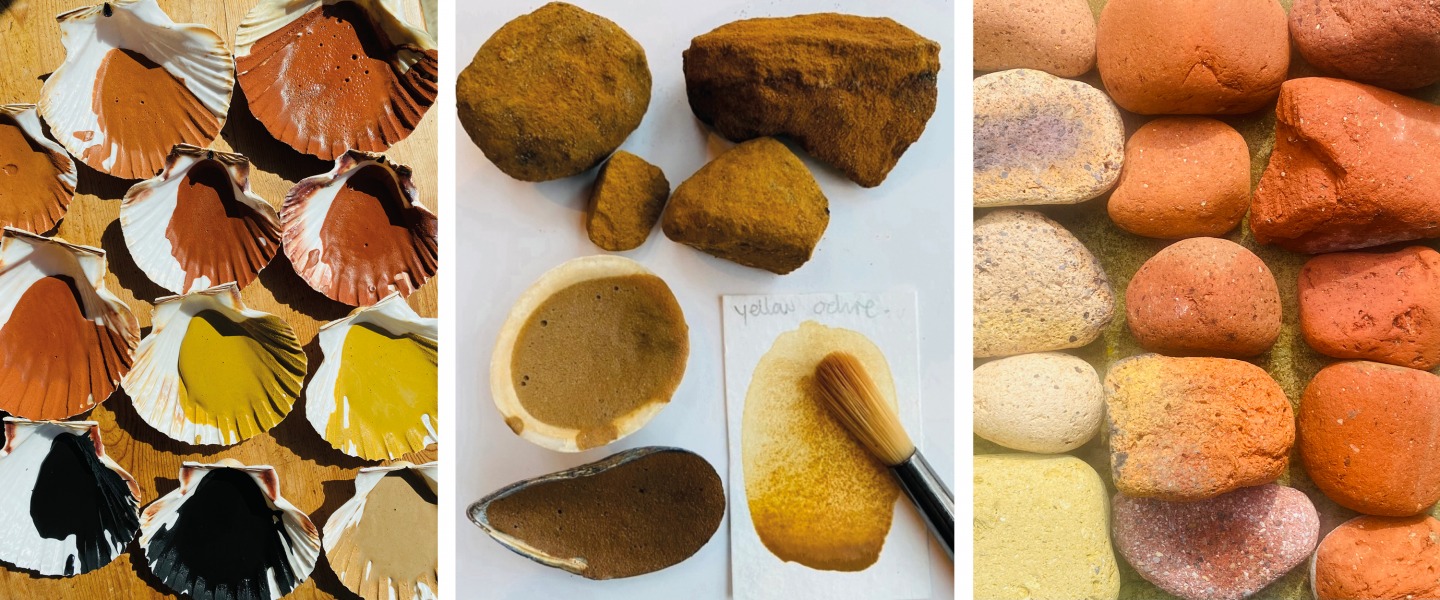 How have your surroundings inspired your art?
I knew it was never going to be enough to paint 'pretty views' of Northumberland. For me Northumberland is intrinsically defensive, bordering Scotland and the North Sea, but for a long time I would not paint the castles – it just seemed too obvious, instead I painted harbour walls, coastal sea defences, and the World War II tank traps and pillboxes.

My castle paintings began with evening visits to my local beach at Alnmouth on summer days a few years back. I became fascinated by the various sandcastles that visitors built there, and was struck by the fact that Alnmouth has no connection with a castle despite being such a popular destination – so I decided to give it a castle and began a series of pencil studies of 'Alnmouth Castle'. To me the sandcastles were a really pure form of public art, created from natural found materials, built by anyone and everyone – these studies evolved into paintings.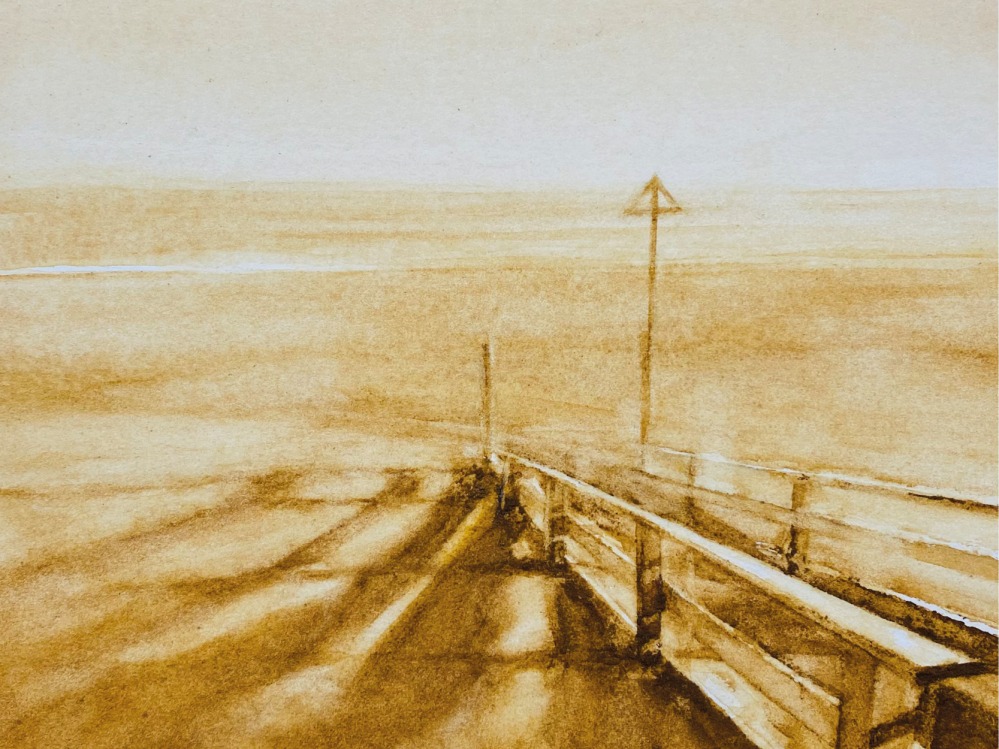 It's only in the last year that I saw a relevance to painting the 'real' castles of Northumberland – the castles that have surrounded me my whole life. In my exploration of our relationship with the land and its implications for all our lives, I realised that the majority of the castles stand in ruins, not because anyone won in the centuries of warfare, but because England united with Scotland, making Northumberland a safer and more prosperous place to live. I was starting to make links in my head with the issues around the EU Referendum, and attitudes to immigrants and refugees. Painting castles is my way of challenging perceptions of who belongs and who doesn't, related to issues of class and race.

My surroundings have even inspired me to make my own paints from local materials. I moved close to Shilbottle in 2021, where my grandfather had worked as a coalminer until his death in 1952. I can see the route of the coal rail line from my house. I had begun to look into his life and the history of the local colliery not long before Storm Arwen hit Northumberland causing mass devastation. Straight after the storm I visited the beach at Amble where I often played as a child, and was amazed to see huge amounts of seacoal washed up on the beach. Many described Arwen as an extreme weather event – the recent COP26 climate conference had acknowledged that the burning of coal has to be reduced to slow down global warming and rising sea levels. In picking up a piece of the seacoal I suddenly wondered if I could turn it into paint.
How do you create your paints and paintings?
Creating my paintings has become a really physical process since I started making my own watercolour paints. I first have to collect small fragments of rocks and other debris that I think might create an interesting pigment from the beaches that I visit. My materials include seacoal, shale, yellow ochre and brick. Once back at my studio I break the rocks down into small pieces using a claw hammer, before grinding them down to a powder using a mortar and pestle (this creates an irregular sediment which I prefer in my paintings). I then combine the pigment with my own homemade binder on a tile and using a glass muller, in the same way that artists since Renaissance times have done. I make my own binder from gum arabic, honey and a few other ingredients. I set the paint in sea shells that I also collect from the beach, and leave to dry for 48 hours.

Once dry I can treat them like any other watercolours, by just adding water – the big difference is that my paints are free. Applying the paint is also becoming a very physical process: I find that I have to keep all the paper wet throughout the painting process, I'm not using traditional watercolour painting techniques which are much more delicate. I tend to almost scrub the pigment onto the surface and repeatedly overpaint, picking out relevant details where necessary. The paintings often take over 24 hours to dry, and it can be a real surprise seeing how the pigment sets and separates while drying. No two batches of my paint are ever the same, so every painting I produce is one of uncertainty from the beginning.
'No two batches of my paint are ever the same, so every painting I produce is one of uncertainty from the beginning'
What have you been up to recently?
I recently held a large solo exhibition of my work entitled 'KEEP' at the Bailiffgate Museum and Gallery which featured my images of castles, a motif which plays around with the interpretation of the title, and relates to environmental issues. I teamed up with the Northumberland Coast AONB Partnership for this exhibition, who readily agreed to fund the show. They also displayed their valuable information alongside my work, and fully funded a huge art project that I'm continuing to run at Amble Links First School called Northumberland's Colourful Coast, in which I use art to enable the pupils to appreciate the value of their coastal environment and its wildlife.

What can you tell me about your latest exhibition?
Castle Coast at Newbiggin Maritime Centre will include my [favourite] painting 'Ruin', alongside other paintings I have produced of Northumbrian castles and the sandcastles that edge our border with the North Sea. In this series I'm exploring the role our coastline plays in defining our identity as a county, and a nation. I'll be exhibiting alongside Peter Seddon, a ceramic artist, who is showing a new series of works entitled 'Underground', based on a recent visit to caves in Portugal which you approach down 555 steps. Both of us have been inspired by rocks in the creation of our work for the exhibition. Peter Seddon was instrumental in the creation of the Newbiggin Art Trail, which begins at Newbiggin Maritime Centre.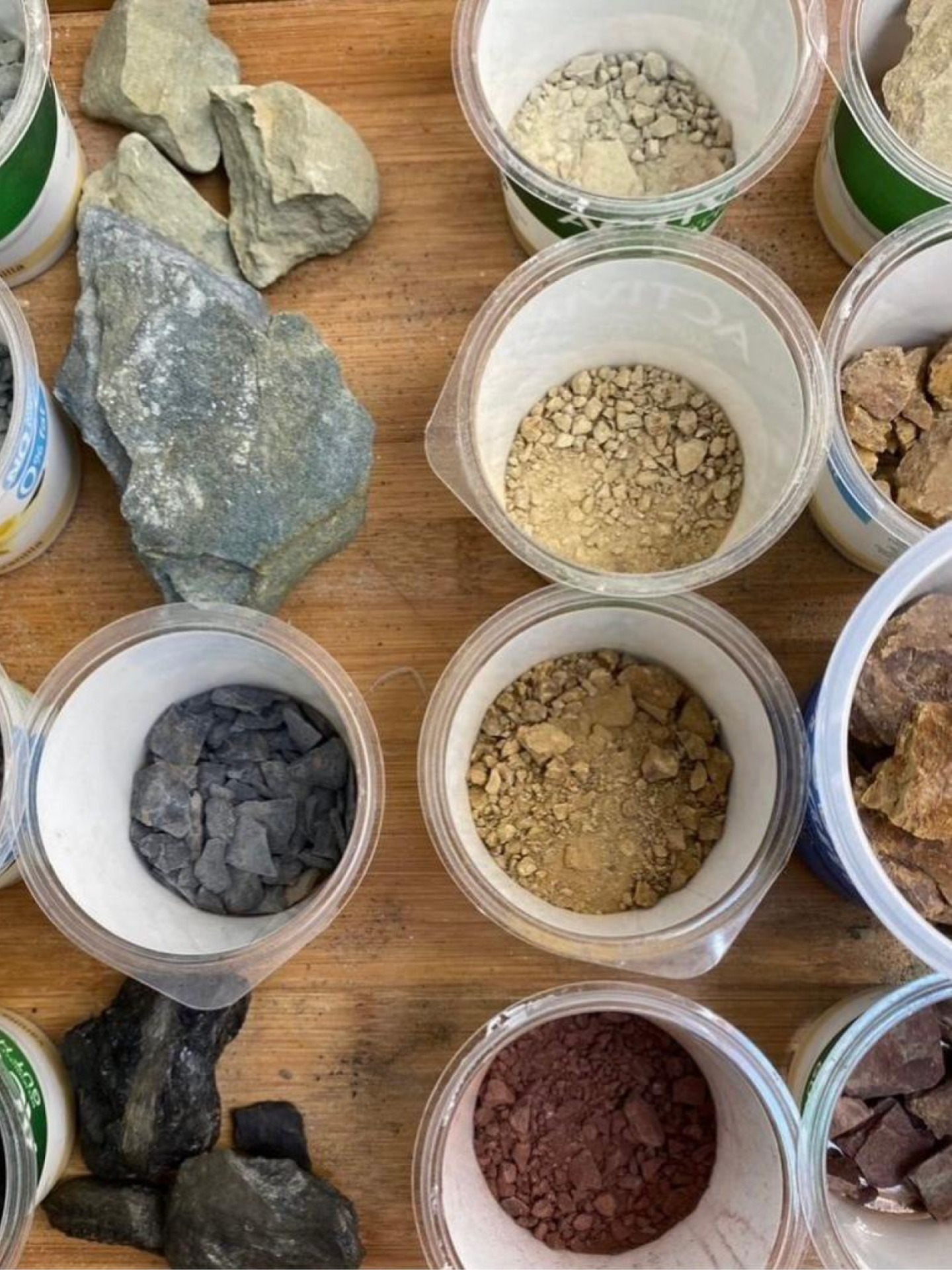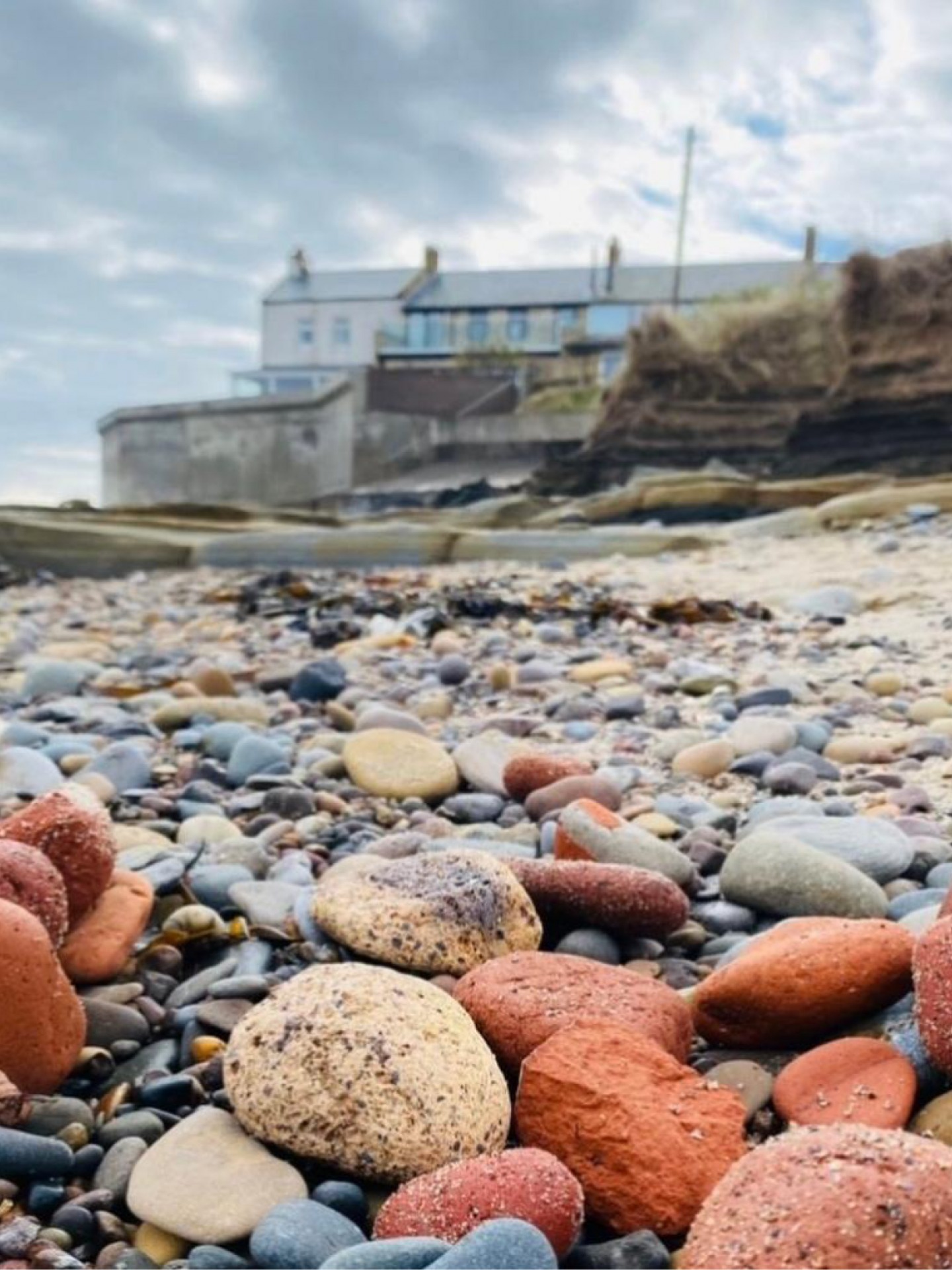 Artists who inspire you?
To be honest, the artists that have inspired me by far the most over the last two years are my group of excellent and supportive artist friends that I work alongside in my area of Northumberland, including Luke McTaggart from Amble, who has just graduated from Northumbria University in Fine Art; Ashington artist Iain Bolton, who produces entrancing work on the hidden and ignored parts of Northumberland; and Gillian Leigh-Smith who beautifully paints our lost history. My other art colleagues that are worth following include Rob Newton, Jonathan Lloyd, Kevin Parker, Trina Dalziel, Ted Taylor, Peter Drew, Nevill Wilson and photographer Jim Donnelly.

There really are exciting things going on art-wise on our bit of the coast at present – a kind of emerging creative hub, with the contemporary art gallery RePUBlic recently opening in Blyth, and the presence of more cutting-edge galleries such as The Old School Gallery in Alnmouth. Massively increased arts funding has also recently hit Northumberland which should make a huge difference – I'm hoping it's not too much of a fantasy to think that our bit of the North East could become the next St. Ives or Margate on the art map of Great Britain!

Where's your favourite place to walk by the coast?
I've always enjoyed walking anywhere along the Northumberland coast, but I tend to avoid the most popular destinations these days. The place that I visit most is the stretch of beach at Amble, between Cliff House and the Salt Pans, just south of Amble/Warkworth Harbour. This is the beach where I source most of the materials for my paintings and it has the most amazing geology: really stunning colours and patterns in the sandstone cliffs. I've even come across the fossilised root system of the Giant Clubmoss on the flat rocks that run out into the sea – fossils of a 40-metre high forest that stood here 300 million years ago. From this beach I either walk south to Low Hauxley, or north around Amble and on to Warkworth.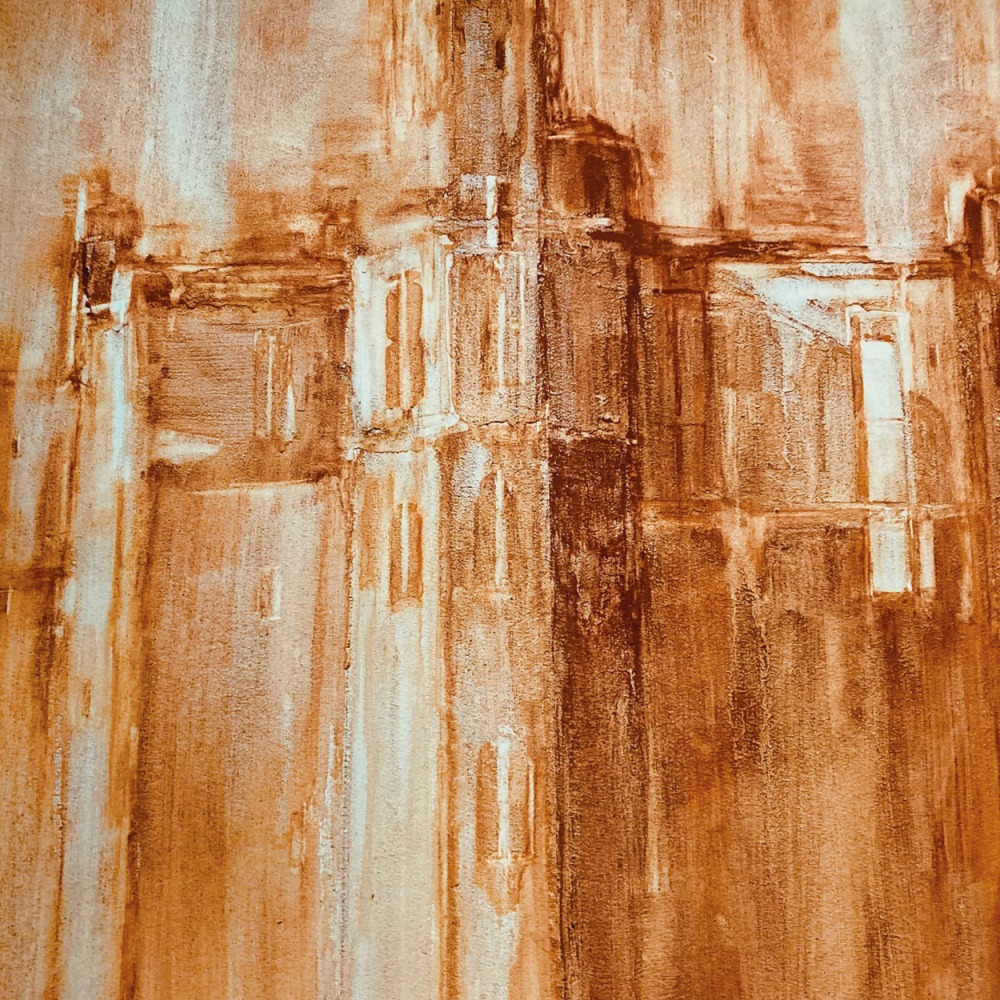 A book / series / podcast you recommend.
In my studio there is no WIFi , so if I'm not listening to music while I paint, I now listen to podcasts that I download weekly. My work has more of a political edge to it now and is really informed by podcasts such as my favourite: 'Oh God What Now?' which provides 'the only sensible response to our relentless tide of political clownery' – really clear-thinking, honest political analysis, with a lot of humour.

I really enjoyed reading 'Mudlarking - Lost and Found on the River Thames' by Lara Maiklem recently. The author details her last 20 years spent searching for objects at low tide along the banks of the Thames, including Neolithic flints, Roman hairpins and medieval buckles. Her finds reveal the history of London and give an insight into the lives of the people that have lived there over thousands of years. I can really relate to her experiences, I've been a beachcomber my whole life, along the Northumberland coast, and I've learnt a lot about Northumbrian history though doing this. Beachcombing has also become an essential part of my artistic process.

Advice you'd give your younger self.
If you're doing the art that you love, then you don't need the fancy big house, the shiny car and the expensive holidays – keep it simple, don't let things distract from the art!

What's next for you?
This has been a ridiculously busy year for me so far, so the plan is to let things calm down over the summer, once the Newbiggin Maritime Centre exhibition is up and running, and return to my painting full-time for a while. I recently got some funding from Art Network North East, based at the Baltic Centre for Contemporary Art, that has enabled me to buy large sheets of watercolour paper – the cost of watercolour paper has been really limiting up until now. My aim is to develop my watercolours on a much larger scale. I would also like to enter more regional and national art competitions.
The exhibitions 'Castle Coast' and 'Underground' will run until October. Newbiggin Maritime Centre is open every day 10am–4pm. See more of Katherine's work at katherine-renton.co.uk