Meet the Man Helping to Change the Lives of the Most Deprived in Leeds
Nick Lane Fox is chair of Leeds Community Foundation, a West Yorkshire organisation which distributes more than £4 million annually to change the lives of people living in some of the most deprived areas of the region. We find out more
Since 1997, Nick Lane Fox has been leading the management of his family's Bramham Park Estate, a 2,265 hectare agricultural estate in Wetherby which is home to Leeds Festival and Bramham International Horse Trials. He has also worked in financial services for more than a decade, ending up as head of sales for Rensburg Sheppards, and for the majority of his working life has been in the army having trained at Sandhurst. However more recently Nick has turned his attention to another important cause which is much closer to home.
'For the last five years I have also been the chair of Leeds Community Foundation, an organisation close to my heart as it focuses on distributing funds and much-needed support to those who need it most across West Yorkshire,' explains Nick. 'Leeds Community Foundation distributes vital grants and gives trusted advice to community organisations across Leeds and Bradford to influence positive change. Driven by creating meaningful social impact for thousands of local people, Leeds Community Foundation invested £4.2 million and supported 287 organisations in 2022.'

As the region's largest independent funder, Leeds Community Foundation is the only organisation of its kind in Leeds and Bradford, working with hundreds of groups each year. The foundation utilises philanthropic giving and statutory funding to generate grants which address specific needs. This helps vulnerable and often marginalised community members with a wealth of support including skills, education, housing and employment.

Nick tells us he didn't know much about the organisation initially, but quickly realised it was something he wanted to be a part of. 'I have to admit that before I became involved with Leeds Community Foundation nine years ago, initially as a trustee, I had never heard of the concept of community foundations before,' he says. 'When I heard all that they are able to help with, it was clear to me that they are the experts in identifying what's needed the most for deprived communities and so offer the best route into driving positive change across West Yorkshire.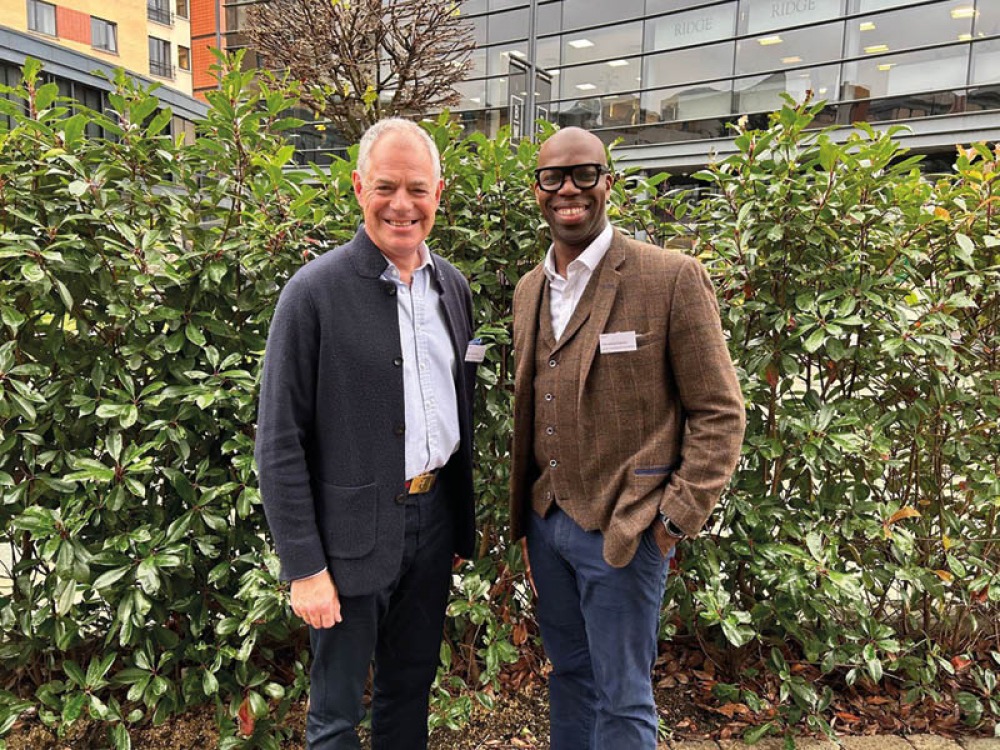 'The due diligence and the expert advice Leeds Community Foundation provides communities is invaluable. They are the people who know the most about local problems because they are on the ground. Localism is key for me and that is why I was so keen to be involved. In my role as chair, it's my responsibility to provide strategic governance, helping to steer the organisation in its mission to create opportunities for all.'

Leeds Community Foundation was formed in 2004 and made its first grant in 2005. The organisation goes beyond funding alone as it also provides resources that voluntary groups and charities would otherwise struggle to access. As an organisation which is focused on creating a fair and inclusive society, Leeds Community Foundation works alongside each group to address inequalities and create opportunities for those who need help the most.

'Our impact is far reaching,' explains Nick. 'In the last year, we issued 389 grants, with an average value of £10,000, to 287 organisations. That's a total of more than £4.2 million. We know that this has a range of positive outcomes for people in our communities because we assess each grant's impact to understand how it helped to create opportunities for people in terms of skills, housing, education and much more.

'Even the smallest amount of money can have positive effects if applied to the right area in the right way. And the right way is by empowering the community itself to decide and implement the change. We work closely with all community organisations in the region to understand the need; tailoring support accordingly. Sadly, disparities across West Yorkshire have widened in recent years. We are doing all we can to "level up" and make sure opportunities are available to all, no matter what their background.'
Running the foundation alongside his deputy chair Cleveland Henry, Nick says the two businessmen's backgrounds complement each other, and their work, perfectly. 'Cleveland and I both have full-time jobs outside of our work with Leeds Community Foundation, but we use our time to provide governance in the form of managing risk, upholding standards, ensuring reporting is accurate and all regulations are adhered to, among other aspects. We, alongside other trustees, also act as a sounding board and provide oversight on a range of issues and we feel privileged to be able to support wherever and whenever we can.

'Cleveland, who is the Group Delivery and Deployment Director at EMIS Health in his full-time role, grew up in a deprived inner-city suburb of Leeds. He brings a unique perspective having grown up in a disadvantaged community and so he is focused on raising aspirations. Our backgrounds complement each other because we each have a solid strategic know-how from our involvement in various sectors, as well as a passion for driving change and investing in West Yorkshire communities. We both speak to a wide range of supporters and partners and can advocate for the way that the foundation opens doors for both philanthropists and recipients of the funds.'
'As local community members we see this happening right on our doorsteps and I truly believe that charity begins at home'
Nick tells us that it's more important than ever to give back to your local community. 'We are undoubtedly facing a very difficult time for people as they have less and less money in their lives to access what may have once been classed as basic supplies such as food, education resources and clothing,' he explains. 'This means the work of the foundation will become even more vitally important. As local community members we see this happening right on our doorsteps and I truly believe that charity begins at home, as the age-old saying goes. I'm sure we all want to raise aspirations and opportunities on our doorstep and, for me, donating to Leeds Community Foundation is the perfect opportunity to do that in one easy step.'

As a result, Nick is calling on people in fortunate positions to make a difference to lives just around the corner from their own neighbourhoods. 'The reality is that those who were already struggling have plunged into deeper poverty and people who were able to support charitable organisations with donations have cut back on philanthropic activities. Meanwhile, funding from the Government is being reduced and these factors combined are having a severe impact on vulnerable members of our communities.
'That's why I believe that investing directly into your local neighbourhoods via Leeds Community Foundation is so vital. And now, more than ever, donations from people and businesses in the local community are fundamental. Helping financially is what is really needed. I'd ask that anybody who is in a fortuitous enough position to be able to donate to Leeds Community Foundation should consider getting in touch. Their ability to invest back into the region via Leeds Community Foundation, who do all the work to make a long-lasting difference by delivering resources to where they are needed most, will be a massive benefit for neighbourhoods right here in West Yorkshire.'
Quick-Fire Questions
Favourite place to walk in Yorkshire?
In the last few years I've explored lots of new walks and one of my favourites is Hackfall near Ripon. There's a fantastic woodland walk, with a riverbank too, and it's also full of ruins, grottos and temples to explore. It's a fascinating place and brilliant for a Sunday afternoon walk. I also enjoy visiting Fountain's Abbey and Studley Royal as much as possible.

An item you couldn't live without?
Goretex trainers – they have revolutionised going for a walk in the country.

Your go-to lazy dinner?
Mushroom risotto, it's one of the few things I can cook really well.

Advice you'd give your younger self?
Don't worry what other people think of you; it's what you think of yourself that matters.

Tipple of choice?
Whispering Angel rosé with the requisite South of France view.
Recent Grant Awards
Leeds Community Foundation has already awarded a number of grants so far in 2023, including:

• £10,000 Support for Ukrainians grant to the Refugee Education Training Advice Service, Leeds

• £9,595 Mental Health Matters grant to the Black Health Initiative

• £10,000 Actively Raising Aspirations grant to St Luke's Cares Charity

•£9,860 You Are Not Alone grant to ThatName Woman
For more information visit leedscf.org.uk.