Meet the Woman who Built Her Own Campervan to Travel Europe and Now Converts them for Others
Jacqui Stewart Brown, from Thirsk-based Brown Bird and Company, tells us how building her own campervan and travelling around Europe inspired her to start her own company
Now with a growing social media following and commissions filling up, we learn more about the business.
Brown Bird and Company started back in 2017 when Jacqui built her first campervan. 'I wanted to document both the self-build and my travels in the campervan. My Instagram account gained traction back when van-life was still a relatively new idea on social media,' she explains. 'Everybody loved the build and it was the first one to have our live-edge worktops with a clean white apartment feel. Van-life back then was usually much more rustic in style so the van really stood out.'
Having spent 32 years in design and product development, Jacqui knew how to pull a conversion project like this together and after completing the build she spent three years traveling around the UK and Europe, living full-time in her van. 'I met Laura Fiddes-Baron on my travels and she was also traveling full-time in her own van. When lockdown hit we decided to build a campervan together named Dolomiti after our recent travels in the Dolomites,' Jacqui says. 'We loved working together so much that we built another van and we soon ended up with a waiting list for our builds and thought "you know what, we can make a business out of this!"'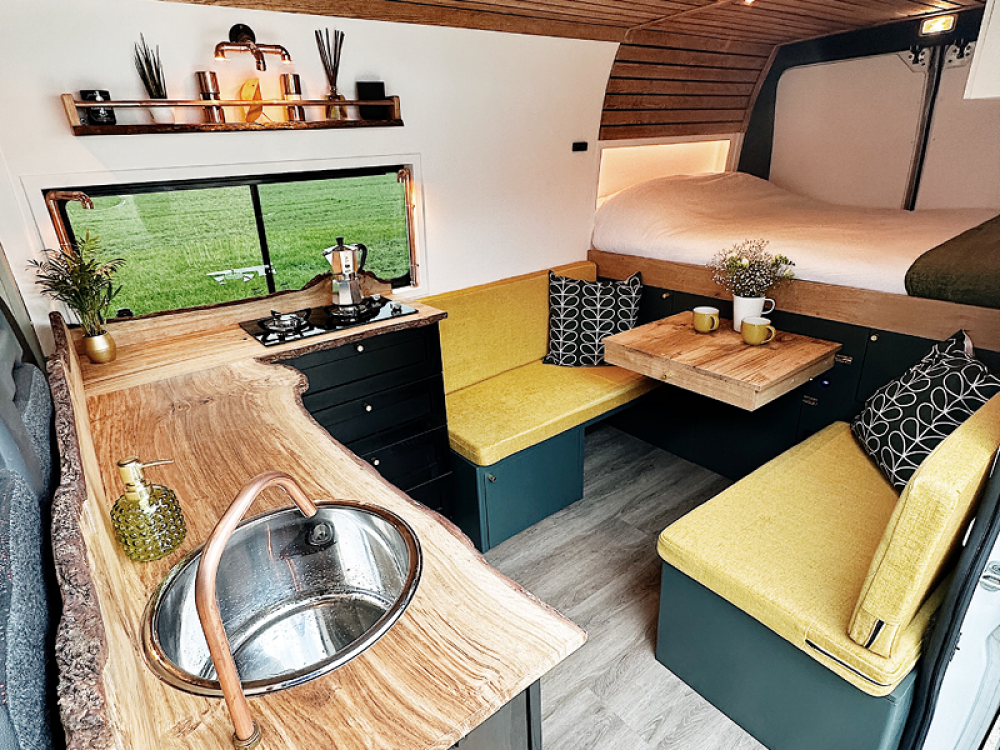 Jacqui's role within the business covers many practical aspects including the design and functionality of every build they do, as well as research and development. Laura, who studied fine art at university and spent many years in sales and marketing, juggles lots of different jobs within the company too, and is known as the grafter. 'One minute she will be installing an oak ceiling and the next she will be preparing a quote for a customer,' Jacqui explains.
'It is very rare for a company like ours which has so many physical trade skills required to be female-led. The campervan conversion world is very much a man's world historically,' Jacqui admits. Up until 2022, Jacqui and Laura ran Brown Bird and Company themselves, but in September last year they welcomed James Lumley as a partner in the business. 'James' background is in robotics and he also spent valuable time working at a high-end joinery/carpentry business, which means he is the technical wizard of the company. James likes nothing more than a good challenge to wrap his head around and his latest project has been converting a 50-year-old VW camper to electric,' Jacqui says.
With a skilful team who all live and breathe their passion for campervans, Brown Bird and Company build beautifully finished, design-led campervans. 'With our distinctive style we offer our customers unique handmade campervans that stand out from those which are mass manufactured, or self-built conversions. Everything we do is based on our own experiences of living in campervans, so we focus heavily on how they will be used day-to-day. We take pride in providing solutions to make life travelling easy, fun and luxurious. Our goal is for anyone to be able to stand back and know that the van they are looking at is a Brown Bird and Company campervan,' says Jacqui.
'We don't know of any other converters who live full-time in their vans like we do and who have also spent six years doing it. This allows us to give amazingly rich advice to all our customers on their builds'
'We don't know of any other converters who live full-time in their vans like we do and who have also spent six years doing it. This allows us to give amazingly rich advice to all our customers on their builds,' Jacqui continues. 'Another thing which makes us very different is that we work with customers who love our designs rather than being 100 percent bespoke and doing something totally different to our own style. Customers often only want to chose a colour and leave the rest of the design process to us. It's lovely that they trust us so much to do this,' she adds.
The process of building a campervan starts with the customer. 'Some like to come and see our workshop and builds going on and maybe even take our hire van out, whilst others are happy to commission a van based on photos and drawings,' Jacqui explains. Once a quote has been agreed the team go through plans for their customers requirements and most importantly, source their base van. 'Once the van arrives we like to run through some final questions to agree any build details like external extras, paint and fabric colour choices before starting the build.'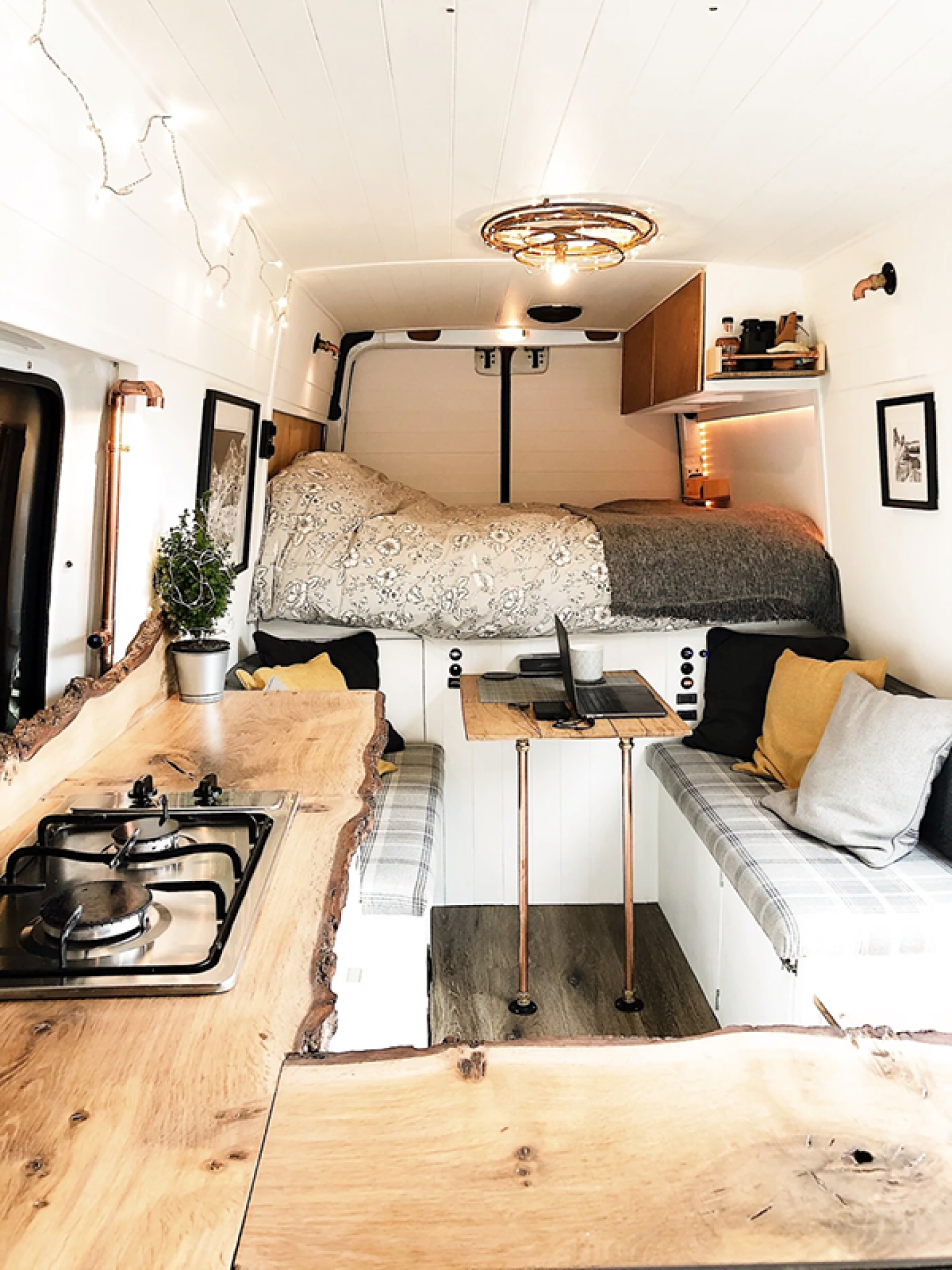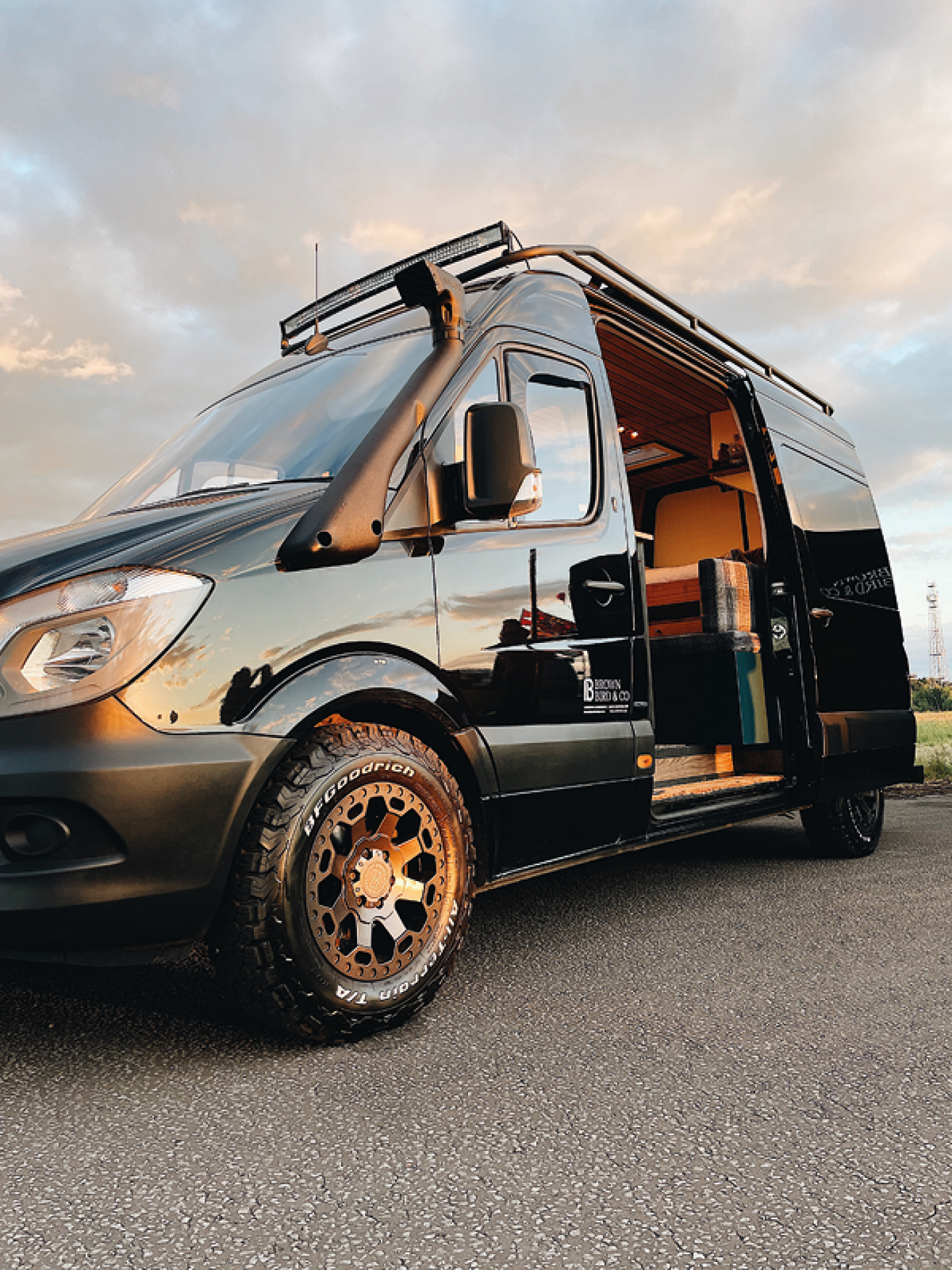 Sourcing the right materials is a large part of the process as campervan builds involve so many different trades, such as carpentry, plumbing, gas and metal work. 'Sustainability is very important to us and we would like to do much more. We work with a few local timber suppliers who have local depots and much of our oak in recent builds has come from private UK estates that suffered storm damage, so its great that these fallen trees have ended with a new life in a campervan,' Jacqui explains.
'We are conscious a lot of wood goes into our vans so we are currently researching the best company to support the planting of trees to help reduce our impact. We recycle as much as we possibly can and use recycled products in our workshop. We also plant 250 trees for each of our conversions using Ecologi, and we offset our carbon emissions each month.'
During the process the team keep their customers up to date with progress photos without showing them the final product before the big reveal. 'Collection day is always the best bit, when the customer is super excited about collecting their dream van. We spend a long time with them running through how everything works and give them an extensive manual to go away with,' Jacqui says.
'I think the most important thing about running your own business is to start small and only do something which you are truly passionate about. Running your own business is hard work and you have to be very motivated to make a success of it. It's also important to move with the times and keep an eye on not only what your competitors are doing, but also other trades and businesses that you could use for inspiration. We actually spend more time looking at interior and design trends than we do at what other campervan converters are doing – it ensures our campervans look different to other companies'.'
Looking to the future, Jacqui and the team hope to expand. 'We recently took on Graham, a new addition to the team, which allowed us to open up three more commission slots this year – although they got snapped up within a matter of weeks and we think we could keep going in that way,' she says. 'We have to make a decision on how big we want to make it, as inevitably more build slots and team members means more time for us as the directors project managing rather than being hands on with the tools, which is the bit we love. It's great to have this dilemma as it shows the business is a success and we are so proud of what we have achieved and the brand that we have built up as a team.'
An item you couldn't live without?
The mountains, but that's not really an item! On a business level I think it would probably be our mobile phones. We manage everything about the business with our phones including project management software, connecting with customers, referring to build notes, researching what's happening within our sector, social media and marketing.
A local hidden gem?
Because we are working so many hours at the moment we don't get out much, but two of the hidden gems for us are our local pub, The Kings Arms in Sandhutton which does absolutely amazing food (and we are hard to please) and the local Indian The Jaipur Spice. We like to support local businesses so please check them out! We also enjoy climbing and walking locally at The Wainstones in the North Yorkshire Moors but we are looking forward to having time to explore what's around us in the future.
What's the best thing about what you do?
The best thing has to be creating a thing of beauty which allows people to go on their adventures. The most exciting thing for us is being able to use our creative background to visualise what can be done in a small space that stands out from the rest. Ultimately it's handing over a van to a customer and the excitement on their faces and then following them on their journeys and adventures. We've had such lovely feedback from our customers and often meet up with them socially too which is great.
brownbirdandcompany.co.uk