The Amazing Woman Who Went From Professional Musician to Crafter and Blogger
Many of us can't imagine that we will ever have a second act in life - but Clare's fascinating career path shows that there's always time to make a change
For York-born Clare Albans, who has made Newcastle her home for the past 20 years, music was her first and only passion. From the age of three, having seen Nigel Kennedy playing the violin on the telly, she knew what she wanted to do when she grew up. Unlike most of us, whether we wanted to be ballerinas, astronauts, princesses or archaeologists (yes, I'm talking about myself and yes, I wanted to be all of them), Clare followed her childhood dream.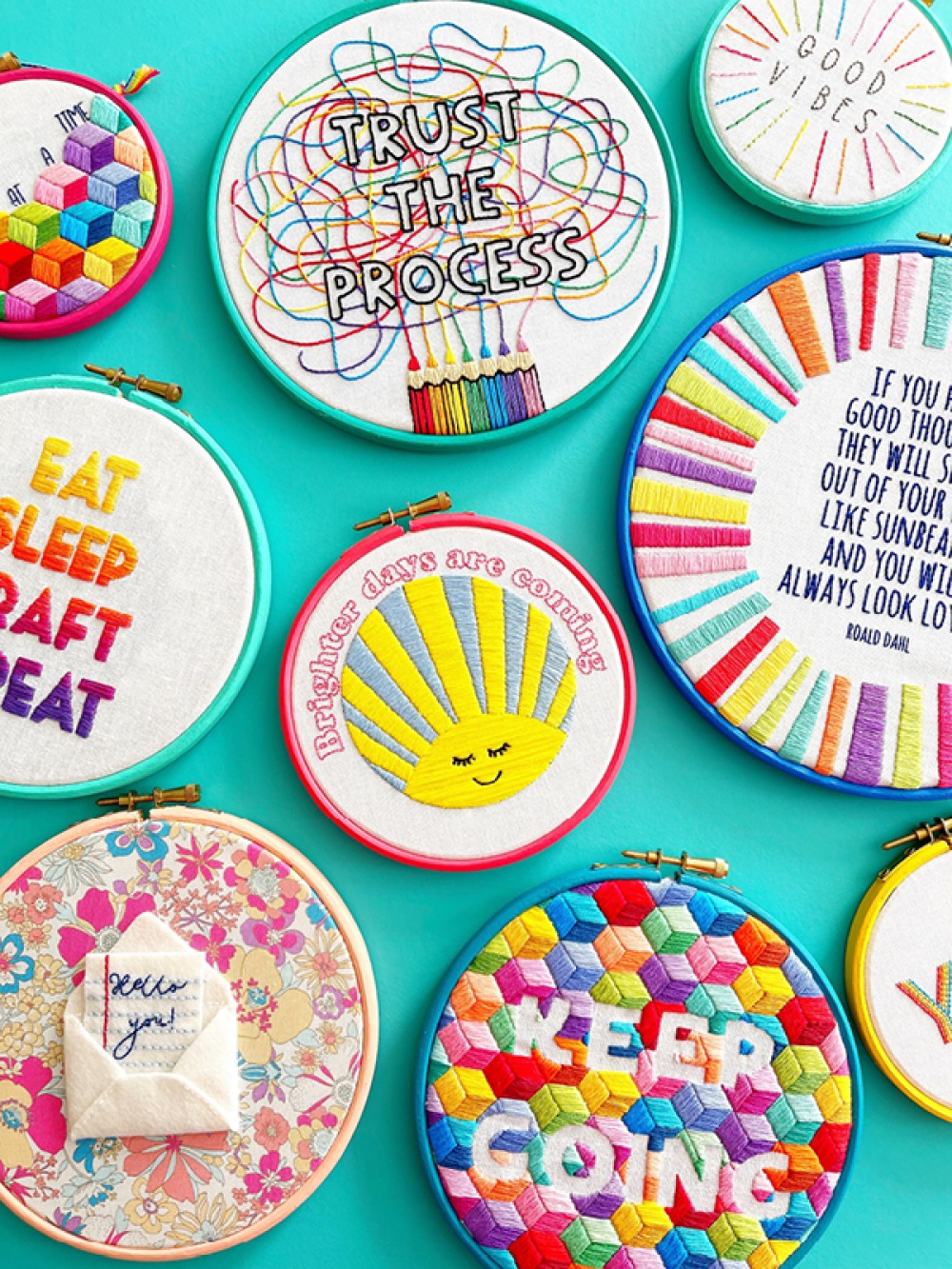 She started with the recorder, advanced to the school violin, and never gave up. At the age of 16, she was accepted by Leeds College of Music to do her A Levels. Clare remembers clearly that passion and focus she felt, 'I wanted to play in an orchestra. I was totally going to be a musician. I lived for that. I commuted from York to Leeds every day. I was super focused. That was my life, that's what I wanted to do.'

It was a commitment that she didn't question at the time, such was her drive and determination. 'If I ever do that journey now, I think "how did I do that every day?" It was crazy, rehearsals until the evening and then getting the bus back,' she confesses. 'That's how committed I was at the time. It didn't feel like an effort. Music was how I expressed myself. It was what I did. That's what I was going to do.'

She feels lucky to have been part of such a vibrant set up in Leeds. Clare describes it enthusiastically as 'a really creative melting pot' and once her A Levels were completed, she didn't want to lose that energy.

So, a move to Newcastle, to study for a B.A in Music at Newcastle University, felt like the logical choice. 'It was the perfect place for me. It's a bit like York in the fact that the centre is compact. When I moved up in 2004 The Sage was about to open. It all just felt like an exciting time. I met the man who is now my husband here and we both stayed, and I can't imagine being anywhere else now.'
She also feels that Newcastle itself is an amazing melting pot, a fact that she feels often gets overlooked – as she stresses. 'I feel strongly about that, I mean we are talking about all this levelling up at the minute and you think "really, though?" We know how awesome it is here and if you just actually spend a bit of time here, and put even more into it, imagine what could happen here.'

Clare's time at Newcastle University was all she hoped it would be. She loved the course, loved the city and was in love. She played in an orchestra and a band – even getting a song played on Radio 1. She continued to be committed to music and she continued to graft. She did, however, come to accept that she had to be realistic about her childhood dream. 'As much as I wanted to play professionally in an orchestra, it's very, very difficult and I didn't want to specialise in performance in the end,' she says. 'I loved playing in orchestras, but it got to the point where I realised, I was probably not quite there to do it.'

Clare decided to go to Durham University to do a PGCE in order to teach music. This did not feel like giving up on a childhood dream but just a realistic move forward. 'Things change, and looking back, I realise I was able to be flexible, able to ride the wave. I don't mean that everything has come really easily to me, because it really hasn't. I've always had to work really, really hard. But I think I need to give myself credit for being able to go "Alright, that isn't going to happen. I'm cool with this. Let's see where this goes."'
'Things change, and looking back, I realise I was able to be flexible, able to ride the wave. I don't mean that everything has come really easily to me, because it really hasn't. I've always had to work really, really hard'
It's heartening to hear someone speak with such honesty about decisions they have made and how they have had to adapt to whatever life throws at them. It was particularly lovely to hear Clare almost realising, as we were talking, just how flexible and resilient she has been throughout her life – for all it may not have felt so at the time. 'Everything I have been through has got me here, all the bits along the way, however hard, have added up to this and I feel thankful for that. I know I should be proud of that; I should allow that. Women being proud of ourselves is not a thing, but we should make it a thing! Our kids should see us being proud!'

Teaching music became a new passion: 'What I particularly enjoyed as a teacher was putting on shows. Just that feeling of being creative with other people is amazing. You just get such a buzz. Creating on your own is an important thing but creating with other people is just really important. You bounce off other people and that sense of working towards something and performing is really, really great.'

Clare worked as a teacher for three years but life, as it often does, had other ideas, and she had to move on. Whilst teaching, she had started to dabble in a bit of sewing and swapping materials with friends and making different things. It was a colleague who suggested she write a blog. A blog was something, at that point, Clare had never even heard of, but she worked it all out bit by bit. 'It was all new to me, so my approach was very much "what does that button do?"' She found herself posting recipes and things she had made and places she had visited.
Initially the blog was called 'So Many Crafts So little Time' as Clare was basically a multi-crafter. 'I just wanted to try it all,' she says. The blog was honest about what worked and didn't work. There was, for example, the cheesecake that came out looking like Brie. She made sure to stress that it wasn't about perfection, it was about having a go. It became a creative outlet for Clare. 'I think I have always just created content for me. This is what I am doing, if anyone is interested you can have a look but if not that's fine, just keep scrolling.' Clare just kept plugging away at the blog. At times she would have a break, but she just kept coming back to it. And during this time amongst the multi crafting, she discovered hand embroidery.

Hand embroidery worked especially well after she became a mum. 'It's perfect as you can just pick it up and put it down, literally mid stitch. It's really free. There's no counting. You can just grab five minutes to sit down and relax. It forces you to slow down and to really focus. It allows you breathe and calm down and then return to whatever it is you need to do.'

This side hustle eventually became Clare's second act. This 'let's try some new stuff' eventually led to a book and a shop. All thanks to Clare's blog and Instagram account – now named hellohoorayblog. She came home from work one day to an approach, through Instagram, asking if she would be interested in producing a book. 'It only takes the right person at the right time to see it and if you're being authentic, and that is something that matters to you, then that will come across,' she says.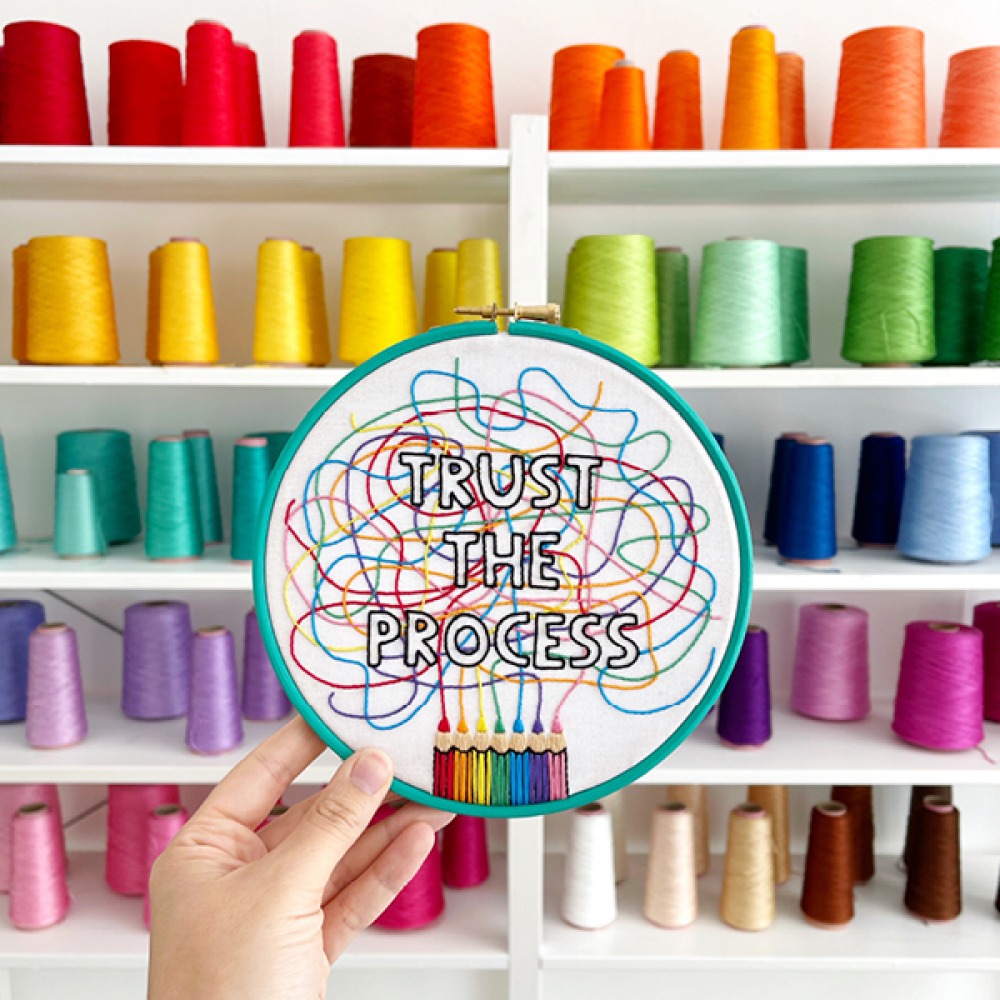 Clare's book 'Colourful Fun Embroidery' features 24 modern embroidery projects designed to bring joy and happiness, allowing the maker to focus on de-stressing and feeling good through being creative. She also started to create and send out Colourful Fun Embroidery kits, which were an instant success. 'Sales went crazy because we were in a pandemic, everyone was stuck at home,' she recalls. 'So we were stuck at home, putting together all these kits, and eventually it got to the point where I just didn't have the space to do it all at home.'

Clare's personal favourite is her 'Trust the Process' kit, which she feels very much sums up her next move. On a walk with her daughter, she saw a shop available to rent just 10 minutes from her home in Lemington, and for all she thought, 'No, this is mad I can't do this', she couldn't stop thinking about all the possibilities. It was terrifying but she knew 'it had to happen. So, after writing a pitch, a lot of to-ing and fro-ing, and a lot of graft, she finally had the keys to her own place.

A place with space for a studio where Clare could work and create, and put together her kits, and a small shop in which to eventually sell to the public. But a space that needed a lot of work, from shelves and a till, to signage and a ramp for wheelchair access. A friend suggested that she use her Instagram to launch a Kickstarter campaign to help pay for what she needed. The Kickstarter consisted of Clare offering signed copies of her book, kits, online lessons, digital rewards and so on and her followers pledging money.

The Kickstarter had an enormous response: she had hoped to raise £500 but eventually raised £5,000. 'People were really lovely. They were amazing. I was blown away. I couldn't stop crying,' Clare says. So now she had a place to put her kits together, and a space to give workshops, and invite others to come in and work and give their own demonstrations and workshops. Clare's shop is a place where customers can ask for help and advice, whilst buying materials. Where they can attend a 'Crafty Social' once a fortnight to create with other people.
I love that Clare really has followed her own advice and trusted the process and realised just how strong, how adaptable and how resilient she really is. She finishes our chat with these inspiring words, 'If you have even a little nugget of an idea just don't let it go. If it keeps coming back to you, if it won't leave you alone then go with it. Don't ignore it. Find a way to make it work.'

Unfortunately, the story does not end there. Sometime after we talked, I saw on Clare's Instagram that life, as it often does, had different ideas for what would happen next. 'I went from selling hundreds of kits every week to single figures,' Clare explains. 'That's the reality for so many small businesses at the moment. It's understandable as the cost-of-living rises, people's hobbies are not what they're spending their money on necessarily.'
Clare, therefore, has had to make the sad, and difficult, decision to let the shop go. It was a decision that she agonised over but ultimately the fact that it was costing her more to stay open than she was making meant it was unquestionably the right decision. More than anything she feels sad because as she says, 'One of the things I loved most about the shop was being part of the community. I live here. I've lived in this area for more than a decade. I've met so many people that I wouldn't necessarily have met. It's been really nice to support people locally; that's what I wanted the space to do.'

For all she sat on the decision for a while, ultimately sharing the news on Instagram was important and cathartic. It's important to Clare that social media isn't just about celebrating the successes, and championing small businesses, but also acknowledging that times are hard, and this is the reality for a lot of small businesses. However, as Clare is not disappearing completely. 'I want to still just keep doing the things that bring me joy. It's just a plot change in order to weather the storm. I still want to design; I still want to write books; I still want to make stuff and enjoy it and share it!

'I'm glad that I tried, I'm glad that I did it,' she adds. 'I have absolutely no regrets. It's just a big pivot. I need to remember to keep 'trusting the process' because it will come good in a way that works for me and for the family. It's exciting to see what the future brings.'

I shall certainly be keeping an eye on Instagram to see what the future holds for Clare. I will also be reminding myself to 'trust the process' when life doesn't always feel it is going my way!
You can follow Clare on Instagram @hellohoorayblog