Meet the Chefs Cooking Live at Living North's Christmas Fair in York
Find out more about the chefs who'll be cooking up a storm in our demo kitchen this November
Living North's Christmas Fair returns to York Racecourse from 10th–13th November, and we've got a packed programme of chef demonstrations throughout the four-day weekend.
We're thrilled to invite you to the biggest and best seasonal shopping event in the North, with more than 250 carefully-selected stands, from artisan designer-makers, local food producers and fashion retailers to homewares, gifts and accessories, and of course special Christmas decorations. Join us for a jam-packed day.

Alongside all this we've got a busy weekend of live cooking in our Living North demo kitchen – check out the line-up below.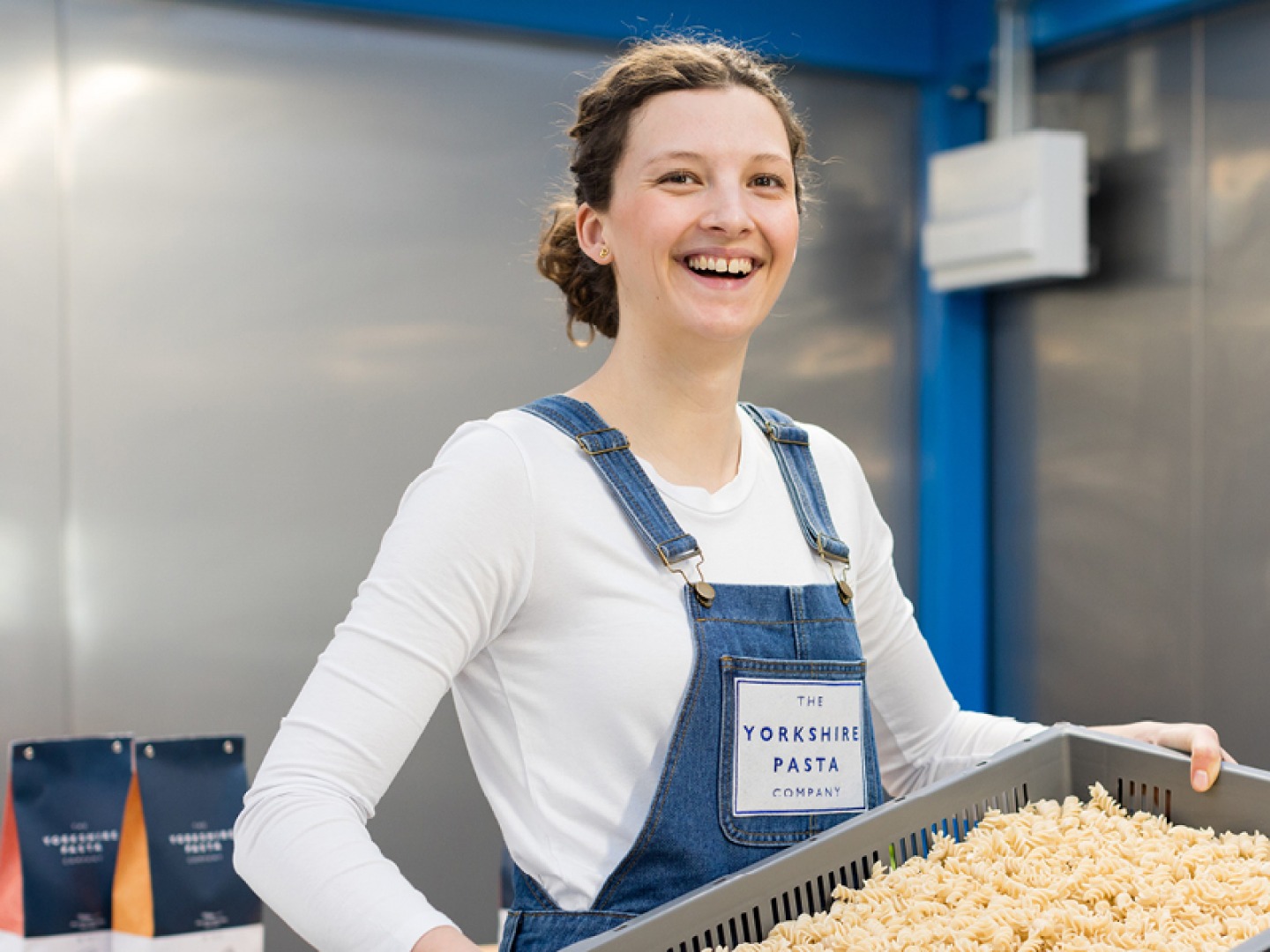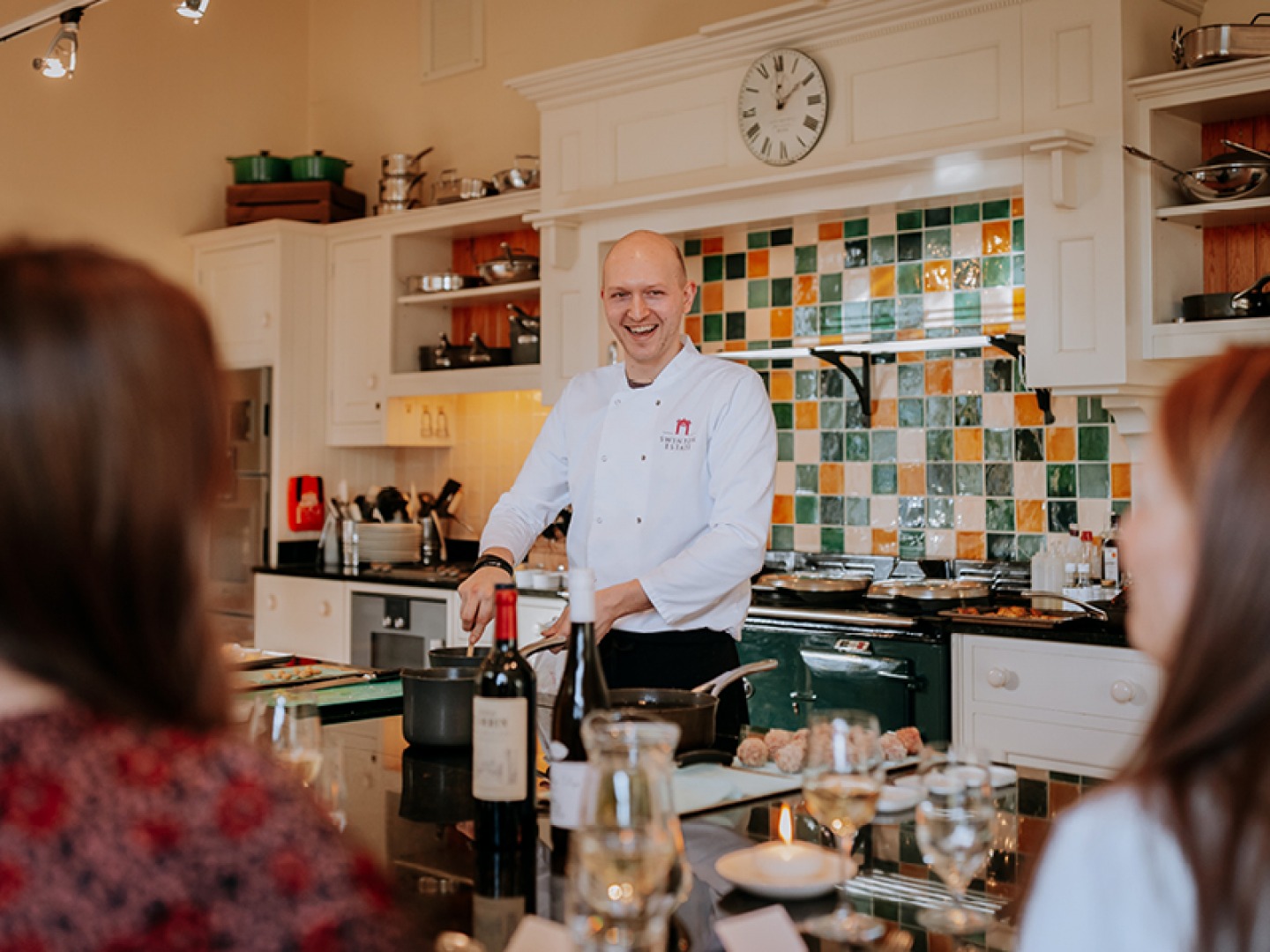 Rob Mitchell • The Lime Tree Inn • 12.00
Rob's passion for cooking started from a very young age with both his parents running hospitality businesses. In his final year at culinary school Rob was awarded student of the year which gave him the opportunity to kickstart his career at Skibo Castle. He worked his way up to a sous chef position in a Michelin-starred restaurant by the age of 19 before embarking on a journey working in five-star ski chalets, private villages and super yachts, He is now the owner and head chef at The Lime Tree Inn in Great Ouseburn – a family-run country pub offering seriously good food in relaxed and friendly surroundings. In just two years, The Lime Tree Inn have been awarded five stars, a Breakfast Award and an AA Rosette.
Luke Palmer • Swinton Estate • 13.00
Luke Palmer, chef tutor of Swinton Cookery School, has worked in the industry for almost 20 years. He combines his love of culture and different food styles with his 'zestful' personality, giving cookery school guests a foodie experience to remember. Luke has worked in a number of Michelin-starred restaurants throughout the country, and his career has also taken him to Switzerland and France, broadening his love for unique cooking cultures throughout Europe.

Swinton Cookery School is located on the 20,000-acre Swinton Estate, located near Masham. Swinton Cookery School is a relaxed, open, demonstration kitchen housed in a converted Coach House. The team in the Cookery School are passionate about using sustainable, local and seasonal produce where possible and provide a busy programme of half-day and full-day 'hands-on', practical cookery courses run throughout the year.
Kathryn Bumby • The Yorkshire Pasta Company • 14.00
This small, family business based in Malton shows the UK the difference between mass, manufactured supermarket 'pasta' and beautiful, sustainable, artisan pasta! They combine artisan techniques with locally-milled wheat flour and sustainable paper packaging to create their premium British pasta. After launching in May 2020, their first two years have been a whirlwind, but they now supply more than 450 farm shops, delis and zero-waste shops up and down the UK, as well as having featured on James Martin's Saturday Morning show, Davina McCall's podcast and in The Sunday Times.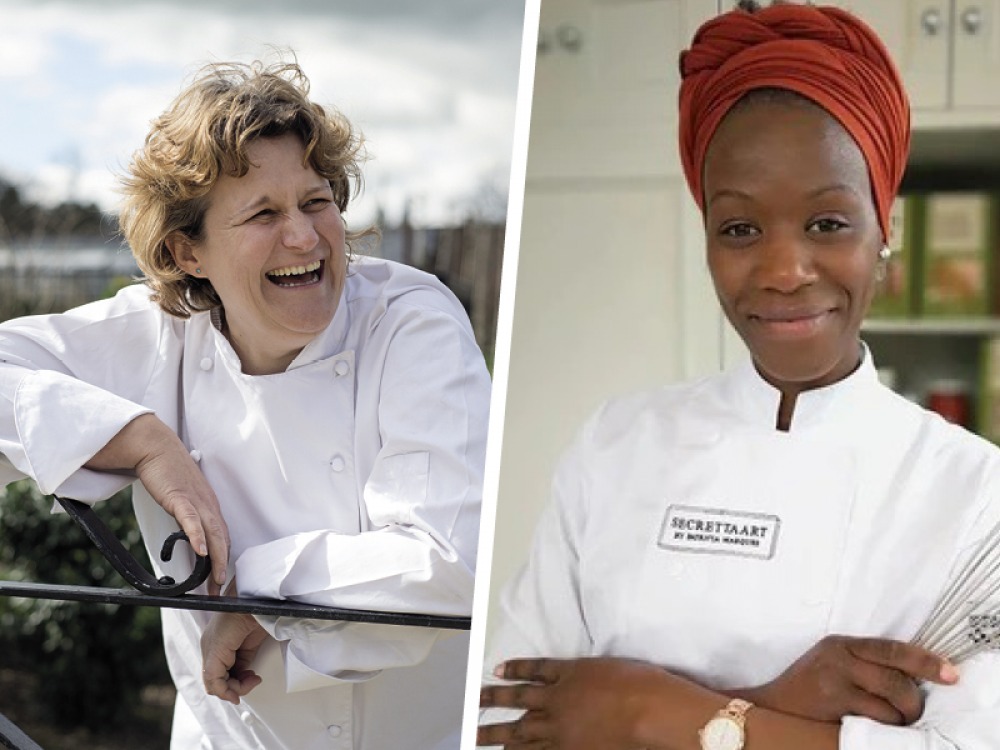 Patricia Marques • Secrettart • 11.00
Patricia Marques was born in Angola and raised in Holland, and had dreamed of being a pastry chef since she was a little girl. Her son inspires her every day to make her dream come true and, after moving to the UK in 2016 and meeting some incredible people who believed in her dreams, she set up Secrettaart. Patricia has trained around the world with renowned chefs who have helped her refine her skills and develop her own creativity. Her secret, she says is, imagining her customers' reaction when they experience the unique taste of her pastries and chocolates. 'I'm passionate about creating elegant luxury edible gifts that will leave a lasting memory for the customer,' she says.
12pm Stephanie Moon • All Things Food • 12.00

Local chef Stephanie is a Yorkshire farmer's daughter and has travelled the world with her job over the years. Stephanie has a varied food background, and now runs her own consultancy business, All Things Food, which proudly is in its 12th year, working with businesses large and small to help realise their potential in all areas of food. She has worked at The Dorchester for world-famous chef Anton Mosimann, and during that time she cooked for the Royal State banquet attended by the Queen. She has also worked in St Moritz, Munich, Sydney, Hayman Island and Chicago, but is delighted to be living back home where she loves spending time with her family and exploring Yorkshire in her converted Sprinter camper van.
She worked at Rudding Park as executive chef for many years and she is a recognised figure on the Yorkshire food scene. Stephanie has many accolades to her credit, including appearances on BBC2's Great British Menu and BBC1's Chefs Put Your Menu Where Your Mouth Is.
She is a regular demonstrator at various food festivals and shows including our Living North events.
Jordan Sweeney • Rudding Park • 13.00
Jordan's passion for quality cocktails developed when he was working in a small independent bar in Beaconsfield. He now heads up the bar at Harrogate's Rudding Park where part of his role is to train the next generation of bartenders, but often Jordan can often be found in the drinks laboratory, conceiving and developing new cocktails and drinking experiences. Focusing on a smooth service, whilst also impressing guests with the likes of their newly launched sustainable cocktail menu, Garden to Glass, Jordan has no limits to what ingredients he can use. During his demonstration you can expect some modern techniques and experimental flavour combinations.
Dough It Yourself • 14.00
Determined to bring great tasting, home-cooked pizza straight to your kitchen, the team behind Dough It Yourself offer the finest ingredients, including a selection of super-thin bases and tasty sauces. Catch their live chef demonstration to pick up some tips and tricks on how to make delicious Italian-style homemade pizzas, then head to their exhibitor stand to shop all the ingredients.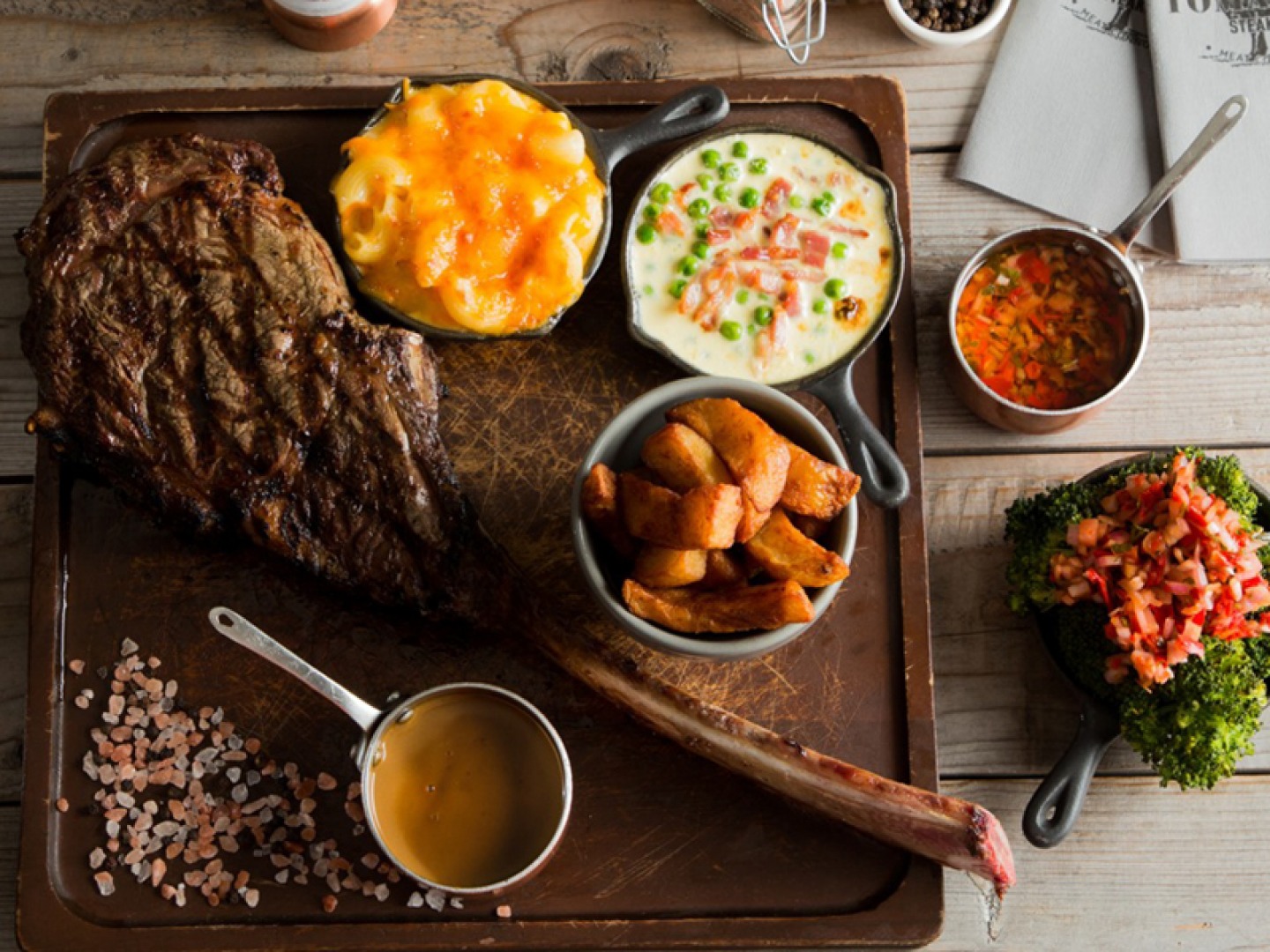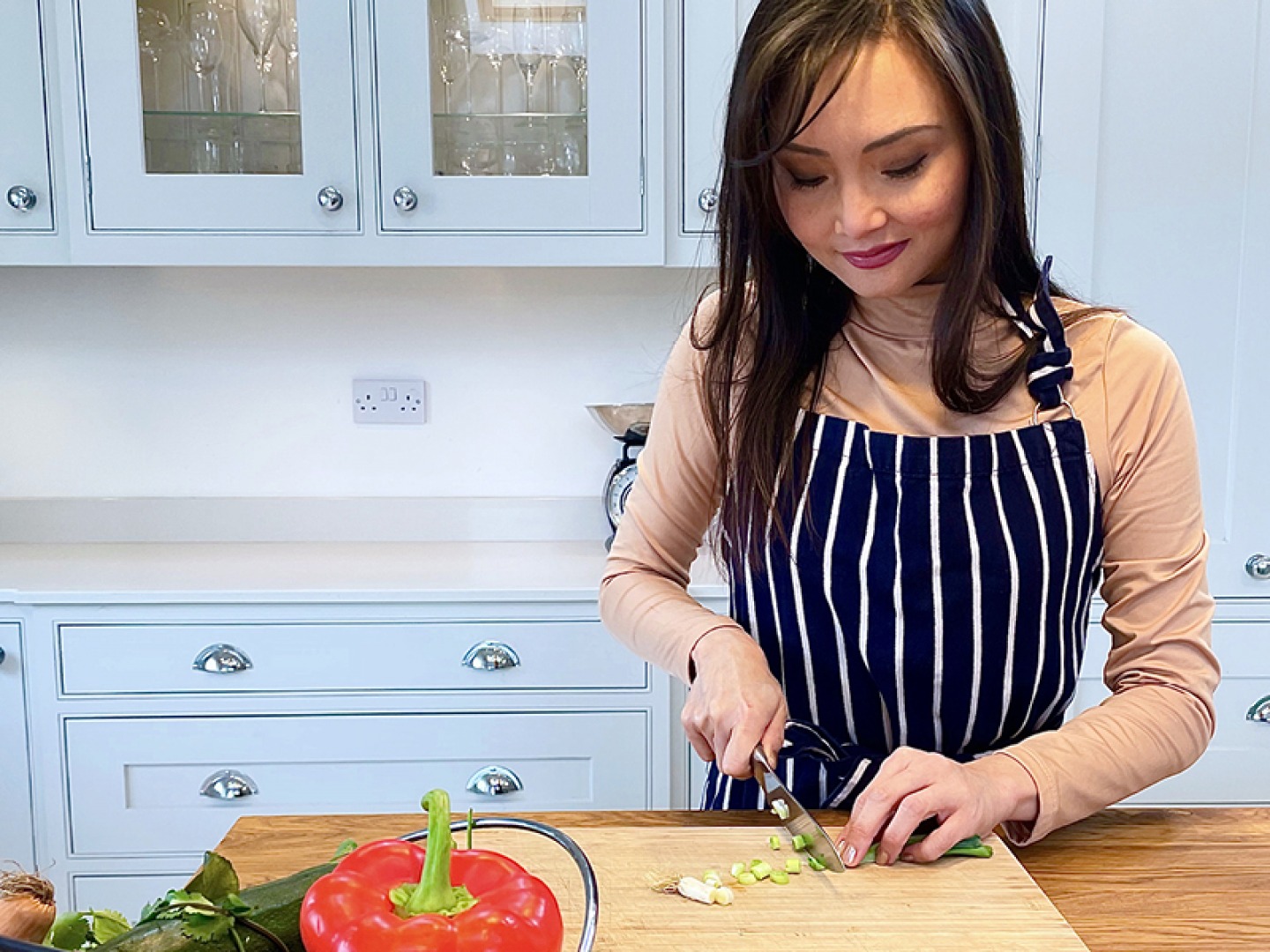 Tomahawk Steakhouse • 11.00

The award-winning Tomahawk Steakhouse group are well-known across the region for serving mouth-watering Himalayan salt dry-aged steaks, sharing boards, legendary Sunday roasts and spectacular sides. 
The executive chef team will demonstrate their skills, sharing their expertise on all things steak. Explaining the tried and tested ways to cook the best tomahawk, wagyu sirloin and ribeye, they will let you in on all the hints and tips for cooking the perfect steak, along with the secrets the chefs use for making the very best macaroni cheese, chimichurri and bacon and creamed peas to cook at home like a pro.
Aaron Craig • The Principal York • 12.00
Aaron is an experienced executive chef who learned to cook at his mother's small pub, but really discovered his love for cooking whilst serving in the British Army as an infantry soldier. He educates people on how to cook game and avoid being afraid of it. Partridge is one of his favourite game birds to cook at home, but in the professional kitchen he loves to cook venison – particularly in winter.
Danny Parker • Jesmond Dene House • 13.00
Executive head chef of Fern Dining Room at Jesmond Dene House, Danny Parker likes to take inspiration from the classics and modern cookery techniques alike. Danny worked as a kitchen porter at The Talbot in Bishopton where he fell in love with cooking. Chef de partie at Wynard Hall before becoming a sous chef, Danny then went on to become head chef at Kenny Atkinson's Michelin-starred House of Tides. At Fern, he offers a seasonally changing à la carte menu, showcasing his relationships with suppliers, and the incredible British larder.
Marni Xuto • Thai Food Made Easy • 14.00
Marni is the founder of Thai Food Made Easy. Having grown up in the heart of Bangkok, Marni's recipes are a love letter to her roots. She would make coconut milk and tamarind sauce from scratch and developed an understanding of flavour combinations and pairings from a young age. Marni has created recipes for various well-known brands and during festival season you can often find Marni on stage, hosting chefs or sharing her delicious recipes with the audiences. She'll be showing you how to make delightful Thai dishes at home, sharing cooking tips so that everyone can effortlessly create dishes they are proud of.
Neil Bentinck • Skosh • 15.00
Chef-owner Neil Bentinck opened his dining room, Skosh in the historic city of York in June 2016. Housed in a newly refurbished, Grade II-listed building, Neil has designed a modern and informal space to enjoy an eclectic mix of snacks and small plates with a succinct wine list, local and international craft beers and seasonal cocktails. He trained in York before moving to Australia and travelled extensively through Asia and on his return worked at The Pipe and Glass, Van Zeller, Northcote and The Star Inn. Skosh has received both local and national acclaim and hold 2AA Rosettes and is the proud owner of a Michelin 'Bib Gourmand' – the only recipient of this award in York – which it has held and retained since 2017.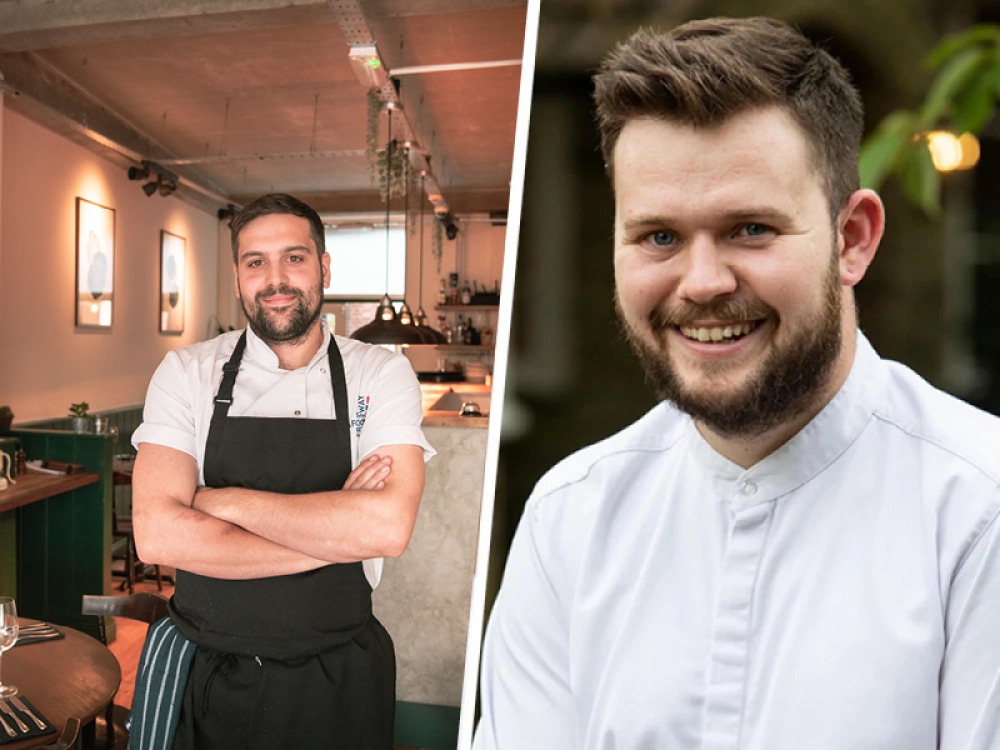 Stephen Andrews • Fish & Forest • 11.00
Yorkshireman and self-trained chef Stephen Andrews is dedicated to creating ingredient-centric dishes using sustainable and ethical produce. He launched Fish & Forest at Spark York in March 2019, which was soon followed by a move to the Gillygate pub, where Fish & Forest built a loyal following. This allowed them to take on their own restaurant on Micklegate in April 2020. Stephen loves to cook the sort of food he loves to eat - proper food with soul using the best ingredients.
Ahmed Abdalla • The Grand, York • 12.00
Abdalla's professional background includes York restaurant Skosh, Yorebridge House in The Dales and stages at Restaurant Hywel Jones – Lucknam Park and Whatley Manor's restaurant – The Dining Room. Ahmed now brings his expertise to The Grand's new fine-dining restaurant, Legacy at The Grand, York, creating memorable culinary experiences for guests whilst leveraging Yorkshire produce and sustainability across the offering.
David Paddle • Black Dog Wine Agency • 13.00
David runs Black Dog Wine Agency (named after Amber, a rescue dog with a questionable pedigree and a nose for both trouble and fine wines). A love of the 'long white cloud' (New Zealand) developed over the years when travelling to see family, getting married on Waiheke Island and eating plenty – and now he shares everything you'll want to know about the wines of both New Zealand and South Africa.

Callum Leslie • The Black Swan Oldstead • 14.00
Callum has more than 10 years of experience in professional kitchens, with humble beginnings as a kitchen porter in his local restaurant. Now he heads up the Michelin-starred kitchen of The Black Swan at Oldstead at just 27 years old. An enviable CV featuring eight Michelin stars in total, Callum's first chef role was in Simon Gueller's Box Tree Restaurant in Ilkley, honing his skills under previous head chef Lawrence Yates. His next move saw a relocation to Cambridge, where he spent a year at Daniel Clifford's two-Michelin starred Midsummer House, a pivotal turning point in his career. A stint at Marcus Wareing's eponymous Knightsbridge establishment, also holding two stars at the time, was closely followed by 18 months in the kitchens of Restaurant Sat Bains in Nottingham; a year of which was spent heading the pastry section as Chef de Partie. Heading back to his Yorkshire roots in 2019, Callum assumed the role of junior sous at The Black Swan at Oldstead, before a promotion to senior sous in early 2020, and was appointed head chef in late 2021.