Meet the Family Behind Northumberland's World-Famous Craster Kippers
A trip to the Northumberland coast, particularly to Craster, is not complete without stopping at L. Robson & Sons for some of their world-famous kippers. We chat with Neil Robson, who runs the famous family business, to discover more
As you head into the tiny village of Craster, just eight miles from Alnwick, your nose will probably let you know you're near L. Robson & Sons' famous smokehouse before you see it. The scent of wood smoke will draw you towards their courtyard, and you'll inevitably spot the clouds of white smoke escaping the smokehouse vents – and it's been like this for more than 100 years.
James William Robson moved to Craster in 1890. At the time, the Craster family owned the smokehouses which had been built in 1856, but James bought them 16 years after arriving in Craster, and started the L. Robson & Son business. Since then, the business has passed through four generations, and today it is run by Neil Robson.
Although Neil had opportunities to follow other career paths, going into the kipper industry seemed like the natural thing to do. 'It was part of my blood because both my mother and father worked in the business, and in the summer when the herring was being landed, I came home from school and was straight in [to the smokehouse],' Neil says.
Originally, the herrings were landed in Craster and taken directly to the curing sheds before being sorted, and the majority salted down in barrels for export to Europe. The remaining fish were kept for kippering and at the height of the fishing industry there were four smokehouses in Craster. This continued until the blanket ban, introduced in 1977, when herring could no longer be fished for on the east coast, and which meant many kipperers lost their jobs. 'The ban meant that we had to source our herring from Scotland, and when that dried up we had to get them from Norway, which is where we still get them from today,' Neil explains.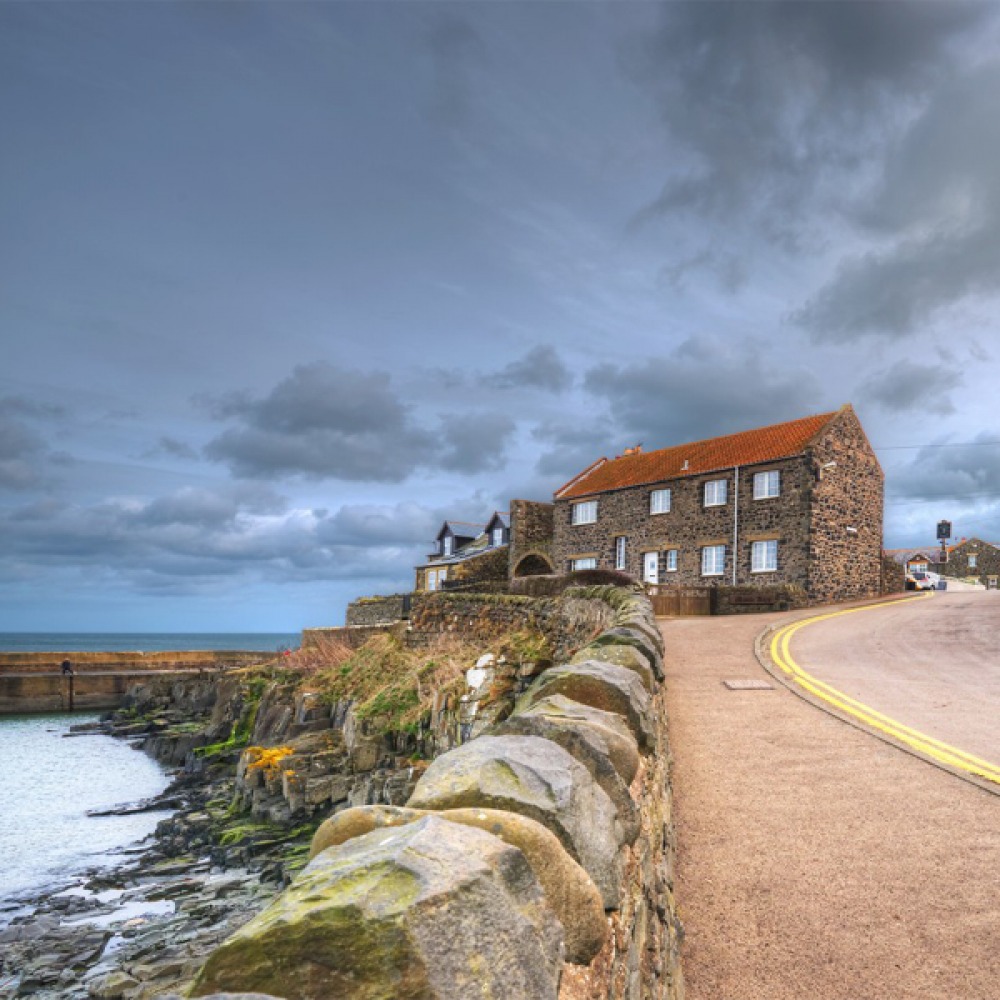 Over the years L. Robson & Sons have earned an enviable reputation and the quality of their product is one of the reasons the business has continued to thrive. However, perhaps the most important factor in keeping the business going is the retention of the traditional methods used to cure the herrings.
'The process is still pretty much the same,' Neil says. 'Obviously we've had to change things like refrigeration and vacuum packing so [the kippers] have a longer shelf-life. New food regulations have come in too so we have adapted, but one of the biggest things we have had to change is the sourcing of raw materials. I get all my oak sawdust (which is used to give the kippers their flavour) from France now, whereas I used to get it from just up the road.'
But, as Neil says, the process of smoking herring in the traditional Craster Kippers way has remained pretty much unchanged since 1900. Firstly, the herrings are split down the back, on a machine capable of splitting 500kg per hour, and are then washed and have their guts taken out.
Traditionally this part of the process was done by 'herring girls' who split the herrings by hand. 'They're then put into a bath of salt and brine water and they're in there for about 20 minutes before being hung on tender hooks and placed in the cavernous smokehouses,' Neil explains.
'Fires made from heaps of whitewood shavings and oak sawdust are lit underneath the racks of herring and they're left to smoulder away gently for approximately 12 to 16 hours until they're a nice golden-brown colour – they're not hot smoked so they have to be cooked when they come out,' he explains.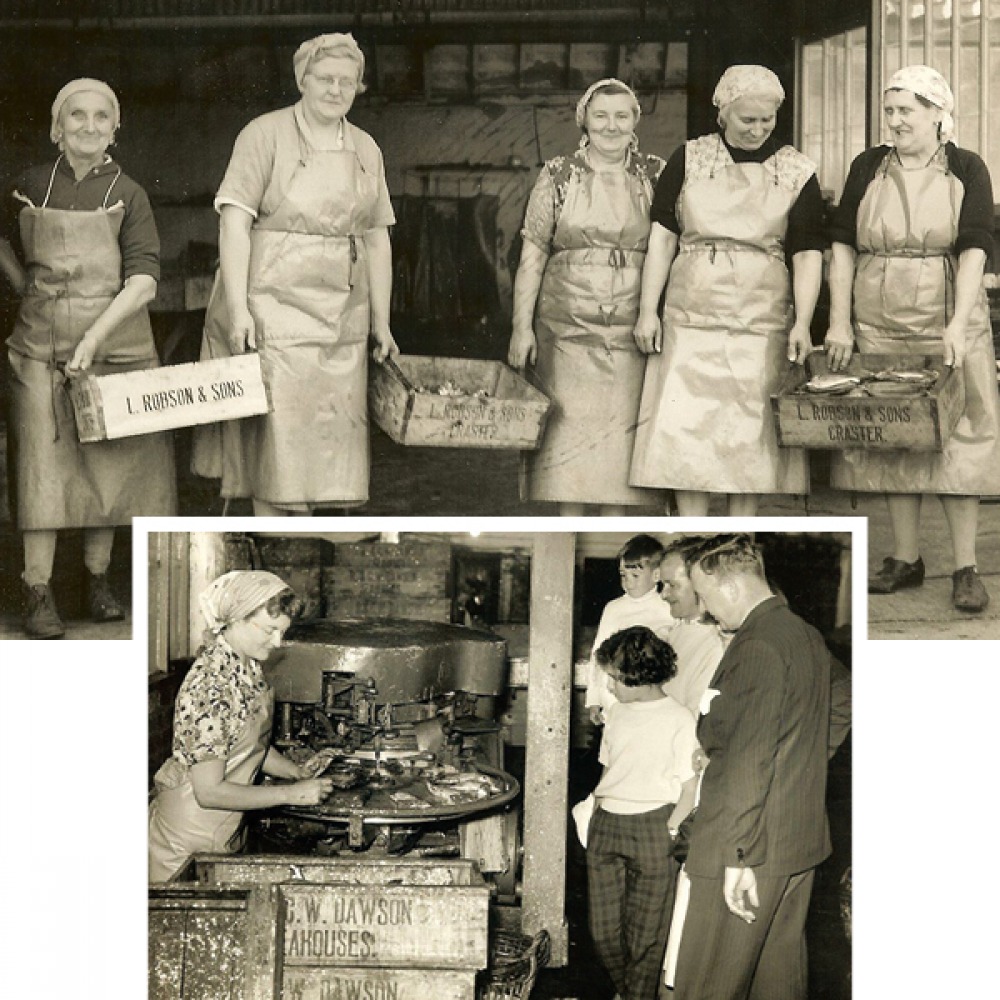 Part of what makes the flavour of Craster Kippers so unique is the care and attention which is put into every smoked herring. 'We care that little bit more about the finished product and we don't hurry [the process]. Some of our staff have been here for years and they take great pride in what they do, and I'm very grateful to them,' Neil says.
Along with the herring, salmon is also smoked in the smokehouses, which run five days a week and everything is regularly hand-checked by Neil's team. 'We used to only smoke the wild salmon [not salmon raised on a farm,] but they aren't allowed to be landed either now, so we get the salmon from Scotland.'
'We're limited to what quantity we can produce by the size of the premises, but I've never thought we need to move. You just can't make Craster Kippers anywhere else'
In around 1939, postal crates were created by Neil's great grandfather which meant three kippers could be packed into wooden boxes and sent via post. Now, Craster Kippers can be found across the UK. 'Traditionally the postal services were for people who came on holiday here and they would order some kippers to be sent home, but now it's all year round and people have regular orders from us,' Neil says.
Online orders have naturally become a large part of the business, especially since the pandemic hit. 'We closed down for nine weeks during the pandemic but when we opened up again there were very few people who came and saw us. What kept us going was the mail order service and that took off in a massive way.'
Endorsements from celebrity chefs and TV presenters who come to visit L. Robson and Sons also help with business. 'We've had a lot of TV coverage over the last few years and every time that happens we get a surge of orders, which is great.'
Supplying to various retailers has also been successful for them. 'We started supplying kippers and kipper fillets to Waitrose around 1999, and we also supply to places like Fenwick, as well as garden centres and farm shops throughout the North East.'
Developing a reputation for producing some of the finest kippers in Britain from within smokehouses which are more than 150 years old is an achievement Neil and his family are rightly proud of.
'I hope the business will remain in the family and I hope one of my daughters will come back at some point when they're ready,' Neil says. 'We're limited to what quantity we can produce by the size of the premises, but I've never thought we needed to move. You just can't make Craster Kippers anywhere else.'
To order or browse the range visit kipper.co.uk.