How and Why Alpha Delta Brewery Support Local
North East's brewery enfant terrible Alpha Delta have been taking the industry by storm, dismantling industry trends with their homegrown take on experimental beer
Screaming the mantra 'North East first', Alpha Delta are rejecting the rise of brewery web stores to support their local bottle shops.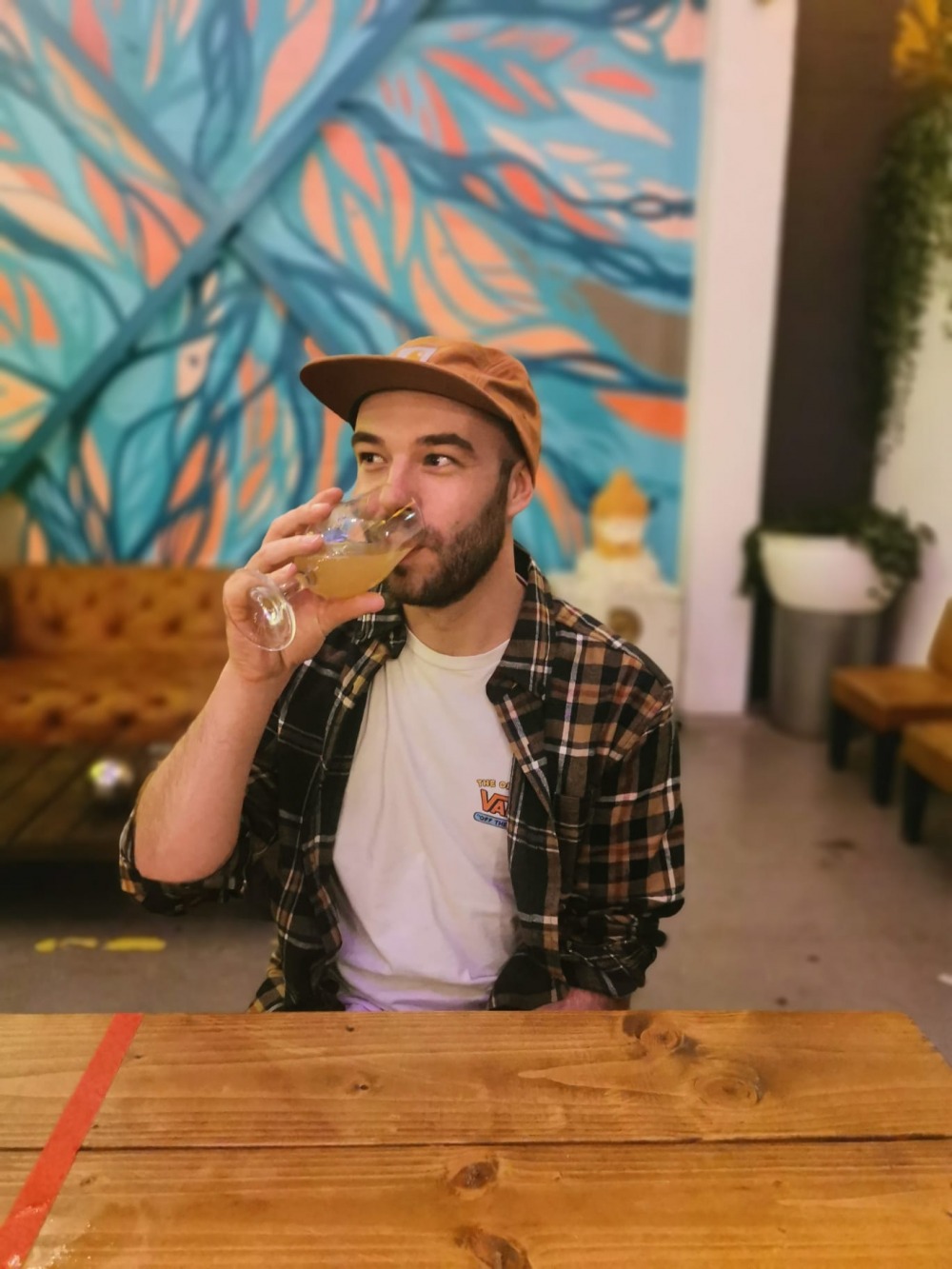 Alpha Delta have been pouring at beer festivals and taprooms all over the country since their inception in 2019, with an international reach that surpasses breweries 10 times their size – even hosting taproom takeovers in Singapore. Concocting Geordie beer that consists of local produce from local talent, Alpha Delta put their own spin on craft beer that says 'nee way' to your typical 4.2 percent hazy pale ale. Rocking a stylised brand image that pays homage to the perfectionist Greek gods they brew beer fit for, we speak to resident Dionysus and sales manager Aaron Oliver about their motley crew's love for local Northumbrian business.
'I personally think of Alpha Delta as the brewery that is entirely different to everything else in the crowd,' states Aaron. 'Some breweries try to follow trends. We want to be the lads who rebel against that – just look at our seasonal offerings. We've got a bretted imperial pilsner barrel aged in a sauvignon blanc barrel for six months. We don't see sense in just making beers that are popular, we make the beers that we want to drink.'
This resistance to following industry trends, and commitment to craft beer's alternative ethics, has gained Alpha Delta a zealot-like fanbase, affirming their status as a brewery for hardcore beer fans.
'We never try to brew your typical hype beer, but we have such a specific and niche audience of impassioned fans that every beer is a hype beer to them. That's the market we operate in and we love that,' Aaron continues. 'I hate the comparison of craft beer being the new punk scene, Brew Dog has already murdered that,' Aaron laughs. 'Craft is DIY – we use local shops to gather ingredients for beers that we're inspired to brew. We are DIY brewers that upscale their operation to a professional level.'
A small operational crew of three, Alpha Delta are a tight-knit team that pride themselves on their ability to react to the local beer scene quickly – encouraging socially positive change to keep craft beer supportive of local business.
'So many breweries over lockdown set up these selling portals direct to people's homes through their websites. The benefit to a business is that if someone orders from your website, they won't order just one or two – they'll order a full crate,' Aaron elaborates. 'That person is then trapped with that same brewery's beer until they next do a can haul. What I love about beer and how I discovered beer was through the local bottle shop, where people come together and talk about what to try bottle by bottle,' he continues. 'People would say, "I had that beer last week, it's class. Get one of them!", "try this", "try that". That shared experience of beer opens doors to independent talent and supports local businesses,' says Aaron. 'It's what lets you argue drinking is a hobby! Some people choose fishing, I choose craft beer,' Aaron jokes.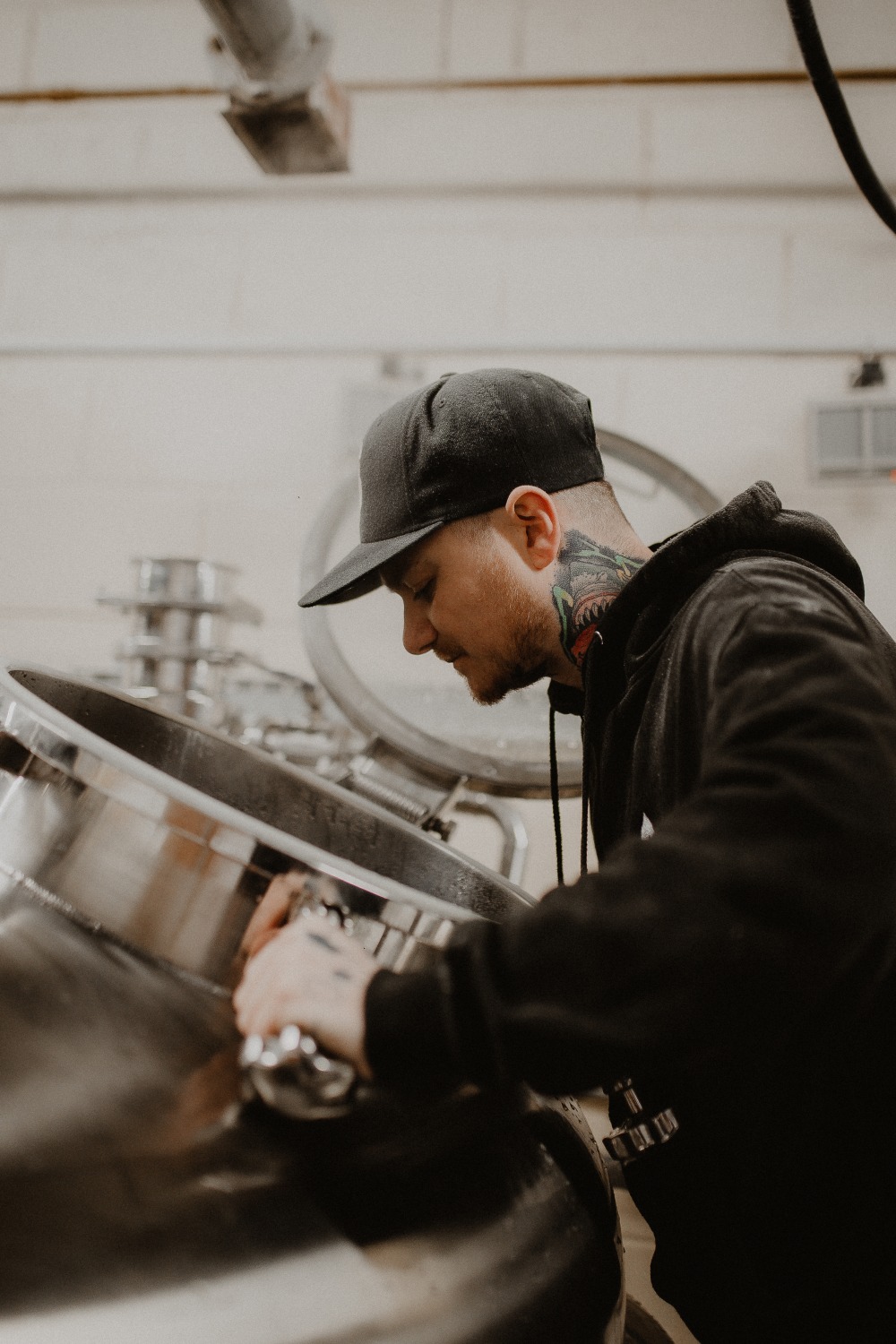 'Bottle shops had an awful time during the pandemic, when a lot of breweries with direct selling methods thrived. The majority of bottle shops do not have websites, the ones who did were being trampled over by big breweries who also sold their beer online thanks to the algorithms in search engines like Google skipping the middle man,' Aaron goes on. 'Then we had the rise of beer subscription services flanking bottle shops from the backend, overall it was a nightmare for them. We believe in a very simple mantra, "don't be a d**k". Support the people who helped you get your beer out there in the first place. Since we decided to work more with North East bottle shops, our domestic sales have actually shot up. We've become friends with our suppliers and they recommend our beer because they know we're good lads that care about the community.'
Alpha Delta's 'North East first' worldview doesn't stop at specific shops, either. Alpha Delta are tackling the wider issue of beer exclusivity by eliminating 'first pours' from their distribution to help independent retailers without preferential treatment.
'It's so massively important that breweries coexist with bottle shops in the craft beer eco-system. The massive trend at the minute is supermarket selling. At the moment, in order for most breweries to survive you need to be in supermarkets. I understand it because it's a new gateway to consumers that only takes about 10 percent mark up, whereas bottle shops take about 35 percent. But they need that – they only sell tinnies at the end of the day,' Aaron explains. 'To counteract this you see a lot of breweries doing early access beer – first pours, things like that. They pick a selection of bottle shops to sell these,' Aaron continues. 'The issue we have with following this trend is that the other bottle shops that don't get selected to stock the first pour are then disregarded by beer fans, they will go out of their way to chase that exclusive pour and then move on afterwards to the next shop that bags an exclusive. We've cut exclusivity to further support the generalisation that your local bottle shop should be your first stop for all your beer.'
It's undeniable that Alpha Delta's priority on local talent has endeared the international craft beer community. Working with the biggest names in the UK, shipping to over 30 foreign countries, and still using the same Northumbrian ingredients and contacts to make it all happen. From working with Northumbrian graphic design legend Jimmy Turrell on their can designs, who has worked with the likes of Nike and Hugo Boss; working with local welders Guerrilla Fabrications for their taproom tap handles and brew kits; and even recruiting local bee keepers to produce the honey for their whisky barrel aged stout, Artemis.
'We always go to the North East first before we go anywhere else – for anything and everything. It's local people that should be contracted by every brewery, people who have real talent and regional knowledge of the industry,' states Aaron. 'Even with our can designs, we went to a local graphic designer called Jimmy Turrell who has done amazing work for Madonna and other massive celebrities; he gave us a book of designs that we take from and credit to him. You can't get better than North East artwork,' Aaron boasts.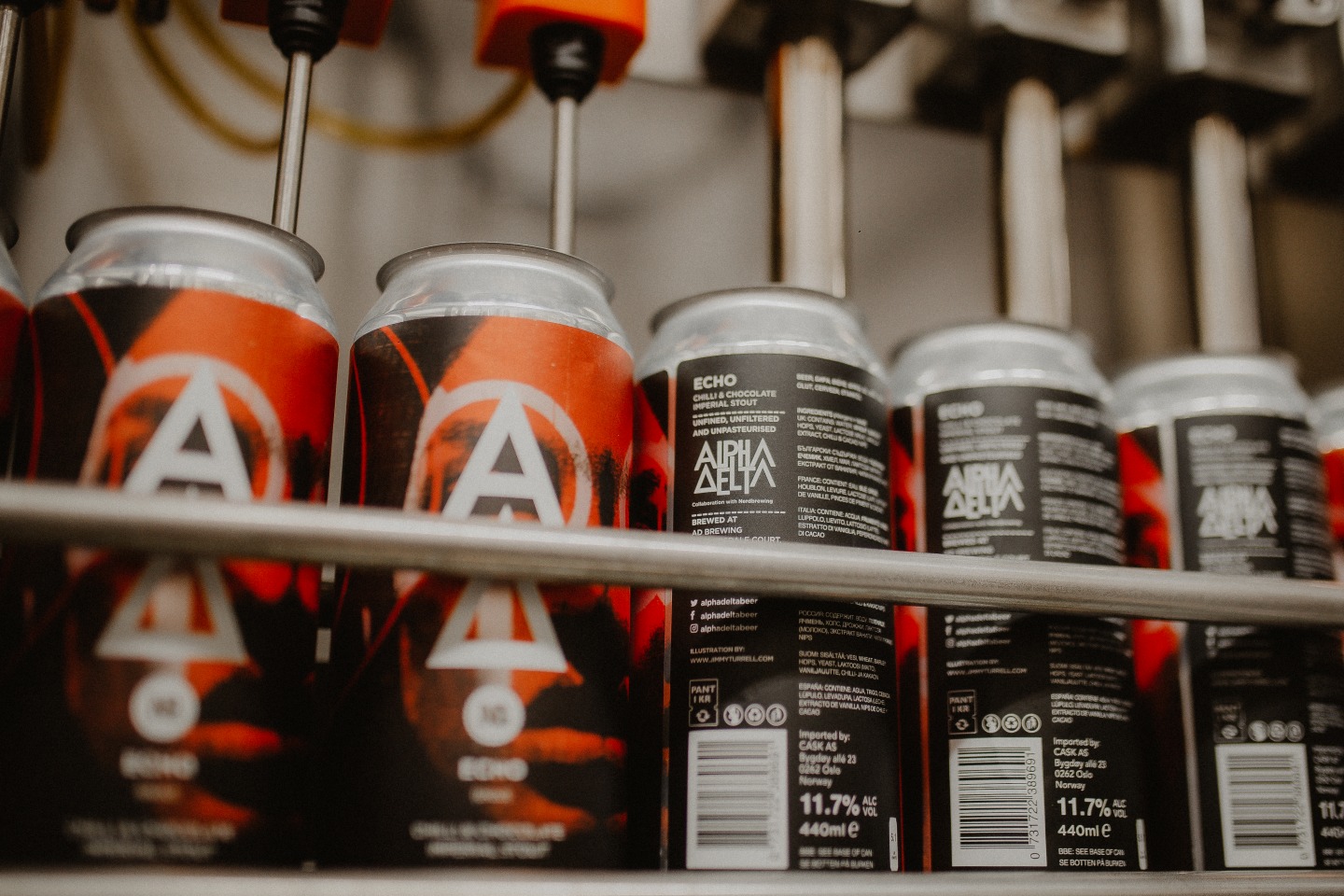 'With some breweries, I think of them like bands. How many do you go, "Yeah I used to love their old stuff, but their new stuff is rubbish"? We need to remember that trends should be set, not followed. We can't follow the money, we have to drink the beer we want to see in the industry to keep it fresh. Supporting local will always be a part of that,' Aaron explains. 'There's a lovely guy in Northumbria with a business called Guerrilla Fabrications who makes brewery kits for people, and he does all of our metal work, even down to the tap handles and permanent lines we have fixed in various bars in town that serve our beer,' he goes on. 'We even chucked a local beekeeper's honey in a whisky barrel aged vanilla stout once! We just love using local stuff in our brews.'
Looking to the future, Alpha Delta have no plans to slow down on their core or experimental beer ranges. Brewing non-stop and taking every chance they can to interact with the wider community.
'Coming up we've got so many beer festivals, tap takeovers, and new beers constantly on rotation. We've got loads of cool barrels, a rum and bourbon barrel, loads of great stuff. We can't wait for you to try it.'
If you want to try Alpha Delta's beer for yourself, check in with your local bottle shop or visit their taproom near Newcastle Central Station, The Delta Lounge.