Perfect Yorkshire Produce to Buy this Christmas
Whether you're gifting, putting on a spread or wanting to support your local makers and producers, here's where to shop this Christmas
There's plenty of artisan coffee roasters, local cheese makers and delicious jam, chutney and hand-tempered chocolate producers across Yorkshire – here's our pick of the finest and freshest.
Charlie & Ivy's
charlieandivys.co.uk
Charlie & Ivy's are a family business who create award-winning bread dippers, dressings, marinades and mayonnaise in the heart of the Yorkshire Wolds. Taking pride in their process, ensuring each product is made using the highest quality ingredients, find Charlie & Ivy's produce in farm shops and independent outlets across Yorkshire, or visit their website where you can browse the full range including their delicious hand-packed foodie gifts and hampers.
Swaledale Cheese Company
swaledalecheese.co.uk
The Swaledale Cheese Company has been creating fine artisan cheese for more than 30 years, using traditional recipes which date back to the 11th century. All the cheeses are made without preservatives and are suitable for vegetarians, so you can stock up on everything from classic Swaledale Blue to Yorkshire Smoked cheese to create a fantastic cheese board this Christmas. Find Swaledale Cheese at stockists Yorkshirewide.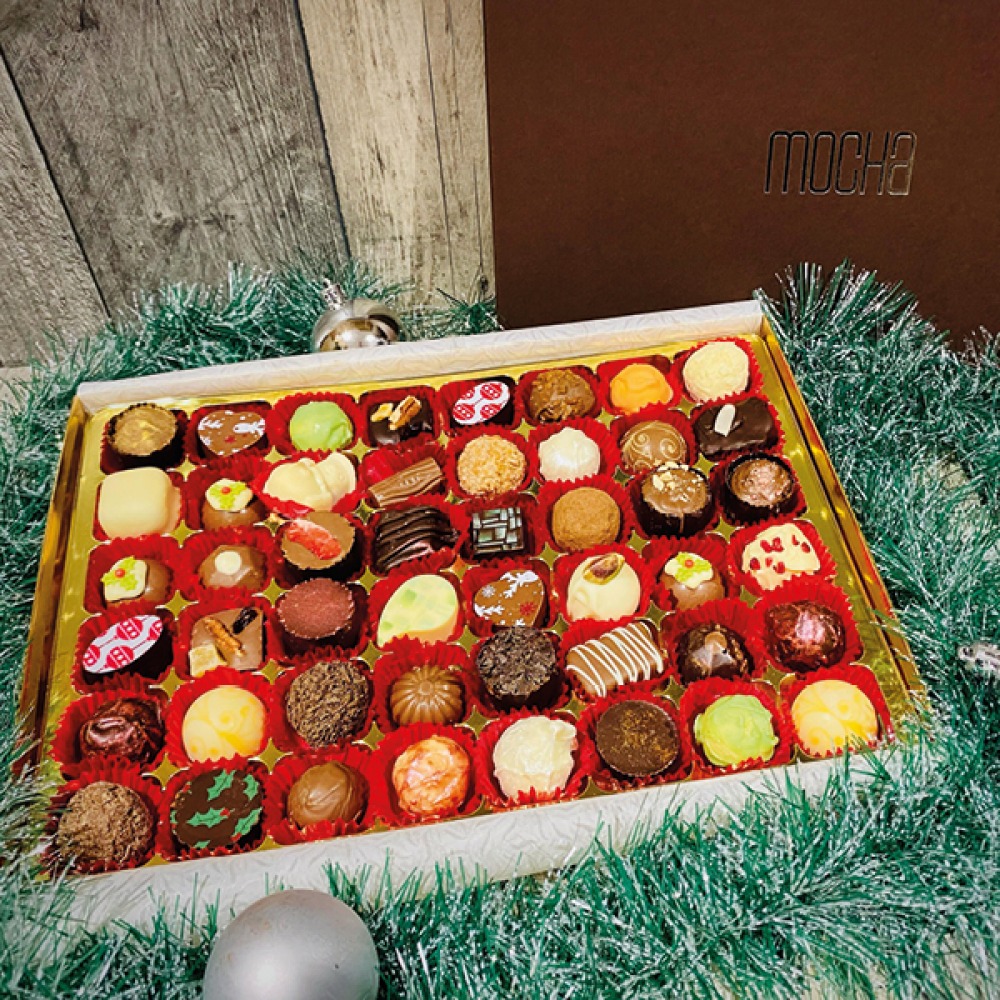 Mocha
1 Trinity Church Square, Richmond DL10 4HY
01748 825655
2 The Riding School, Aske DL10 5HQ
07950 211218
mochachocolateshop.co.uk
Created in 2013 by husband and wife team Dennis and Elizabeth Graves, Mocha has grown into an award-winning chocolate shop, café and chocolate-making studio based in Richmond and nearby Aske. Known for their artisan handmade chocolates you'll be spoilt for choice with everything from milk, dark and white chocolates to boozy, sugar-free and vegan options too. Order one of the decadent chocolate advent calendars, a box of luxury chocolates in classic flavours such as milk chocolate truffles, salted caramels and butter fudge, or book onto one of their chocolate-making courses to make your own treats.
Annabel's Deliciously British
0113 286 2631
annabelsdeliciouslybritish.co.uk
As a fifth-generation Yorkshire farmer, Annabel Makin-Jones gained a reputation for her excellent home-grown strawberries and soon she was supplying to top restaurants and retailers. Over a decade later she launched Annabel's Deliciously British selling zingy jams with a zero-waste policy, as well as tasty chutneys and fabulous honey – plus during in-season months you can shop forced rhubarb, cherries and Annabel's famous strawberries from her website.
Grandma Wild's
01535 650500
grandmawilds.co.uk
Always crunchy and utterly delicious, Grandma Wild's biscuits are tray baked the traditional way, using the same recipes which Grandma Annie Wild used more than 100 years ago. Baked from the family bakery in Keighley, you'll find everything from award-winning all butter shortbread and brandy mince pies to cherry Bakewell loaves, savoury cheesy biscuits and tins full of Christmas biscuits on their website.
Shepherds Purse
shepherdspurse.co.uk
This award-winning artisan cheese company started in the late 1980s and has since grown into the thriving business it is today. With a range of cheeses made with cow's, goat's and water buffalo's milk, Shepherds Purse are best known for their selection of blue cheese (try the Yorkshire Blue for a creamy, sweet and milky flavour), as well as their tasty Olde York white cheese and their White Lavender ewe's milk cheese. Shop the full range on their website and in farm shops across Yorkshire.
Rounton Coffee Roasters
27 Bedford Street, Middlesbrough TS1 2LL
01609 882984
rountoncoffee.co.uk
With a number of accolades to their name, this Northallerton-based coffee company work with producers and importers to ensure all their coffee beans are responsibly sourced, as well as packaging their coffee in sustainable packaging. Order delicious blends from their website, (including their award-winning Daybreak coffee, which has tasting notes of rich dark chocolate and treacle), or try the Two Stories blend for silky flavours of orange zest and pomegranate. Visit their flagship shop to sample coffee first hand.
Laura's Confectionery
5 Church Street, Helmsley YO62 5AD
01142 134302
laurasconfectionery.co.uk
Starting her journey into the world of confectionery by selling handmade fudge at food festivals and country fairs around the UK, Laura now has a fully-fledged business based in Helmsley with stockists across the county. From classic clotted cream luxury fudge to sweetie pouches, chocolate covered raisins and toffee bonbons, Laura's Confectionery has something to satisfy every sweet tooth. Laura's Christmas range includes advent calendars, candy cane pouches, Christmas crackers and sweetie indulgent hampers.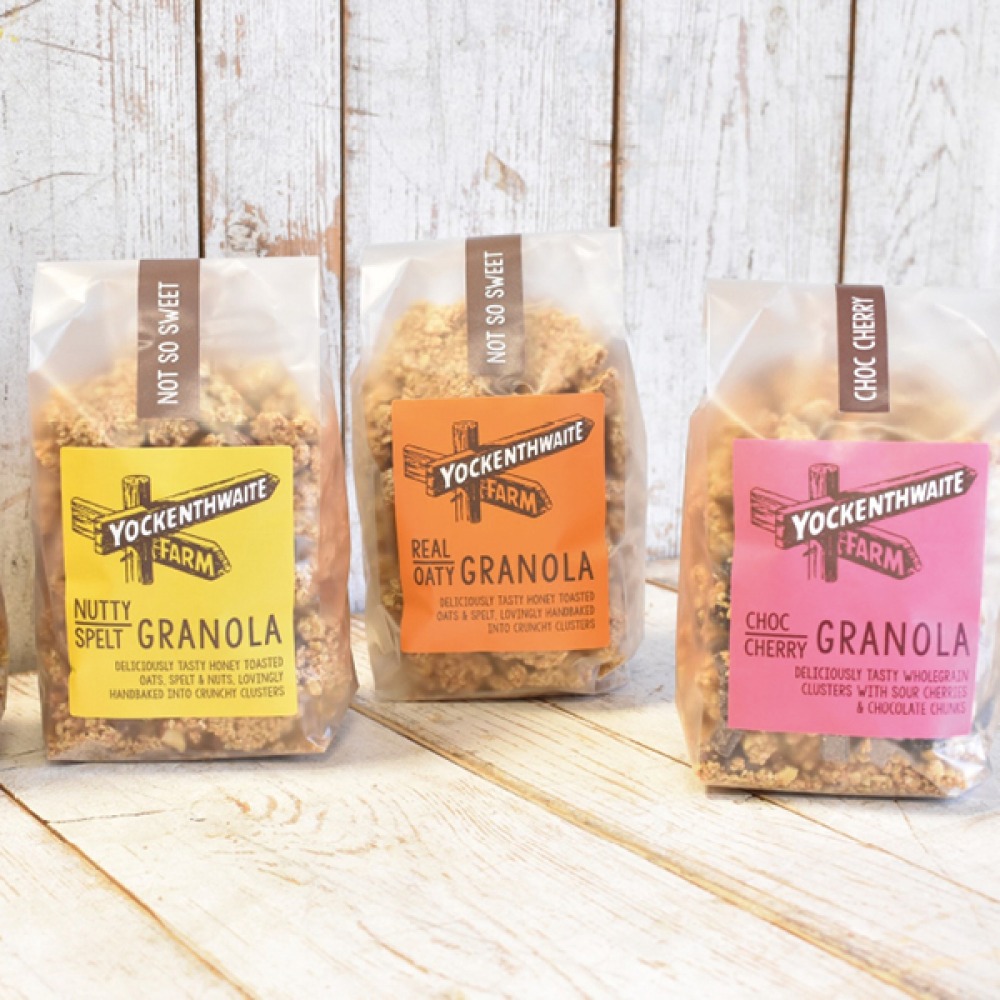 Yockenthwaite Farm
01756 701030
yockenthwaitefarm.co.uk
From the small hamlet of Yockenthwaite near Skipton, comes this seriously nutty and seriously delicious granola, porridge, oats and muesli. The Hirds family started making their own granola more than 10 years ago for visitors who came to stay overnight at their farm, and since then have developed a full range of products, including Nutty Spelt, Fruity and Choc Cherry Granolas, Winter Porridge, Apple and Cranberry Overnight Oats and Real Simple Muesli. Find Yockenthwaite Farm products stocked at farm shops Yorkshirewide, or visit their website to shop direct.
Side Oven Bakery
01262 488376
sideoven.com
Found on the edge of the Yorkshire Wolds, Carr House Farm is the home of Side Oven Bakery where the Sellers family have lived and worked for five generations creating a delicious range of award-winning and organic produce. Using ingredients from the farm, including homegrown organic wheat used for their stoneground flour and handpicked apples for their cordials, visit their website to shop everything from organic porridge and toasted granola to muesli and organic baked treats.
Really Indian
reallyindian.com
A range of handcrafted fresh sauces which are not only truly authentic and delicious, they're also healthy and nutritious! With no additives, preservatives or colourings (and suitable for vegetarians and vegans), these delicious sauces bring a taste of India to Yorkshire and they're just what you need to add a bit of spice to your Christmas. Find the full range at stockists Yorkshirewide, or visit Really Indian's website.
New Yorkshire Emporium
newyorkshireemporium.co.uk
This small family business is run by husband and wife team Guy and Carly who create award-winning pickles and sauces from New Yorkshire Emporium's HQ in Holmfirth. Created in small batches to ensure quality, shop everything from cranberry ketchup, chilli sauce and red onion chutney to barbecue sauce, piccalilli and rhubarb ketchup on their website, or find their products in stockists Yorkshirewide.
Roost Coffee
Talbot Yard, Yorkersgate, Malton YO17 7FT
01653 697635
roostcoffee.co.uk
This family-run coffee business based in Malton prides itself on creating delicious small batch coffee using ethically-sourced green coffee beans and eco-friendly roasting technology. From classic espresso blends which are roasted higher and slower to caramelise, to single origins which are omni-roasted to suit all brewing methods, visit the espresso bar and shop to discover the full range.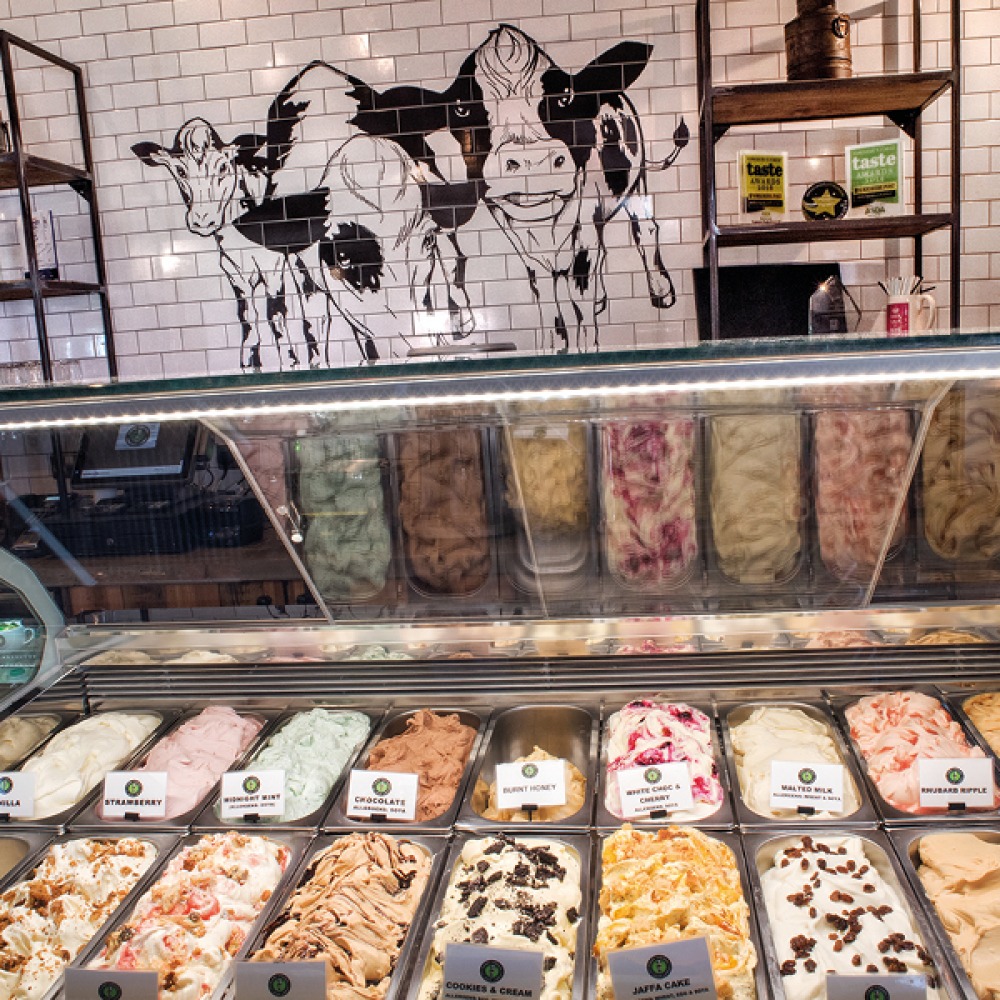 Yummy Yorkshire
Delph House Farm, High Flatts, Denby Dale, Huddersfield HD8 8XY
01226 762551
yummyyorkshire.co.uk
Since 2007 this award-winning artisan ice cream company has been creating delicious ice cream on their farm in Huddersfield. From classic vanilla, strawberry and chocolate flavours to toffee apple, Jaffa Cake and Eton mess, there's something for everyone here. Visit the ice cream parlour inside Hide & Hoof Restaurant and discover the fabulous range, sit in for an ice cream sundae, or stock up on ice cream tubs to take home for the festive season – their salted caramel ice cream is perfect for some after dinner indulgence.
Sawley Kitchen
01765 607010
sawleykitchen.co.uk
This family-run Yorkshire bakehouse produces a selection of the finest award-winning sweet treats, specialising in handcrafted delights such as light crisp savoury crackers, moreish cookies and giant hand-scooped meringues, all baked the traditional way using vintage family recipes. If you're looking for the perfect gift, check out the range of foodie hampers filled with everything from Yorkshire shortbread to tea and biscuits – if you're going all out, we suggest ordering The Ultimate Box jam-packed with 24 of Sawley Kitchen's favourite products.
Lauden Chocolate
0113 224 9128
laudenchocolate.com
Sun and Stephen Trigg set up Lauden Chocolate in Leeds back in 2007 with a mission to create fine chocolate inspired by both English and Asian ingredients. Now creating everything from Champagne truffles and pecan pralines to milk chocolate bars, award-winning chocolate spreads and chocolate nutty bites, there's something for every palate here – plus, they offer a vegan range and beautiful mixed chocolate boxes perfect for Christmas gifting. Visit their website to shop.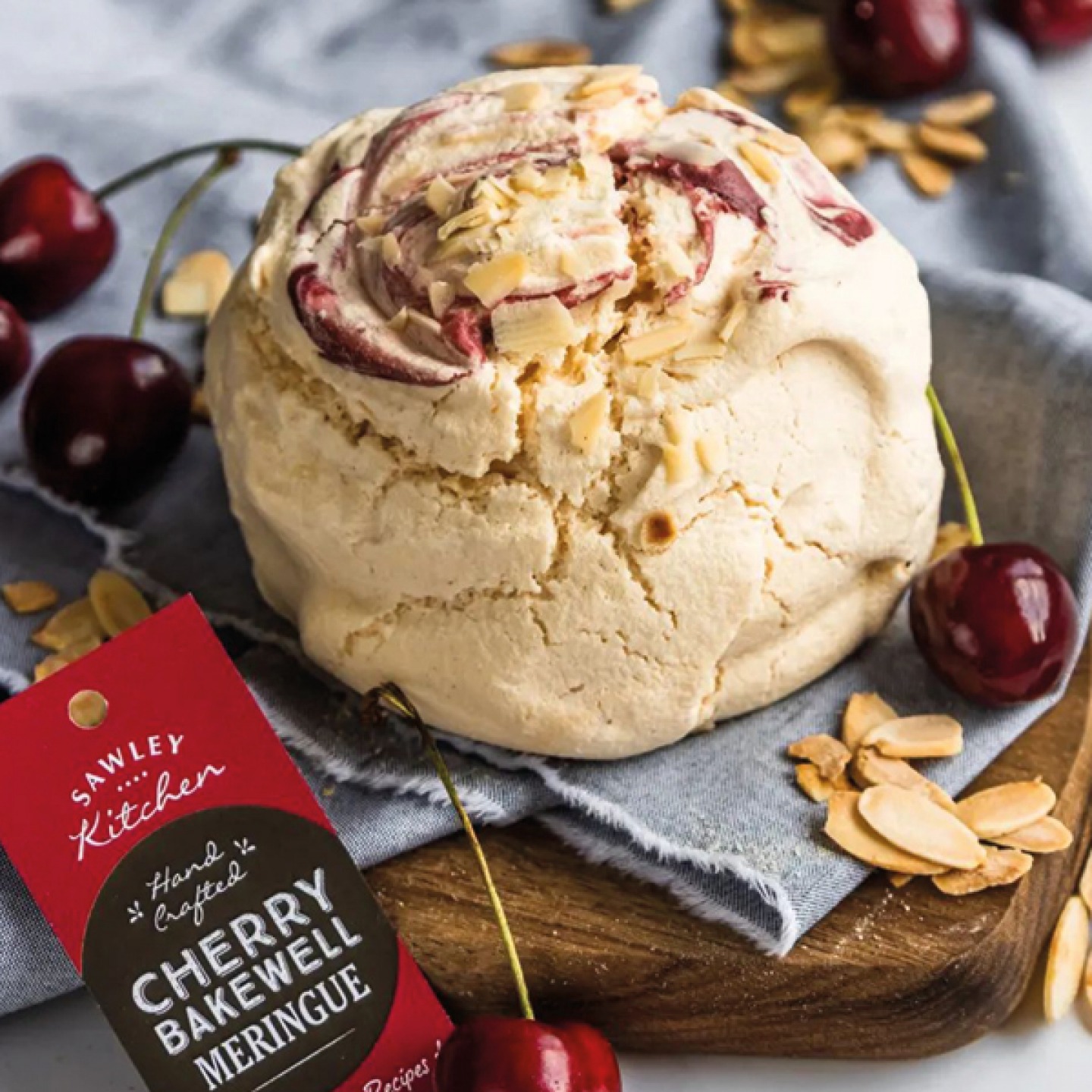 Rose Cottage Foods
01377 255111
rosecottagepantry.co.uk
The family behind this business based in the heart of East Yorkshire's countryside have been farming since 1960. With a passion for high-quality foods combined with traditional regional skills, Rose Cottage Pantry create their delicious pies and pastry savouries using the best local ingredients. Visit their website to order everything from pork and caramelised red onion pies and Christmas pies to pork scratchings and sweet treats. Our favourite is the tasty Huntsman – three layers of pork, chicken breast and a top layer of crunchy sage and onion stuffing.
Yorkshire Crisps
01909 774411
yorkshirecrisps.co.uk
Award-winning Yorkshire Crisps produce deliciously moreish, luxury hand-cooked crisps and perfectly popped corn from the heart of God's Own Country. With a mission to source all their ingredients and packaging locally, these celebrated crisps made with carefully-selected potatoes come in 12 unique flavours – from sweet chilli and lime to roast lamb and mint you won't find flavours like these anywhere else. The popcorn range is also not to be missed and for the perfect for Christmas snack, we recommend the luxury toffee flavour. Stockists Yorkshirewide.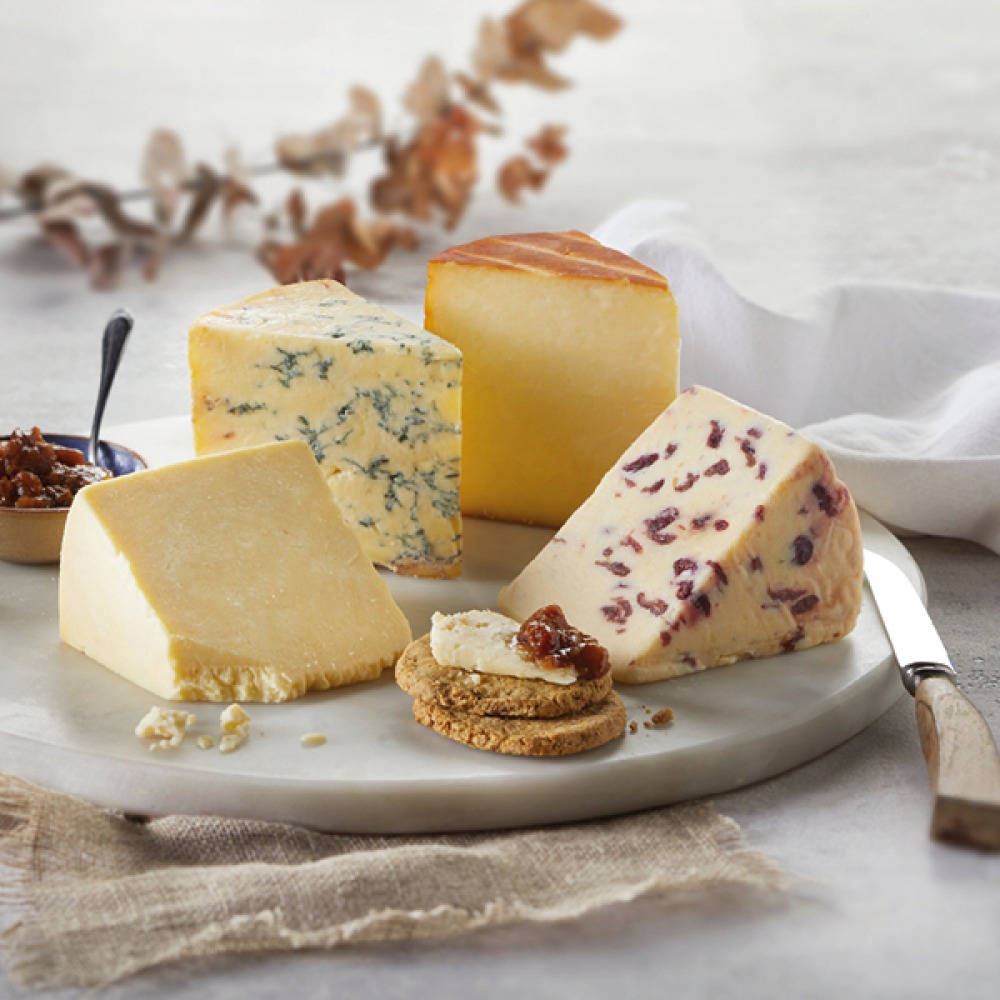 Wensleydale Creamery
Gayle Lane, Hawes, Wensleydale DL8 3RN
01969 667664
wensleydale.co.uk
In the market town of Hawes in the heart of the Yorkshire Dales you'll find Wensleydale Creamery, where master cheesemakers handcraft artisan cheese to time-honoured recipes, using fresh, subtly sweet milk from local family farms – it's no wonder they're award winning. From smoked and blue to waxed cheese truckles, classic cheddar and fruity savoury blends, you'll be spoilt for choice – and if you want to take the hassle out of creating your own cheese board, order one of their hampers filled with everything you need for the perfect cheesy feast.
Reet Yorkshire Food
reetyorkshirefood.co.uk
Using only the best ingredients and with an emphasis on good quality artisan products jam-packed full of flavour, Reet Yorkshire Food create fabulous jams, marmalades and chutneys from their kitchen in the heart of Yorkshire. Whether you're looking for the perfect jam to spread on your morning toast, or the best chutney for your festive cheese board, there's a preserve by Reet Yorkshire Food for you. Stockists Yorkshirewide.
Taste of Yorkshire
07913 633 445
tasteofyorkshire.uk
Founded from his home in Pocklington, former chef Keith Pollitt has grown his sweet and savoury biscuit business into the success it is today. Producing a range of biscuits including cheesy nibbles, celery and black pepper oaten biscuits, chilli jam nibbles and harissa and lemon oatens, you'll be spoilt for choice on what to order. Our go-to are the ginger shortbread biscuits which are perfect with a cup of tea after a day of Christmas shopping. Stockists Yorkshirewide.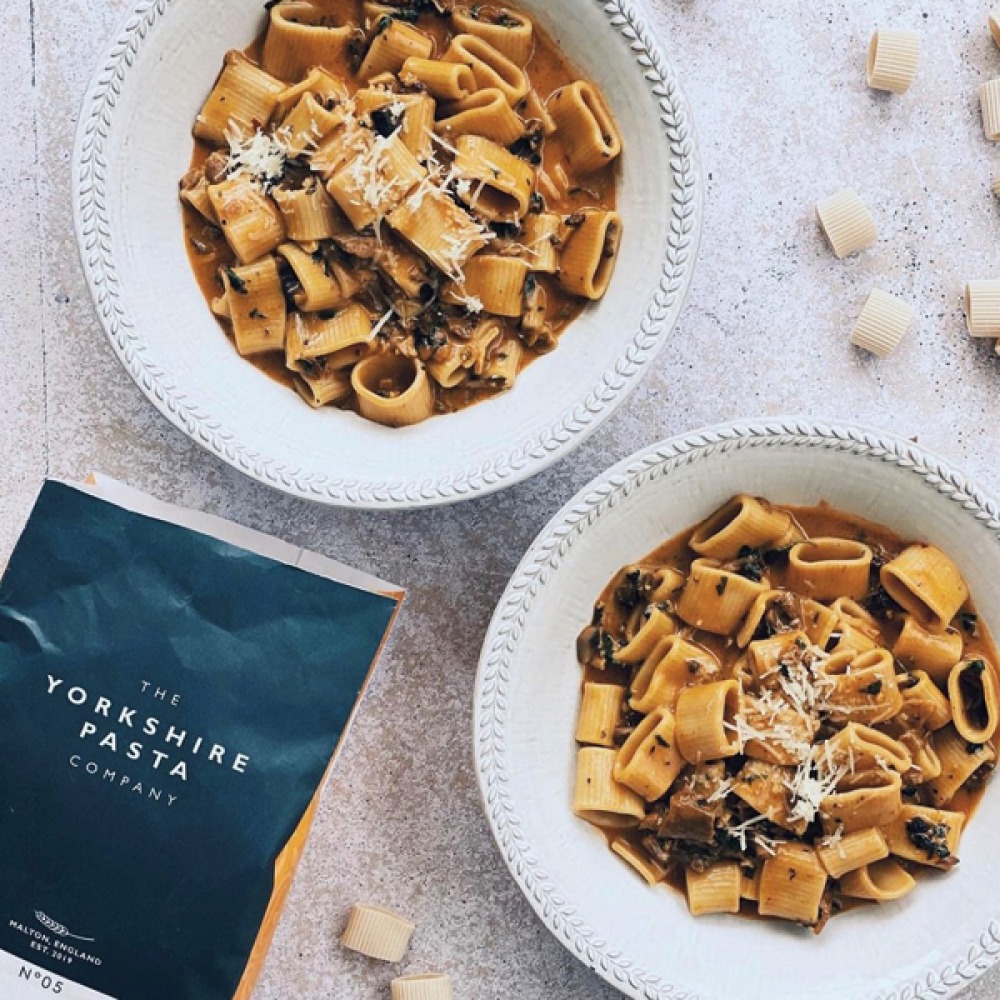 The Yorkshire Pasta Company
yorkshirepasta.co.uk
After realising there was a gap in the market for a British pasta made to a high standard, with British ingredients and not imported in plastic packaging, Kathryn Bumby decided to travel to Italy to learn the craft before heading back to Yorkshire to start The Yorkshire Pasta Company. Unlike the pasta you find in supermarkets, Kathryn and her team dry their award-winning pasta slowly at low temperatures overnight to allow the dough to gently mature and develop flavour. Find everything from fusilli and tortiglioni to penne and conchiglie pasta shapes on The Yorkshire Pasta Company's website and at more than 450 independent retailers across the UK.
MoodyMare Patisserie
facebook.com/MoodyMarePatisserie
Self-confessed chocoholic Emma turned her love for all things chocolate into her dream job, qualifying as a patisserie chef in early 2020, and by the end of the year she had set up her own website and business, MoodyMare Patisserie. She creates a wide range of artisan chocolates for everyday enjoyment, as well as large corporate box orders, bespoke cakes and cupcakes, and regularly attends markets with a wide array of traybakes and treat boxes too.
The Jar House
thejarhouse.co.uk
This North Yorkshire-based baking business started from a passion for travel, visiting distilleries and breweries, and a love of craft beer and good bakes. Combining these passions, the team at The Jar House create award-winning, easy-to-follow beer bread mixes which allow you to fill your home with irresistible aromas and tasty breads. Choose the original bread mix, chilli, garlic and parmesan, or smokey BBQ flavours, and wow guests this Christmas with delicious homemade beer bread.