See the Incredible Sand Artwork that Soul2Sand Creates
Former GP Claire Eason has been wowing the North East (and the internet) with her incredible sand artwork, which she creates on beaches up and down our coast
Claire has always had an artistic flair and when she was given a basic box Brownie camera by her neighbour at the age of 11, her passion for photography was sparked. 'I got some black and white film, took a few pictures and loved it. Then in my late teens I managed to get a secondhand SLR camera and upped my skills and when my kids came along in my 30s I took loads of pictures of them. Photography has been in the background for all my life,' she says.
After taking retirement from her role as a GP, Claire got more involved in photography, particularly aerial photography. 'I have a holiday cottage in Northumberland and initially I was thinking it would be great to show visitors the kind of place they would be visiting, so I thought I would be able to share some aerial photography [by using a drone],' Claire explains. After acquiring her drone licence and taking flight, she realised there was so much more potential to explore with not only her skills as a photographer, but also her creative and artistic practices.
'I've always done large-scale art designs, even as a kid. I grew up in South Shields where I had access to the beach and Marsden Cliffs where you can look over and see the markings in the sand – these things have always been a part of my life,' she explains. And it was Danny Boyle's Pages of the Sand project which give her the idea of combining her artwork and her photography. 'At the end of 2018 Danny Boyle organised sand art instillations around the country to commemorate the centenary of the end of World War One, and he created teams of people to draw portraits of soldiers who had lost their lives in the war. I saw one of these drawings at Seahouses and I thought 'my goodness, you can actually create a likeness of a person in the sand' and that inspired me to explore more of what I could do myself.'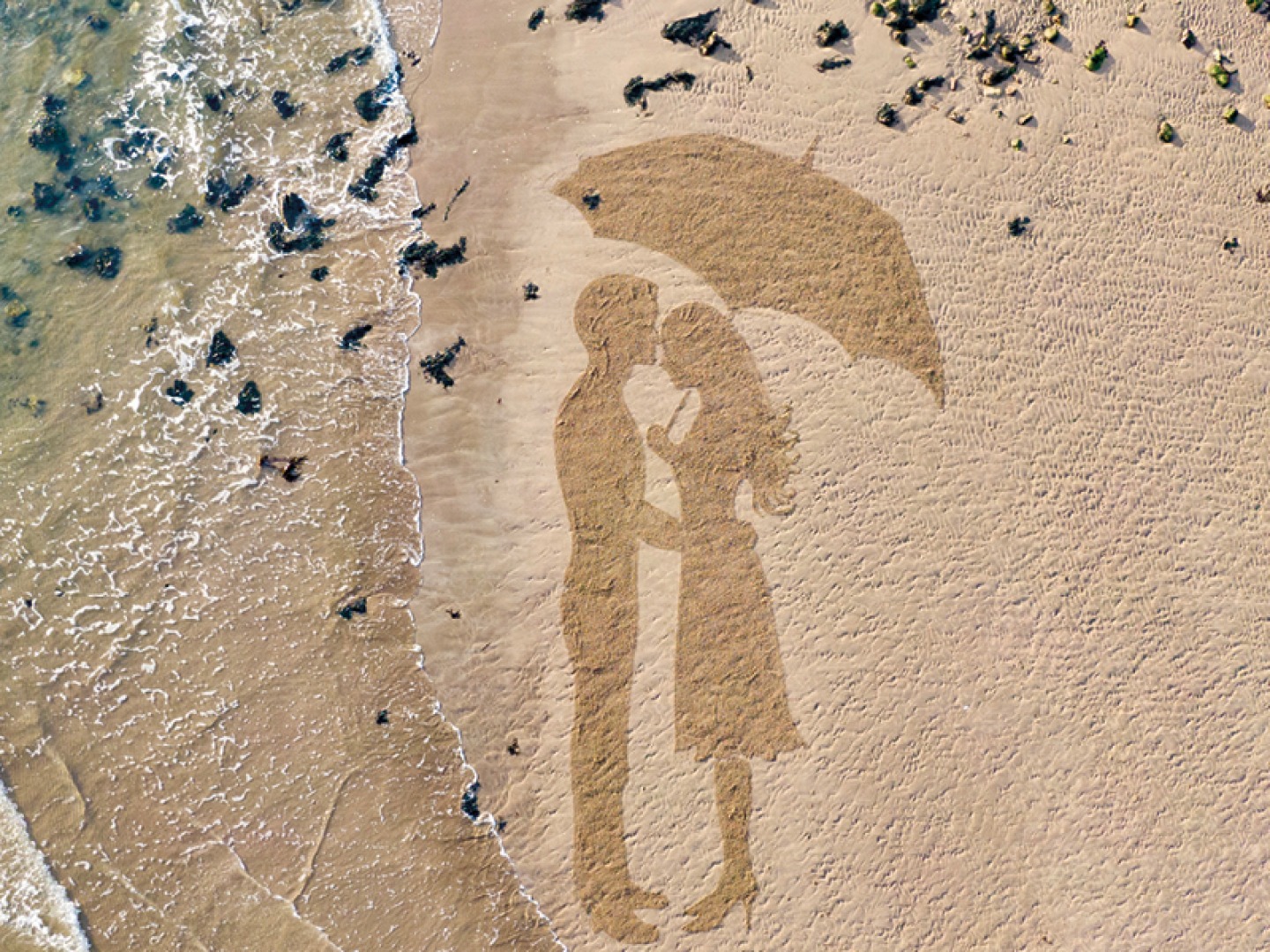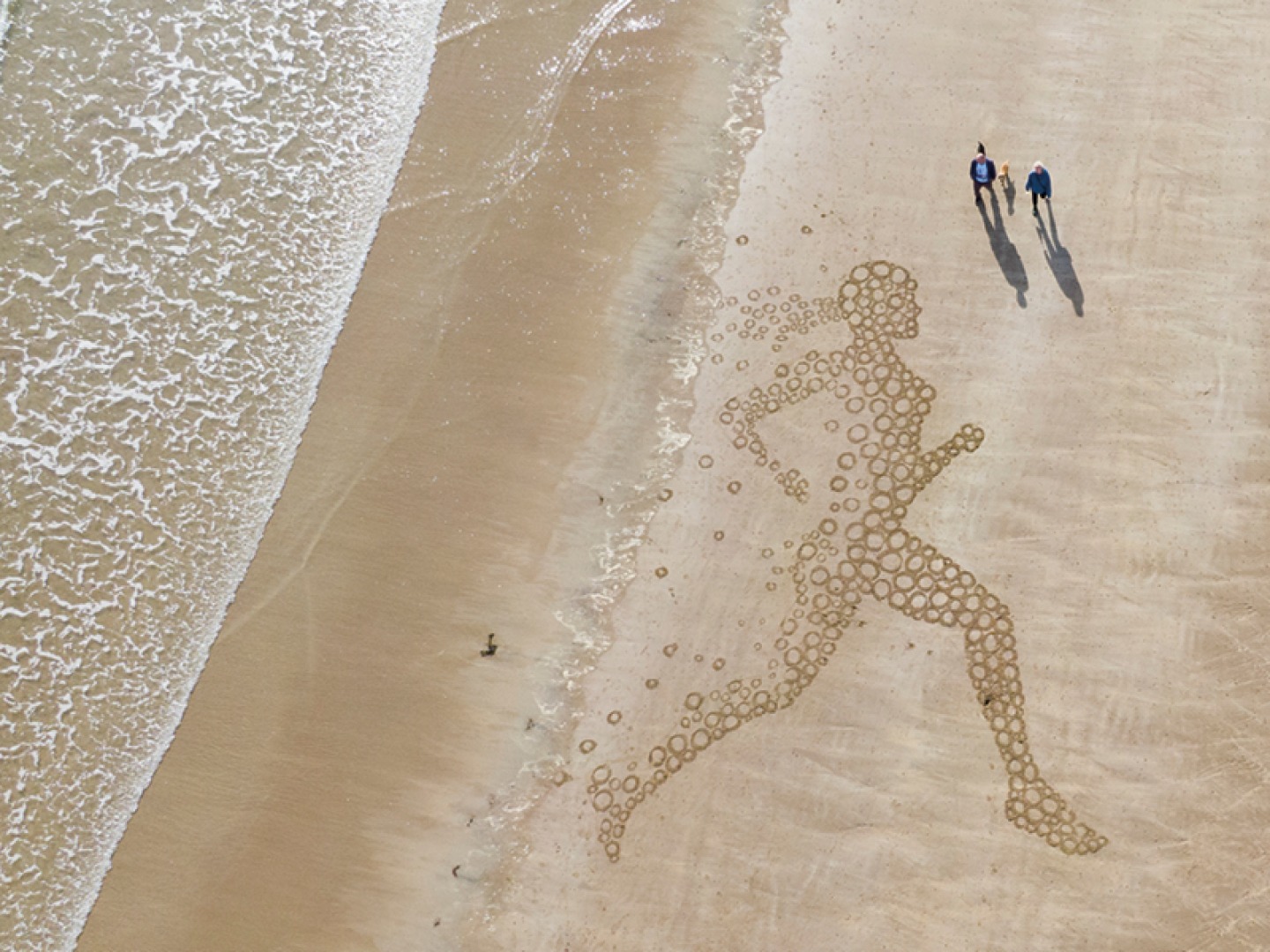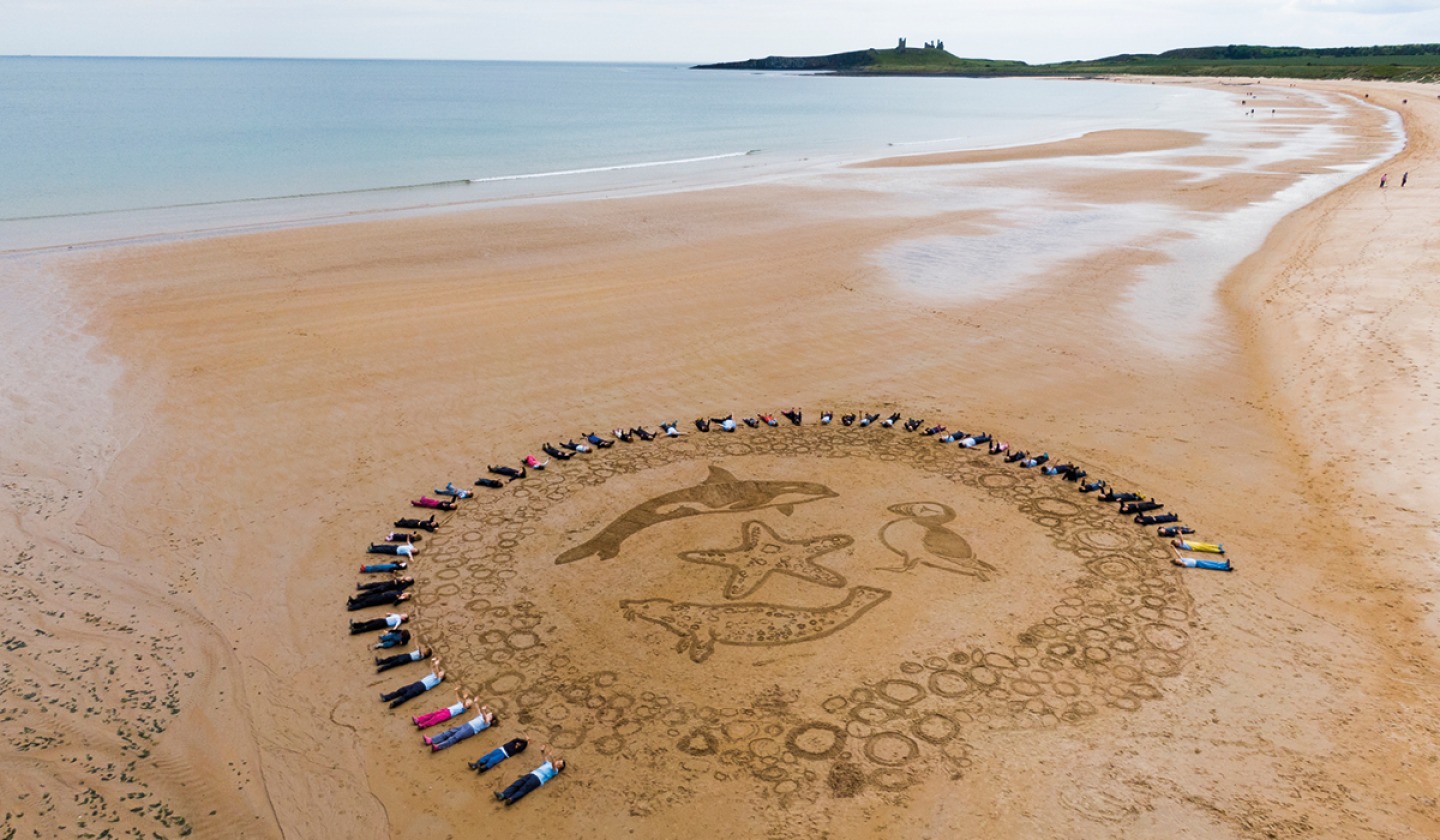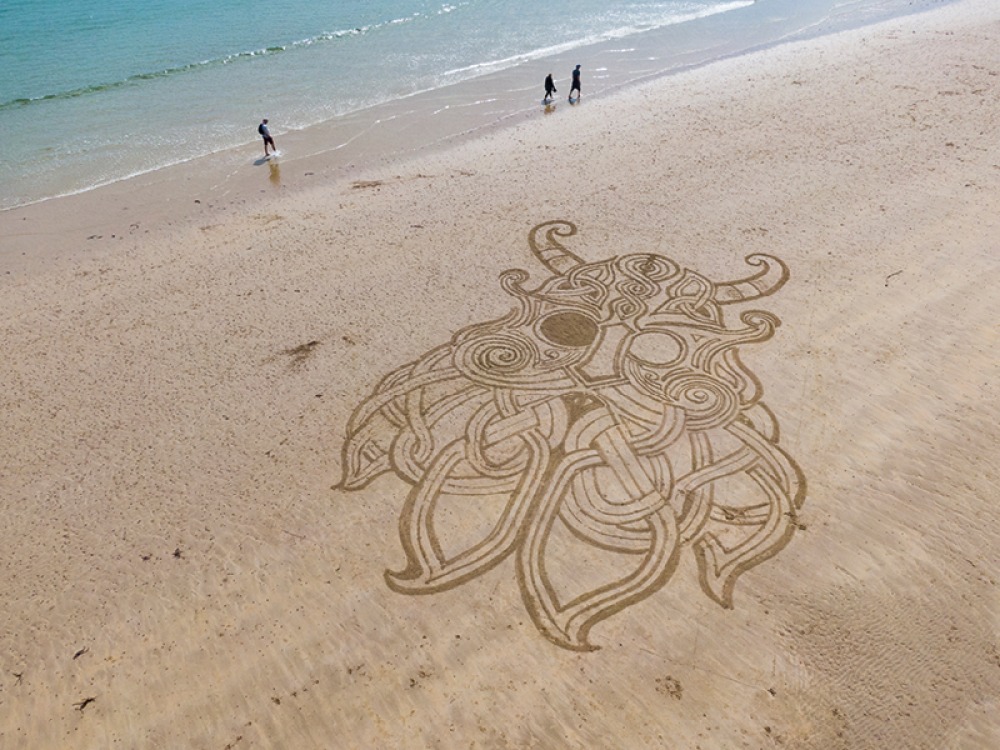 Since then Claire has been creating sand drawings across the North East and uploading her drone photography on her social media pages, Soul2Sand. 'It all starts with an idea and an idea can come from so many different things,' she says. 'Usually I try to make it relevant to where it's going to be drawn and the time and the events which are happening around it. I like to link it to geography, history, current events, people and places. That's usually the starting point, where an idea will bubble up and sit in my head and demand to be drawn.'
We have actually spoken to Claire before, and she made a special sand drawing for Living North during the pandemic to cheer everyone up as we started 2021. You might also have seen Claire's sand drawings shared across social media, particularly her most recent tribute to Her Majesty Queen Elizabeth II. 'This particular one was actually something I did for her Platinum Jubilee and was the last part of the sequence. I remember watching the tide through the drone camera thinking, this is a goodbye picture,' she explains.
Since starting sand art and photography Claire has been creating special moments for many people and businesses, including commercial work, memorial drawings and proposals through sand art. 'There is pressure because, for a proposal, it's such a milestone in that couple's life and you want it to be absolutely perfect. It's all in the planning though and working with the tide, the weather and lots of other factors which have to all be aligned to work and make it magical.'
Now Claire is able to get out onto the sand once a week to create her designs, and she is hoping to start working more with groups on the wellbeing side of sand art. 'I'm really passionate about the wellbeing aspect and everybody who has got involved has said how relaxing and uplifting it is,' she says. 'I would like to maybe connect with mental health groups or those who are on the margins of society who just need a little extra one-to-one support, to have that sense of creating something beautiful in a natural environment.'
For more information, or to get involved with Claire's work visit Soul2Sand.co.uk, or find Claire on Instagram, @soul2sand.