We Enjoyed a Staycation in the Pretty Market Town of Richmond and This is What We Thought
We head to the pretty market town of Richmond for a mini staycation in an award-winning cottage
Garden Cottage is indeed aptly named. Parking your car on the drive, you are led through an arched doorway and are then met with a beautiful view straight into the garden and beyond. That is just the beginning. Through the doorway, you find yourself on a beautifully kept south-facing lawn, surrounded by flowerbeds, with its centrepiece being the most incredible Monkey Tree. There's even a fig tree in the garden but sadly the figs weren't ripe on our visit. A strategically placed table and chairs catch the sunshine throughout the day and into the evening, so even before you've seen inside the cottage you know where you'll be for that first cup of tea.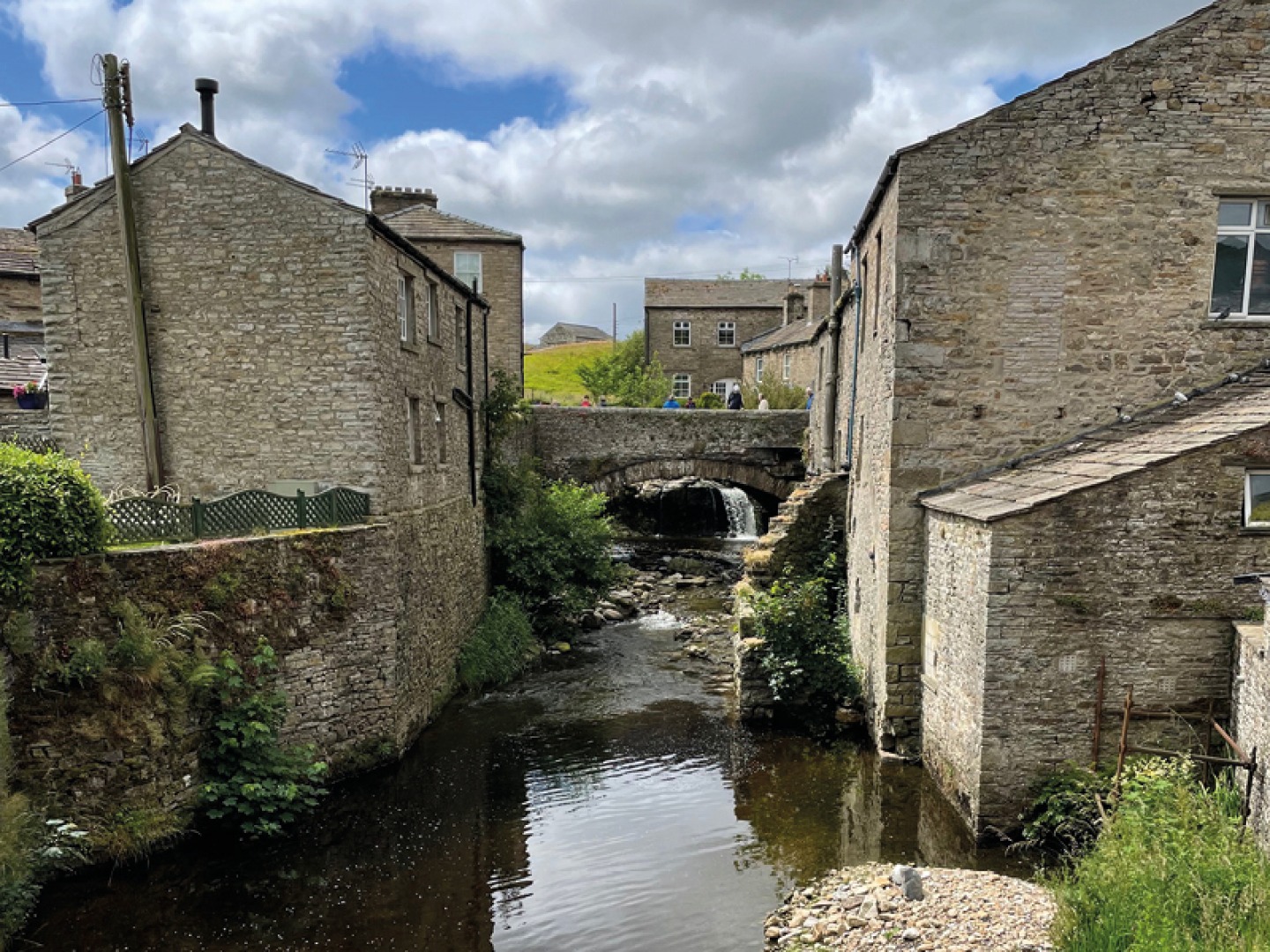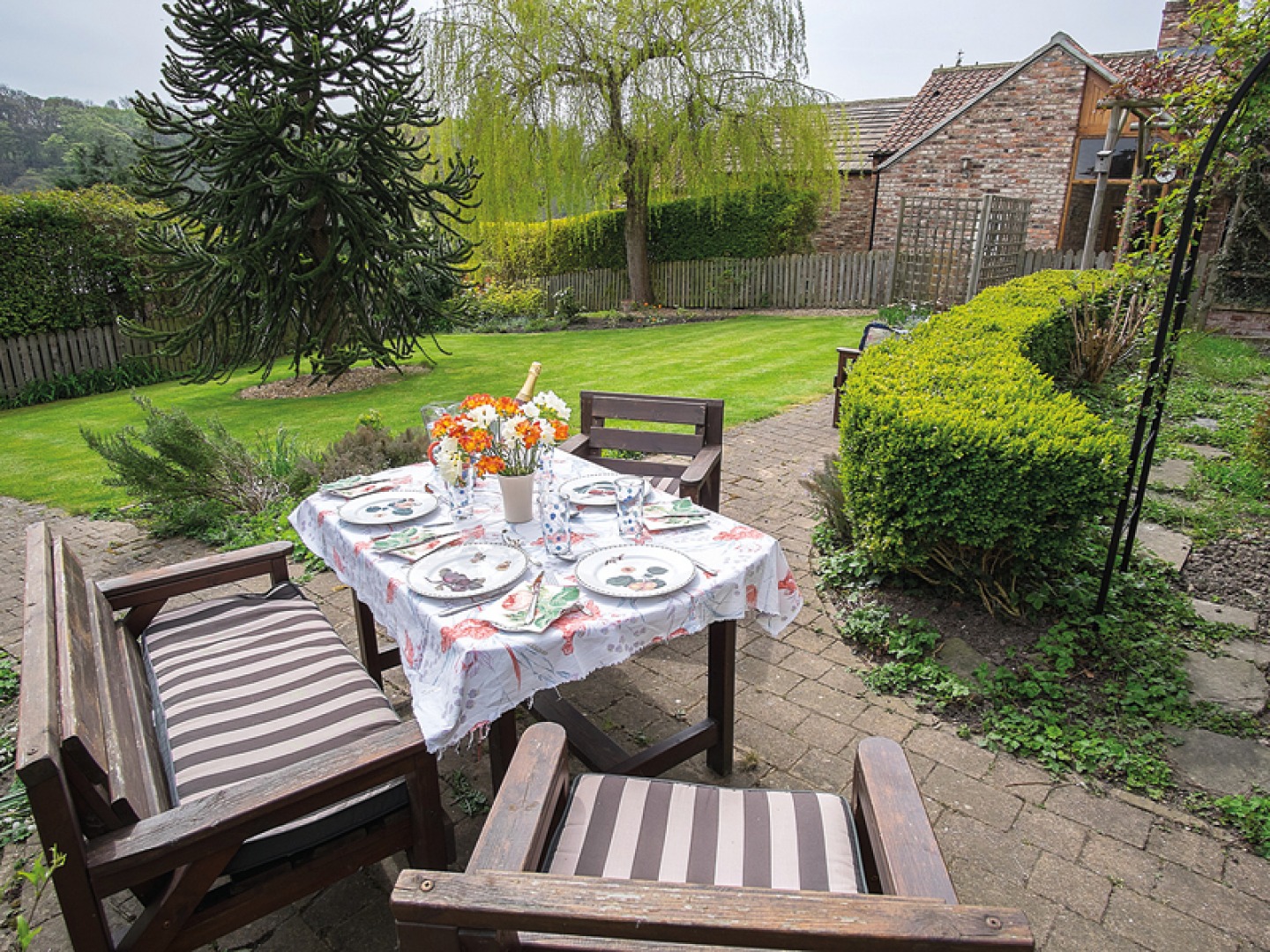 Inside, there is a bright, airy kitchen with everything you need for a fully self-catered stay, and with some wonderful local butchers, bakers and cheese shops just five minutes' walk away you don't need to bring much with you. Beautiful fresh roses, cut from the garden, were on the small breakfast table and gave a wonderful scent to the room. The kitchen leads into a cosy living/dining area with a table seating six, a sofa and two armchairs with an electric 'log' fire for those colder days. Even from here the views into the garden are stunning, framed by handy French doors opening directly outside. The true depth of the cottage walls can be appreciated here with windows set three feet deep, creating a charming window seat on the lowest placed window ledge.

Up the winding staircase there are three good-sized bedrooms, all with extensive views from the windows. The upstairs feels like a bit of a Tardis, with a great deal more space than perhaps first anticipated. The first room is a twin-bedded room perfect for children – it is bright and fresh with beautiful views across to the atmospheric old town. Next door, a double room, again decorated in bright, fresh colours and with pretty wallpaper, is right next door to the spacious family bathroom. The ensuite master room with its wooden ceiling beams is spacious and tastefully decorated, and a great place to relax. A deep bath, with some gorgeous scented bath salts from the local Kiss the Moon beauty store, is just what you need after time spent exploring the town. Their delicately scented 100 percent natural, vegan moisturising products are guaranteed to help you drift into a blissful night's sleep. Crisp cotton sheets and cosy duvets on all the beds provide the final luxurious touches at the end of a busy day.
'This cottage, and its gardens, date back to the 1770s and the history of Garden Cottage is well documented'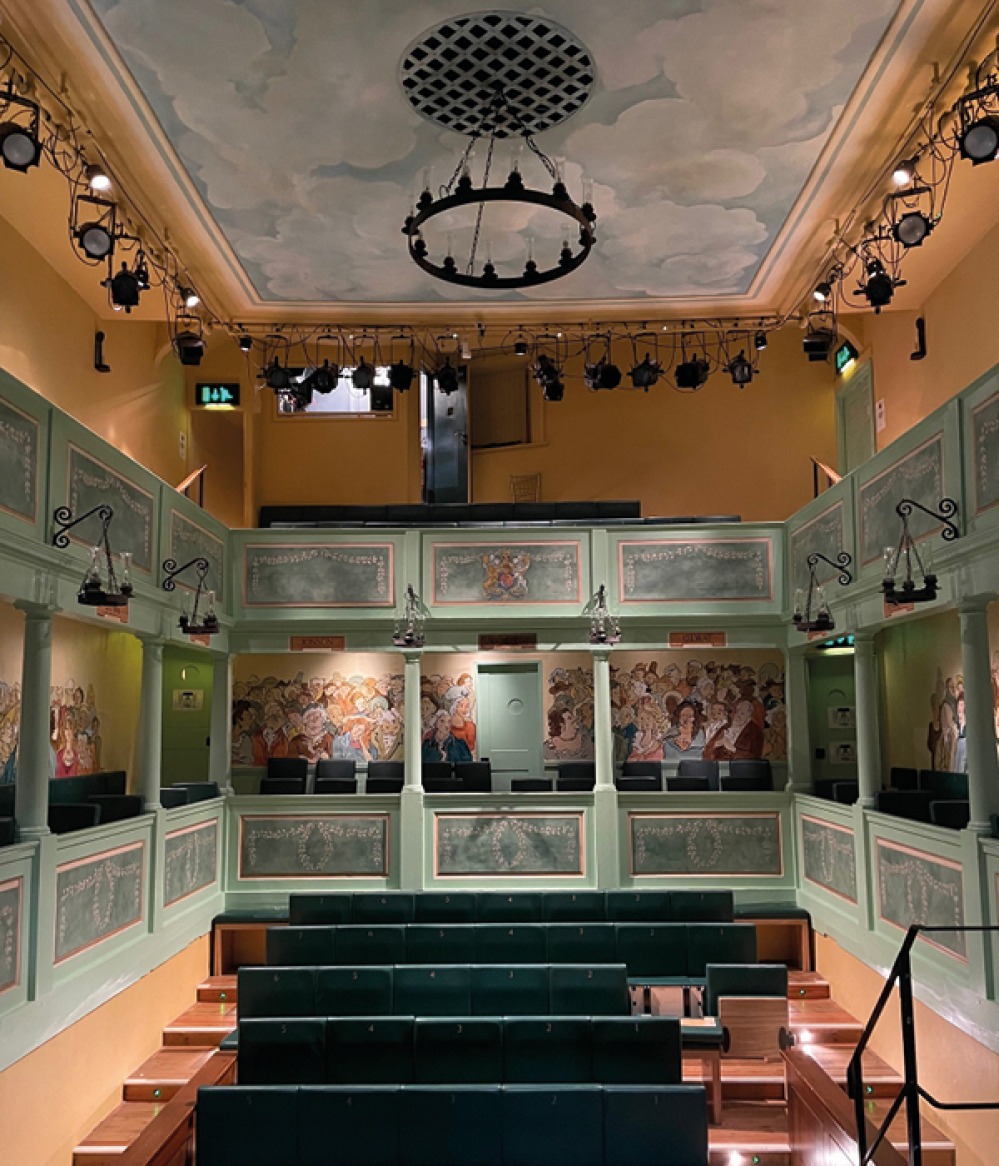 Cottage owners Marcia and Dennis make you feel very welcome, sharing details about the cottage before you even arrive, as well as a wealth of information about what to do, where to eat, and which walks to take, demonstrating an obvious love for the area in which they live. Inside the cottage you'll find more information along with Marcia's own curated booklet on places of interest. For those of us with dogs, (and furry friends are very welcome at Garden Cottage), there is lots of useful information on local pubs, eateries, and places of interest that welcome dogs too.

This cottage, and its gardens, date back to the 1770s and the history of Garden Cottage is well documented by Marcia in her information file. The cottage has been a labour of love, taking it from a barely liveable space with overgrown gardens, into the award-winning and charming space that it is today. What's not immediately apparent to the visitor is the extent of the walled garden that the cottage sits in. A gate from the lawn leads into 'Mr Yorke's Walled Garden', which guests of the cottage are free to wander through. It is a beautiful space, planted with a plethora of flowers and shrubs, vegetables and fruit trees. Of great interest to any keen gardener, it makes us wish our own fingers were just a little greener.

Despite the peace and tranquility offered by the garden and the cottage itself, you are just a stone's throw from the town of Richmond with its cobbled, intersecting streets full of shops, cafés and places of interest. Views from the garden look across to the impressive Culloden Tower, originally built as a banqueting hall in 1746 commemorating the Battle of Culloden, the last battle fought between the Scottish Jacobites and the English Government. Richmond Castle, with its imposing tower and turrets, is also immediately visible from the cottage and a visit to the castle is a must. There's an opportunity to climb up the stairs to the very top of the tower, giving incredible 360 views over the surrounding countryside.

With so much to explore, we used the handy Richmond Town Pass, available from the tourist information office, which includes entry to the Richmondshire Museum, the Green Howards Museum, Richmond Castle and the Georgian Theatre, as well as offering discounts at tea rooms and restaurants in town. There is a Georgian Walk beneath the walls of the Norman Castle that was created for the well to do of Georgian society to promenade around during the season. There are also beautiful riverside walks and on sunnier days the opportunity to sit with a picnic at The Butts, or one of the many smaller, less crowded spots, and perhaps paddle or even swim in the river, should not be missed.
While you are here, a visit to Richmond's Georgian Theatre is an absolute must. This is the oldest surviving theatre that has not undergone complete renovation and updating. Our guide, Penny, provided a fascinating insight into the history of the theatre, the plays that were performed and its clientele from the 1700s. It was quite an eye opener as she revealed that although performances lasted as long as four or five hours, there were no toilets in the building – and the audience brought their own food and drink. If a performance wasn't impressing its audience, the leftover food would be thrown at the performers. The theatre has found a great way to re-enact this tradition during their current Christmas Pantomime when they engage the people of the town of Richmond in a ferocious frenzy of knitting! For Snow White, hundreds of apples were knitted and donated to the theatre, and at each performance the children were given a knitted apple to hurl at the baddie on stage, and given the proximity of the audience to the performers, I imagine there would be a few good strikes. Today the theatre is thriving, seating only 154 in a rectangular auditorium it is well worth a visit for a tour, or even better, to see a show. With patrons Prince Charles and The Duchess of Cornwall, and its President being Dame Judy Dench, you will be in good company by supporting this incredible place. The theatre is also frequented by a number of modern day stars so you never know who you might be sitting next to.

Garden Cottage is perfectly placed as a base to explore the numerous 'chocolate box' villages nearby all with wonderful local independent shops and cafés. We headed slightly further afield to visit Hawes on market day; although please remember to take a dog, as literally everyone has one, and in all shapes and sizes (our dachshund/poodle cross was a much talked about visitor!). The market has everything from socks to beautiful hand woven rugs, and everything in between, on sale.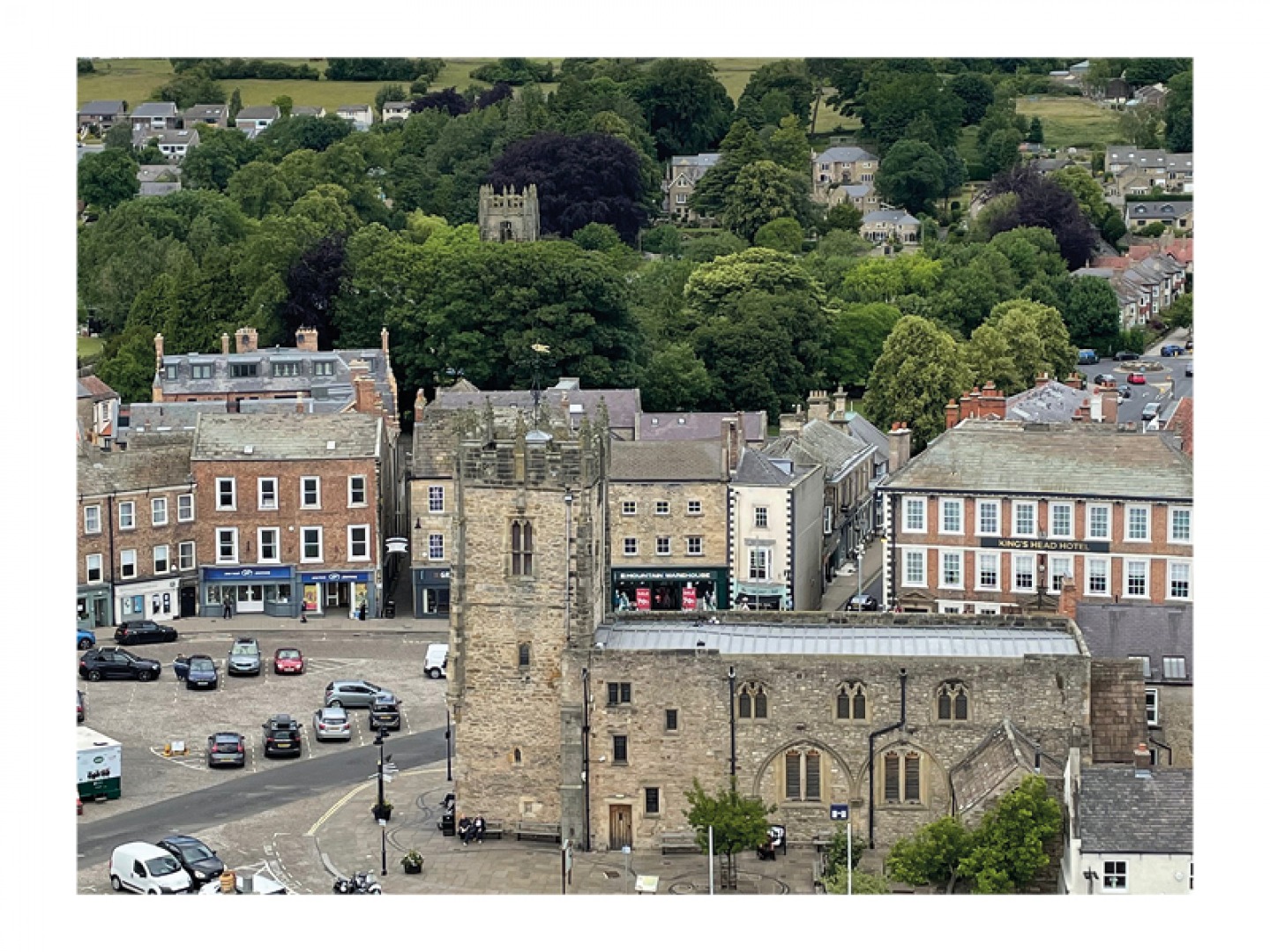 More knitting was evident here, with the entire cast of Shrek adorning the tables and frontage of The Board Inn making visitors smile. The work of Hawes Yarnbombers, charitable donations could be made at the pub.

Don't miss the Wensleydale Creamery Visitor Centre, and most shops here stock a range of wonderful Wensleydale cheeses all made locally. Antique shops and quirky little gift shops are interesting for a potter through and can easily tempt your wallet from your pocket.

Back in Richmond, if you don't want to cook at the cottage there are numerous places to enjoy good food and chilled drinks in the town. Granny's Kitchen does fabulous cakes and sandwiches, tucked in a tiny courtyard off Fenkle Street. Rustique tucked in Chantry Wind offers a taste of France with a very reasonably priced set menu or a la carte. The prawn and broccoli linguine is a great choice (we loved it), and the steak sandwich looked divine. Dogs are welcome in the enclosed courtyard and the service is friendly and attentive. Great tapas, wine, gin and cask ales can be found in a small bar/restaurant at 29 Frenchgate, which serves food until later than most of the pubs, which seem to stop serving around 8pm. It's a small independent venue, again with friendly staff who welcome you (and your dog). La Piazza offers an extensive Italian menu. A spacious restaurant with a terrace outside for warmer evenings (where dogs are welcome), there is a great variety of seafood, pizza, meat and pastas on offer, along with a good wine list, and it is very reasonably priced. We found it very busy, even on a weekday night, and would recommend booking a table.
Traditional afternoon teas and Yorkshire goodies can be found in many of the wonderful small, independent cafés around town; whilst gorgeous chocolate treats can be bought at Mocha which also has a small café, and also has another outlet (along with Kiss the Moon) based in The Riding School at Aske just outside the town.

Pretty Garden Cottage, with its stunning garden, is a gem of a place and an ideal venue for every sort of holiday or mini break. With easy access to the beautiful Yorkshire Dales, it's perfect for the serious walker or cyclist, and those who just enjoy a gentle roam around in the glorious solitude that this area has in abundance. Visits to the many small villages and towns, along with the numerous delightful pubs and restaurants, can take up many days with very little driving. Alternatively, exploring the fascinating town of Richmond and its environs without ever resorting to use of the car is a perfect way to spend your holiday.
Garden Cottage
1 Cravengate, Richmond DL10 4RE
07740 927 608
yorkshirecountryholidays.co.uk