Chef Peter Neville on Converting an 18th Century Farmhouse for His Goathland Restaurant
The Homestead Kitchen in Goathland is all about showcasing local Yorkshire food
Acclaimed chef Peter Neville is bringing a taste of Yorkshire to his new family-run restaurant, The Homestead Kitchen. We caught up with Peter to find out more about his move to Goathland and what to expect when we visit.
After building up a solid reputation during his 12 years as head chef and co-owner of The Pheasant Hotel, Peter decided it was time for something new, something he and his partner Cecily could build to allow more time for their family. 'We knew in our minds that we wanted to do something ourselves one day, and Cecily grew up in Goathland so that became the chosen place,' Peter says. While many people had lightbulb moments about creating a better work-life balance during the pandemic, Peter and Cecily had always had that vision. 'We had it in our mind before Covid, but it gave us the opportunity to get it sorted out. It was February, in the second lockdown, when we came to look at this beautiful old farm building which was also a functioning restaurant for 10 years or so,' he explains.
The 18th century farmhouse has been transformed into The Homestead Kitchen restaurant, a holiday cottage annexe and the family home. 'It really was the perfect property for us as a young family to take on and it's in an unbelievable location in the village – we're just a 10-minute walk from the big waterfall, Mallyan Spout, and there's a loop walk from Goathland down to Beck Hole and back, so we're kind of on the track for visitors who do the circular walk of the village.'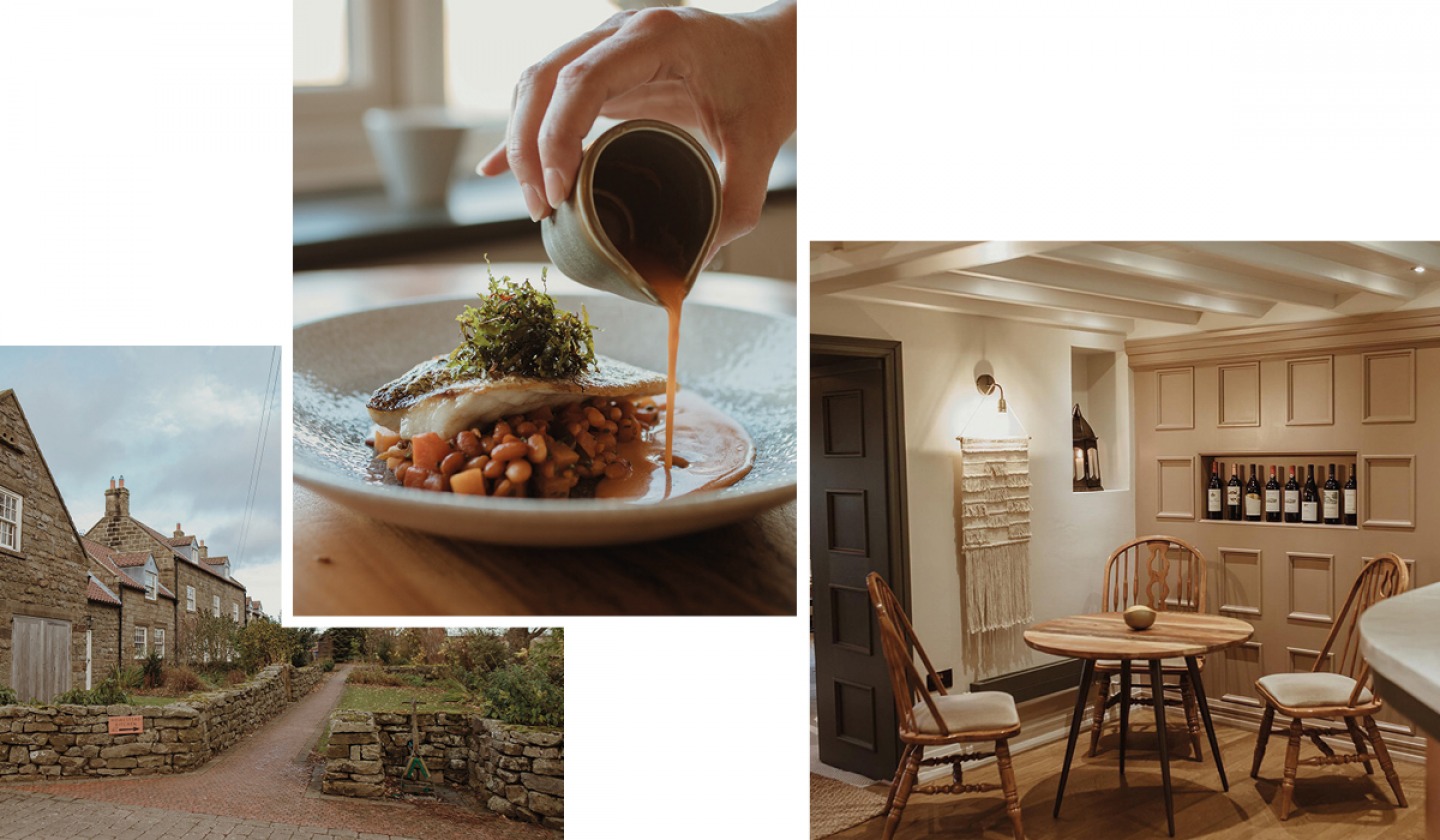 Peter and Cecily also wanted to create The Homestead because they felt there was a gap in the market for the food they wanted to offer. 'If you go to Whitby you get Whitby shellfish, but although there are lots of nice restaurants around here, you don't really get a feel for regional produce and we felt there was an opportunity to showcase local ingredients,' Peter explains. The Homestead Kitchen is a restaurant where things on the menu are sourced or made locally, for example their kippers are from Staithes, their cheese is from Botton Creamery and they even serve Yorkshire Parkin and use rhubarb from Yorkshire's famous Rhubarb Triangle. 'It's not all local, but things which are local we make sure we showcase on the menu – that's what it's all about.'
Being surrounded by so much natural beauty is a huge plus – and guests in the restaurant can look out over the spectacular surrounding moors as they indulge in their seasonally and locally-sourced dishes. And lots of what can be found outdoors will also be found on the menu. 'We try and use as much wild food as we can. We have found a large patch of wild garlic and we use wild mustard leaves and wild cress too. It's all very traditional English things which have been done for many years,' Peter says. Those who wander and explore the nearby moors and Goathland village before they head to The Homestead Kitchen, will notice plants and wild foods which they will later see on their plates. 'It's nice if people see something like elderflower on their walk and come to us and maybe have an elderflower syrup on their plate – [it shows] you're really getting a taste of the region.'
Whilst lots of the produce is regional, the ethos behind the business is homely and the name itself comes from Cecily's original family home. 'The meaning of The Homestead is that it's your home and it's your livelihood – that's why we're trying to grow our own vegetables here. We have loads of raised beds and we've just put in an edible hedgerow. We also have a greenhouse and a fair few fruit trees – we're just going to expand as we go,' says Peter.
Having a seasonal menu also allows him to change and adapt his dishes regularly. 'We've just started with English strawberries and we've got some local rum from Whitby and have created [a dish] with rum baba, strawberries and elderflower cream and that will be on the menu until the strawberry season is done. As soon as something is in season we jump on it, get something on the menu, and then when the season ends we take it off again – and that's really important for local diners as it means they can come every six to eight weeks and the menu will be completely different.'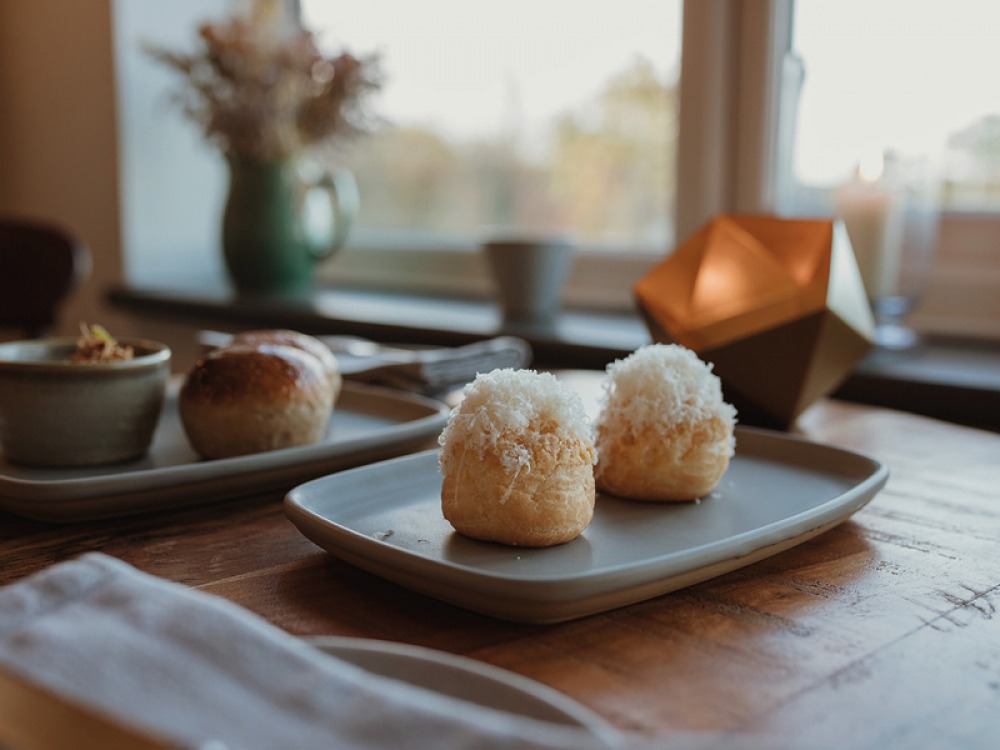 'It's not all local but things which are local we make sure we are showcasing them on the menu – that's what it's all about'
Peter is working with his right-hand man, Peter Hall. 'We were at The Star together 14 or 15 years ago and as friends we were chatting and I told him about putting an offer in on the property. He wanted to leave London anyway, and he has worked in some fantastic restaurants including his own, but having him here makes coming up with menu ideas so much easier,' he says.
Part of The Homestead's ethos is about protecting the beautiful environment around it, and sustainability is a big part of the business plan. 'We have a lady who works here whose husband is a fisherman and we get our fish straight from his boat, which cuts out packaging and transport. Waste-wise, the restaurant only produces one green bin a week because we recycle waste, and raw food is made into compost for our garden. Generally, we try not make a scar on the local environment,' Peter says. All the decisions are well thought out, from the meadow grass on one side of their garden which encourages bees, to the European wines they use in the restaurant, meaning they don't ship them from Australia or South America. 'They're all little decisions to try and reduce our impact on the environment,' says Peter.
The Homestead has already achieved a recommendation in the Michelin Guide for 2022, so for now the couple are focusing on growing The Homestead as well as developing their garden, planting more raised beds and hedgerows so things like cherries, crab apples, elderberries and blackberries can grow. 'Next year we are planning on putting an orchard in and some more fruit trees to really get the garden producing food,' Peter says. 'Goathland is in the middle of the moors and is a very busy village in the summer, but we want to build on that all year round.'
thehomesteadgoathland.com