Do You Know Your Yorkshire Dialect? Test Your Knowledge
How well do you know your Yorkshire dialect?
The Great Big Dialect Hunt is a nationwide project documenting our wonderful regional dialects including Yorkshire words, phrases and language. This huge project hasn't been attempted since the late 1950s.
The Great Big Dialect Hunt is a National Lottery Heritage-funded initiative searching far and wide to record the dialects of the UK's towns, villages, and cities – taking a snapshot of their cultures through the beauty of words. The UK is unique in that by driving up the road for just 10, 20, or 30 minutes you can come across countless dialects, all with their own inherited words, phrases, and language. This is particularly clear in Yorkshire, with the examples of Barnsley, Hull, and other broad Tyke accents coming to mind. Dr. Rosemary Hall is an impassioned sociolinguist and together with her research colleagues she's recruiting an army of public volunteers through The Great Big Dialect Hunt, giving you the opportunity to record your own dialect, submit answers to lexical surveys, and help document the history of your area – as Rosie explains.
On The Great British Dialect Hunt's website a sound map can be found with audio clips from the 1950s, digitised for the modern day. One example is a recording from Skelmanthorpe, speaking to a man called Wilsey in 1952. Wilsey tells an anecdote about seeing an apparition that turned out to be a woman in a nightdress looking for her lost cat, recalls working in a coal mine from the age of 12, and describes the long hours, harsh working conditions and meagre wages of the time.
Inherited words often come to mind when thinking of loved ones. Being from Grimsby Town myself, I think of 'spoggy' for chewing gum or a 'pag' for giving someone a lift on their bicycle. As a researcher, Rosie has encountered countless words she's fallen in love with, some she grew up with and others learnt.
'I pinch myself all the time to remind myself that this is my job. Sometimes words crop up from my own dialect inheritance, words like "fizzog" for face or "luggy" for knotty hair – "cakehole" is an old favourite from my grandad, meaning mouth,' Rosie reflects. 'I've learnt loads too, like "clodhopper", which was used in Shropshire back in the 50s to mean a ploughman. Also funny phrases like "hark at he you're driving the pigs home", which means someone's snoring loudly in South-West dialect,' she laughs.
Do you know your dialect?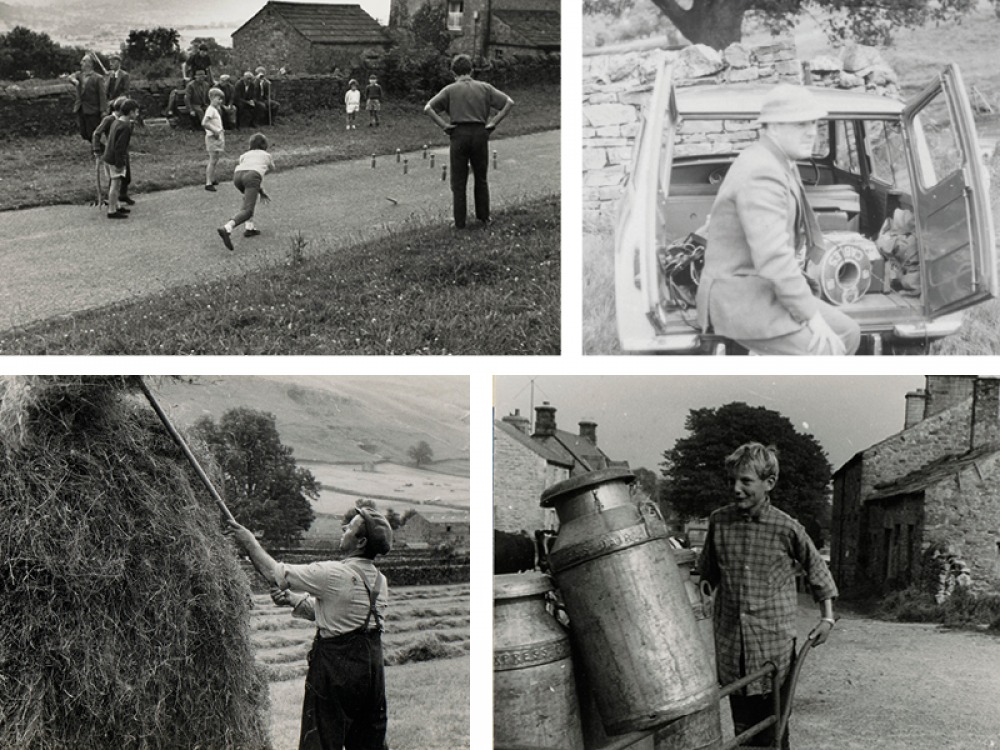 1. Fuzzcock


2. Dowly


3. Brussen


4. Cletch


5. Pankin


6. Hirings


'In the UK you get fine-grain variation from village to village or city to city; people make generalisations of the North vs the South, but in reality it's far more interesting than that,' she continues. 'From the original archives, researchers were collecting different words for "skiving" or "bunking off", skipping school essentially. In Bickerstaff in West Lancashire, they said "playing hooky", but four miles North in Ormskirk they got "playing twag", compared to way up North in Newcastle where they heard "playing the knick".'
We've already clarified that there are countless dialects out there, meaning Rosie and her researching peers are going to need all the help they can get. Rosie shares some of the ways you can get involved.
'If you go to our website you can fill out a dialect survey. You can also test your knowledge with a quiz, and you can listen to voices from the past on our interactive sound map,' says Rosie. 'You can record your own voice to submit to our findings and we're hoping to use some of these recordings to make an immersive art experience – a soundscape of people's experiences. Across the country we also have five partner museums, actings as hubs with engagement officers at each, sending out field workers to interview people. Some of those people being targeted are the descedants of the original interviewees from the 50s, so we're going to have an amazing picture of then vs now,' she concludes.
Get involved at dialectandheritage.org.uk
Fuzzcock
A donkey
Dowly
Feeling unwell
Brussen
Grumpy, agitated, rough around the edges
Cletch
A family of young (e.g chickens or children)
Pankin
An earthenware pot
Hirings
An annual fair for hiring farm labour