Restaurants, Pubs and Bars You Should Try in Leeds
Leeds is a foodie hotspot with everything from fabulous street food to Michelin-starred fine dining
We've picked out some of our favourites so take your pick from our A–Z list.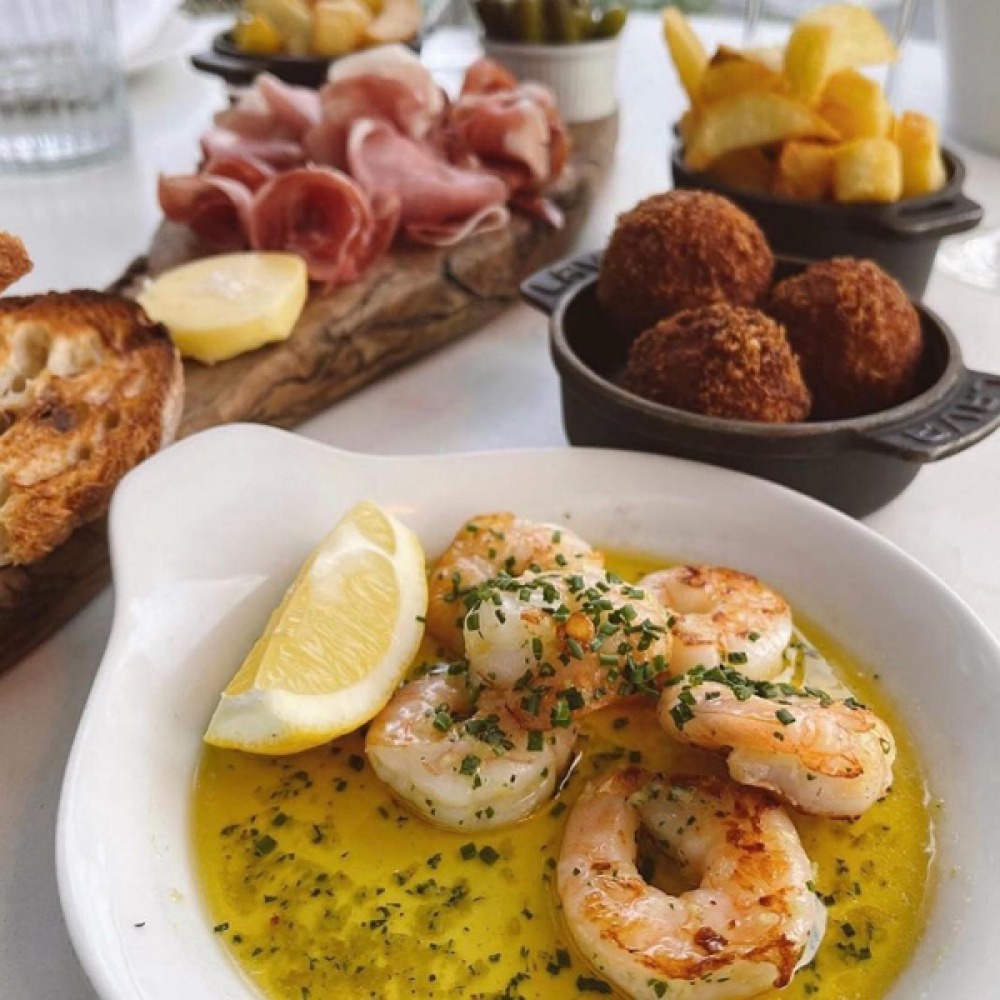 Angelica
Level 6, Trinity Leeds, Leeds LS1 6HW
0113 897 0099
angelica-restaurant.com
This grand glasshouse on the sixth floor of the Trinity Leeds shopping centre boasts astounding views across the city. It serves up modern bistro food, from brunch and lunch to an evening menu which includes Lindisfarne oysters, 32-day-aged sirloin steak and a charcuterie platter for two with pickles, parma ham and warm focaccia. Their afternoon tea with free-flowing prosecco is also a favourite of ours.
Bibis Italianissimo
Sovereign Street, Leeds LS1 4AG
0113 243 0905
bibisrestaurant.com
This Art Deco-styled restaurant, cocktail bar and café dates back to the 1970s and serves a menu of authentic Italian and Mediterranean cuisine. Bibis has a loyal following among Leeds' foodies, and with extensive pizza and pasta menus alongside meat and fish specialities, you can see why.
Brasserie Blanc
Victoria Mill, Sovereign Street, Leeds LS1 4BJ
0113 220 6060
brasserieblanc.com
This converted Victorian mill offers diners the chance to try modern, French fine cuisine to the standard of celebrity chef Raymond Blanc, who has set up Brasserie Blanc in various locations. Seasonal menus highlight the freshest flavours, and include all the Gallic classics – including chicken liver parfait and escargots.
Belgrave Music Hall and Canteen
1–1a Cross Belgrave Street, Leeds LS2 8JP
0113 234 6160
belgravemusichall.com
This 1930s music hall and canteen is a hub for fantastic food, arts and culture. On sunnier days head up to the rooftop terrace, before trying the Dough Boys' hand-stretched, wood-fired pizzas or Patty Smiths' mouthwatering burgers – both have permanent residencies in the kitchens here.
Bundobust
6 Mill Hill, Leeds LS1 5DQ
0113 243 1248
bundobust.com
Bundobust is an award-winning Indian street food restaurant with an excellent selection of craft beers. The menu's range of small plates are perfect for sharing with friends and are great for an affordable lunch. Try the wide variety of vegetarian food on offer, from dhal and saag, to curries and bhajis.
Chophaus
Louis House, Princes Avenue, Oakwood, Leeds LS8 2FA
0113 226 0660
chophaus.co.uk
This steak restaurant brings a modern steakhouse dining experience to the heart of Oakwood. Their premium beef and other prime cuts are all sourced locally from R.P Setchfield Traditional Family Butchers and their steaks are bought daily to ensure freshness. The à la carte menu is packed with Yorkshire steak plates, as well as seafood options such as grilled lobster, baked salmon and chargrilled swordfish. Their Sunday lunch is also a winner, with the likes of beef rump, slow-cooked pork belly and chicken supreme on the menu.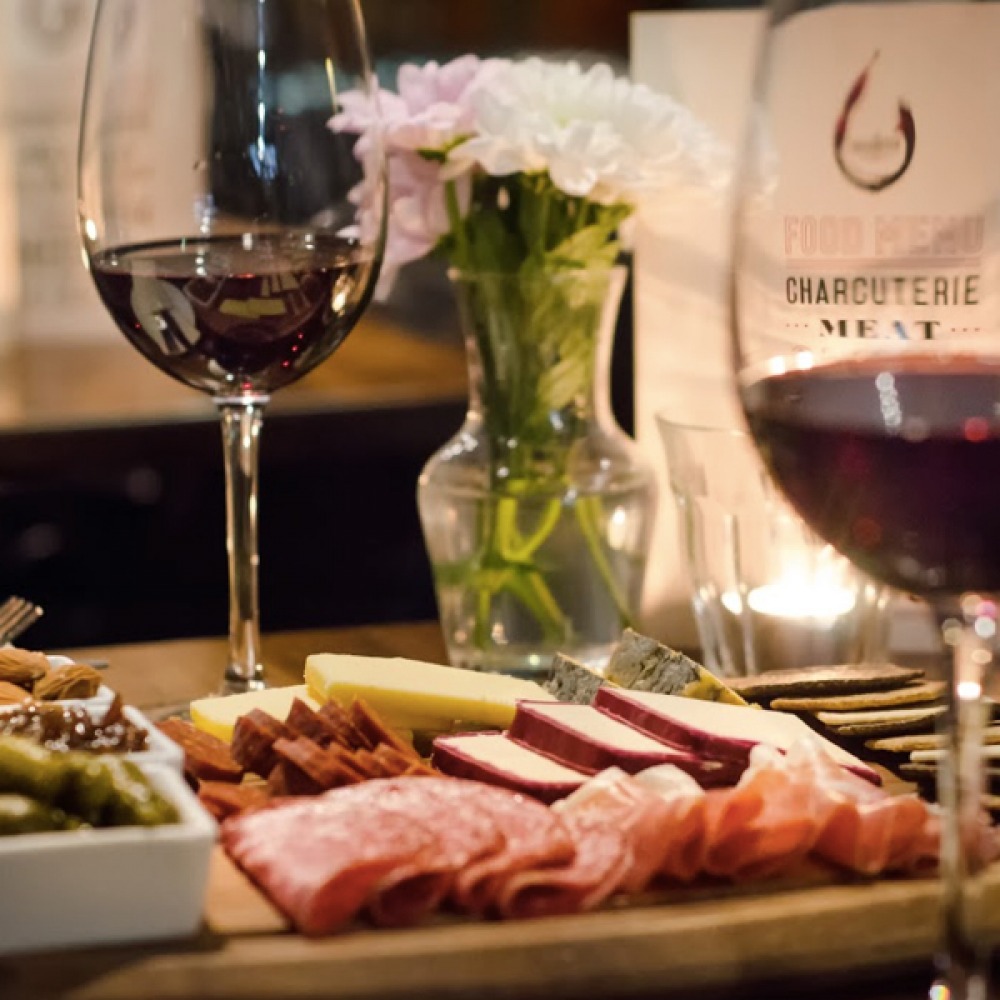 Chef Jono at V&V
68 New Briggate, Leeds LS1 6NU
0113 345 0202
chefjonoatvandv.co.uk
Offering modern British dining which focuses on seasonal produce and creative cooking, Chef Jono tantalises the tastebuds of every guest with his signature tasting menu and Sunday lunch offering. The tasting menu (which comes with an optional drinks pairing with every course) begins with snacks such as raw venison and cheddar, followed by salmon tartare and ramen broth, aged beef and octopus, then mushroom tiramisu and petit fours to finish.
Crafthouse
Level 5 Trinity Leeds, 70 Boar Lane, Leeds LS1 6HW
0113 897 0444
crafthouse-restaurant.com
On the fifth floor of the Trinity Leeds shopping centre, Crafthouse has made waves on the Leeds restaurant scene with its regularly-changing menus and fine seasonal dishes. For a special treat, try the five-course tasting menu with delicious wine pairings, featuring Hereford beef fillet, pan-fried cod with roasted cauliflower gnocchi and cornflake ice cream with drunken raisins.
The Decanter Wine Bar
17 Park Row, Leeds LS1 5JQ
thedecanter.co.uk
The Decanter is a wine bar with a difference. Located in the heart of the city centre, it offers a vast selection of drinks, from tantalising cocktails to fine wines, making this the perfect spot for post-work socialising. All their wines can be paired with a range of mouth-watering sharing platters. Try Yorkshire cheeses such as Harrogate blue, Kidderton ash goats' cheese and crumbly Wensleydale, or sample the finest British charcuterie including chorizo, pancetta and salami.
Fazenda
Waterman's Place, Leeds LS1 4GL
0113 247 1182
fazenda.co.uk
This classic Brazilian bar in the heart of Leeds serves up a whole range of different meat dishes – from beef tenderloin and marinated lamb leg, to spicy wagyu beef sausage and sirloin steak. The gaucho chefs will cook your choice of cut to perfection, all served up in super-stylish surroundings.
Fint
73 Great George Street, Leeds LS1 3BR
0113 244 3838
fint-leeds.com
This cool and casual eatery offers elevated plates of organic and seasonal Scandi-inspired dishes, and the chefs here take inspiration from flavours and textures from around the world, so expect the likes of sea trout with chicory and cull yow sausage, veal fricassee and espresso créme caramel on the evening menu – don't forget to ask about wine pairings for each dish.
Fléur Restaurant
The Light, Leeds LS1 8TL
0113 245 6752
fleurrestaurants.com
With floor-to-ceiling flowers and foliage, and menus created by Masterchef's Bobby Geetha, you can expect exciting flavours with a nod towards his Indian heritage across the breakfast, lunch and evening meal dishes here. From king prawn Thai massaman curry to peri peri chicken skewers and pan-fried smoked paprika salmon, as well as afternoon tea which includes a mixture of traditional bites like fruit scones alongside contemporary flavours such as samosas and focaccia nibbles, there's plenty to get excited about here.
HOME
3 Brewery Place, Leeds LS10 1NE
0113 430 0161
homeleeds.co.uk
Moving onto the banks of Leeds' River Aire marked a new chapter for renowned Yorkshire chef Elizabeth Cottam. It offers an ever-evolving menu experience where chefs create a poetic mix of tastes and colours, primarily using British ingredients as well as combining influences from around the world – prepare to have your tastebuds wowed.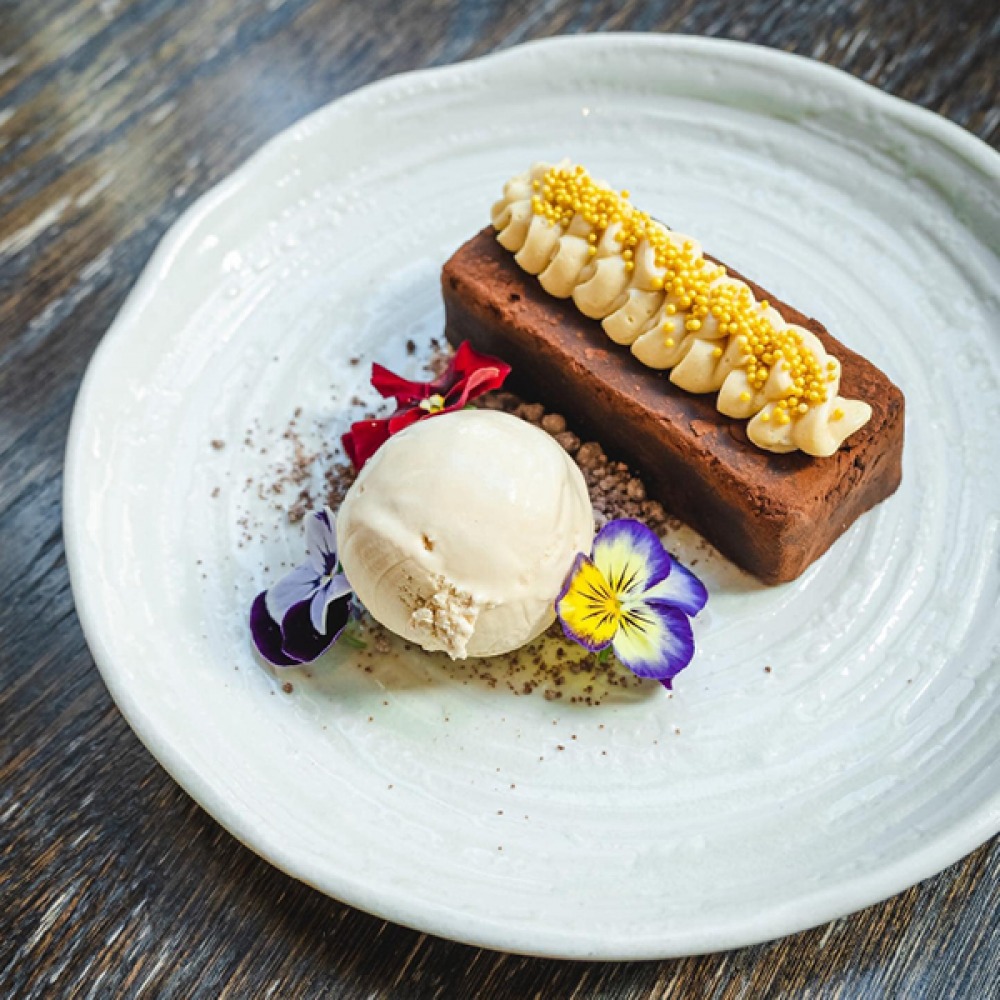 House of Fu
15–19 The Headrow, Leeds LS1 6PU
0113 234 6907
hellohouseoffu.com
Starting as a pop-up in Belgrave Music Hall, House of Fu has grown with the demand for their tasty Japanese-style dishes and after winning British Streetfood's Best of the Best award, owner Ben found a permanent home on The Headrow in Leeds. Taking influences from Tokyo and LA, this ramen bar has a range of tasty broths, including spicy chicken over Sapporo noodles, chashu, yuzu, roast tomato and spring onions, finished with an egg and nori.
Issho
Victoria Gate, 3rd Floor, Leeds LS2 7AU
0113 426 5000
issho-restaurant.com
Issho is a contemporary rooftop restaurant and bar in the heart of Leeds which gives diners an authentic taste of Japanese cuisine. Choose from one of the fixed price menus, or pick from the mouthwatering range of bao buns, sushi, sashimi and a selection of daily specials. With vegan, gluten-free and halal menus available, Issho has something to suit everyone.
Jino's Thai Café
46 Otley Road, Headingley, Leeds LS6 2AL
0113 278 8088
jinosthaicafe.co.uk
This informal Thai place has been a mainstay in Headingley since 2003, serving up authentic Thai dishes full of aromatic flavours. Try the pla shu shi fish curry cooked with coconut cream and lime leaves, or if you're willing to spice things up a bit, choose the pad prik gaeng made with red chilli paste, sweet basil and peppers.
Kendells Bistro
St Peter's Square, Leeds LS9 8AH
0113 243 6553
kendellsbistro.co.uk
Kendells offers fine dining with French influences in a laid-back atmosphere. Their fresh, seasonal dishes are chalked up on the blackboard daily, so you'll always find something new to try, or choose a classic from the menu – think escargots, beef bourguignon or chocolate profiteroles.
Meat is Dead
231–239 Kirkstall Road, Leeds LS4 2AS
0113 294 9431
meatisdead.co.uk
This entirely-plant based bar and restaurant in Leeds exists to excite, unite and nourish diners with its clean and fresh approach to cooking. Giving traditional Sunday roasts a new meaning, expect a nutty carvery, beet Wellington and aubergine steaks alongside a weekly Sunday special dish.
The Man Behind the Curtain
68–78 Vicar Lane, Lower Ground Floor Flannels, Leeds LS1 7JH
0113 243 2376
themanbehindthecurtain.co.uk
Michael O'Hare is a big name on Yorkshire's culinary scene and a visit to The Man Behind the Curtain will explain why. Theatrical tricks, inspired presentation and out-there flavour combinations have earned this restaurant a well-deserved Michelin star. Some of the dishes you can look forward to include tuna tartare with watermelon Sriracha and furikake, wasabi with wagyu fat and toast gravy, and pineapple, coconut and oyster.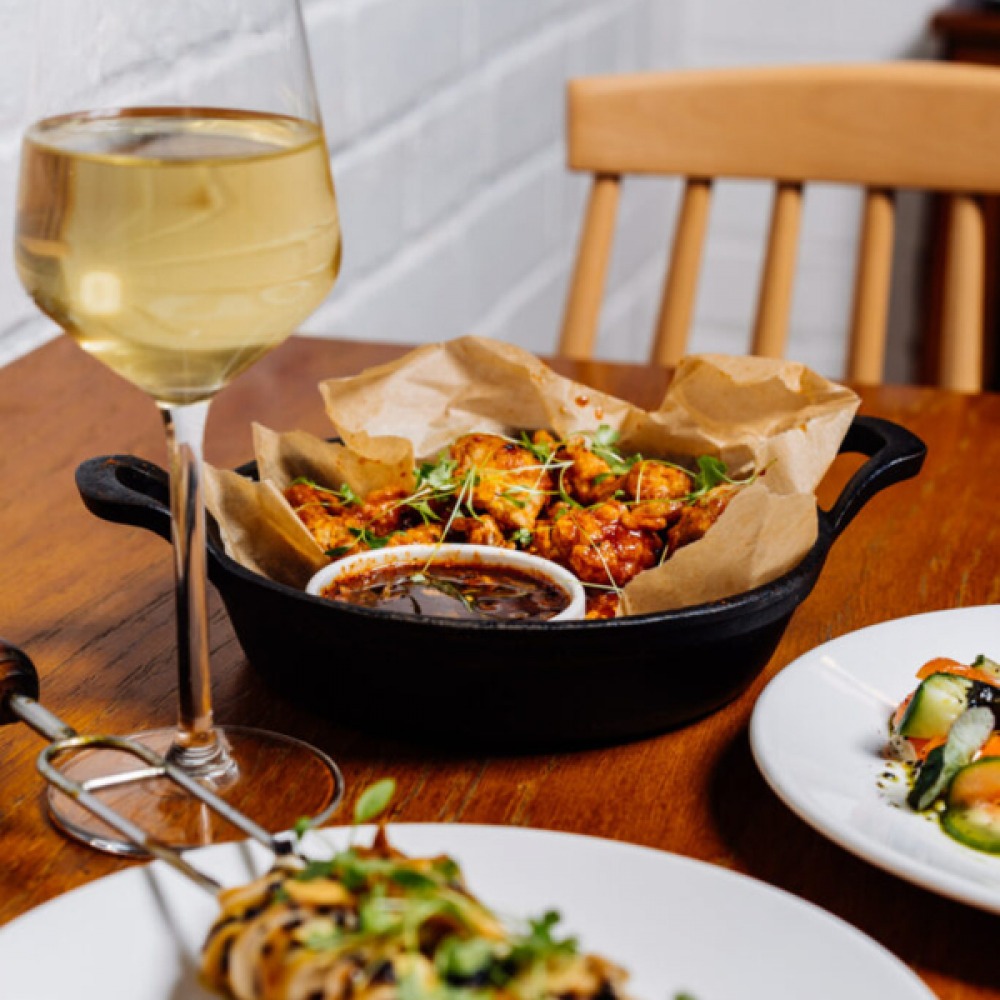 Oba
Unit 2 Wade Lane Merrion Centre, Leeds LS2 8NG
01132 442956
obaleeds.co.uk
From the owners of Hang Sing Hong food store on Vicar Lane, Oba Kitchen brings a fusion of Korean and Japanese cuisines to the people of Leeds. Priding themselves on flavoursome food and great service, the team at Oba Kitchen bring two of the most famous Asian food cultures together, creating something new. Expect Korean pancakes, noodle dishes and classic kimchi, alongside rice, sushi and rich teriyaki plates.
Ox Club
19a The Headrow, Leeds LS1 6PU
07470 359961
oxclub.co.uk
An award-winning grill restaurant showcasing the best Yorkshire produce, Ox Club's menu offers something a little different. Visit at the weekend to sample their excellent lunch, including dishes such as chalk stream trout quiche, Galloway wing ribs and lamb leg and offal skewer.
Rola Wala
Trinity Leeds, Albion Street, Leeds LS1 5AT
0113 244 4589
rolawala.com
Delicious Indian street food, spiced to perfection, all rolled up in a fresh naan bread. Choose from a range of authentically-spiced fillings with fresh salads, sharp pickles, herbs, greens and chutneys.
Sous Le Nez
The Basement, Quebec House, Quebec Street, Leeds LS1 2HA
0113 244 0108
souslenez.com
Tucked away from the hustle and bustle of Leeds city centre, this intimate dining location serves up the finest French cuisine. Start with deep-fried brie with warm pepper and mango chutney, followed by pan-roasted duck breast, baked beetroot, tarragon-glazed carrots, fondant potato and a port sauce. The chocolate fondant with vanilla pod ice cream sounds inviting, if you have the room.
Sukhothai
15 South Parade, Leeds LS1 5QS 0113 242 2795
8 Regent Street, Chapel Allerton, Leeds LS7 4PE 0113 237 0141
sukhothai.co.uk
No one knows Thai food like the head chef and owner of Sukhothai, who has created a mini empire with three restaurants across Leeds and Harrogate, serving award-winning Thai cuisine for 20 years. Sharing platters, curries and stir fries are all on offer, but you can't go wrong with one of the chef's recommendations – our favourite is lamb shank braised in Massaman curry sauce served with jasmine rice.
Sociable Folk
10 Wellington Place, Leeds LS1 4AP
0113 243 1840
sociablefolk.co.uk
Here you'll find classic dishes done well all, as the name suggests, served with the friendliest service around. Build your own salad at lunchtime – ours is a roasted sweet potato base, spicy chickpeas and mango and lime dressing.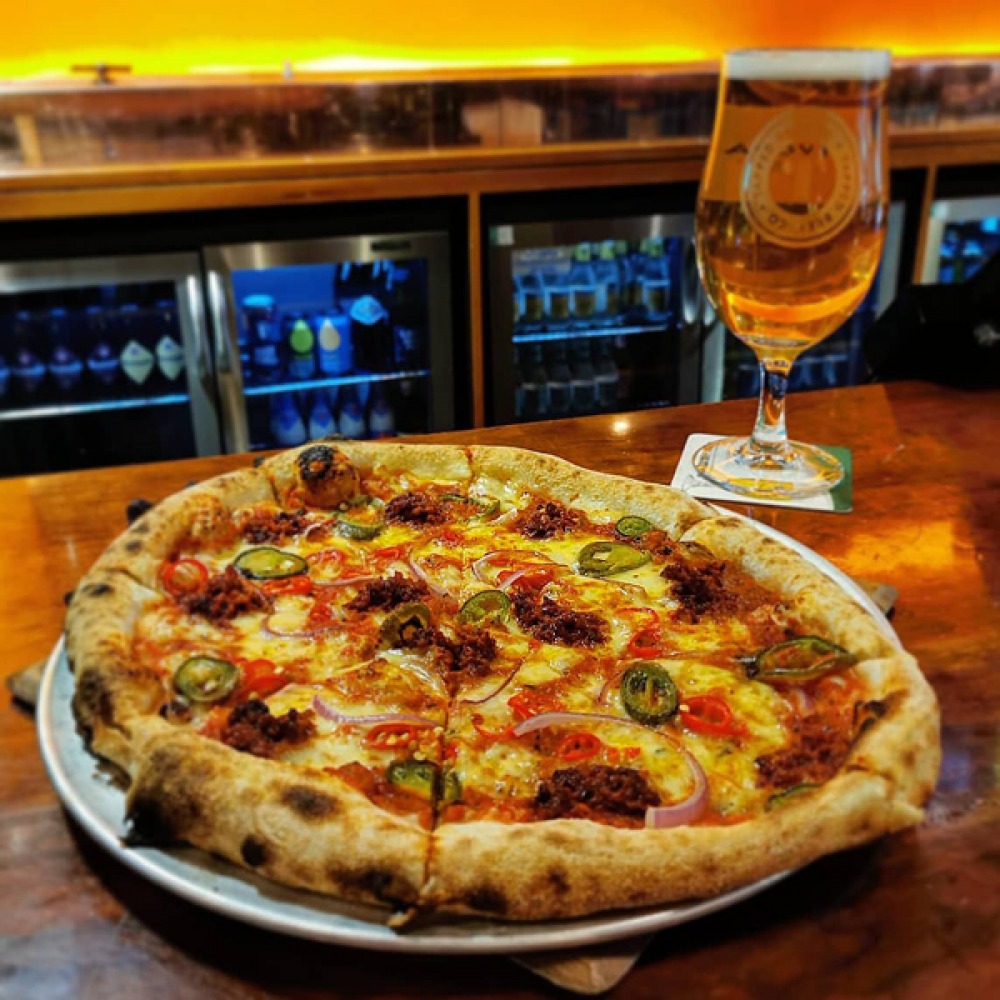 Tharavadu
7–8 Mill Hill, Leeds LS1 5DQ
0113 244 0500
tharavadurestaurants.com
Multi-award winning Tharavadu goes above and beyond your regular curry house with its flavoursome Kerala cuisine. Don't know what to pick from the extensive menu? Opt for the sadhya banquet, which is three courses starting with a traditional soup, followed by seven curries chosen by the chefs and a classic Kerala dessert to finish.
Tapped Leeds
51 Boar Lane, Leeds LS1 5EL
0113 244 1953
tappedleeds.co.uk
What goes better together than beer and pizza? Not much. The micro-brewery offers 14 craft keg lines, 13 cask ales and a range of bottles and cans, as well as fresh beer brewed on site. Pair your drink with the perfect stone-baked pizza – we'd go for Livin' La Fajita Loca, with mozzarella, fajita-spiced chicken, peppers, jalapeños and salsa.
Whitelock's
4 Turks Head Yard, Leeds LS1 6HB
0113 245 3950
whitelocksleeds.com
Established in 1715, Whitelock's is Leeds' oldest pub and its rich history and charm are still intact. The extensive lunch and dinner menus are filled with comforting pub classics such as beer-battered fish and chips and beef and ale pie, as well as veggie and vegan options.