Seven Castles to Visit Across the UK
From towers and secret passages, to turrets and a portcullis, each of these castles are totally unique and no matter which you choose, you can live like royalty – albeit briefly
We've all fantasised about what it would be like to live like royalty. From the castles and jewels to all delious food you'd get to eat, you really would be well looked after. This fantasy could become a reality...well the castle part anyway, if you take a trip to one of these seven castles across the UK.
AUGILL CASTLE, CUMBRIA
Nestled between the Yorkshire Dales and Cumbria's Lake District, this 19th century castle is a walker's paradise, dedicated to comfort, friendliness and informality. Sitting at the centre of a small working estate, there are 15 acres of grounds to be explored.

Built in 1841, guests can expect to find turrets, secret doorways and gothic windows in this castle, as well as 13 bedrooms, suites and estate houses, all decorated in their own unique style. You can stay in just one of the rooms or rent out the whole castle for you and up to 29 friends. From wildly romantic and decadent rooms for couples, to the larger more contemporary spaces for families, all the rooms in the castle have a traditional feel.

The grandest of the rooms have four-poster beds, roll-top baths, stained glass, original lead windows and fireplaces for a truly luxurious stay. Augill Castle is everything you'd expect of a boutique hotel with all the comfort of a real family country house which has been lived in for generations.

stayinacastle.com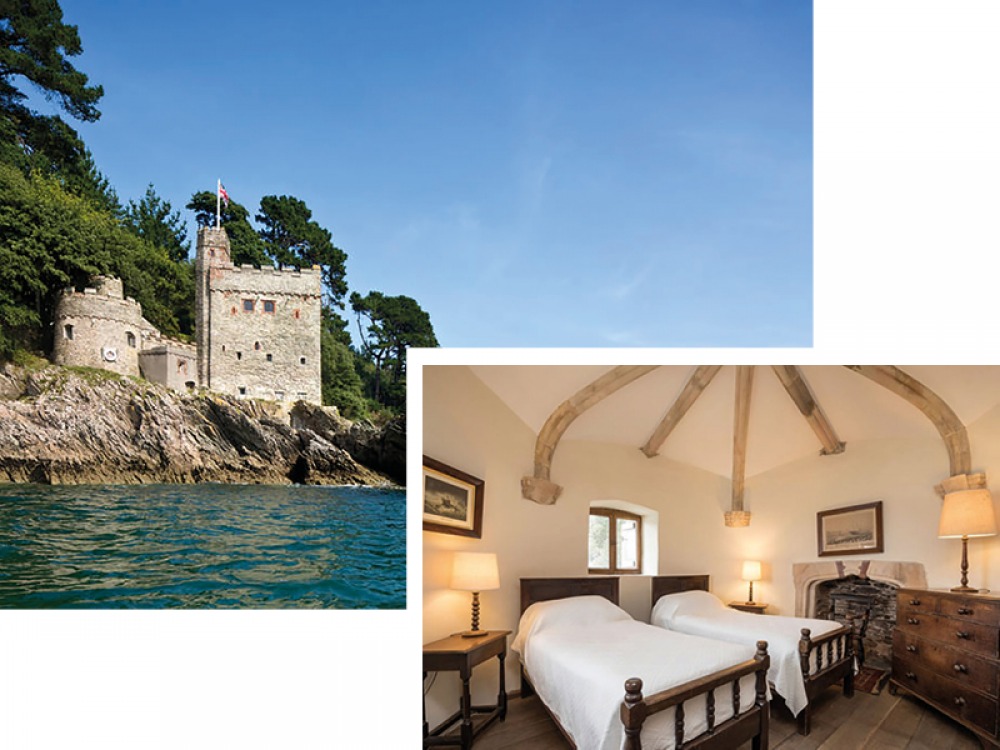 KINGSWEAR CASTLE, DEVON

Originally built in 1502 to defend the harbour here, Kingswear Castle appears to grow out of the rocks it stands on, next to the water's edge. Spectacular views from the roof platform and many of the windows mean guests can look across to Dartmouth, down at the maritime pine woods along the rocky shore and, of course, out to sea.

You'll have the place to yourself, and the castle's ground floor has been restored to look as it would have done originally. Living quarters are found in the three floors above, including a double room on the first floor, and there's a twin room accessed through a secret passageway.

Thick walls provide a sense of fortification to the place, offering visitors a real sense of building's history – not to mention guests are allowed to raise and lower the flag from the roof of the castle giving them a truly historic and special experience.

landmarktrust.org.uk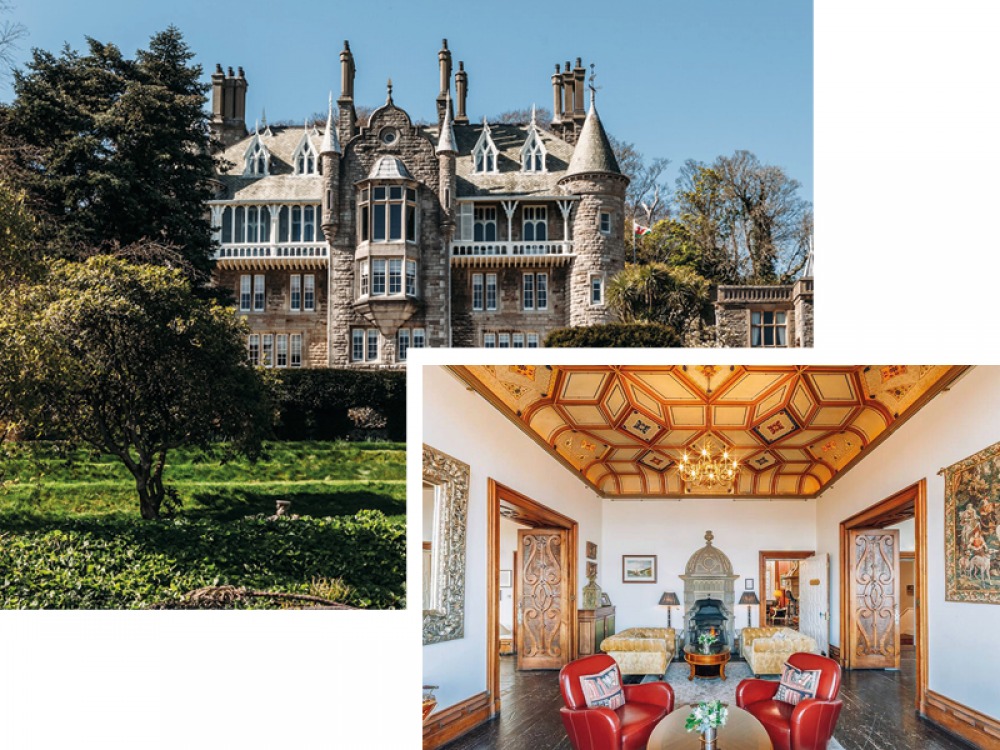 CHÂTEAU RHIANFA, ANGLESEY

Inspired by a château in the Loire Valley region of France, this stunning hotel is fully deserving of its Grade II-listing. The property has been spectacularly refurbished with 27 bedroom suites which combine period-style furniture with bold-coloured fabrics and contemporary bathrooms, as well as an indoor hot tub and tennis court. The castle boasts superb features typical of the Victorian era, including four elegant and vast reception rooms which are complemented by a grand hall, whilst a separate wing holds a 42" banqueting hall, ideal for a celebration.

Outside, the listed garden leads down to a private beach, where a jetty allows boats to moor and access the house directly from the strait.

At Château Rhianfa guests can also dine like royalty. Enjoy a sumptuous dinner showcasing local produce prepared by a team of chefs in their AA Rosette awarded restaurant, or kick back in the lounge for a relaxing afternoon tea.
chateaurhianfa.co.uk
LANGLEY CASTLE, NORTHUMBERLAND
History lovers, this one's for you. When staying at Langley Castle, you'll have the opportunity to go on a tour of this 14th-century fortified building. The post-breakfast wander will take you around the Grade I-listed, four-storey, H-shaped tower house, as well as its battlements, rooftop chapel and garderobes (medieval toilets).

As well as 18 Castle View rooms in the grounds, the castle itself now houses nine traditional-style luxury rooms with four-poster beds, heraldic carpets, pelmeted drapes and deep-set window seats. Maintaining this authentic feel, there is a magnificent fire-lit drawing room for afternoon tea and a two-AA-Rosette restaurant for tasting menus and table d'hôte dinners.

For even more history, the castle is a short hop from Hexham and its ancient Abbey, meanwhile the World Heritage Site of Hadrian's Wall is just up the road, ready to be explored. If nature is more your thing, the hotel's peaceful 10-acre grounds offer a chance to escape everyday life, instead enjoying peace, quiet and birdsong in an authentic English castle ambience.

langleycastle.co.uk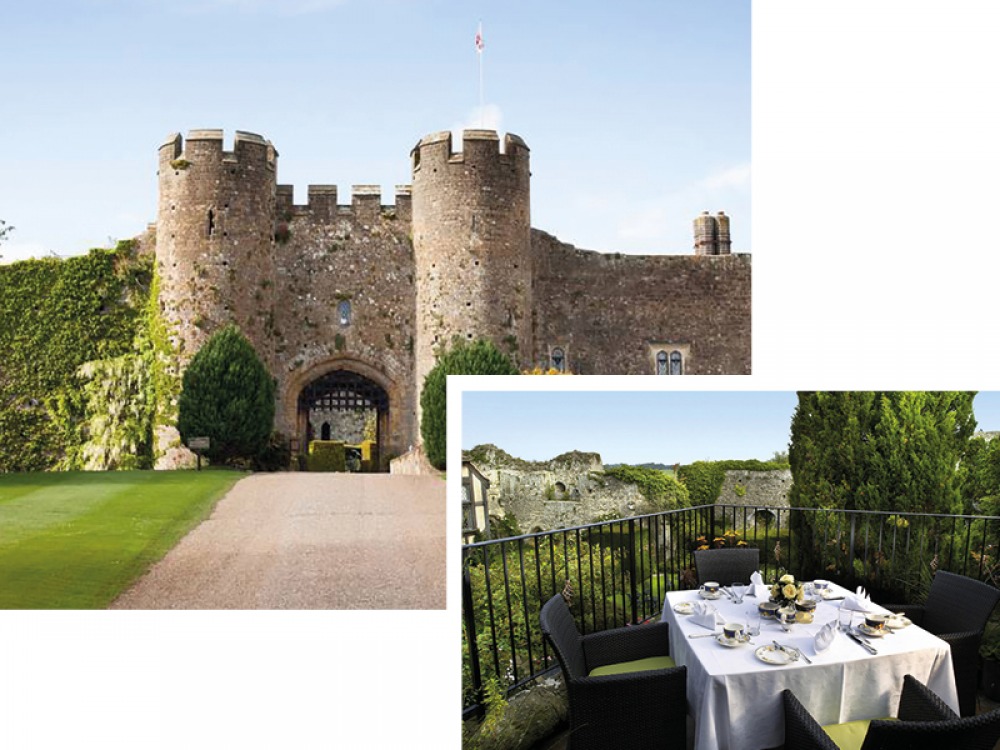 AMBERLEY CASTLE, SUSSEX

Originally built as a manor house in the 12th century before being fortified in 1377, this magnificent 900-year-old castle is flanked by a twin-tower gatehouse and a garderobe tower, as well as being enclosed by a dramatic 60ft wall. Venture beyond the portcullis and you'll find an enchanting hotel offering the highest standards of food and service.

A truly beautiful place to stay, rooms tastefully merge period features with modern touches, and their 19 bedrooms are resplendent with the luxurious facilities you would expect from a country house hotel. At the heart of the hotel is the magnificent Queen's Room restaurant, with a barrel-vaulted ceiling dating back to the 12th century. The award-winning restaurant has a reputation as one of the best in Sussex so is a must-visit for guests.

History encompasses every part of this building and the many acres of gardens it stands in. Enjoy discovering the tennis courts, 18-hole putting green and croquet lawn, as well as keeping an eye out for their resident peacock roaming the grounds. For those seeking tranquillity and relaxation, there are also many quiet corners to discover under the shade of a tree or by the fireside.
amberleycastle.co.uk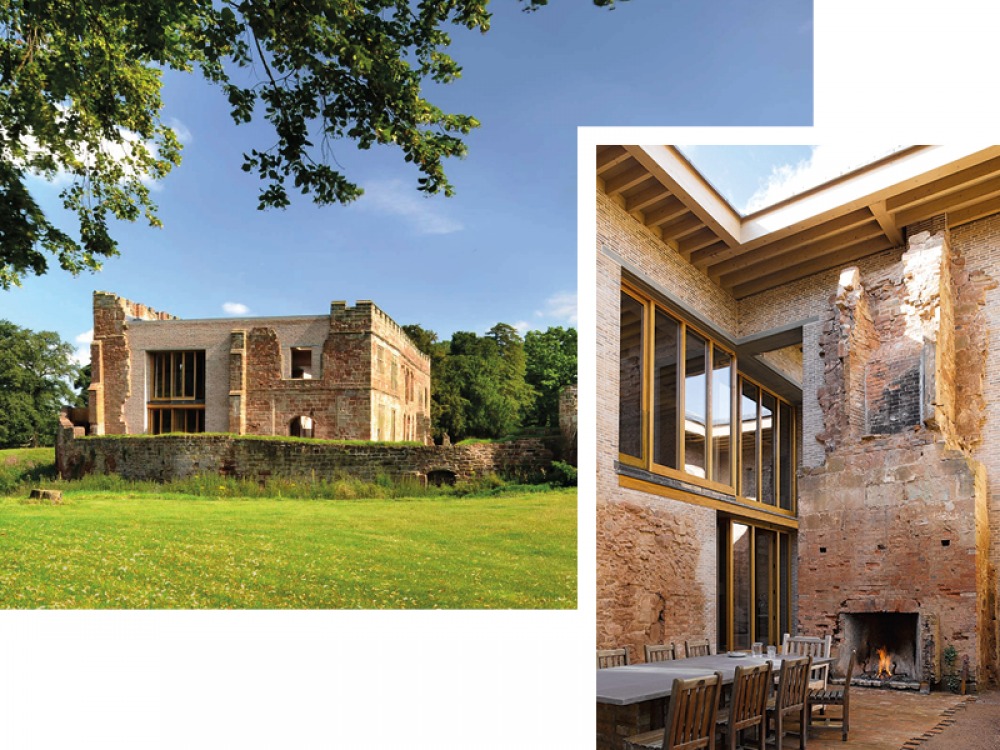 ASTLEY CASTLE, WARWICKSHIRE

Strictly speaking a fortified manor rather than a castle, the site at Astley Castle has been in continuous occupation since the Saxon period. Grade II-listed, the castle is of national significance and the site includes the castle, gateway and curtain walls, lake, church and the ghost of pleasure gardens in a picturesque landscape.

On the verge of collapse after a fire in 1978 and far beyond a conventional restoration project, the Landmark Trust held an architectural competition to design a building where unequivocally modern living accommodation was clasped within the shell of the ancient castle.

Nowadays, the castle combines the thrill of modern architecture with the atmosphere of an ancient, moated settlement and makes for a truly unique stay. Sleeping eight, the living rooms are on the first floor, while the bedrooms and bathrooms are on the ground floor. Groundbreaking accommodation has been sensitively stitched into once-ruinous walls – a radical approach which won the Riba award – and while Astley Castle has history in abundance, it is the melding of ancient and modern that will linger most in guests' minds after a stay here.
landmarktrust.org.uk
SWINTON PARK, YORKSHIRE
Live like royalty at this Grade II-listed castle set in the beautiful parkland grounds of the Swinton Estate. Owned by the Cunliffe-Lister family since the 1880s, and the ancestral seat of the Earl of Swinton, guests at the hotel enjoy a traditional yet informal stately home experience. Each room is individually designed with the warmth and grandeur of a traditional English country house, coming complete with exceptional views, spacious bathrooms and furnished with antiques and family portraits.

Guests can enjoy exploring the hotel's 200 acres of surrounding parkland and a herd of around 100 fallow deer can be seen grazing in front of the castle. The huge walled garden supplies the kitchens, and there's also an aviary with birds of prey within the stunning grounds.

Despite all the history and heritage, guests are never too far from modern day luxuries, with residents of the hotel having use of the country club and spa including wellness, pool access, sauna, heat-rooms and gym.

swintonestate.com