Three Independent Bookshops to Visit in Yorkshire this World Book Day
Ahead of World Book Day on 2nd March, we caught up with three Yorkshire independent bookshops to discover what makes them so unique
From a bookshop on a barge to a shop which has survived through the pandemic, we learn why people are continuing to support independent bookshops.
Unlike any other independent bookshop, Hold Fast invite customers aboard a 76-year-old historic barge which floats in Leeds Dock. 'We lived on the boat for about six years but it's quite a big and old boat which doesn't travel that easily, so we decided to make her into a shop,' explains Victoria Bonner, owner of Hold Fast Bookshop. Originally built in 1946 in Knottingley, and used as a cargo vessel to transport coal, the Marjorie R. barge is one of the last of its kind. 'It's on the Historic Ships register so people always wanted to come on board and when it's your home you just can't do that,' Victoria says. 'I used to work in a library and love reading, so setting up a bookshop was a way of making the boat accessible to the public.'
Having completely transformed the boat by taking the internal walls down and creating shelves from recycled materials, Victoria and her husband Chris have created a cosy place for people to come and browse. 'We haven't used any new wood or furniture, so everything is recycled. We used scaffold planks for a lot of the shelves and we're really pleased with them because we wanted to fit with the ethos of the city around us. With that in mind, a lot of our books are secondhand, and it's quite unusual for a bookshop to stock both new and secondhand books,' Victoria continues.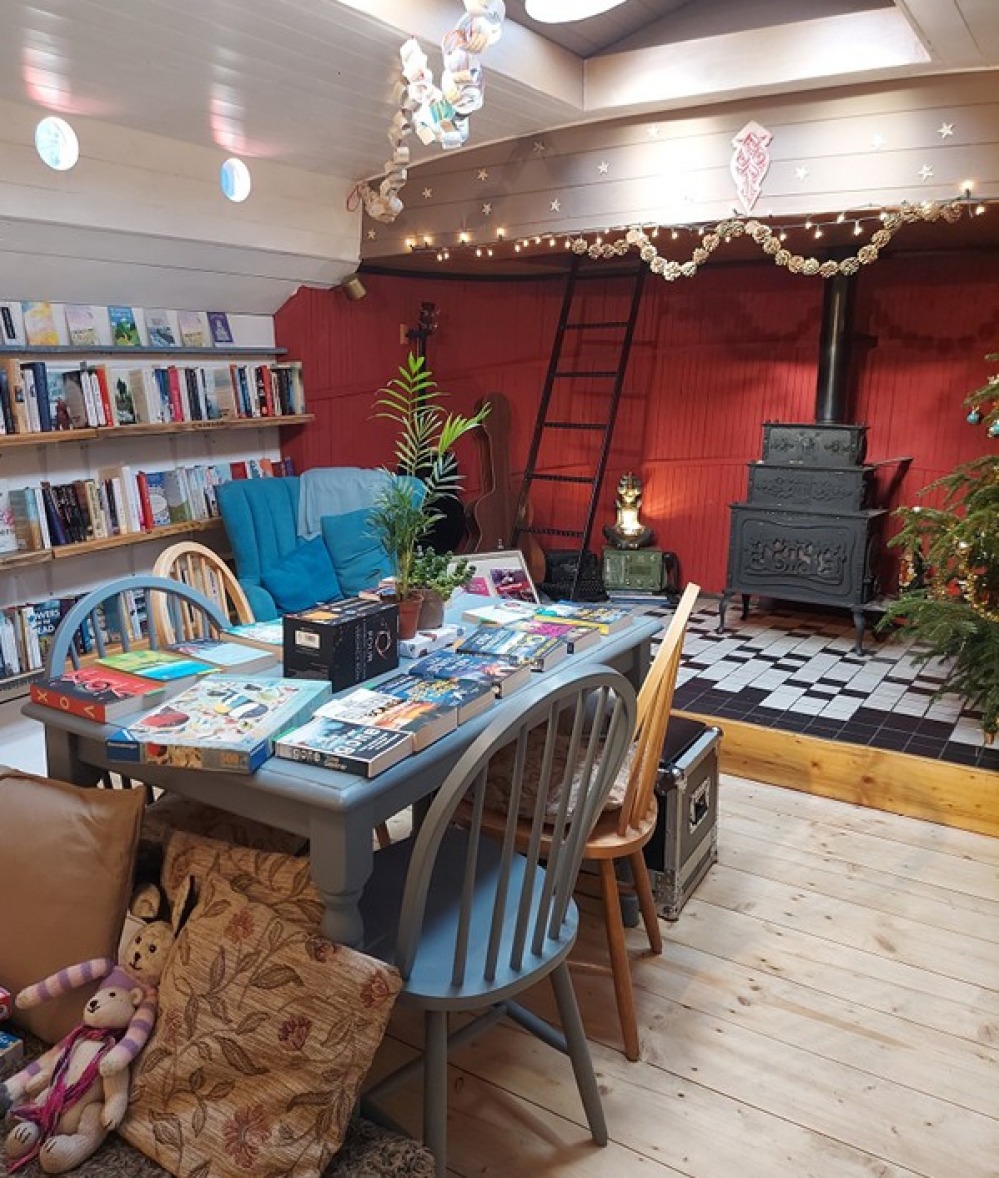 Despite only opening in November last year, Victoria says that locals have already got on board with the floating bookshop. 'During the day we mainly see people who work around the area coming in on their lunch break. We do a late night on a Thursday where we stay open until 8pm, and on weekends we tend to get people who are visiting the Royal Armouries come over. We have a good mix,' she says.
Hold Fast Bookshop is a unique space where people can browse a collection of classic and contemporary books, as well as adult fiction and children's novels. 'We get a lot of customers who like to turn their phones off and shut off after work. A book is not interrupting that, whereas if you're reading on a tablet or a Kindle you've got your emails pinging and you often think "I'll have a quick look online" and it's a massive distraction,' Victoria says. Having a large open deck on the top of the boat means book-lovers can enjoy the sunshine whilst reading, and during the colder months there's a fire alongside cosy seats downstairs. 'I think bookshops are something which people still have a really big soft spot for. I think they are happy to use online shops for most things, but there is something about bookshops which people are really wanting to keep independent,' Victoria says. 'Quite often you don't know what you want to read, and online you need a title or an author to look up. But often you just want to sit in a bookshop in big comfy chair and be able to pick up different books and read the front page of each one and decide which one you want to take home and finish – and you can't do that online,' she adds.

Looking ahead to World Book Day, Victoria is keen to stress how important reading is and the impact it can have. 'There's a great quote which says "the person who doesn't read lives one life and the person who reads lives many." Reading opens you up to empathy, helps you understand the world and makes you think from another perspective. Whenever you read a story you're putting yourself in someone else's shoes and those are life skills which are sadly lacking these days. I think books remind us that there is often a grey shade, where it's not just about goodies and baddies, most people are a mix of everything. That's one of the things I love about reading. It gets you to see the world a bit differently and it's a cheaper way to travel as well.'
Hold Fast Bookshop
Upper Dock Mooring, Leeds Dock,
Leeds LS10 1LJ
holdfastleeds.co.uk
QUICK QUESTIONS
Favourite genre to read?
At the moment I'm into translated fiction so books like Before The Coffee Goes Cold.
Favourite local author?
Jo Mosely, who turned 50 and decided to take up paddleboarding wrote a book about paddling from Liverpool to Goole called Stand-Up Paddleboarding in Great Britain. Read LN's interview with Jo here.
A Yorkshire hidden gem?
The Discovery Centre is about a three-minute walk from us and it's where Leeds Council hide all the museum treasures. Once a week you're allowed to go in for a tour to see all the things which aren't on display at the moment. It's amazing to see what we've collected as a city – plus it's free!
When they moved to the Yorkshire Dales from Devon in September 2021, husband and wife Claire and Alan Flack decided to use the opportunity to fulfil a life-long dream of opening an independent bookshop. 'I used to be a teacher and I also worked in a bookshop when I took a gap year before going to university,' Claire says. 'Although I loved teaching, we both decided that moving would give us an opportunity to do something different and together. Alan took redundancy from his job and so the bookshop was something we both had an interest in.'
Despite only opening in September last year, The Wonky Tree Bookshop in Leyburn has already built a growing community of book lovers. 'As with any new business you have to make yourself known and the local support [so far] has been brilliant,' says Alan. 'We've got quite a wide catchment area, particularly because in the Dales and on the edge of the Dales there aren't a huge number of independent bookshops like us. It took a little while for people to finds us, but once they have they've been really enthusiastic, because before people used to have to travel further afield and they don't have to anymore. It means they can go book shopping more often.'
Alan and Claire feel people are keener than ever to support local where they can. 'Since the pandemic people are very keen to support local businesses and shop local – they don't want to be traveling miles if they don't have to,' Claire says. 'I think it's that relaxing and friendly atmosphere which people come in for. We're not a huge place but people can come and browse the entire shop if they want to because it's not going to take them hours. That comes with benefits for us as well because our stock changes quite regularly, so if people are local or they come in often they'll see something new every time,' she adds.
'Unsurprisingly we are readers, and pro people reading, so the fact that bookshop openings are increasing is really positive. It's great that people feel there is a place for them and for people like us who like the idea of that addition to the community,' Alan says. 'There are still booksellers up and down the country who are struggling to make ends meet and the number of independent bookshops out there is half the number of what it was a decade ago. However the industry has seen a big pendulum swing and hopefully it's started to come back; it's still very tough out there and that's why we feel it's important to reach out to the community.'

Creating a space where people could come and not only browse the range of books, but also sit and enjoy them, was integral for Alan and Claire when setting up The Wonky Tree Bookshop. 'It was really important to make a space which is welcoming and relaxing. We spent a lot of time before we opened thinking about what we wanted to offer, and as we're still very new we have lots of plans which we would like to develop,' says Claire. Something which is already in place is being as sustainable as possible. 'Obviously when you're working with books there are the huge issues of publishing and paper, but we decided that whilst the publishing industry is striving to be as sustainable as they can, we found the Just One Tree charity which helps redress the balance a little bit,' Claire explains. 'We donate a portion of our sales to the charity and so far we've helped plant 400 trees since September.'
Being part of the community is really important to Alan and Claire, and they hope to expand their reach in whichever ways they are needed. 'On our website we put on books which we've read and we're looking to do some work on a YouTube channel, as well having plans for a newsletter,' Alan explains. 'They're all ways of reaching out to people who want to be reached, being as large or as small as the community wants – whether that's worldwide or just Leyburnwide.'
The Wonky Tree Bookshop
Unit 2, Central Buildings, Market Place, Leyburn DL8 5BD
thewonkytreebookshop.co.uk
QUICK QUESTIONS
A book you're currently reading?
Alan: The Darlings of the Asylum by Noel O'Reilly.
Claire: I've just finished Light in Everything by Katya Balen which is a children's book for ages nine plus, and I've also just read We All Want Impossible Things by Catherine Newman.
A book you'd love see turned into a TV show or film?
Alan: A Killing in November by Simon Mason which is set around the University of Oxford and follows two detective inspectors who are from very different ends of society. I think that would be great.
Claire: A book I read a while ago is actually going to be made into a film and it's called The Unlikely Pilgrimage of Harold Fry which is part of a trilogy, and it's due out this year.
Having both previously been teachers, Louise and James Ashmore took the leap to open their own independent bookshop in October 2018 after finding the perfect unit in Holmfirth. 'The lighting was lovely and it was really cosy inside. Even though it was just a shell when we first took it on, we knew it was perfect,' Louise says. The couple initially continued teaching part-time before realising that this, alongside homeschooling three children and running a bookshop through the pandemic, was too much.
Once they took on the bookshop full-time, the couple drove hundreds of miles delivering books to locals. 'In the very first part of lockdown we were only doing postal orders because we weren't allowed out of the house, but when it eased slightly we would drive to the shop to pick up the stock and then go out and deliver from there. We had a little Clio which we called the Readmobile and we put badges on the car – it was really nice because for some we were the only people they saw on a daily or weekly basis as we delivered their books,' Louise recalls.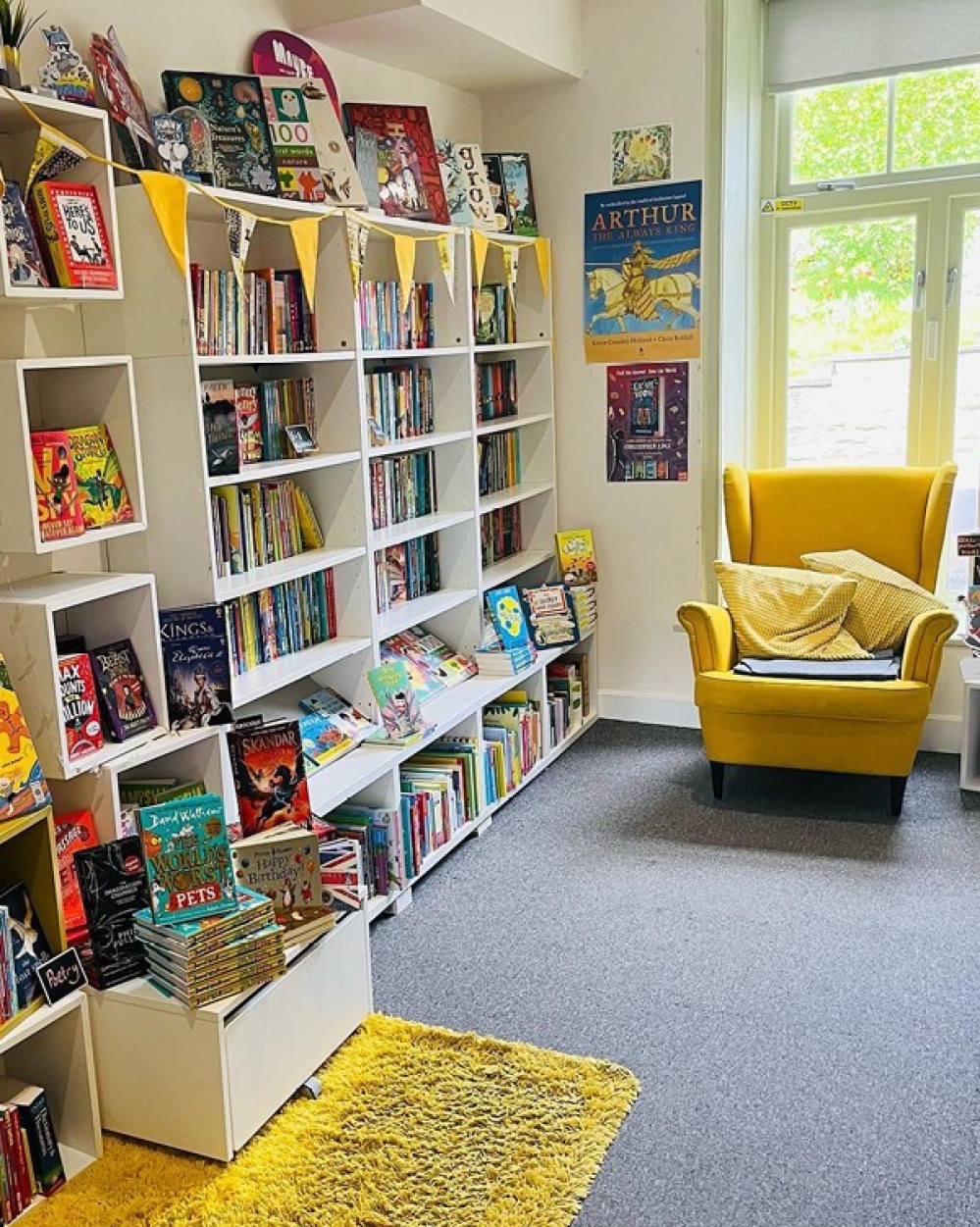 It feels like the vast majority of those people have stuck with us too, and have carried on using [Read. to buy their books]. Equally there were people all over the country who started using us during lockdown, finding us on Twitter, and have just carried on ordering books by post,' she adds. 'We won over a lot of people because we were able to get books to them very quickly. It was also about getting the word out because we were only a year old at that point. Even now we get people saying that they didn't know about us until lockdown,' says Louise.
Since the pandemic eased, book-lovers have been returning to shop in store and Louise is proud that her team are able to advise and recommend books to suit every customer's needs. 'What really sets us apart is that we all have our own books which we love recommending and we have a really wide interest range. We're really good at matching people with books when they tell us what they normally enjoy reading and we can usually find a good match. We have a subscription service as well, where each month customers can fill in a questionnaire and we send them a book based on their choices.'
Ahead of World Book Day, Read. are hosting plenty of virtual events as well as working with more than 100 local schools. 'We usually have authors who do a presentation and then we send out books to the schools afterwards,' Louise explains. 'We like to try and get children into the shop as much as possible to see what it's like to choose a book. It's really nice to see how enthusiastic they are about new books and I think it's about spreading that as much as we can.'
World Book Day allows children to bring their voucher into Read. and choose one of the World Book Day books for free, or have money off another book in store. 'We've got comfy cushions and a nice chair for the children to use and it would be lovely to see some new faces.'
Read.
41 Huddersfield Road, Holmfirth HD9 3JH
to-be-read.co.uk
QUICK QUESTIONS
Favourite local author?
We have quite a few local authors come into the shop, particularly poets. We also have a good relationship with Honley Civic Society who bring in lots of books about local history which sell really well. My favourite book at the minute from them is called the Darker Side of Honley Life which is all about the misdemeanours through the ages.
A book you'd love see turned into a TV show or film?
There is a brilliant book by Mary Lawson called A Town Called Solace which was Booker nominated last year. All her books are really good but I think this would translate really well.
Shop the Recommended Books
This article contains affiliate links. We may receive a commission on any sales we generate from this piece