Meet the North East Creatives Bringing a Splash of Colour to the Region with Amazing Street Art
You may have spotted their striking street art in the North East
We take to the North East's streets to meet the creatives behind the street art that's bringing a splash of colour to the region.
When you hear the words street art, what do you think of? Is it the graffiti under the bridge you drive past on your way to work?
Is it the colourful images painted on your neighbours gable end? Or is it the inspiring murals of Marcus Rashford and Captain Tom that were created during lockdown?
Street art can be all of those things. Take the work of Banksy and Mul Draws for example; it's art for the community, and the North East is adorned with it.
Recently in the local news for his RNLI mural on Hartlepool's Headland, Lewis Dobson, who runs Durham Spray Paints, is up-and-coming in the street art scene.
He's lived in Durham all his life but only started painting murals during the first lockdown, when creativity was at its peak. He created his first public painting on an abandoned building attached to a scrapyard.
'I asked to do it for free because the wall had some bad graffiti on it and I said I'd brighten it up,' he says. 'They were really trusting.
'The public were really into it and people began asking me to create murals for them. I was turning them down at first but it really caught on.'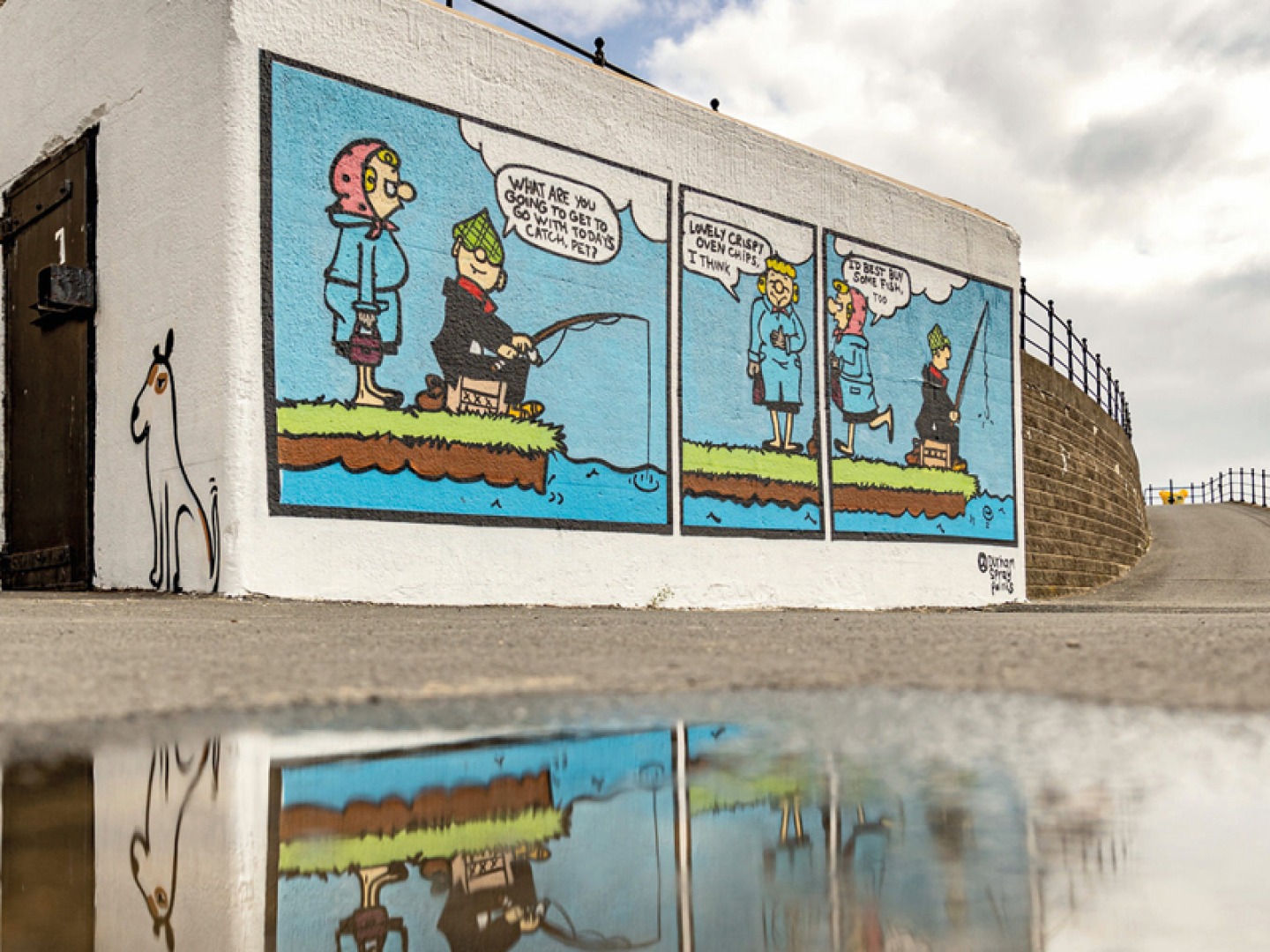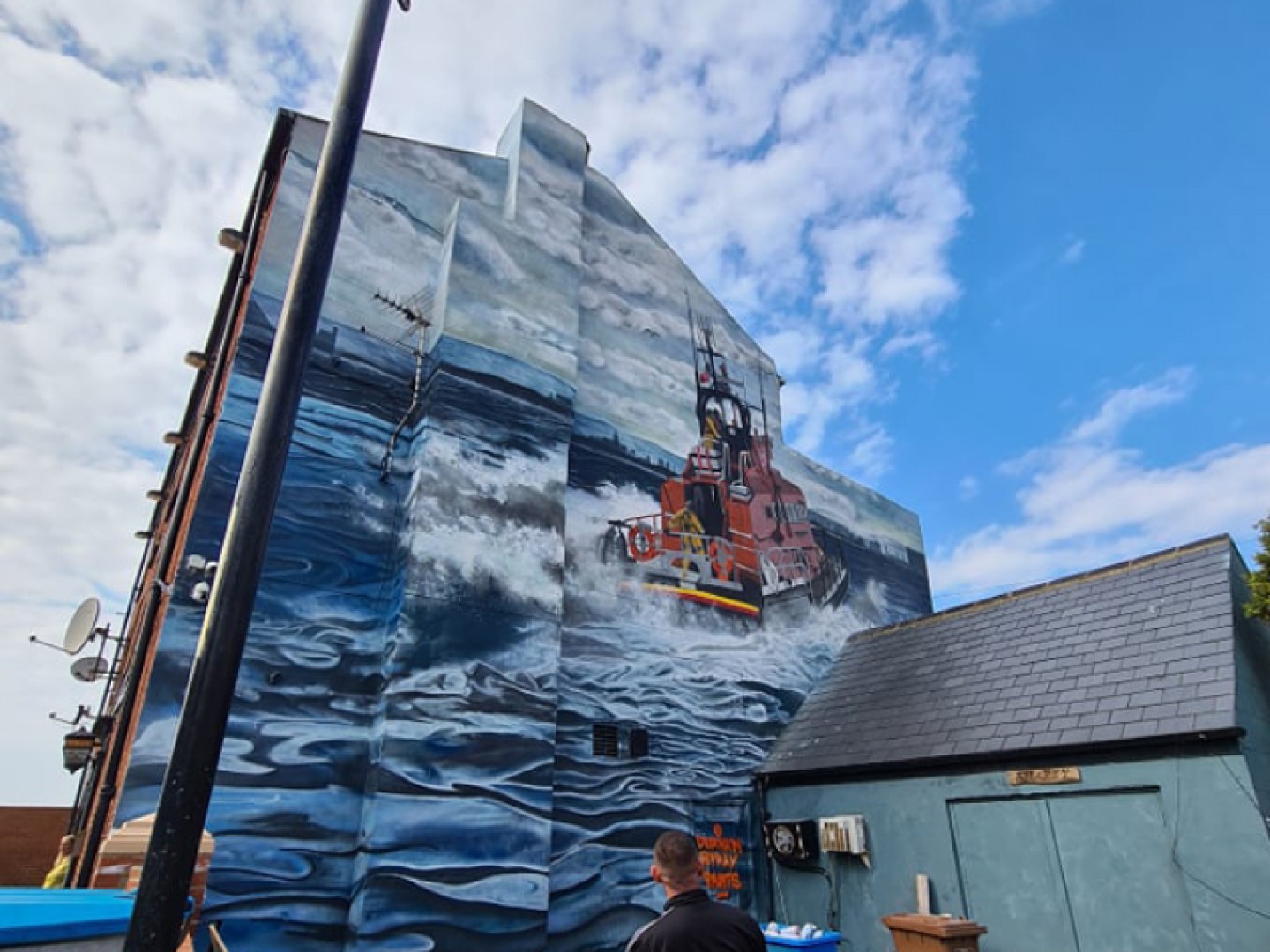 Although he's fairly new to the scene, Lewis has dabbled in various aspects of art over the years, including an attempt to start his own high fashion brand with patterns including one based on the Rose Window in Durham Cathedral.
'It didn't work out, but it helped instil creative discipline and taught me how to keep pressing on,' Lewis reflects. 'That was a couple of years before I started murals.
'I create lots of different art but I'd never sit with a pen and pencil and draw a bunch of fruit,' Lewis laughs. 'I didn't study art. I'm not very good at conventional art but when I created my first large-scale painting, it was much more fun and interesting than I thought it would be.
'When I got a commission to paint a tiger on a house in Sacriston, I still wasn't charging for artwork because I thought the idea of getting paid to do it was ridiculous – I just really loved doing it.
'It was quite scary painting it because it was on a pretty busy intersection but it was so nice to see people's reactions. They were asking if I was an artist from London, but I said "no! I live round the corner". I'm really interested in community so hearing these reactions was great.'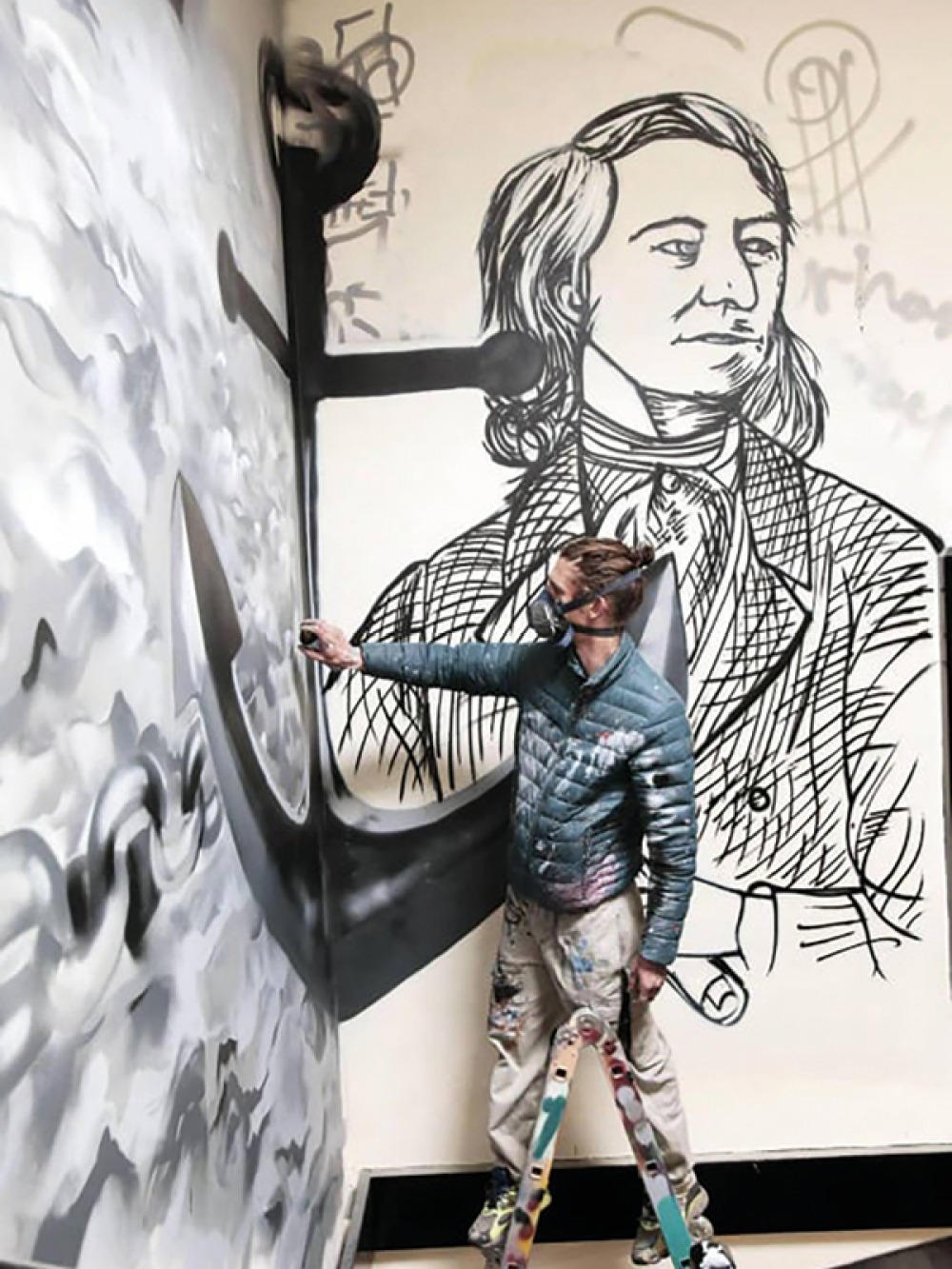 'It's 70 percent chatting and 30 percent painting. I loved hearing the stories about what had happened on the Headland and people would always tell you the history of the streets you were on.'
Lewis painted murals on Hartlepool's Headland, including on the side of The Pot House pub, and learned plenty about the community there.
'I spend most of my time chatting to people when I'm creating my murals,' he says. 'It's 70 percent chatting and 30 percent painting.
'I loved hearing the stories about what had happened on the Headland and people would always tell you the history of the streets you were on.'
Inspired by their stories, Lewis wanted to paint something that would mean a lot to the community on the Headland. 'The work the RNLI do is absolutely amazing and I got to go down to the station and meet the crew to see what they do,' he says.
'Locals know the volunteers and they see them jump into action when they get a call.' With this in mind, Lewis painted an RNLI Lifeboat on the side of The Ship Inn in Middlegate.
'The reaction from people has been exactly what I was going for,' he adds. 'They're just so proud and I couldn't have been happier with how that mural turned out.'
Lewis is fascinated by the history of street art, and found a lot of inspiration in the work of street artists in Brighton. 'You can trace it right back to the streets of New York in the early 70s,' he says.
'I'm very respectful of anyone who takes their time to do something in public. Graffiti as a word just means scratching or marking a surface, so it's almost too general a term.
'Everyone has their own work but I respect anyone who puts in effort and is really trying to achieve something. I've definitely taken inspiration from other artists and tried new things.
'It's fun because I love experimenting but I think I've found where I want to be.'
Lewis describes his street art journey in stages. 'In the first year, I was just figuring out what I wanted to do. I wasn't getting paid. I was just doing it for fun.
In the second year I needed to scale up. I was refining my own approach and my house was taken over by my spray paint and scaffolds, and I kind of had to industrialise my life.
Things scaled up so quickly but I really put in the hours and it was good fun. This year is all about giving back and helping out other artists and communities.
I'm really trying to make commitments to help people out because I have resources that I'd never dreamed of in lots of different senses, so I'm thinking about what I can do with that.'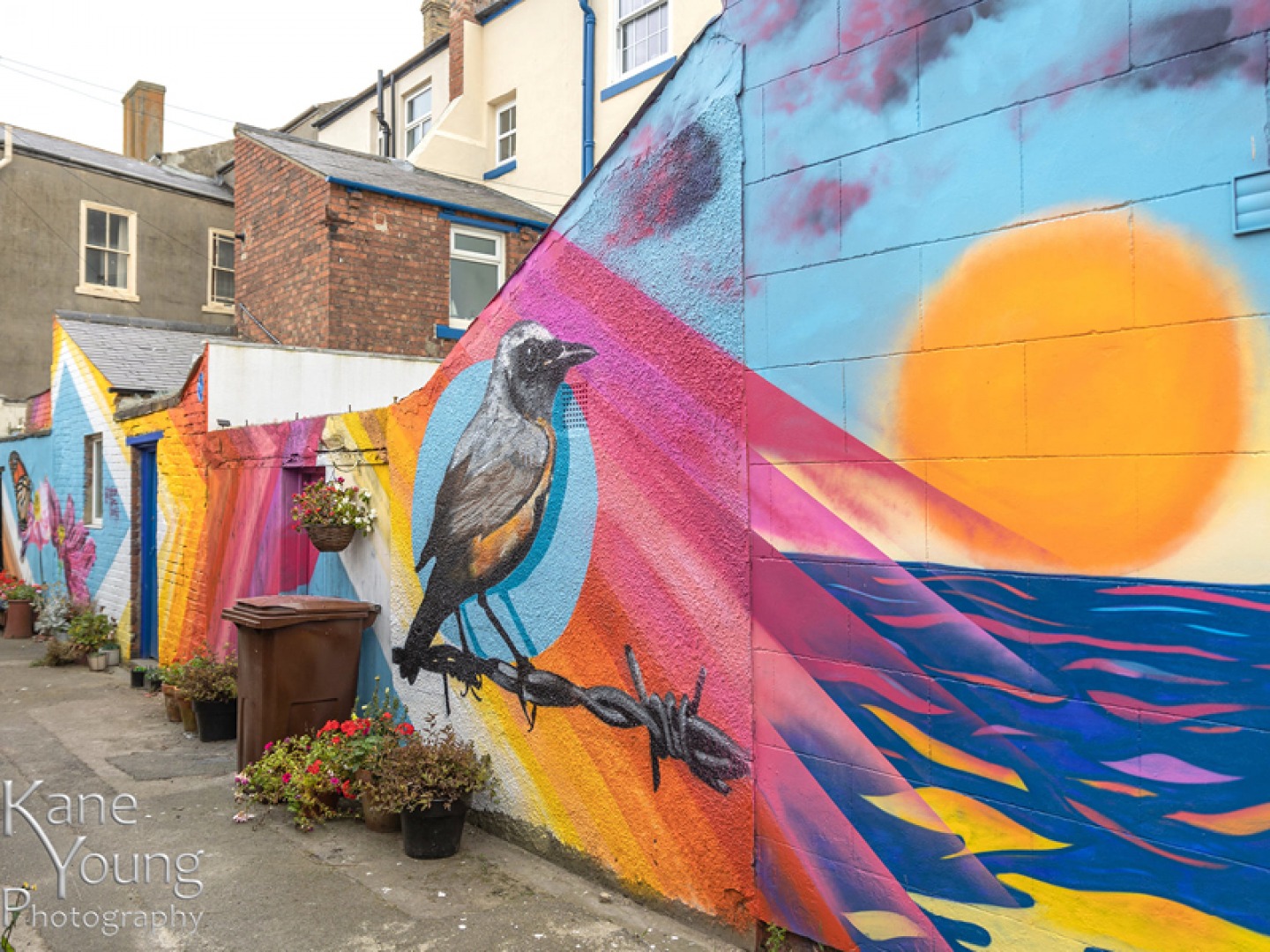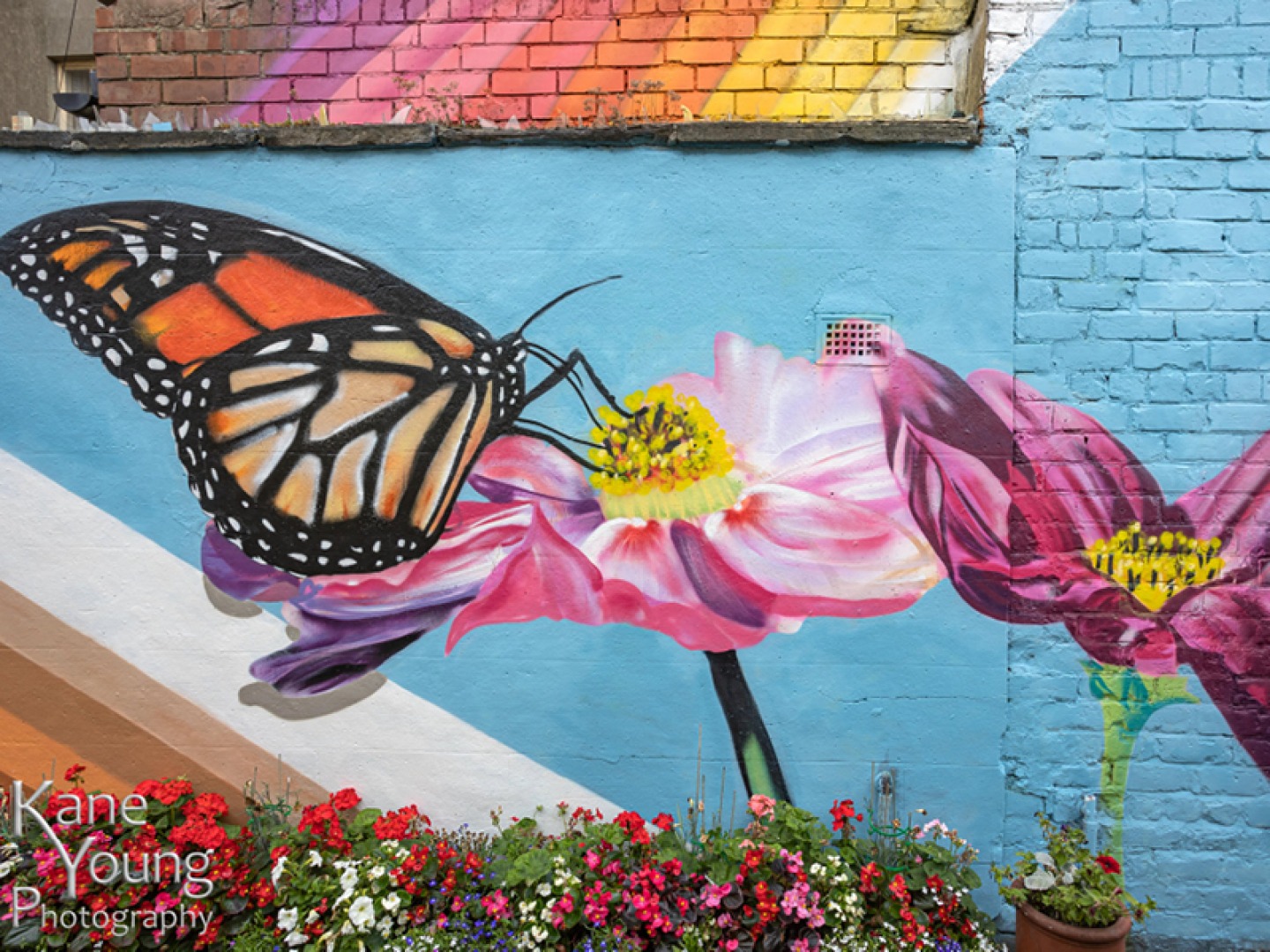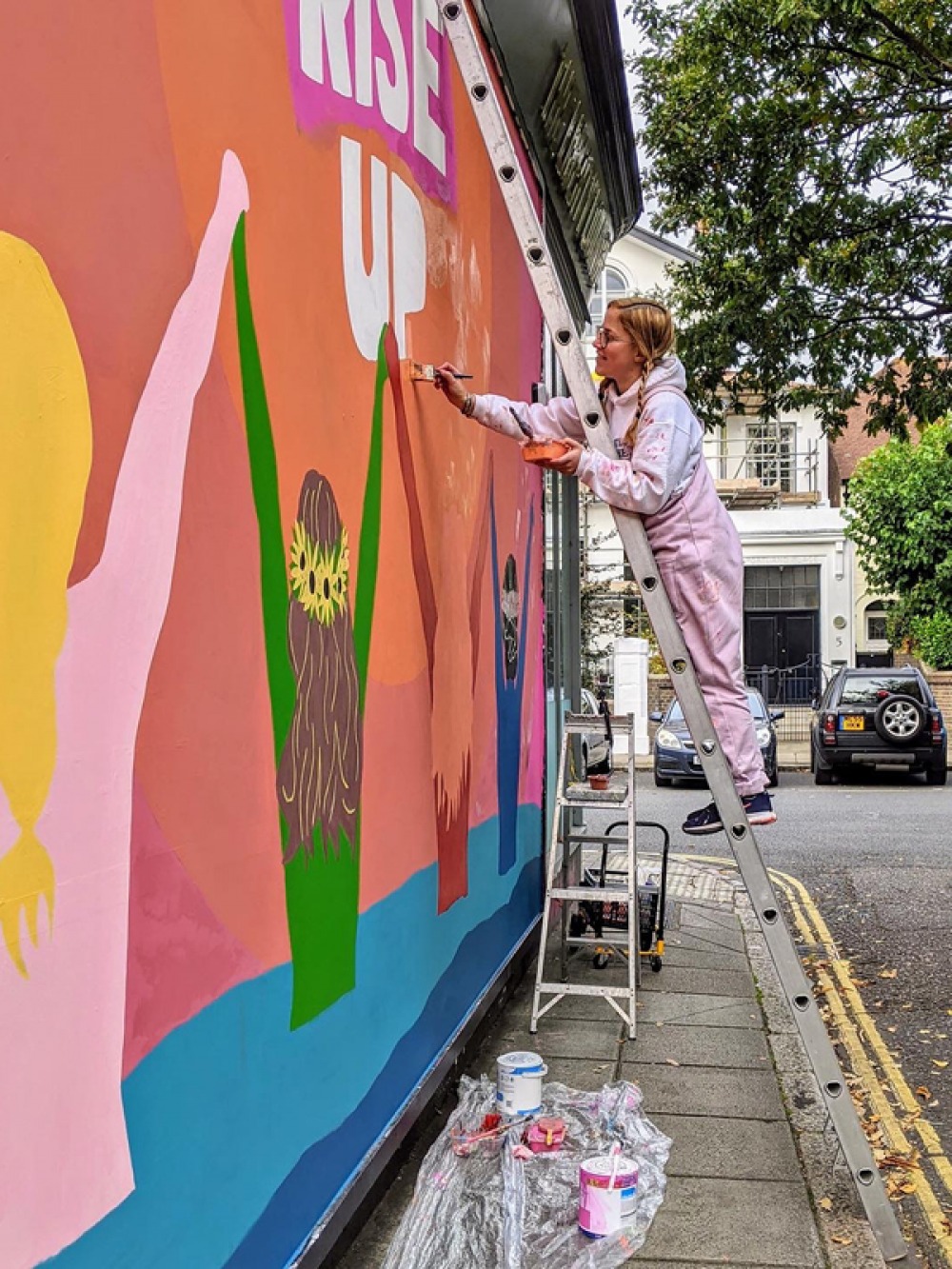 Equally inspired by local communities, but also by female empowerment, mural artist and illustrator Hazel Oakes – who goes by the name of Nocciola the Drawer – creates bright, bold and colourful artwork to uplift, inspire and celebrate. 'That's why I love creating in public spaces and at large scale, because it really has that impact on people,' she explains.
Hazel studied Fashion Design at Northumbria University. 'Everything I've ever created has been about empowering women and that's why I got into fashion in the first place,' she says.
'I've always loved street art. I've done a lot of travelling, I have a bit of a nomadic spirit and have lived in a lot of different places around the world, and I always hunt out street art wherever I go.
'I love people and I love connecting with people and creating street art is a great way to do that. Street art introduces art to everyone, and you don't know who it's going to surprise.'
A lot of Hazel's artwork is commissioned but if street artists want to paint for themselves, she suggests Bish Vegas (outdoor spaces donated by the community in Bishop Auckland for artists to express themselves).
She paints indoor murals too. 'Down in Rotherham I painted a huge indoor mural for a new non-profit business which is trying to challenge the perception of homelessness,' she says.
'I love working in spaces that you wouldn't normally associate with art, for example a factory. Art is part of regeneration and it can really change a space and how it impacts people.
'I painted a mural during the pandemic down in Southsea. It was really great to see people on social media taking photos with this mural. A lot of women recreated the pose in front of the artwork. That was fantastic to see.
'I love people and I love connecting with people and creating street art is a great way to do that'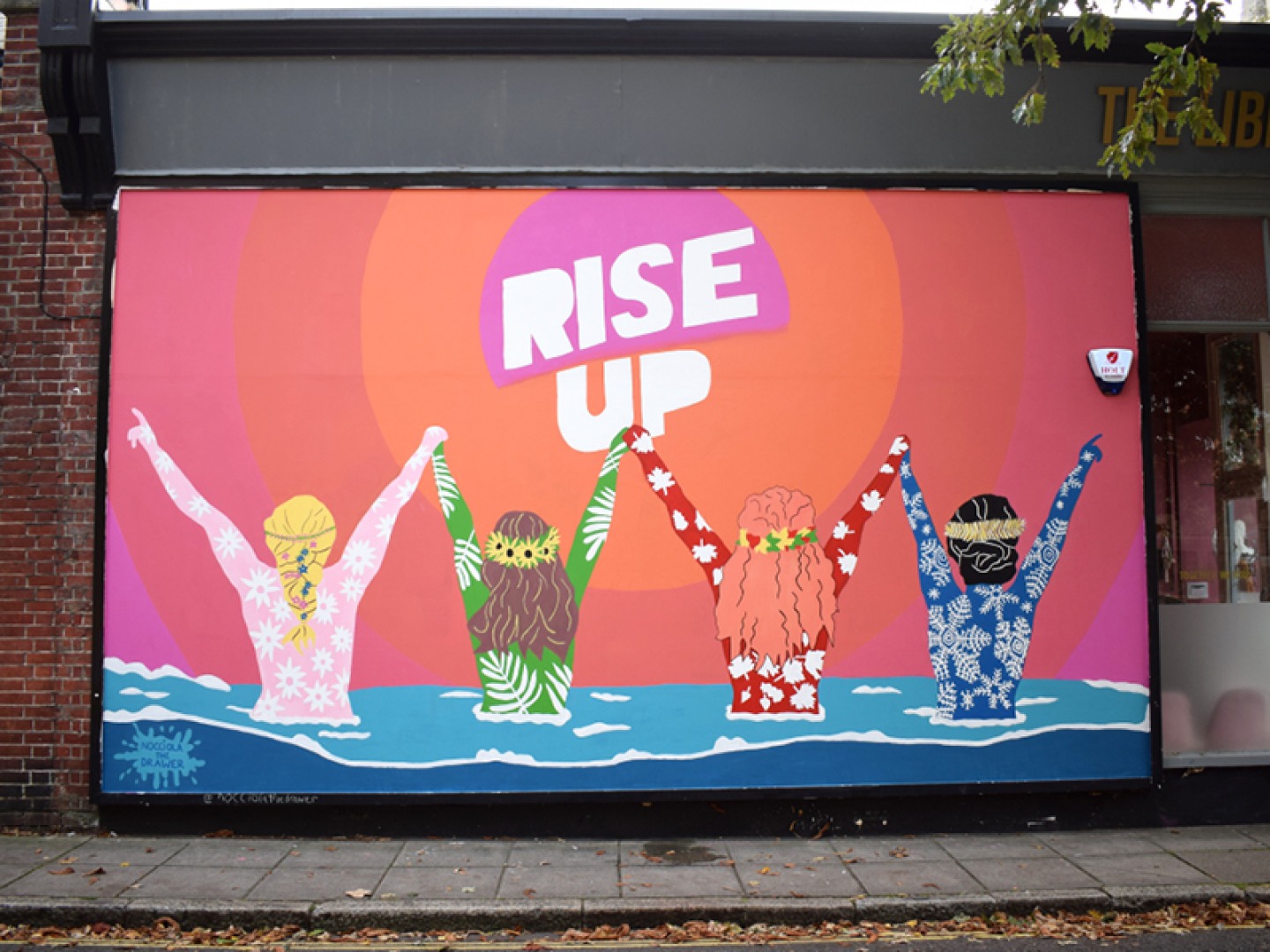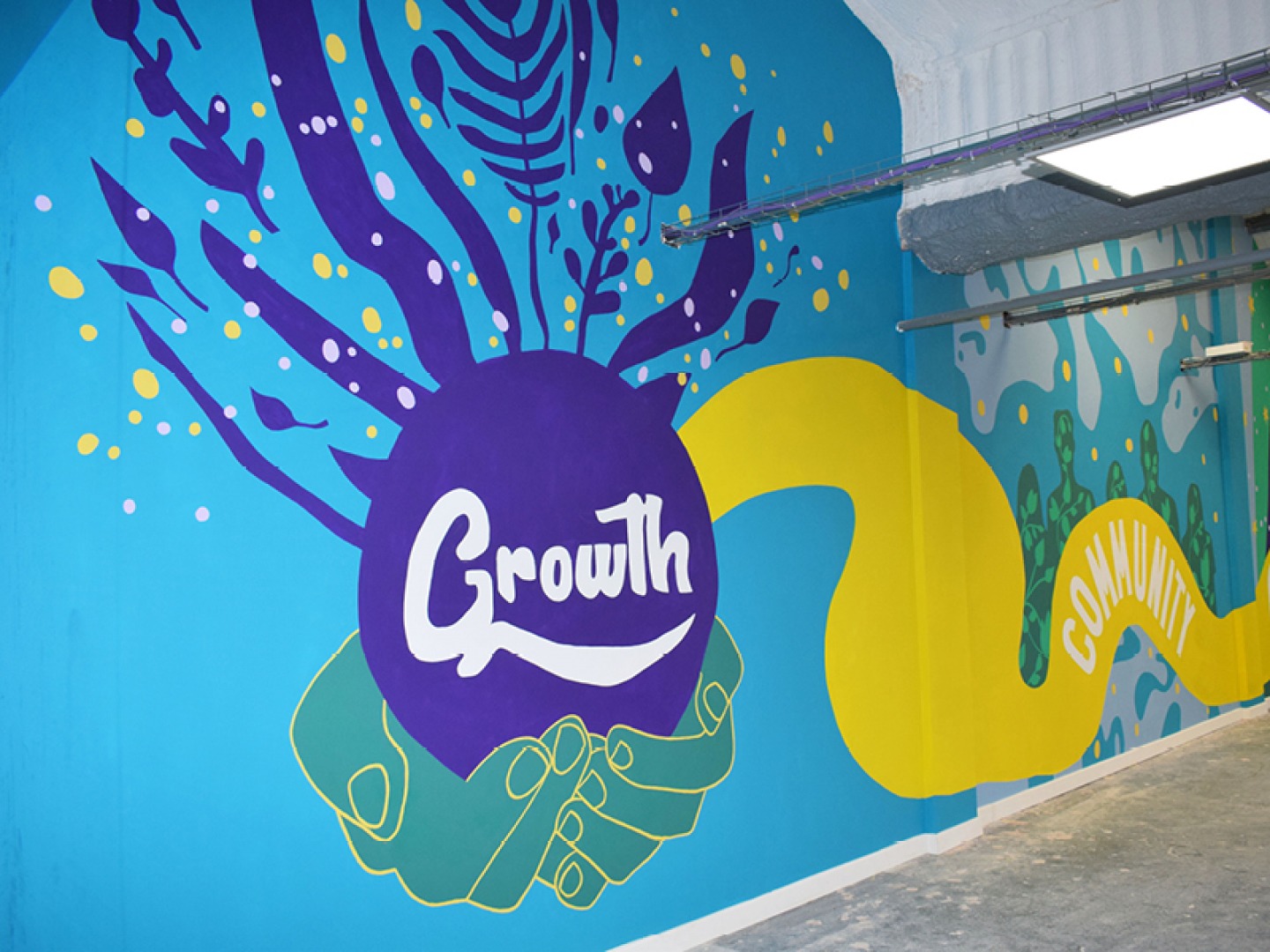 'The street art scene is quite male-dominated so it's another one of those spaces where we need to come together and be strong to show that we're here too,' Hazel continues.
'By creating something so big, with the female figure on it, I hope to inspire women to think bigger and dream bigger.'
Sometimes people take a dislike to street art because they think it might attract graffiti or because of that connection with it, but Hazel says graffiti and street art go hand-in-hand.
'Graffiti is people trying to make their mark, to be noticed,' she adds. 'Even if they're not creating in the form that I'm creating with murals, they're connected. Sometimes at street art festivals they'll have both street and graffiti artists. It can go either way.
Some graffiti artists don't like mural artists because they feel like it's commercialised what they do. But I think people sometimes write off all street art because they don't like graffiti.'
When asked what's next for her, Hazel replies 'bigger walls' and she hopes to keep sharing important messages to inspire people. With a huge love for sport and adventure, she also has plans to create more active art.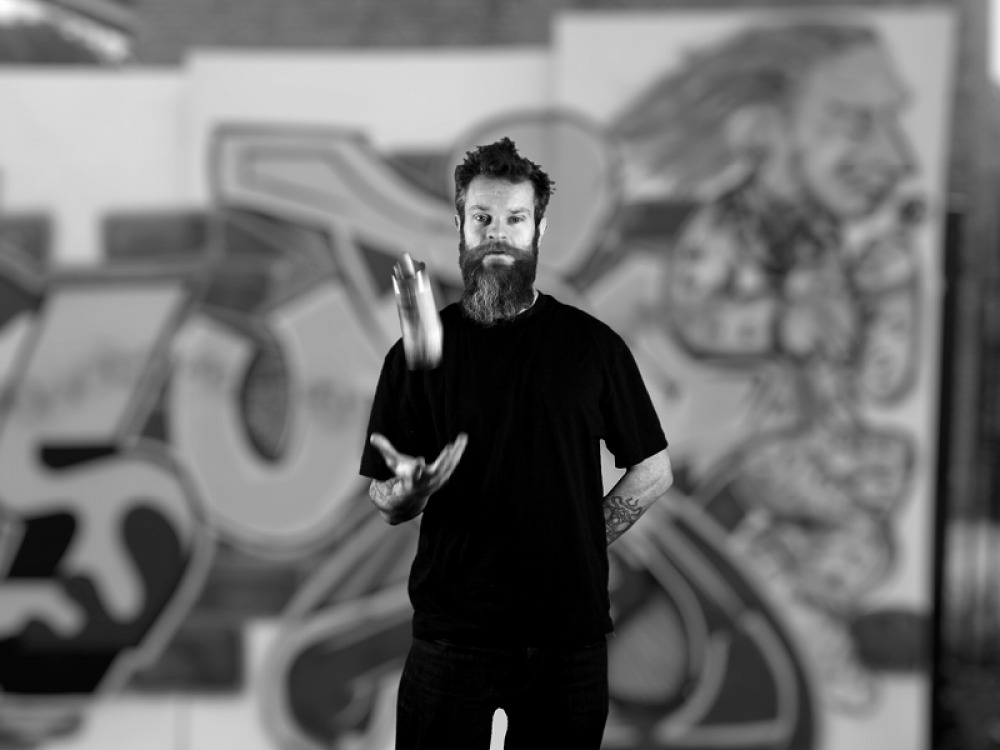 Frank Styles is celebrated across Sunderland – he's the man behind much of the art you'll see on the city's streets. He studied Art at the University of Sunderland, graduated in 2007, landed his first commission – and since then his work has progressed through word of mouth.
His most recognisable work is the butterflies on the high street. 'That was the first big piece I did and from then it snowballed to doing more large murals,' Frank explains.
'It's probably still my favourite.' More recently, he's painted a mural for the Sunderland East End Amateur Boxing Club, which is now based in a former church hall in Hendon.
'I did a photoshoot with the boxers and painted a huge mural that looks like stained glass,' Frank continues. 'That stained glass style is one I've been tinkering with. I find it similar to graffiti in that it has black outlines. It's a good way of painting using different techniques. It's illustration, but realism as well.'
Frank, who has 10 years of experience facilitating graffiti workshops, doesn't describe his current art forms as graffiti, but letterforms do blend into his abstract work.
'I think that my journey has taught me respect,' he admits. 'If I can influence youngsters who are tagging to use places that won't upset people, and encourage them to make something nice to look at, then that's great.'
Now based in a studio above the Pigment and Toil Gallery in the Bridges Shopping Centre, Frank is exploring a different side of his talents, creating more abstract art.
'It's a pleasure for me because I've made a career from painting local history and football murals, but to paint an abstract piece that comes from inside me and for someone to buy it is almost like saying you've actually succeeded as an artist.
'People don't like it because they like the footballer, they like it because they like your artwork.'
In 2020 Frank gave up drinking alcohol and began a dry decade – instead finding his endorphins and energy through exercise. 'I'm trying to encapsulate that energy in abstract paintings,' he explains.
'The great thing about doing commissions and workshops with kids is that I get to try out using different colours all the time. That informs this abstract work – putting those colours together.
'Trying to tell a narrative through an abstract painting is a challenge and it's really exciting for me.' Frank hopes he'll be able to paint some of his abstract work on a large scale.
'A lot of my murals have been crowdfunded or privately funded by businesses, but for my abstract work I need to get a couple under my belt and convince people that they're going to look good.'


Find out more about these three street artists at facebook.com/DurhamSprayPaints, nocciolathedrawer.com and frankstyles.com.